"Gosh I love this guy!"
Four years ago I married the man of my dreams! It was the best decision I ever made. I'm so happy he chose me. Deric always tells me he married up… but I definitely got the better end of the deal. ;) He is my better half, that is for sure. I couldn't be luckier to spend the rest of my life with him!
Last night I had fun reading through some of my old journal entries from our "dating days."  I couldn't help but smile. I was such a dork!     lol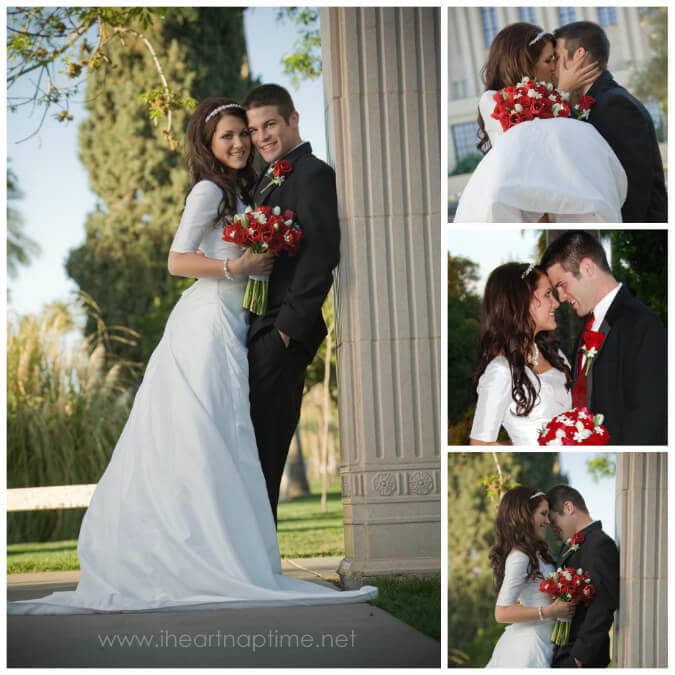 "Oh my lets just say I really like Deric. He is such a good guy."
"I love it because he sings so loud. I know that is way random, but I really like when guys sing loud."
"I am so scared he's going to stop liking me… I REALLY like him. "
"I'm seriously still smiling! I have never been this happy!"
"Basically every time we hang out its till two in the morning. I feel bad because he goes to school all day and then works from 7pm to 7am and then gets only four hours of sleep. Okay… this week I'm going to try and make him leave early."
"Today Deric took me on a picnic. Seriously, how cute is that?! Ah I loved it! I could tell he packed it himself. There were sandwiches, apples (that were cut kind of crooked), grapes, chips and cookies. We just talked all night. It was so fun!"
"He really is the best guy for me, and I don't know how I got so lucky to have found him…let alone keep him. I don't know if I'm in love yet but I really think its on that road."
"I really do not know how on earth Deric likes me. I honestly am the luckiest girl alive! I cannot help falling in love with this boy!"
"OH and possibly one of my favorite things is when gives me a big hug, picks me up and spins me around."
"So WOW i am completely head over heals in love with Deric!"
"I really do not know why I am so lucky to be dating such an awesome guy."
"Oh my goodness yesterday he did the cutest thing any boy has ever done for me! He had his cute little nephews dress up in suits and bring me a vase of flowers at work. He also wrote me the sweetest note ever!"
"OH MY GOODNESS!! Deric proposed! Im engaged!"
"Its going to be so much fun waking up every morning next to my best friend. It really stinks saying goodbye every night."
"Holy cow. One more week until I will be married to the love of my life. That day cannot come soon enough."
"Gosh I love this guy!"
This video was taken during our Wedding photo shoot by David Perry Films. I still get chills watching it. That day was full of so many emotions. I am so blessed to have met him!
P.S. You may have to click over if you're in a feed. You can see the video of how we met here.
So there's part 2 of our love story. The rest is still being written… ;)
Hope everyone has a happy Monday!