Hey all, I'm Heather (Hi, Heather!) from Heather Likes Food and I'm so excited to be part of this fun "Hello Summer" event here on I Heart Nap Time.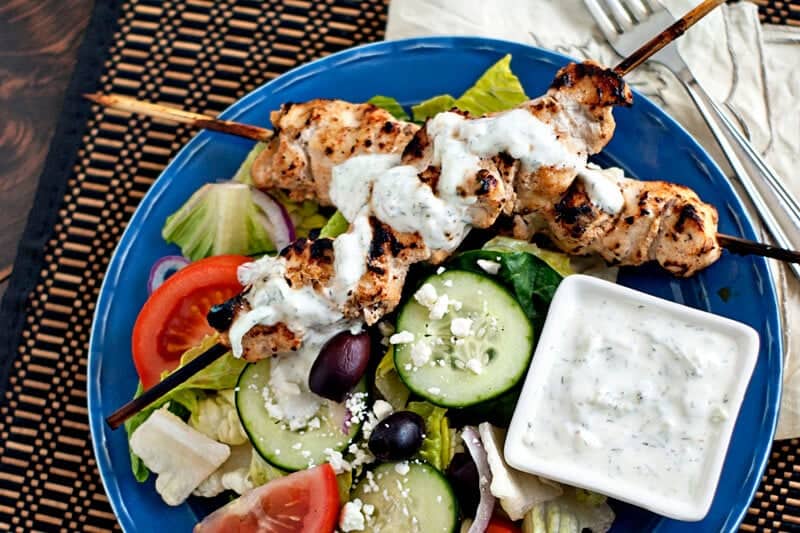 My grill is on at least a few times each week during the summer months and when it's not we're probably making foil dinners in our fire pit. I might just be a cheap woosie pants, but I hate heating up my house by turning on the oven during the summer. I love this salad because it packs such big flavor with just a little preparation and I can make it without turning into a cranky hot beast which I'm sure my family appreciates. It's also great because the chicken is awesome on it's own, stuffed in a pita or served along side a pasta salad or rice.
The chicken magic starts with a Greek yogurt marinade. A little smoked paprika, cumin, cardamom, cinnamon , oregano, lemon juice, salt, pepper, and olive oil combine with a cup of yogurt to marinade some cubed boneless skinless chicken breast pieces in. Marinade for at least 30 minutes, up to overnight.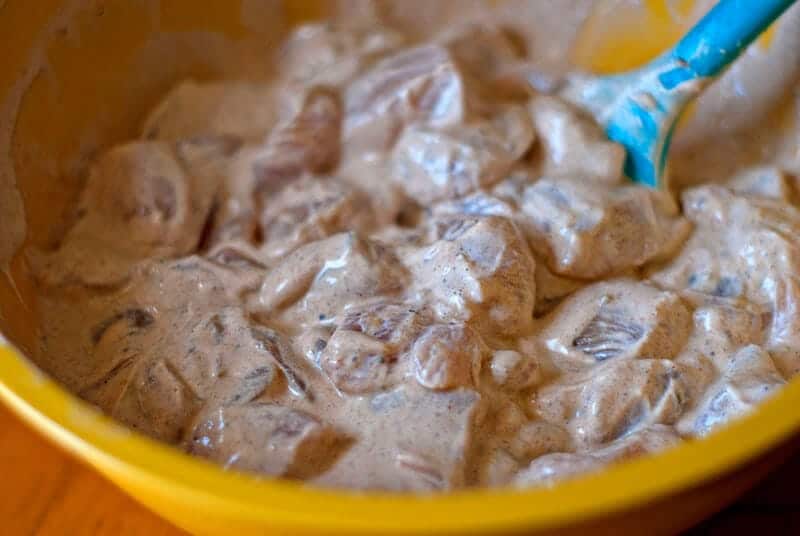 Once your chicken has had a good little soak in the yogurt tub, it's ready to place on skewers for grilling. Anytime you use bamboo skewers, always soak them first in water for at least an hour or so. This will keep them from turning to ash while on the grill so they can actually do their job of keeping your "grillables" in place.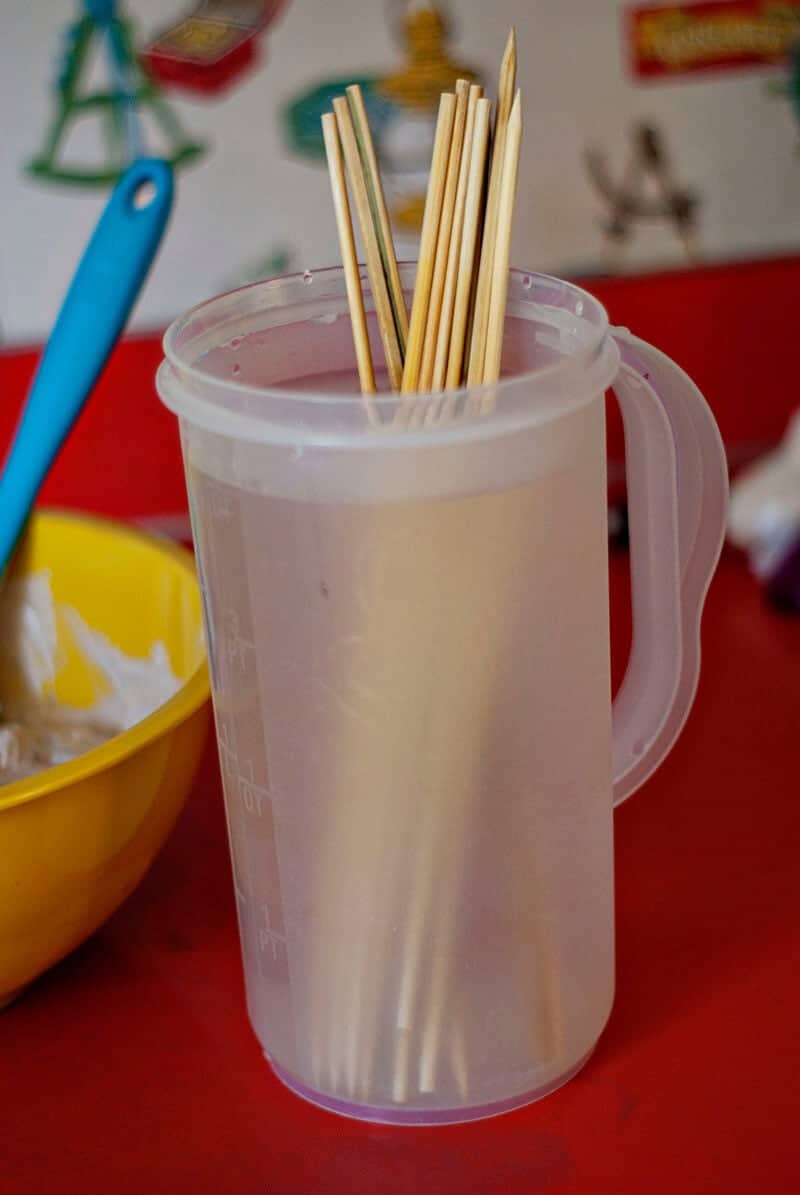 4 medium-sized chicken breasts should give you about 8-10 pretty good sized kebabs. Just take the chicken right out of the marinade and place on the skewer- there's no need to remove the marinade from off the chicken either.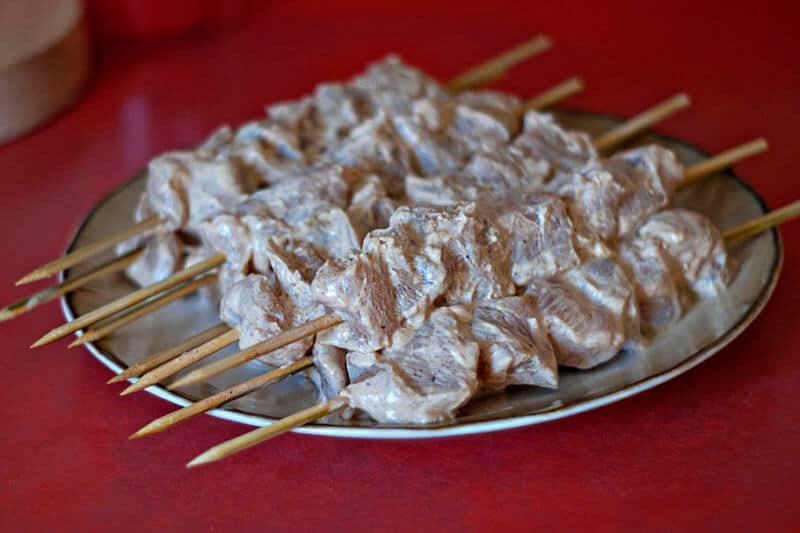 Before we jump into grilling the chicken, let's make some tzatziki sauce! This will serve as the dressing for the salad and if you've never had it you're in for a treat. It's base is made of greek yogurt and it's a cool, fresh tasting sauce that is typically served as an appetizer with bread or as a sauce on Gyros. You'll need plain Greek yogurt, lemon juice, red onion, cucumber, garlic, salt, pepper, and dried dill week.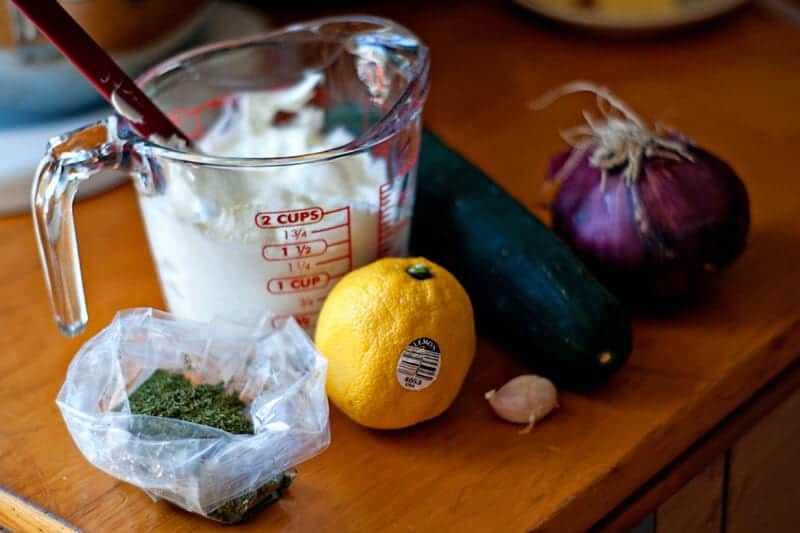 Finely mince up a couple tablespoons of onion…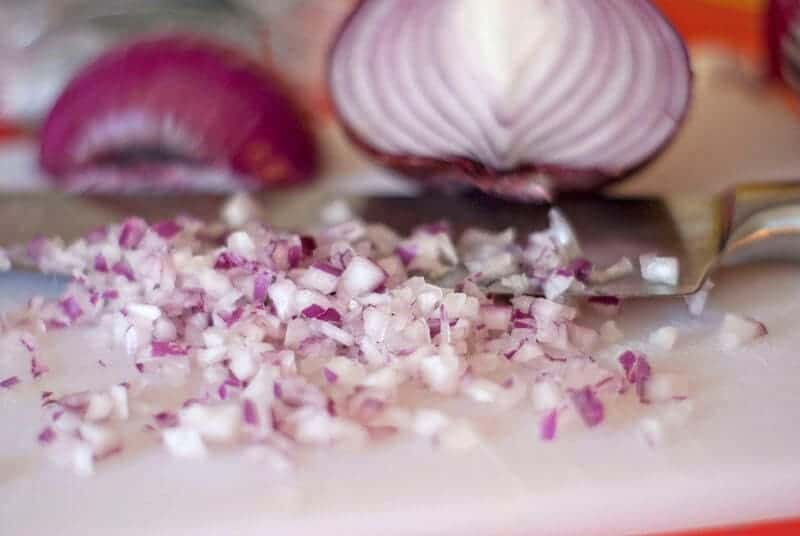 Peel and grate 1/2 of a cucumber…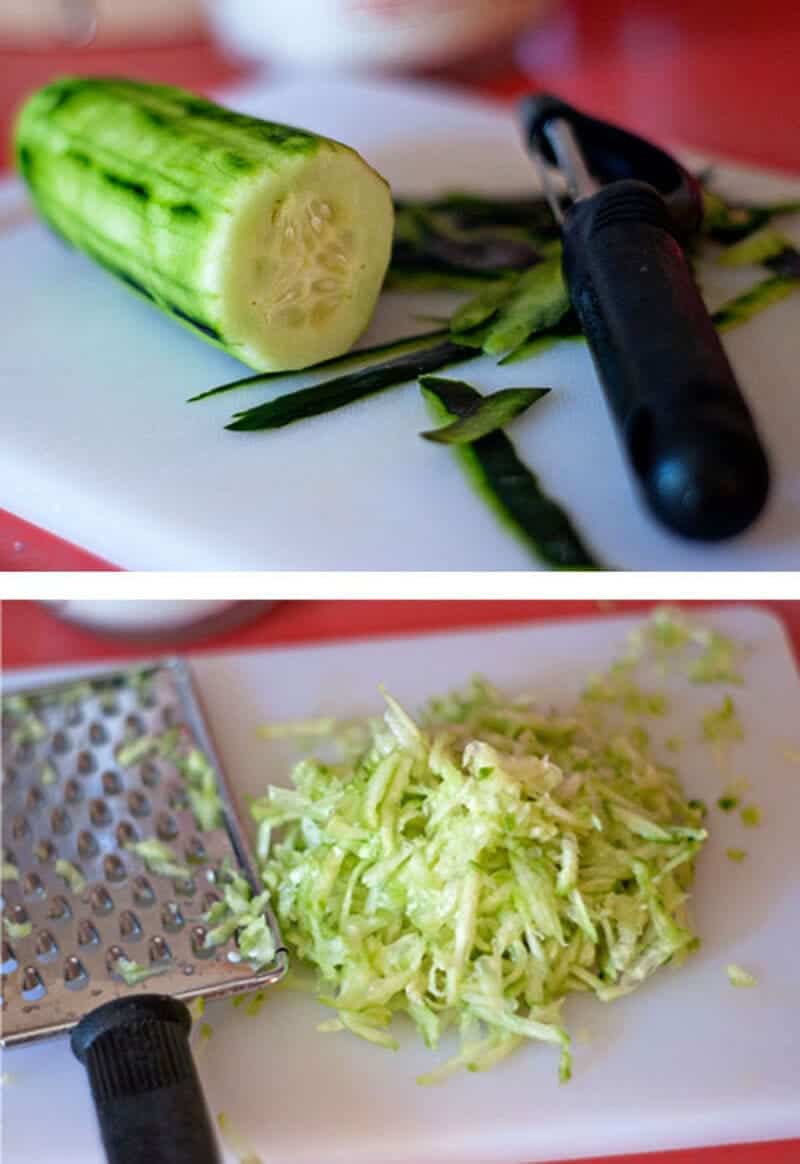 And stir it all together. Beautiful, right?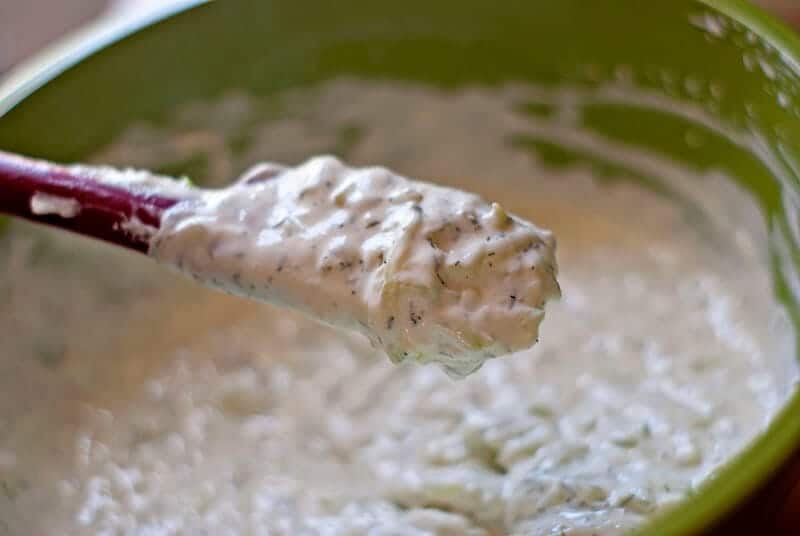 Okay, so now we've got our chicken ready to go and our sauce made- let's grill! Cook the chicken over medium-low heat for about 20-25 minutes, flipping half-way through the cooking time. It may take more or less time depending on how tight your chicken pieces are on the skewers.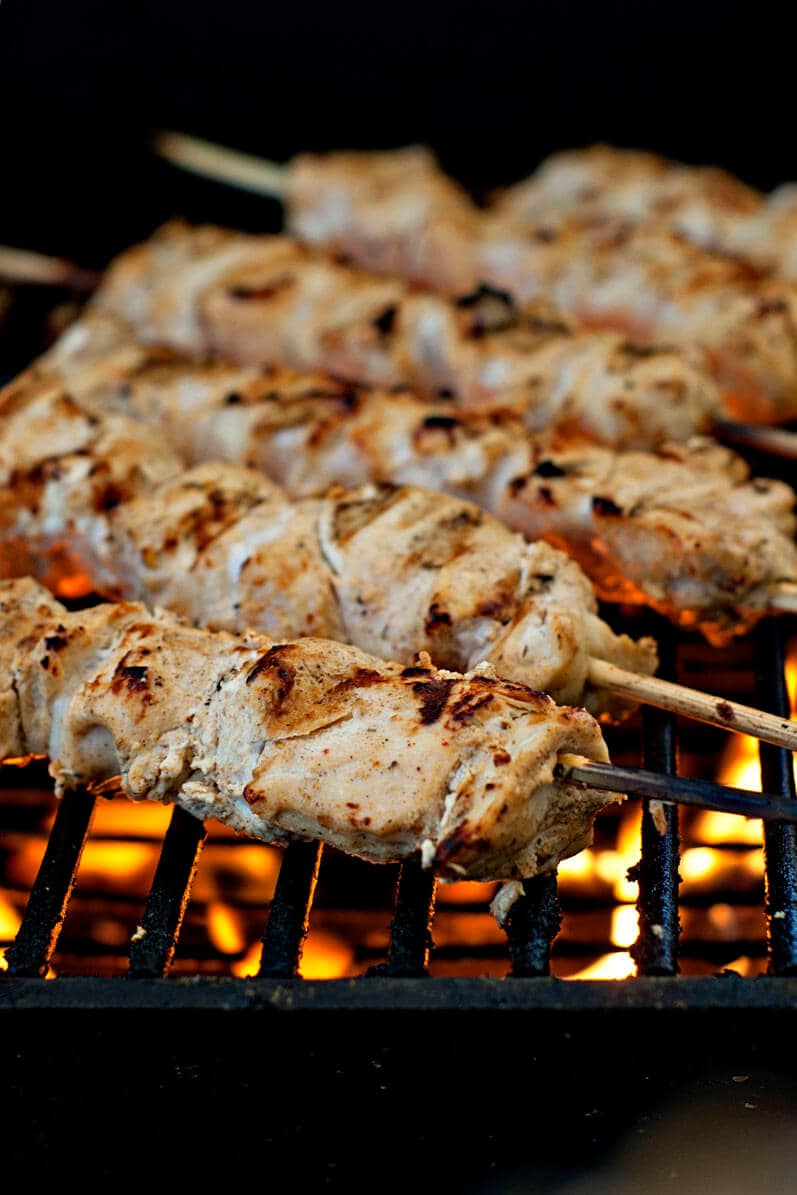 Make a big salad with romaine lettuce, tomatoes, kalamata olives, red onion, cucumbers and crumbled feta cheese and top with a couple of the chicken skewers. Drizzle with the tzatziki sauce and a little olive oil if desired and go to town! Grilled Chicken Tzatziki Salad Town, that is. Hope you enjoy!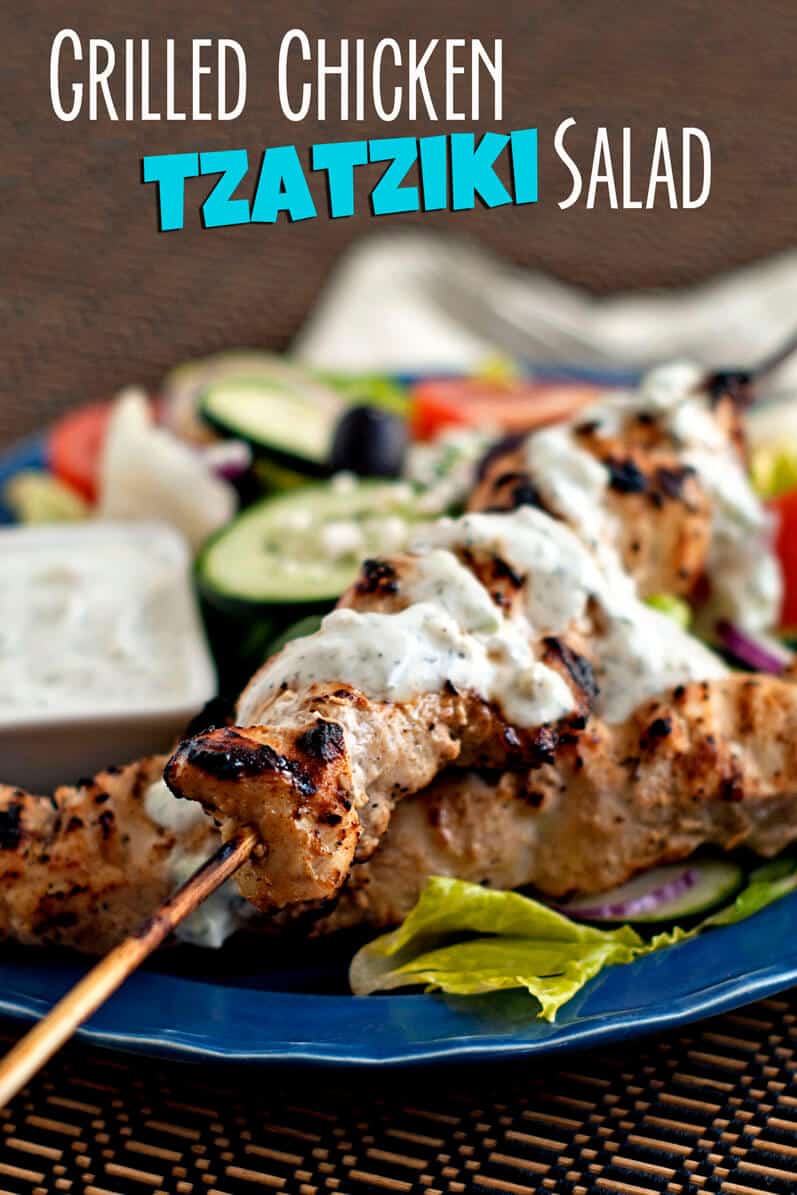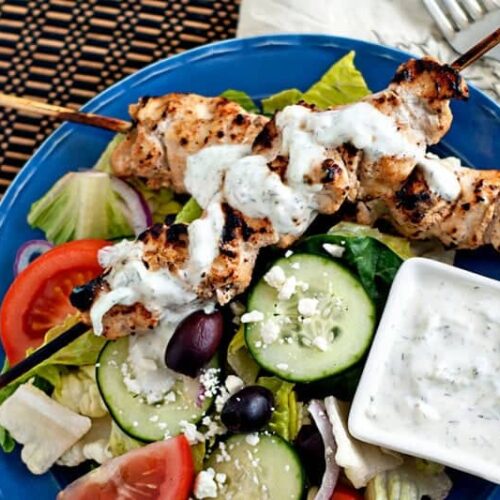 Grilled Chicken Tzatziki Salad
Yum! You have to try this delicious chicken salad!
Ingredients
For the Chicken:
4 boneless skinless chicken breasts, cut into small chunks
1 cup plain greek yogurt
2 tablespoons fresh lemon juice
1/2 teaspoon each dried oregano ground cumin, smoked paprika
1/4 teaspoon each ground cinnamon, ground cardamom, black pepper
1 teaspoon Kosher salt
2 tablespoons olive oil
For The Sauce:
1 1/2 cups Plain Greek yogurt
1 clove garlic minced
2 tablespoons fresh lemon juice
2 tablespoons red onion finely chopped
1/2 medium cucumber peeled and grated
1 teaspoon dried dill weed
1/2 teaspoon Kosher salt
1/2 teaspoon ground black pepper
For the Salad:
Romaine Lettuce
Tomatoes
Red Onion
Cucumber
Kalamata Olives
Feta Cheese Crumbles
Instructions
For the Chicken:
Combine yogurt, spices, lemon juice, olive oil and salt and mix until combined. Add chicken to the yogurt mixture and marinade for at least 30 minutes, up to overnight.

Place chicken on bamboo skewers that have been soaked in water. Grill over medium-low heat for 20-25 minutes or until cooked through.
For the Sauce:
Combine all sauce ingredients in a medium sized bowl and refrigerate until ready to use.
To Assemble:
Chop vegetables and arrange on a plate. Lay cooked chicken skewers over the salad and top with the tzatziki sauce and a drizzle of olive oil.
---
Calories: 162kcal | Carbohydrates: 3g | Protein: 24g | Fat: 5g | Cholesterol: 60mg | Sodium: 472mg | Potassium: 425mg | Sugar: 2g | Vitamin A: 45IU | Vitamin C: 4.1mg | Calcium: 65mg | Iron: 0.5mg
Nutrition provided is an estimate. It will vary based on specific ingredients used.
Did you make this recipe? Don't forget to give it a star rating below!
As you've probably already figured out by my blog name, I like food. Like, I really like food. My goal at HFL is to give you the inspiration, recipes, tips and tricks that you need to be able to eat incredibly everyday. I'm a firm believer that you don't need to spend hours in the kitchen or lots of money on fancy ingredients to make quality meals. Usually with a little know-how, the simplest ingredients make the best food. I'd love to have you stop by or come say hi on Facebook, Twitter, or Instagram!