Hi I am Laura from Corner House and I must say "I heart nap time." Both the blog and the actual time of day. Which is why I was absolutely tickled pink when Jamielyn asked me to share my sign with all of you, even is she is helping the competition on Crafting with the Stars :).
I am so excited to show all of you how to make my Halloween count down to candy sign today!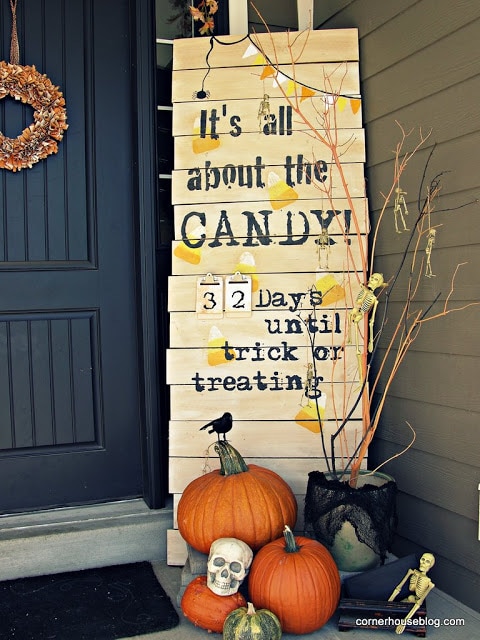 Alright let's get started on this sign.
8 – 5.5″X6′ wood fence posts (cut to 2.5′ long- by the nice guy at Home Depot)
2 – 2″x2″x8'pieces of wood cut to 7′
paint (white, black, yellow, orange)
about 10 pieces of card stock
and your silhouette. (If you don't have one I guess you will just have to go get one. Kidding. I will tell you how to do it with out a silhouette, but it just just faster and easier with one.)
You will start by laying out your 2×2 boards about 1.5 feet apart. I put them against a wall at one end to make sure they were level. Then lay out your shorter wood pieces on the boards so you can get a good idea of how you want them.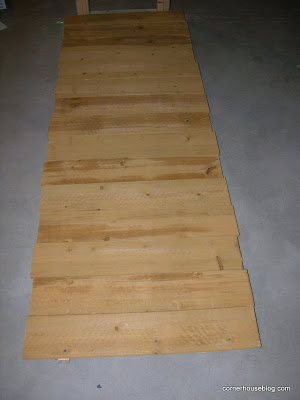 Sorry these pictures are the best I could get, I made this down in my basement (due to the fact that is was NAP TIME). Anyway, now you just want to nail your boards down.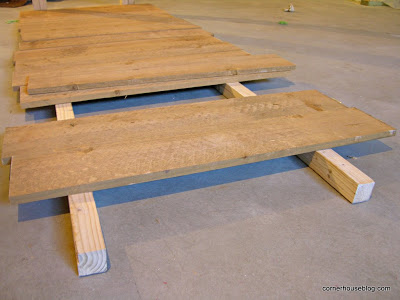 I moved a few boards as I was working so I could see where the 2×2 were. I used 4 nails per board; and if as you are nailing one of the nails bends over don't worry about it, just hammer it in and move on.
Once it is all nailed you want to beat it a little. Feel free to hit it with what ever you have around. I like to use the the back of a hammer or a screw driver.
Then you want to white wash it. I like a 1 part paint to 1 part water ratio to make the wash. Paint on the wash like you would normally and then let it dry. I like the wash because it lets some of the wood natural prettiness show through.
While that is drying, use you silhouette to cut out your words. If you don't have a silhouette you can just print out the words and then rub the back with a lot of chalk (not white) and the put that up to the wood and trace over the letters with a pencil and it will make the letters on the board so you can paint them in. 
Back to the stencils. Put your stencils up on the sign.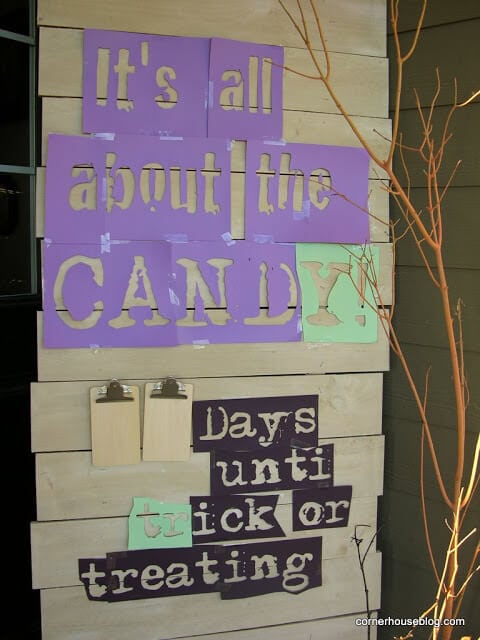 (100,000 points if you can see how I where I messed up)
Now once I had my letters up there I decided that I want some of the candy corns to be under the letters, so I moved some of the stencils to add in the candy corn.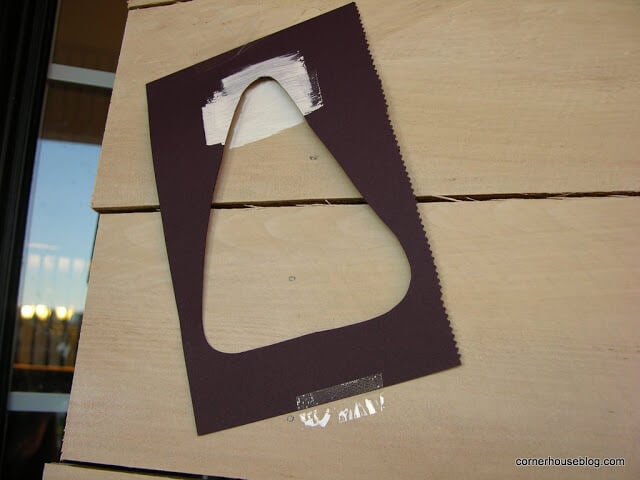 I just painted them on and them sanded them off before painting on the letters.
(Oh look two of those nails that didn't go into the wood nicely. cute)
Now paint in your letters.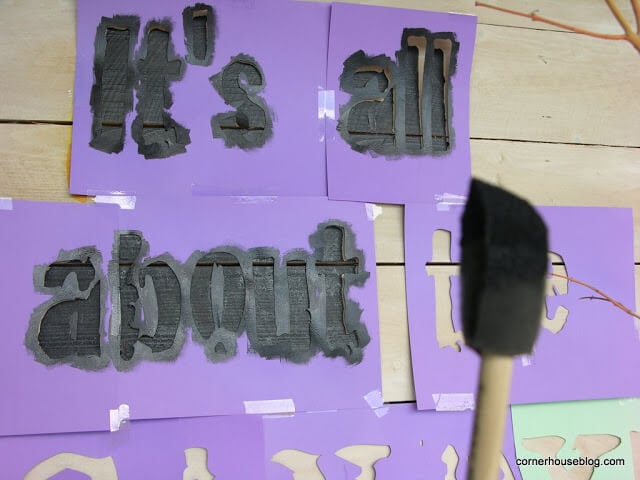 I used those cheap foam brushes for the stencils.
Once your letters are dry you will want to sand them.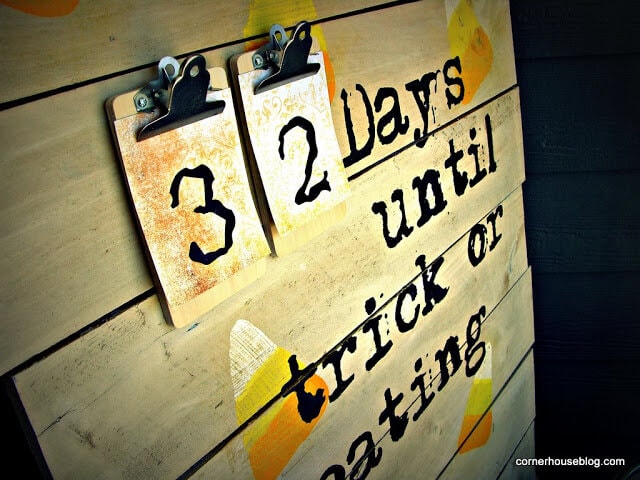 For the count down, I nailed up two little clip boards and then just cut out letters and glued them to cute paper.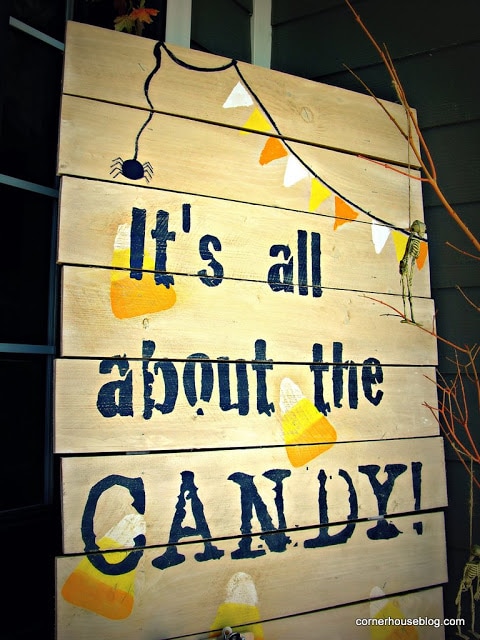 To finish it off I free hand painted the little bunting and the spider.

I know

… my art skills are AMAZING. P

ossibly I shouldn't joke with you guys like that. You may not know I am joking.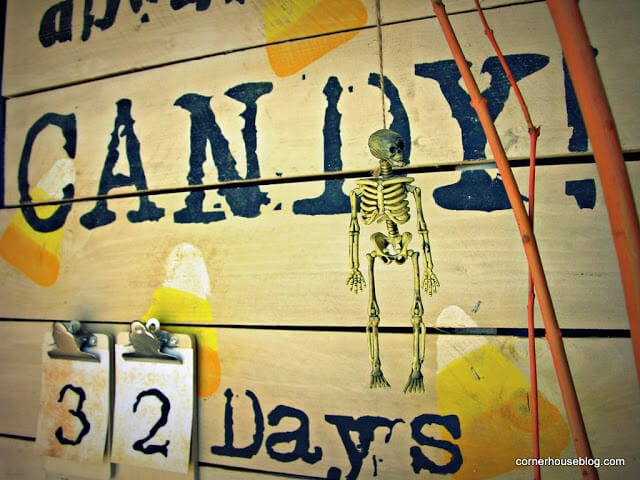 Oh BTW I used the fonts Crackhouse, Addict, and Adler. Maybe if you already have those you can save yourselves hours not having to look though and find a font you want.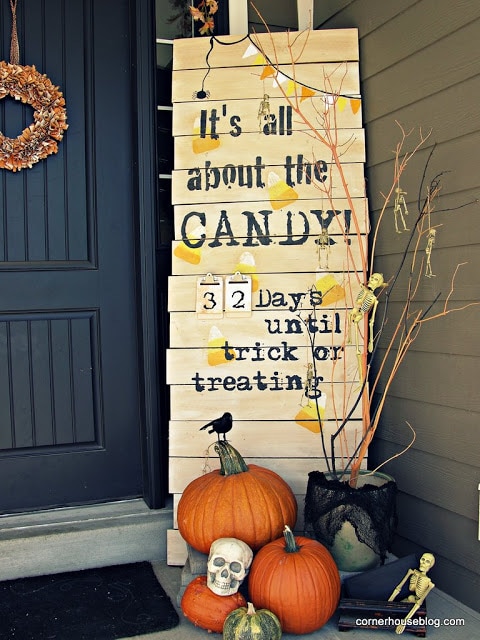 Once it is all together, all you have to do is put it on your porch and count down to what is really important. CANDY!