Beautiful Holiday Dioramas – amazingly easy to make, gorgeous and festive holiday dioramas to decorate any location in your home!
Hello, friends! We're Sarah, Amanda, and Candice from Handmade Mood and so glad to be joining you again this year! Amanda here, with one of my favorite new winter crafts.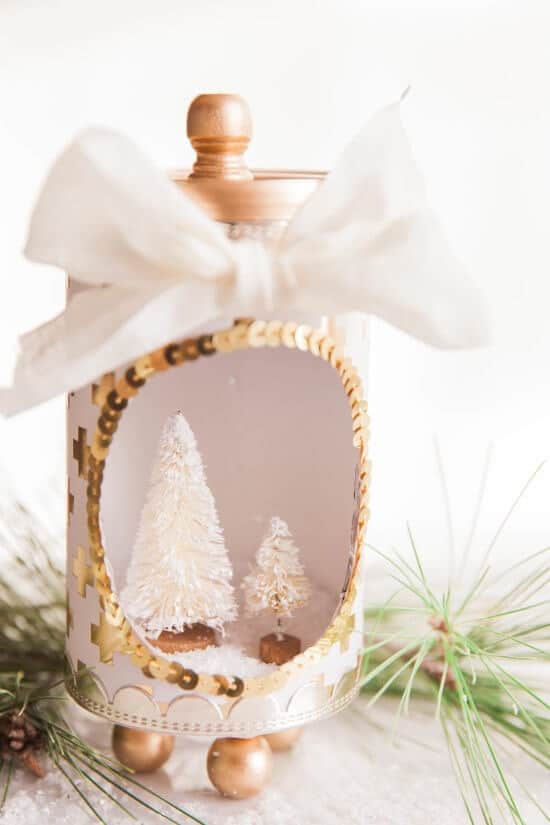 Candice is a bottomless well of creativity and her holidays are filled with these beautiful and festive dioramas. The miniature sizes, the sweet scenes and tiny additions are even more magical during the Christmas season. Candice's versions are full of hand pleated trim and beautiful ribbons and details she's collected over time. I made a version that used what I had on hand to share with you!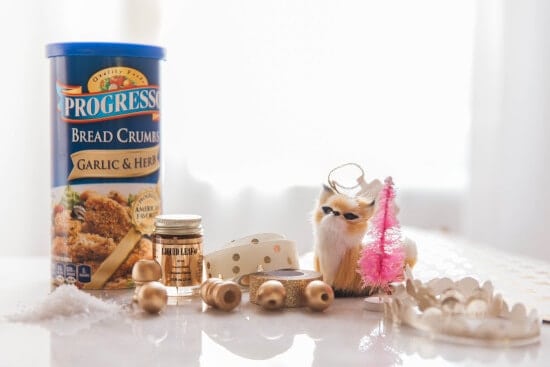 I transformed a breadcrumb container with scrapbook paper, some trim from The Dollar Spot, ribbon from my scrap drawer, wooden beads painted with liquid gold leaf and some faux snow into two sweet scenes – one with some wee bottle brushes and one with a sassy fox ornament my three year old fell in love with.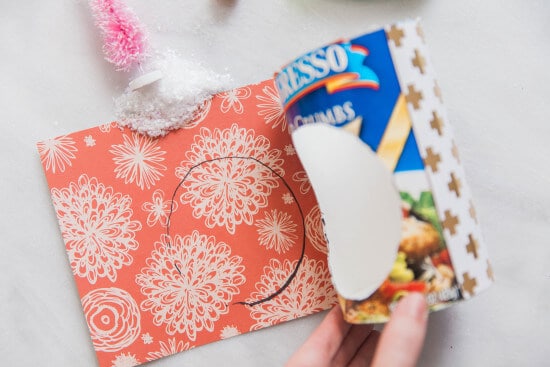 Start by trimming your container, if needed, to make it proportional to the items you'll use inside. Cut an oval in the front as the window and cover with scrapbook paper.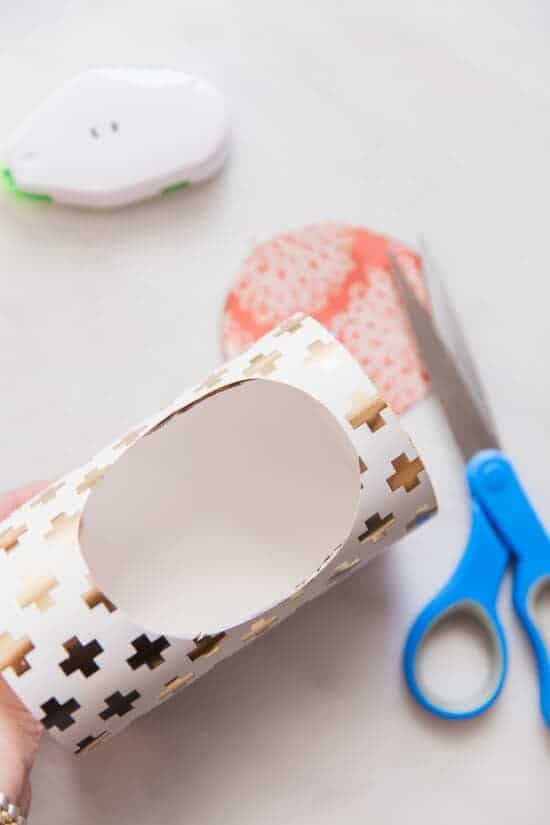 To make the feet and finial top, paint basic wood beads with gold foil paint (look for it by the gold leafing supplies in the craft store) and hot glue to the lid (also gold foil painted) and base.
Then embellish! Sequins around the window and a sweet gold scalloped trim around the top and bottom.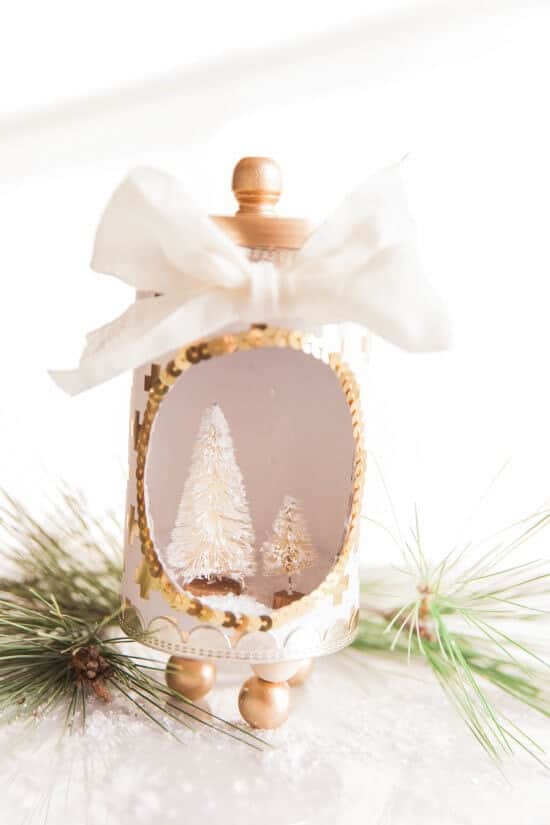 I had a bit of white raw silk ribbon i my stash drawer and it was the perfect topper on the front of the container. The trees can be hot glued onto the "floor" or just placed, if you want the flexibility of changing out the scene. The snow is piled as high as possible around them.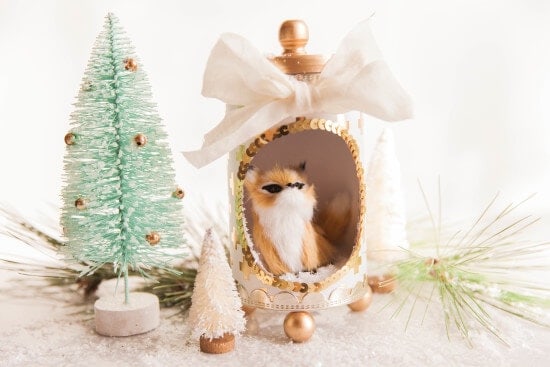 My daughter, Vivi, found this sassy fox in the ornament section at Target and, even though it's a little big, I knew I wanted to make a version with it. I love how she looks like she's peeking out of her wintery, glam, home.
Deciding what kind of 'scene' to arrange might be the hardest part of the project – have you seen the cute miniatures in the craft stores this year? They are better than ever! You could use any shape and either a paper mache container from the craft store or upcycle a container from home. An oatmeal carton would also be a great size!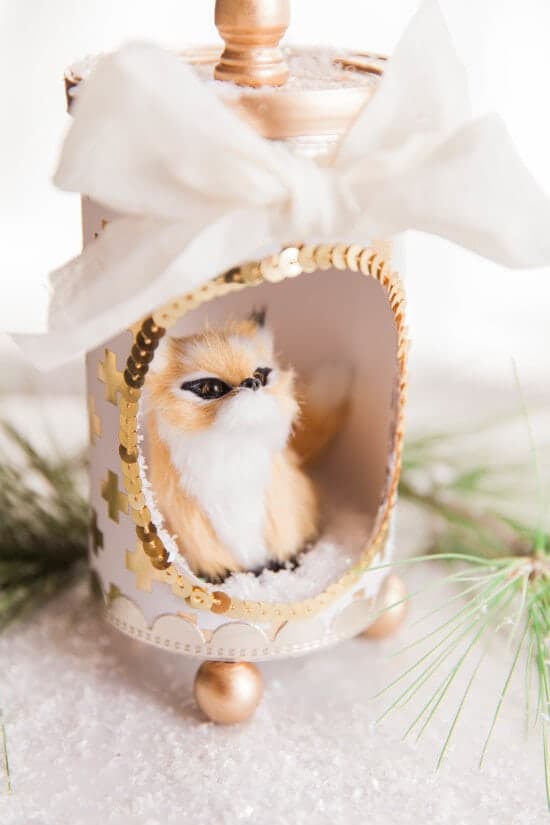 I hope you are inspired to add a festive diorama to your holiday decor – the options and possibilities are limitless!
Thanks you, Amanda! Aren't these dioramas gorgeous? If you enjoyed this holiday craft, you'll love these, too!