Welcome to the Crazy Christmas event! If you're new here, join us on Facebook and Pinterest. Now let's give Jennifer from The Chronicles of Home a big welcome! We're so happy to have you guest posting!
Hi everyone! It's Jennifer from The Chronicles of Home and I'm sharing with you my usual something sweet today. This treat is special, though, because these hot cocoa kits with marshmallow dipping sticks make a darling gift for absolutely anyone.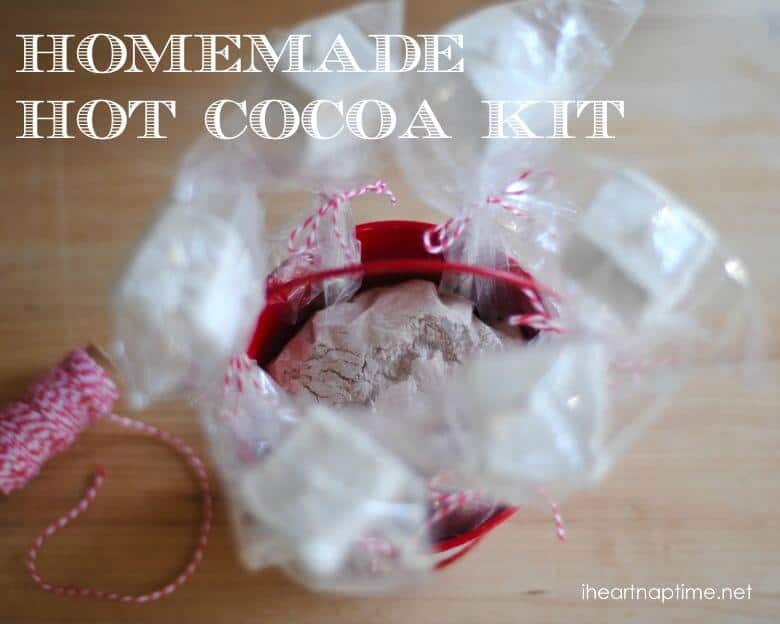 Now, I can't actually take credit for this idea. My mom showed up at my house a couple weeks ago with two little orange buckets filled with homemade hot cocoa mix and homemade marshmallows as a Halloween treat for my daughters. They went nuts for them and let's just say we have been drinking a lot of hot cocoa around here since then.
I took my mom's idea and adapted the wrapping to make it more Christmasy, but I love that you could change up the buckets, ribbons, really anything at all about the packaging and use this gift idea for so many different occasions.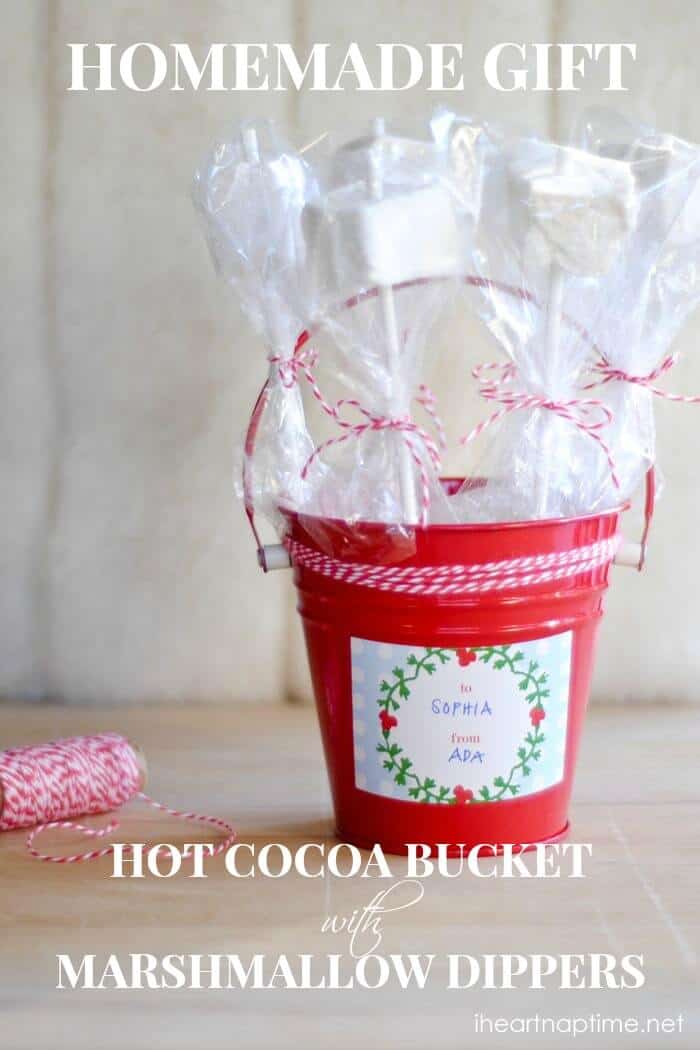 Supplies:
You'll spoon the cocoa mix into a baggie and secure it with a twist tie, then tuck it into the bucket. Push marshmallows through the candy sticks then wrap each marshmallow with a small cellophane bag and tie it underneath the marshmallow with some baking twine. Stand the marshmallow sticks up by tucking them in between the cocoa baggie and the sides of the bucket. Wrap the bucket with a ribbon or more baking twine.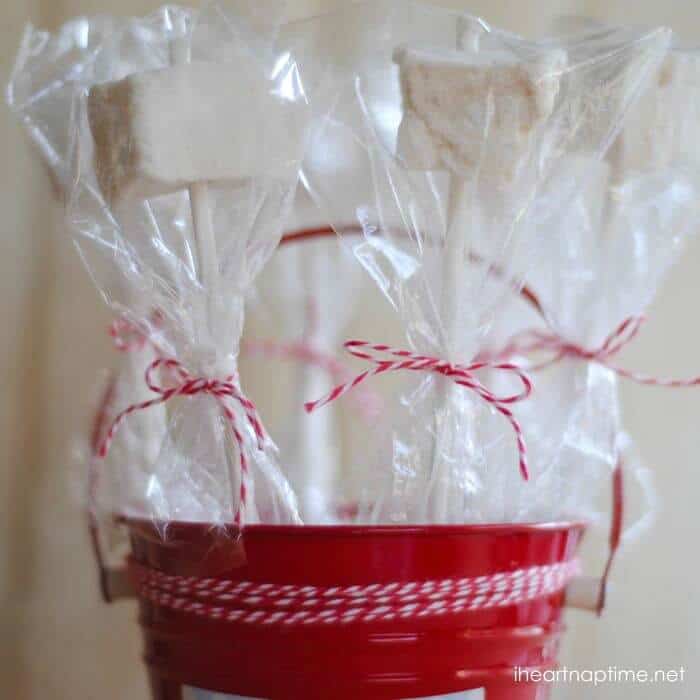 If your kids are anything like mine, they love to dip anything in anything, and these marshmallow sticks were no exception. Even for me, the dipping sticks are so much easier than trying to slurp up chunks of marshmallow from your cocoa cup!
Using store-bought cocoa mix and marshmallows make this an ultra quick gift to throw together, but I have to say, if you've never made (or eaten) homemade marshmallows, they are worth the effort. The flavor and texture are sublime. I included links above to my favorite homemade cocoa and marshmallow recipes so be sure to check them out if you want to take that extra step.
Stop by The Chronicles of Home and see what I've been up to lately!

Roasted Vegetables with Pecan Gremolata | Turn a Picture Frame Into a Chalkboard | Arugula, Pear & Pomegranate Salad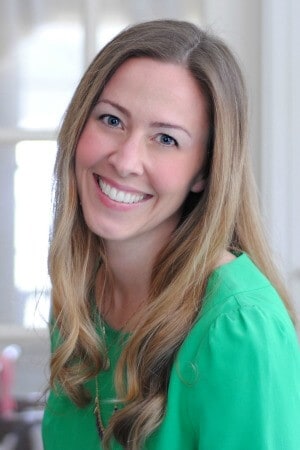 I'm Jennifer from The Chronicles of Home, where I share DIY and home decorating projects as well as lots of yummy food. My truest loves are my husband and two young daughters, but I've also fallen for salvaging, refinishing, & reupholstering old furniture and building furniture from the frame up. I have a sweet tooth to be reckoned with and love testing new desserts, though most of the time I eat and feed my family delicious, interesting, healthy food. I'm drawn to beautiful fabric, great books, anything kelly green, pasta made from scratch, dark chocolate, and brown butter. I'm so thrilled to be a member of the I Heart Nap Time creative team!
Thanks so much for sharing! We loved having you guest post today! XO

Make sure to follow the Crazy Christmas Event HERE all through the holidays. We have some fabulous bloggers that will be sharing crafts, recipes, decorating ideas and handmade gifts!