Hi new friends at I Heart Nap Time! I'm Carrian from, Sweet Basil and I'm kind of dessert obsessed during the summer. I know it's when a lot of people are getting swimsuit ready, which I'm all about, but I also love hanging with family and friends and eating a totally bomb diggity treat.
Reese's happen to be one of my favorites and stuffing them inside of a buttery Reese's Crumble Bar, or making our famous Reese's Krispies that you've seen on Pinterest is one of our favorite ways to spend time together. But when we were celebrating our little miracle who almost didn't join our family and she requested donuts instead of cake I knew that we could take Reese's to a whole new level.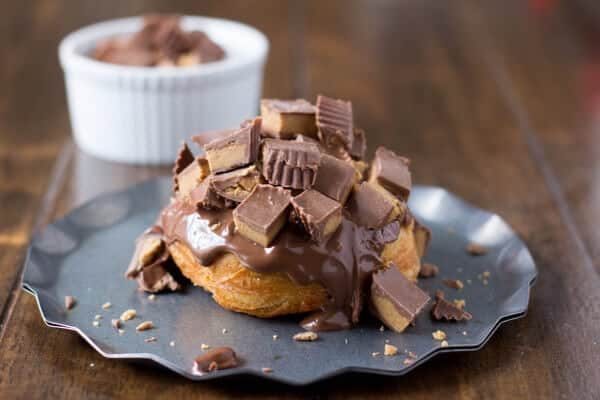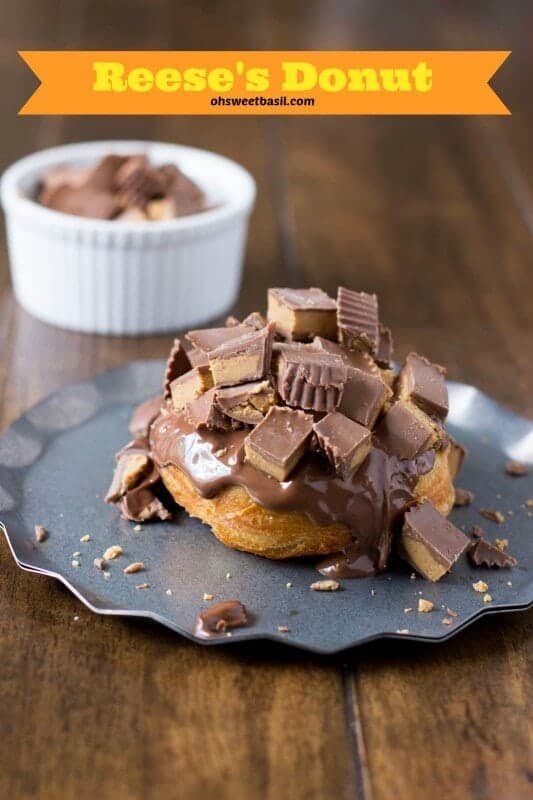 You can read more about our Little C in the link above, but I just wanted to mention that although that experience was incredibly hard for us it has changed our lives for the better. Wow, I didn't want this post to be all serious, but there are a few important things I've learned, in a particular order.
From Trials Come Strength and Blessings
The experience we went through was definitely humbling. It was harder than I imagined to never be around to be a wife and mother. It was hard to turn that over to people I hardly knew or even to friends. There's a lot of guilt that comes with being that sick and not being a mother for a bit. I knew I couldn't do anything about it, but that didn't change how hard it was to let other's take care of everything in my life.
We learned to be grateful for everything we ate, me especially. Once I was released from the hospital and we knew that the baby would in fact survive we still didn't know if there would be any difficulties with her health due to everything I'd just been through. Once I was feeling well enough to eat, and especially once we had her I felt so grateful for food and water and I felt driven towards making sure that we were always taking care of our bodies. Now, that's kind of funny to say as I present you with a calorie ridden dessert, but don't worry, I have a good reason for that. ;)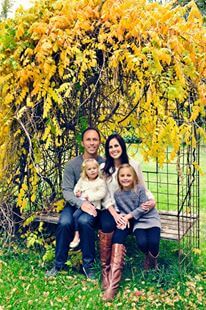 We have learned that family comes first. Period. We are going to work our hardest to enjoy these precious moments that quickly become memories. You just never know what the future holds and we never want to look back on our life wishing that we would have lightened up a little, played more, read more bedtime stories, talked with our children and actually listened to what they had to say. For us that means unplugging every day during meals and when the kids are around so we can just be together. It also means we take time each week and each month to have family time, whether it's all together, daddy daughter dates, or mother daughter dates. Sometimes we just get crazy, have a huge pizza and movie party and serve up some crazy awesome, kid pleasing dessert like this one.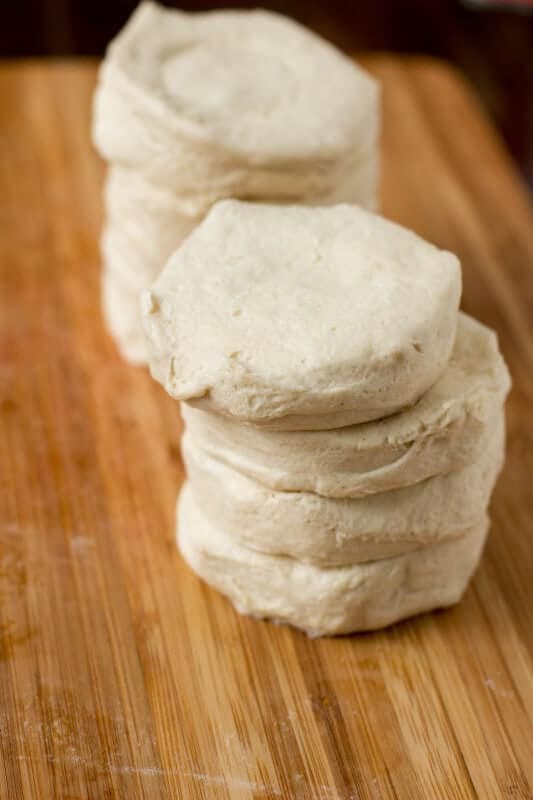 Reese's Donuts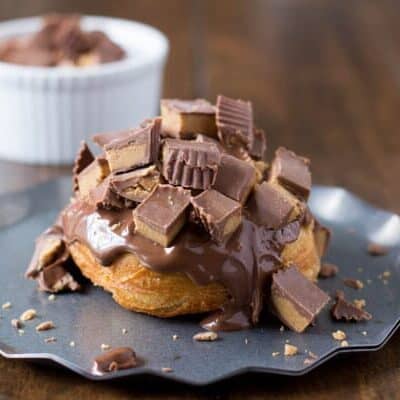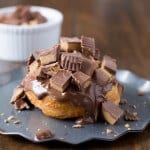 Homemade reese's donuts
These Homemade reese's donuts are amazing! You have to try them.
Ingredients
6

ounces

Can Pillsbury Flaky Layers Biscuits

1

cup

Canola Oil for frying

1/2

cup

Nutella

1/4

cup

Reese's Peanut Butter Cups

chopped
Instructions
Heat a large dutch oven or pot over medium heat and fill 1/3 the way up with oil.

Pull apart the biscuits and using a donut hole cutter, cut out the center of each donut. Once the oil is hot, carefully lower each donut into the oil with your hand close to the oil to avoid splashes. Cook the donuts until golden brown, turning often. Remove to a paper towel lined plate and allow to drain a little.

Spread each donut with nutella and top with chopped Reese's and enjoy.
Nutrition
Calories:
206
kcal
|
Carbohydrates:
22
g
|
Protein:
2
g
|
Fat:
12
g
|
Saturated Fat:
6
g
|
Sodium:
209
mg
|
Potassium:
123
mg
|
Fiber:
1
g
|
Sugar:
11
g
|
Calcium:
31
mg
|
Iron:
1.5
mg
PIN THIS RECIPE
I guess that in the end I learned that life is precious and everyone has a story. You just never know the battles that others have, are or are going to face and everyone deserves a little love. Our children especially. I want to be present. I want to take in every moment that I have so that one day I can look back and say, I was there. I lived it. I loved it, and my children know it.
I'd love to know if there's anything in your life that has taught you an important truth or changed how you live.

Deep Fried Peaches and Ice Cream Garlic Cheesy Bread Oreo Biscoff Banana Bread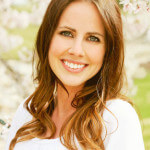 Carrian is a wife, mother of 2 and blogger at Sweet Basil where her and her husband share favorite recipes that anyone can make plus a little health/fitness, travel and lifestyle on the side. Carrian is from Washington but currently resides in Utah while her husband finishes his masters program. They enjoy spending time together as a family, eating delicious foods, traveling and relaxing. Stop by and say hello on Pinterest, Facebook, Twitter and Instagram (ohsweetbasil if you search from your app)!