Learn how to cook quinoa on the stove with this easy-to-follow guide to cooking tender, fluffy quinoa with a bite. It's the perfect jumping-off point for additional flavors or add-ins and it's meal prep and freezer friendly too!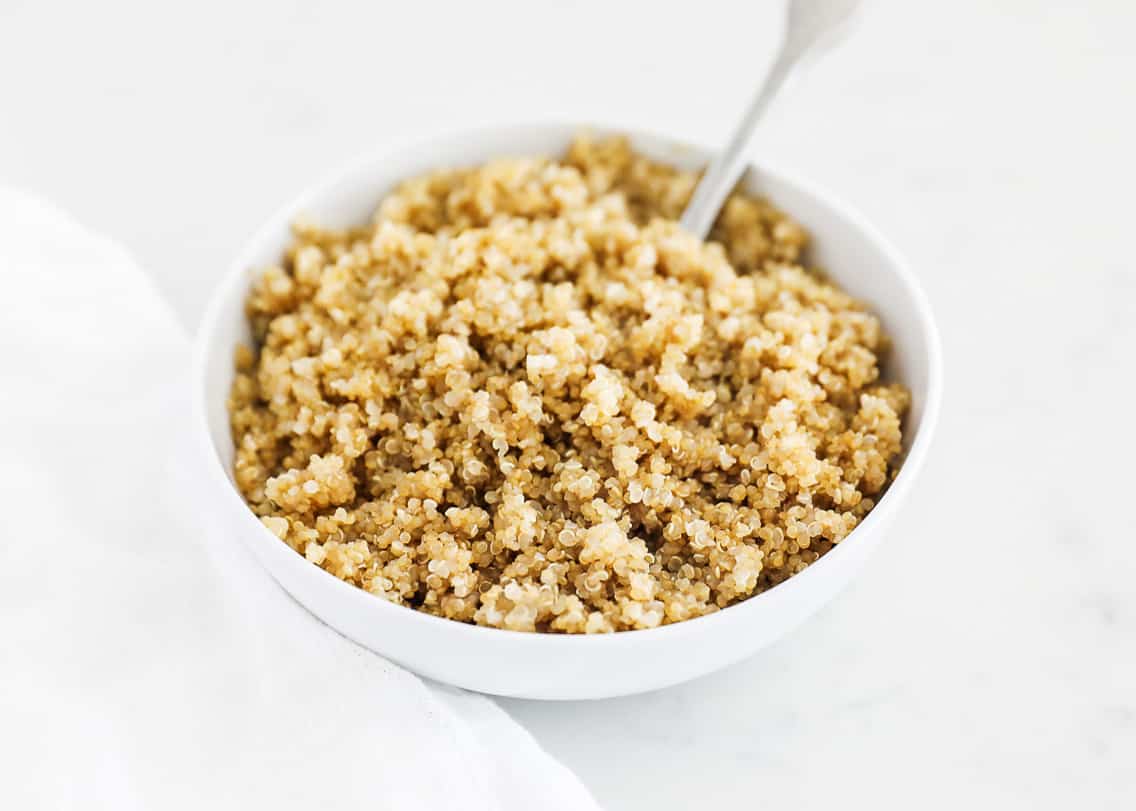 Perfectly Cooked Quinoa
Learning how to make quinoa on the stovetop opens the door to so many versatile and nutritious recipes. With this quick and straightforward process, you'll be able to effortlessly create fluffy, tender stovetop quinoa in just over 20 minutes, providing a wholesome base for hearty salads, cozy bowls and more!
If this is your first time, or you've tried and failed before, you've come to the right place. Gone are the days of overcooked mushy quinoa, or worse, undercooked and possibly burnt. In fact, if you know how to cook rice on the stove, you know how to cook quinoa!
Quinoa has an earthy nutty flavor, but otherwise a bit bland, so it is typically used as a vessel for other delicious flavors. Once you've made a big batch, it's perfect for meal prep for the week and whatever doesn't get used can be kept frozen for months.
It is versatile, naturally gluten-free, vegetarian, and vegan, which makes it a welcome addition to any meal!
What is Quinoa?
Although quinoa is technically a seed and part of the amaranth family, it's widely used as a grain, mostly due to its nutritional makeup. It is not low carb, but it is high in protein, vitamin B, folate, fiber, magnesium and a slew of other nutrients and minerals.
It is used for a variety of dishes throughout the day, from porridge in the morning to salad or stews at lunch and dishes like this baked teriyaki chicken bowl for dinner!
Red vs White Quinoa
Did you know that quinoa comes in a variety of colors? White, red, black, purple, orange, green, grey…you get the idea. The most commonly used are white and red but there are also times when you may see a combination of white red and black quinoa. This is known as tri-color quinoa.
White it is milder in taste and texture, it's lighter and becomes fluffier when cooked than the others. Red quinoa is a bit heavier. It's darker in color but also has a deeper, nuttier flavor. It doesn't fluff up as much and it holds its shape a bit better.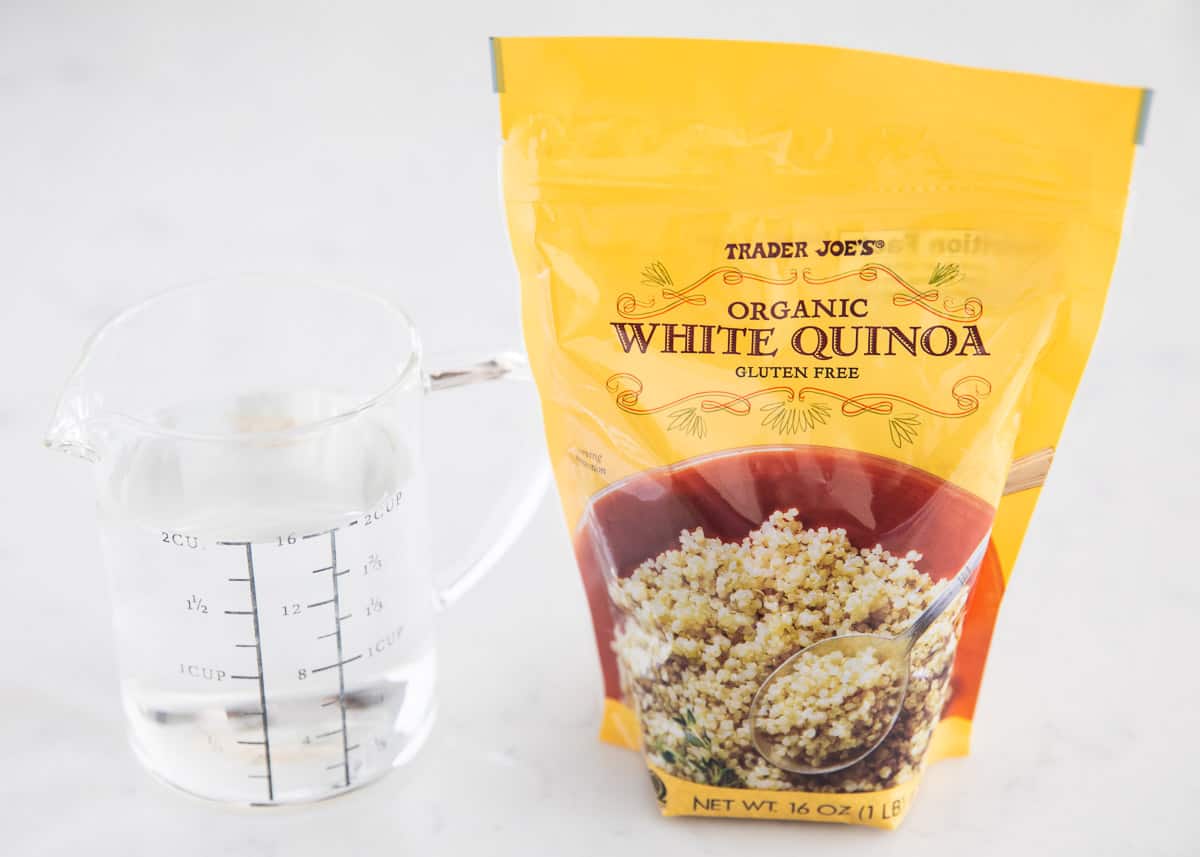 Quinoa to Water Ratio
The standard ratio is 2 cups of water for every 1 cup of quinoa. You can make more or less as preferred, just make sure to follow this 2:1 ratio and you'll be fine. The liquid will evaporate as it cooks, leaving you with fluffy and perfect quinoa every time!
Flavor Variations
Feel free to use chicken broth or vegetable broth instead of water to add a little more flavor. Or mix in 1 teaspoon of olive oil or butter while the quinoa cooks for a richer taste.
Cooking Quinoa on the Stove
In just 25 minutes, you'll have the absolute perfect quinoa that's fluffy and tender. And once you learn how to cook quinoa on the stove, you'll never cook it any other way!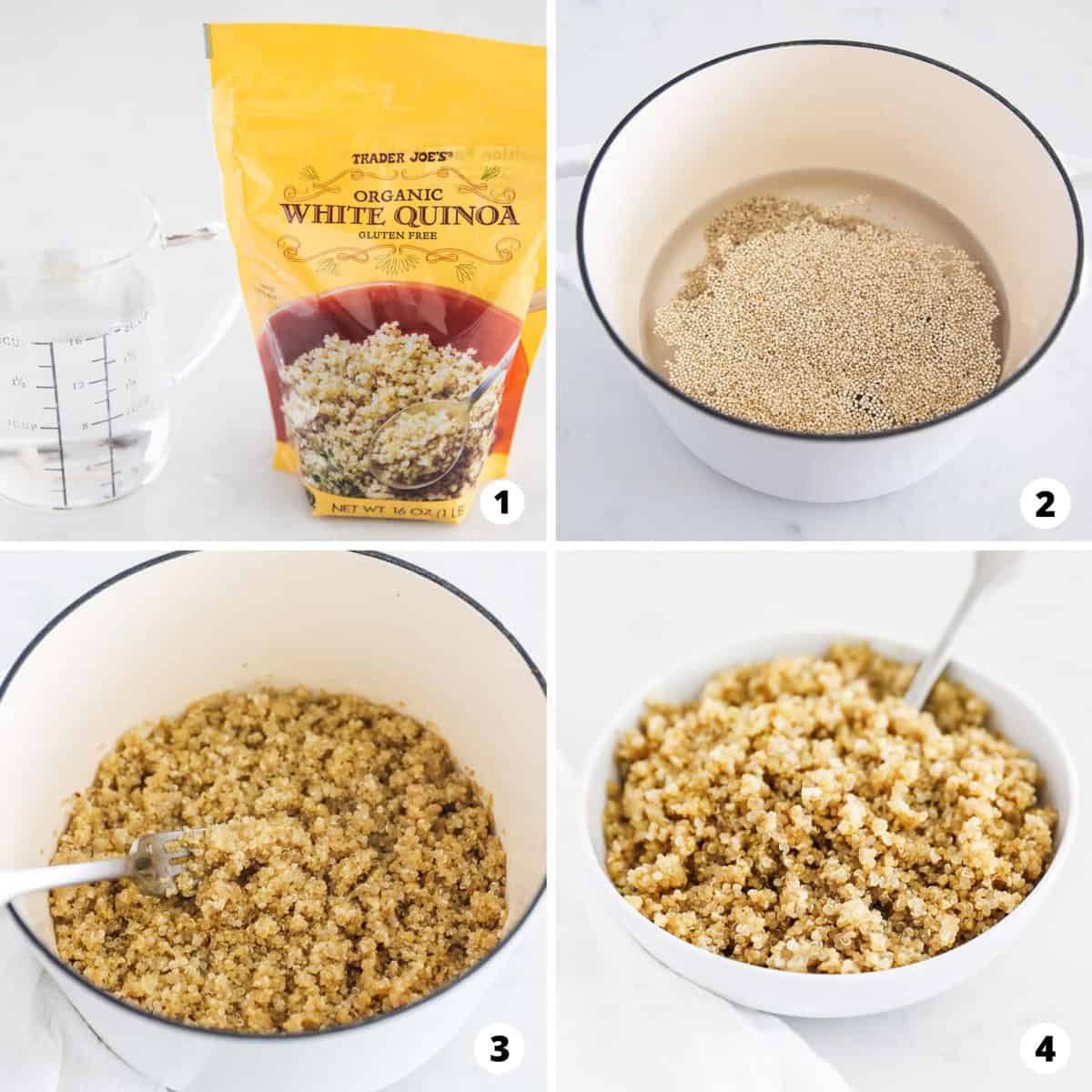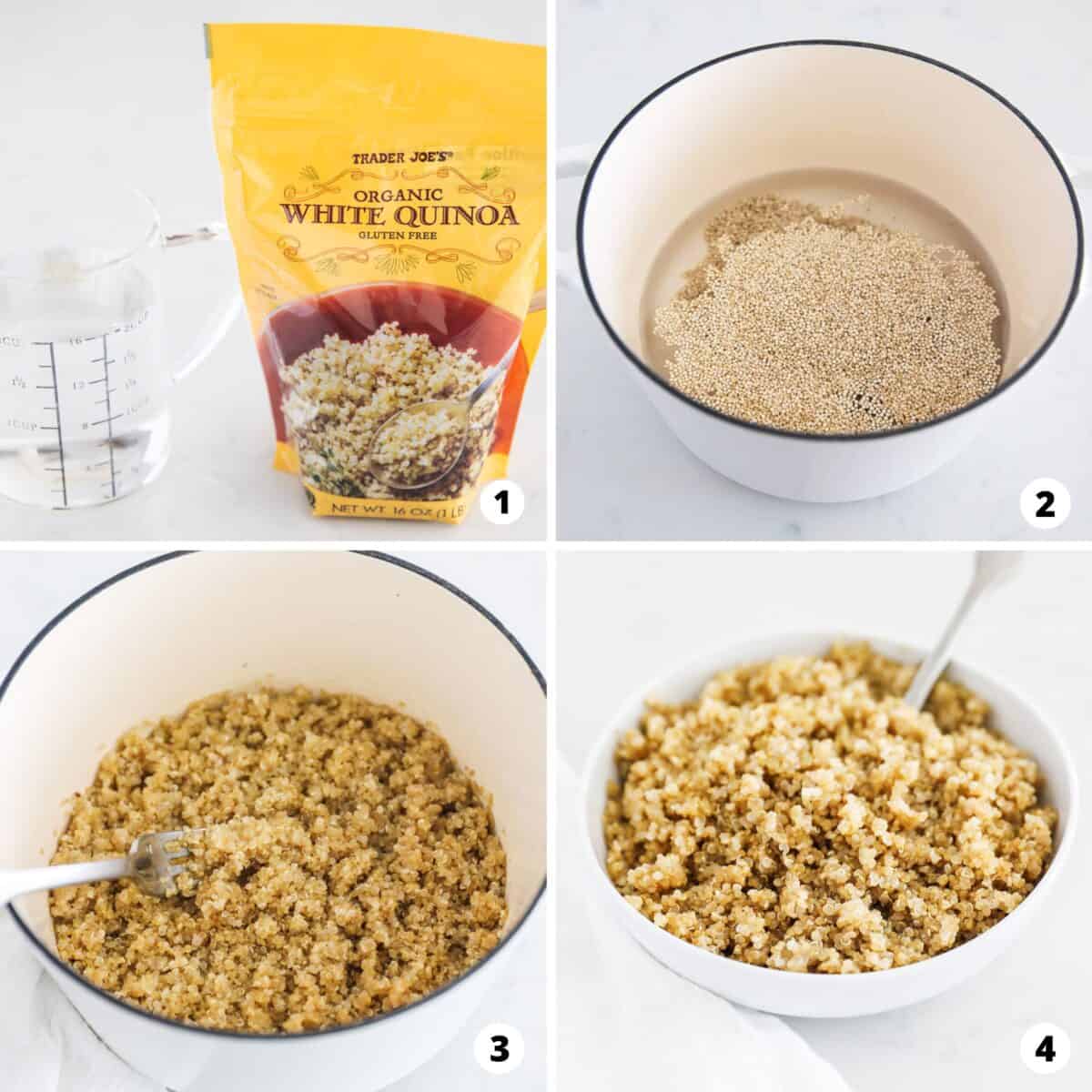 Add the rinsed quinoa, water and salt to a saucepan. Bring to a bowl, then lower the heat and cover with a lid. Simmer for about 15 minutes, or until there is no more liquid in the pan.
Remove the lid and let the water evaporate for about 5 or so minutes. Then use a fork to gently fluff it before serving.
Other Easy Methods for Cooking Quinoa
Instant Pot: Once you do this, you may never use the stovetop again! Add quinoa, water, and a bit of salt to the Instant Pot. Set it to 1 minute, if you're using the white variety, and allow it to naturally release. Open the lid, fluff it up, and there you have it! Totally hands-off.
Rice cooker: For added convenience, you can cook in a rice cooker the same way you would rice. Stir, cover, and cook as directed.
Microwave: Cover and cook water and quinoa on high for 4 minutes, in a microwave-safe bowl. Remove and stir. Continue cooking for an additional 2-3 minutes until all the water has been absorbed. Remove from the microwave and let it stand for a couple of minutes before fluffing and serving.
Favorite Ways to Use Cooked Quinoa
Below are a few of my favorite quinoa recipes to make for breakfast, lunch or dinner.
FAQs
Do I need to wash it first?
In the same way that you would wash your rice, you do need to rinse and drain your quinoa under cold water in a fine-mesh strainer.

Quinoa starts off with a coating called saponin, which when ingested, isn't necessarily dangerous, but it is super bitter. Most packages of the quinoa sold in stores will come pre-rinsed because of this, but it doesn't hurt to run it under some water again.
Does quinoa have protein?
You bet! One cup of quinoa has about 8 grams of protein. This superfood has all 9 essential amino acids which make it a complete protein and suitable to eat on its own or as an ingredient in all kinds of other dishes like salads, soups, or even breakfast porridge.
Is quinoa a grain?
Believe it or not, it's technically a seed. Because it's prepared similar to other grains and is often used in place of rice, most people are under the impression that it's a grain.
Is it gluten-free?
Yes, which makes it a great option for those with a gluten sensitivity or allergy. Simply substitute in place of grains containing gluten such as barley or kamut.
How do you pronounce quinoa?
Although commonly mispronounced, the correct pronunciation is "KEEN-wah."
Storing, Freezing, & Reheating
To store: Allow to cool completely and place in an airtight container. Keep in the fridge for 3-5 days.
To freeze: It is very freezer friendly and is super helpful with meal prep, especially when divided into portions, so you only thaw what you need. Freeze for up to 3 months, and thaw in the fridge overnight.
To reheat: The easiest way to reheat is in the microwave. If you choose to reheat on the stove, you'll want to add a splash of water or broth to add a little moisture back in and to avoid burn.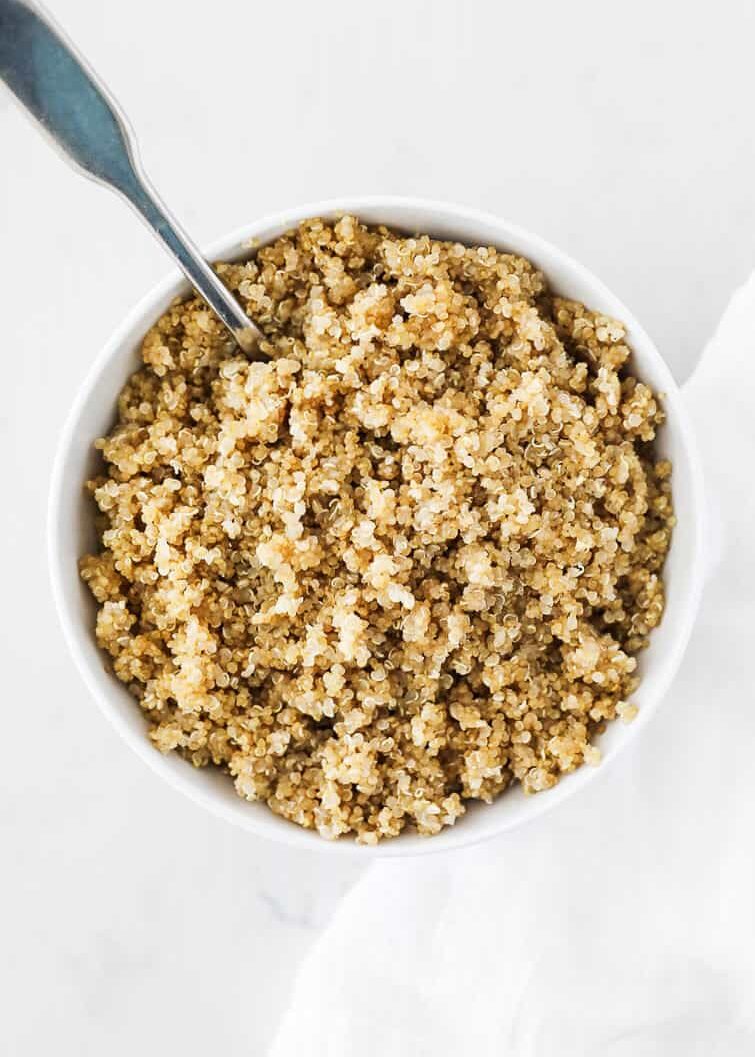 More Recipes to Use In
HUNGRY FOR MORE? Subscribe to my newsletter and follow on Facebook, Pinterest and Instagram for all the newest recipes!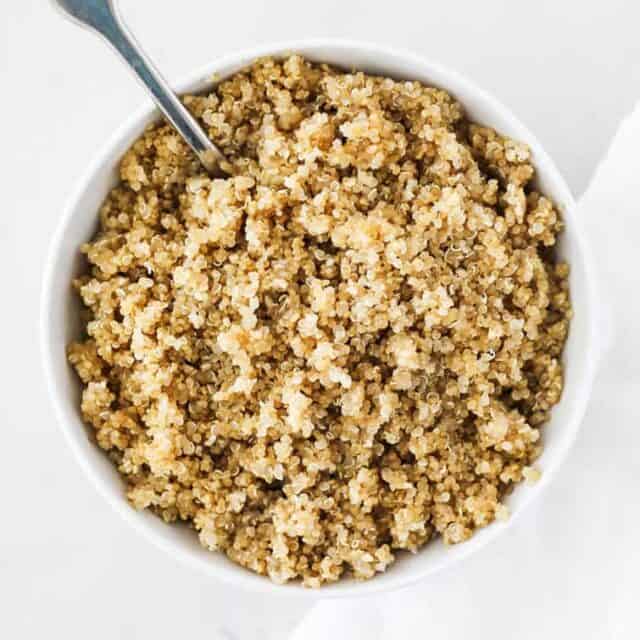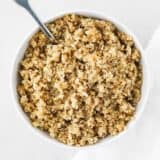 How to Cook Quinoa
Learn how to cook quinoa with this easy-to-follow guide to cooking tender, fluffy quinoa with a bite. It's the perfect jumping-off point for additional flavors or add-ins and it's meal prep and freezer friendly too!
Ingredients
2 cups water , or broth
½ teaspoon Kosher salt
1 cup quinoa , rinsed
Salt and Pepper, to taste
Instructions
Place the water, quinoa and salt in a medium sauce pan and bring to a boil. Don't over stir. Cover the pot with a lid and turn the heat to low. Let simmer for 15-17 minutes, or until all the water has absorbed. Try not remove the lid while it's cooking.

Remove the lid and allow the water to evaporate. If the quinoa is not tender, place the lid back on top for 10 minutes. The grain should appear soft and you'll be able to see the germ ring along the outside edge. Just before serving, gently fluff the rice with a fork.

Salt and pepper, to taste. Serve warm or cold. Store in a covered container.
---
Notes
Variations: You can add 1 teaspoon of olive oil or butter to the quinoa while cooking to add a little bit extra flavor. Cooking in chicken or vegetable broth also adds a great flavor. You can also add diced vegetables to amp up this side dish. How to cook in the microwave: Place water and quinoa in a microwave safe bowl. Cover and cook on high for 4 minutes. Remove and stir. Then cook for an additional 2-3 minutes or until water is absorbed. Let stand a couple minutes when removed from the microwave. How to cook in a rice cooker: Cook the quinoa how you would cook rice. Stir, cover and cook as directed. Storage: Store leftovers in a covered container for 3 to 5 days in the refrigerator.
Nutrition
Calories: 156kcal | Carbohydrates: 27g | Protein: 6g | Fat: 3g | Saturated Fat: 1g | Sodium: 298mg | Potassium: 239mg | Fiber: 3g | Vitamin A: 6IU | Calcium: 23mg | Iron: 2mg
Nutrition provided is an estimate. It will vary based on specific ingredients used.
Did you make this recipe? Don't forget to give it a star rating below!