How to make a curtain rod with clothespins
So I am FINALLY getting around to posting the last few projects from my daughter's nursery. {squeal!} I cannot believe it has taken me this long. It is my favorite room in the house, but the hardest room to photograph. I think that is why I have been putting it off. I promise to post the whole room by the end of the month. Someone better keep me to that promise. ;)
Today I'm going to show you how to make a curtain rod. I looked EVERYWHERE for the perfect curtain rod and couldn't find one I liked. So I finally decided to make one. I didn't want my curtain rod to stick out, so I painted mine pink to flow with her 'oh so girly' room. I love the clothespins look, but you could certainly use the curtain ring/clips found at Home Depot. The thing I love about making your own curtain rod is you can paint it ANY color you want. There are also SO many fun decorative knobs you can add to the ends too.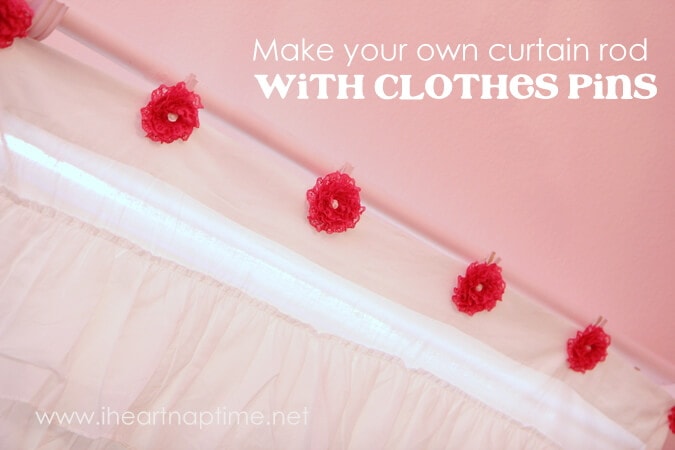 Here's how to make a curtain rod –
Supplies needed:
Wooden rod (Cut to desired length) -Found at Home Depot
(2) Wooden Brackets –Found at Home Depot
Paint (color of choice) and brush –Found at Home Depot
(2) Decorative knobs –Found at Hobby Lobby
Drill
Clothespins
Wood glue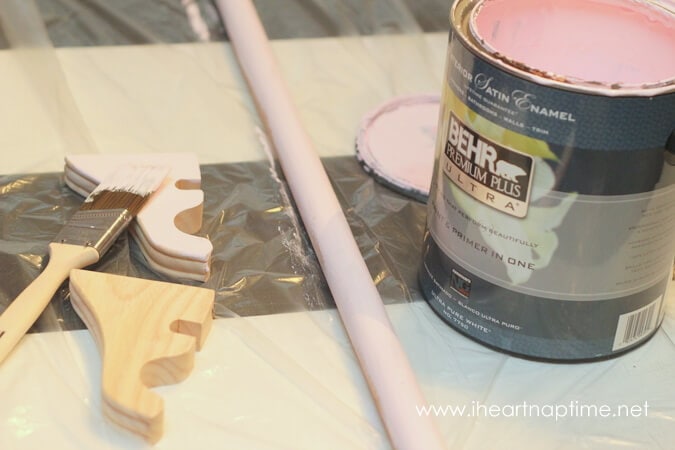 The first thing you'll do is give your wooden rod and bracket two good coats of paint. If you need your wooden rod cut down shorter and don't have a saw, Home Depot or Lowes can do it for free.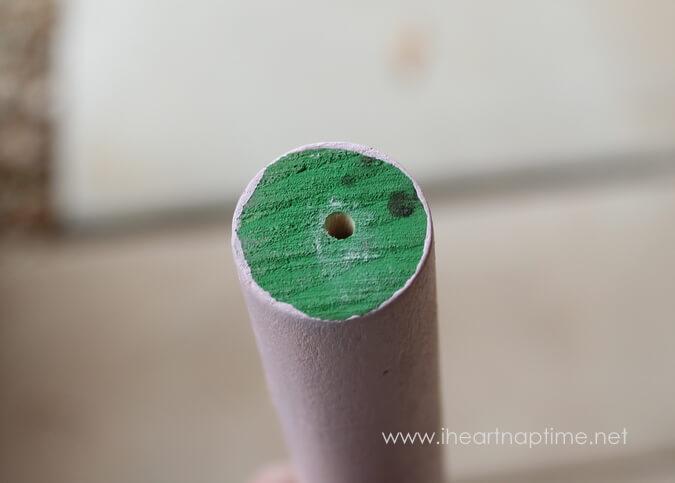 After the Paint is dry, you'll want to drill a hole on each side of the rod. Find a drill bit that is the same size as your knobs screw, so the knob can screw into the rod. Make sense?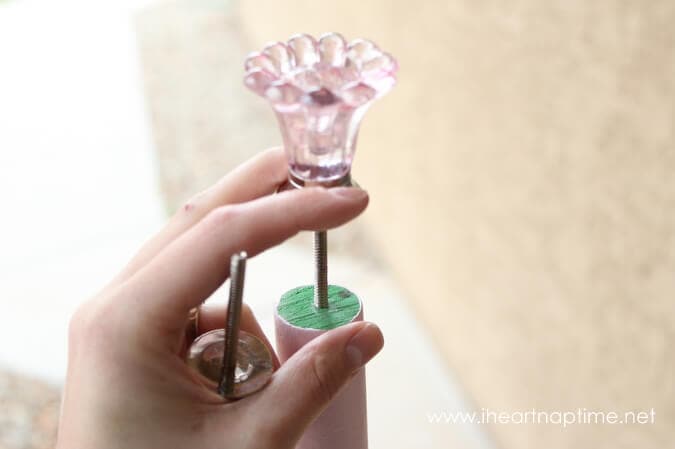 Then screw your knob into the hole.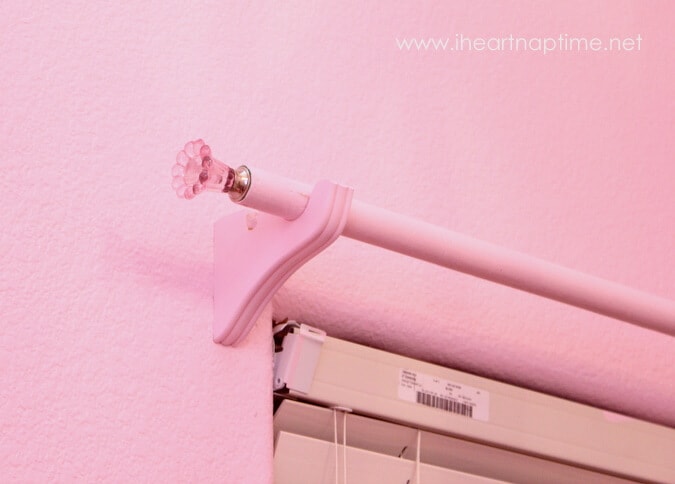 Then you can screw your brackets into the wall (follow package directions) and hang your rod.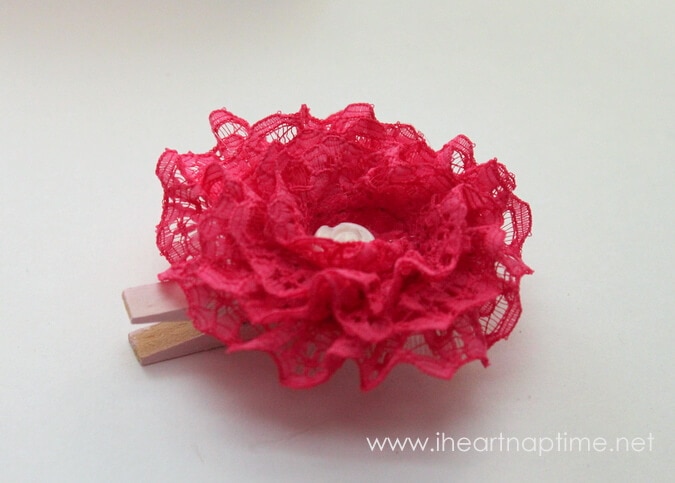 Here comes the fun part! :) So I knew I wanted to hang the curtains by clothespins, but since her room is so girly, I decided to add a lace flower on top of each clothespin. You can find the directions on how to make the flowers here. Please note: You can glue anything you want on the pins to match the room.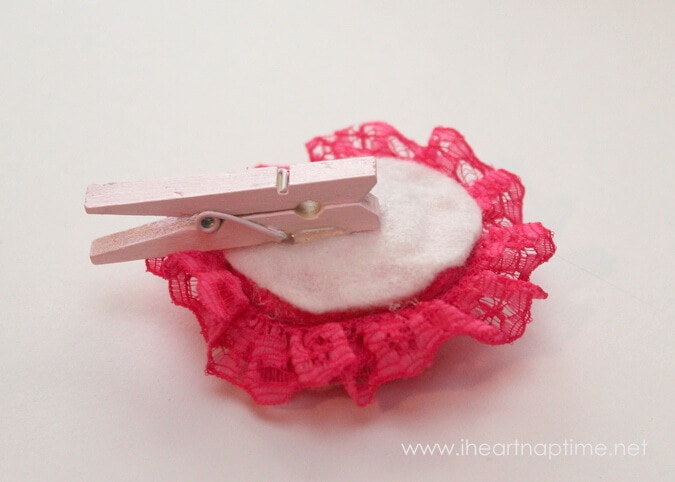 Glue (using super glue or E-6000) the lace flower to the clothespin. Then you will glue the clothespins directly to the rod with the wood glue. Take the rod down for this part… it will be much easier! ;) If it's taking awhile for the glue to dry, put a piece of tape over it and let it dry. This way the pins will not move.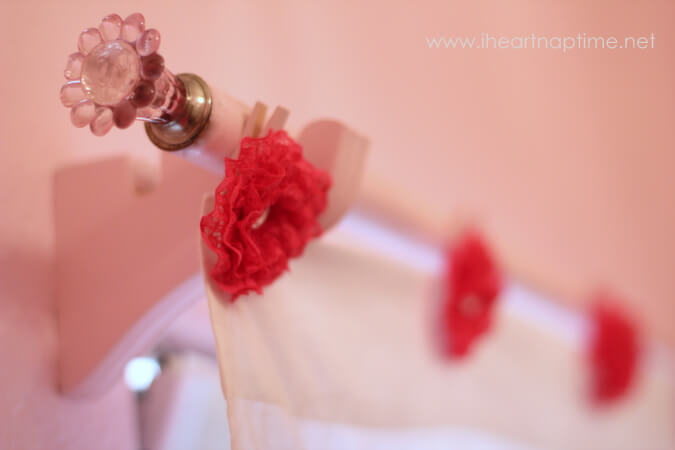 Then hang up your curtains and admire your hard work. I love how they turned out. Don't you?!  To see more from my daughter's super girly PINK nursery, go here…
And if you missed her Pretty in PINK Birthday party you must check it out
here
.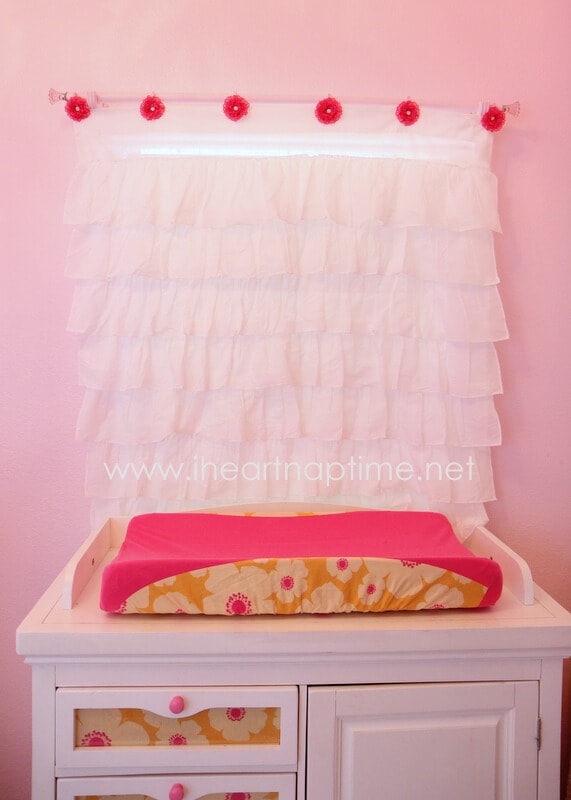 So will you be trying this project?