Some of you have asked exactly HOW to make a gallery wall after seeing my living room reveal, so I thought I'd show you a quick tutorial today. This is certainly not a new technique, but it makes it SO much easier… especially if you're hanging multiple frames in a collage. I think one of the biggest things when creating a gallery wall is to just have fun with it. Choose colors and frames that inspire YOU.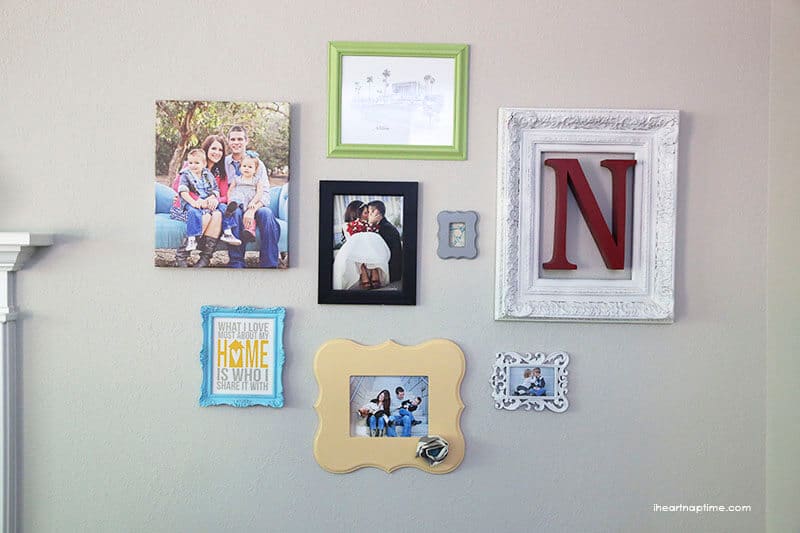 When I was at the Shutterfly event in NYC a couple months ago I was so impressed with the canvas prints. I new I wanted to incorporate them into my gallery wall. I think it's fun to use all sorts of frames, colors and sizes when creating a gallery wall. It adds texture and dimension. So here's what you'll need to get started.


Supplies:
Canvas, frames (of all shapes and sizes)

Butcher paper (or old wrapping paper)
Scissors
Tape
Hammer and nails
Instructions:
The first thing you're going to do is trace your canvas and frames onto your paper. Then you will cut out the shape. It doesn't have to be perfect. ;)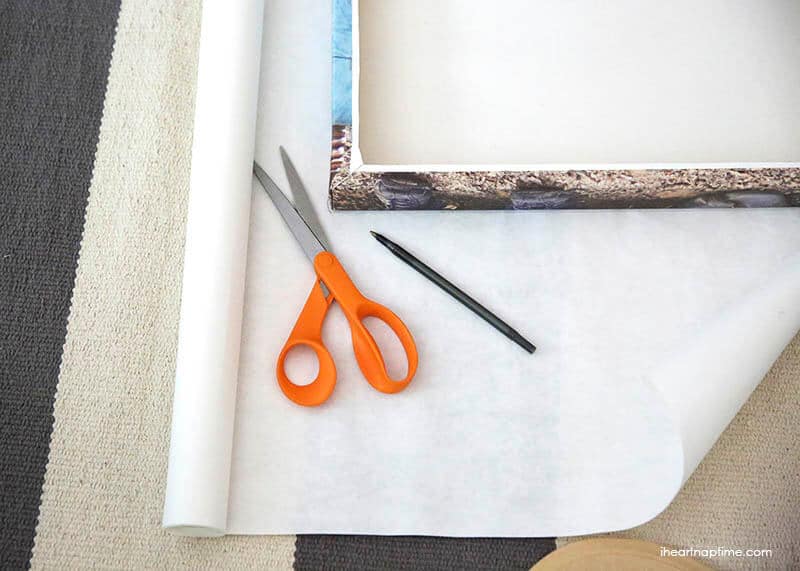 Then you will place the shapes on the wall with tape, according to where you want them. Once they are taped up, stand back and see how it looks.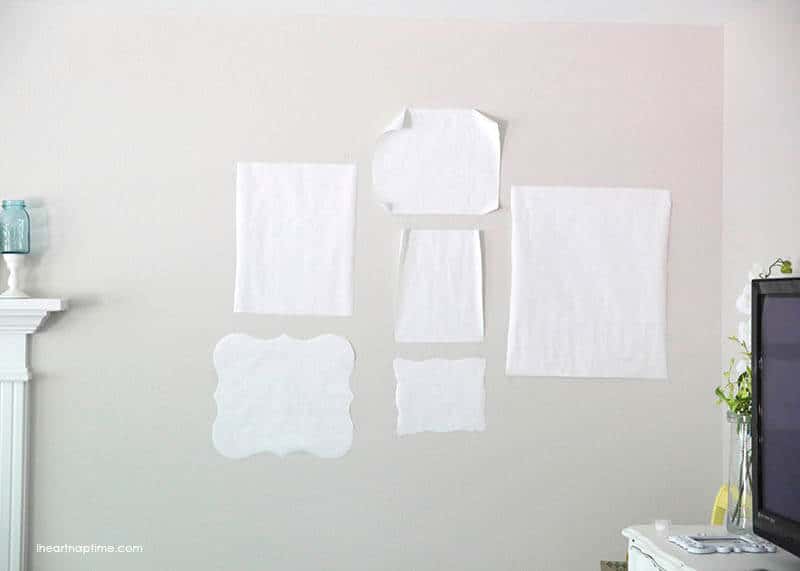 I didn't like how it looked above, so I re-arranged the papers a few times until I got it exactly how I wanted. You can see the awkward space on the bottom left. It needed something small there. This is why it's SO nice to use paper instead of putting up all the frames and realizing you don't like it. Plus, only ONE nail mark in the wall. ;) If you're having trouble figuring out where to place the frames, have a friend come over to help you. Sometimes it helps to have another set of eyes.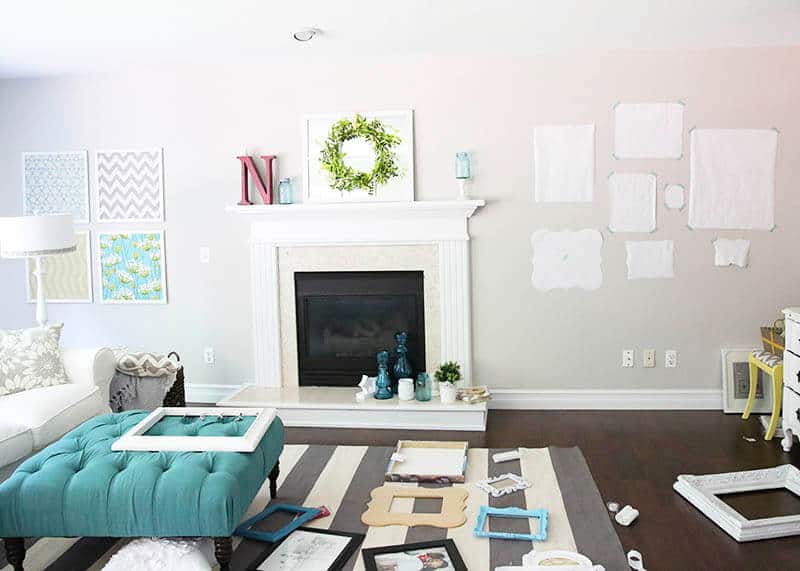 Once I had my papers where I wanted them, it was time to paint and hang up my frames.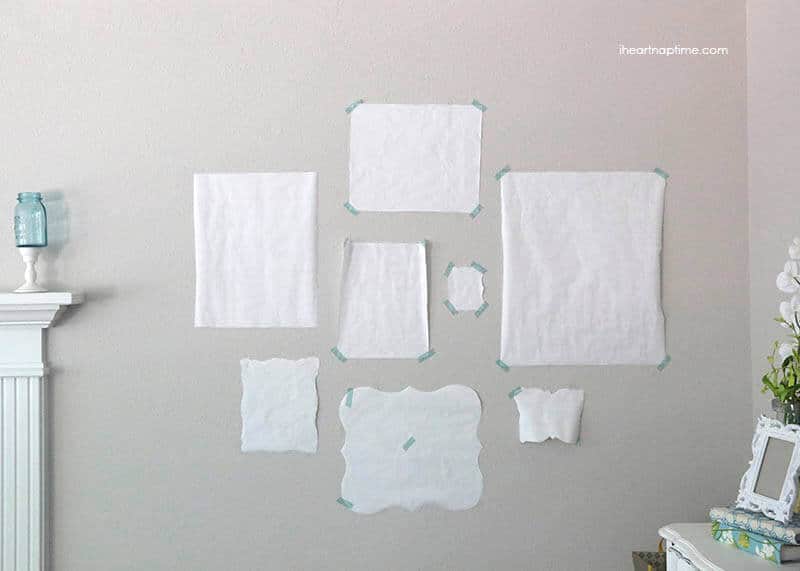 All you're going to do is put the nail on top of the paper and after it's in place you can tear the paper down. Then you can hang the frame right up. Thanks to my cute hubs for being my "model." ;)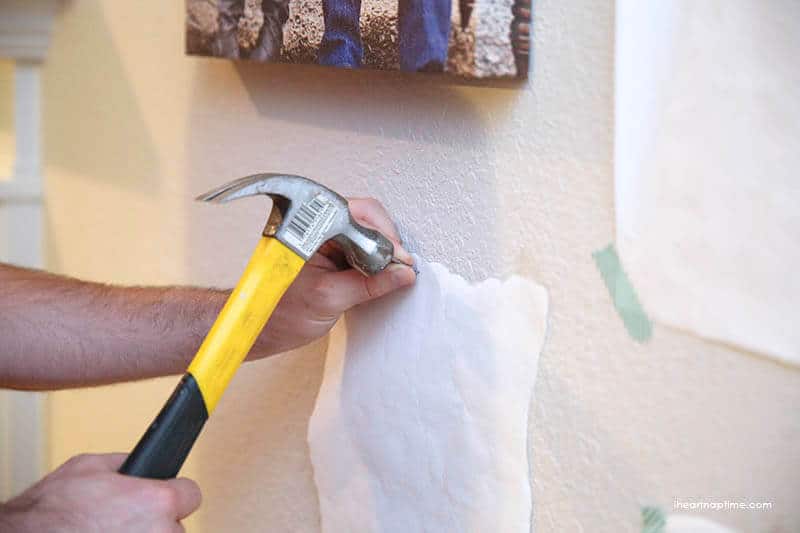 Then you'll hang up the rest of the frames. This way makes it SO much easier, I promise.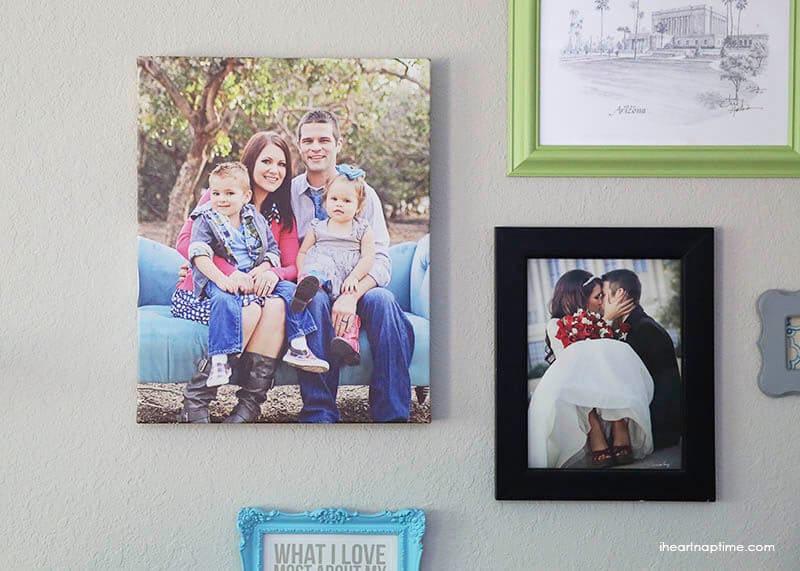 Now when I hung up these two canvases below I did not use the paper method. When it is just one or two frames it's pretty easy to figure out, but you could always do it if it helps. I have to mention I absolutely love these canvas prints of my cute kids. It shows their personalities perfectly!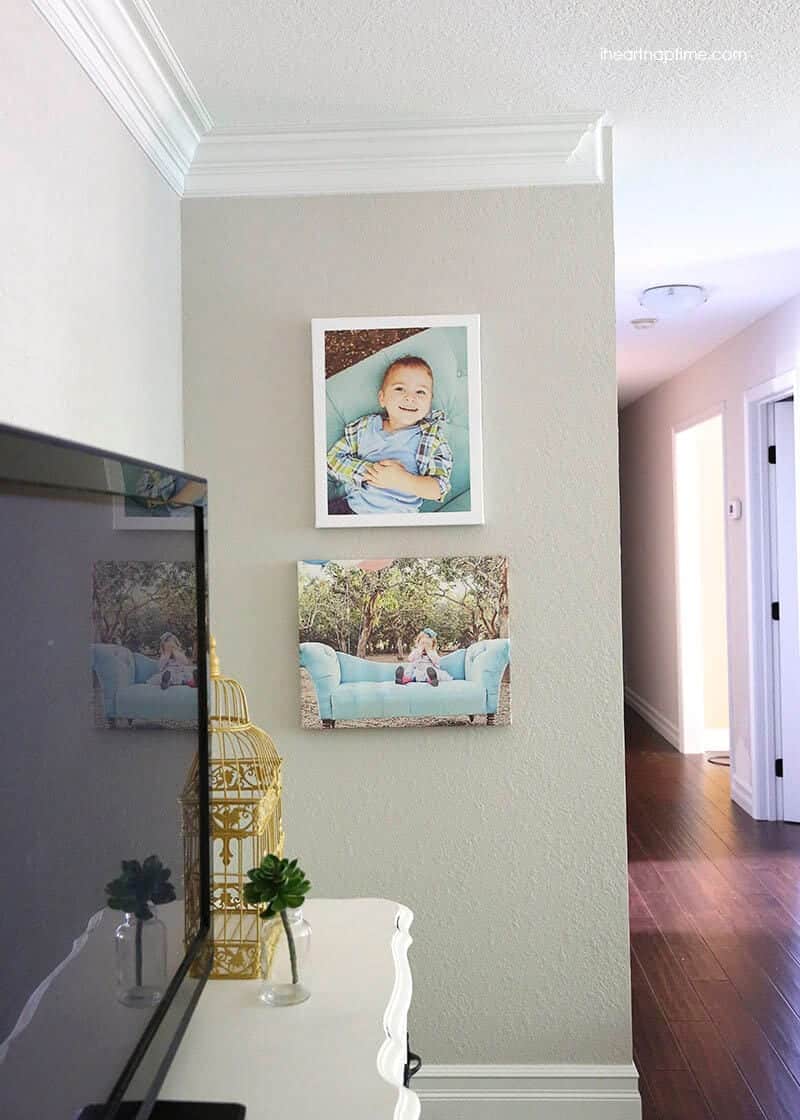 So there you have it… how to make a gallery wall.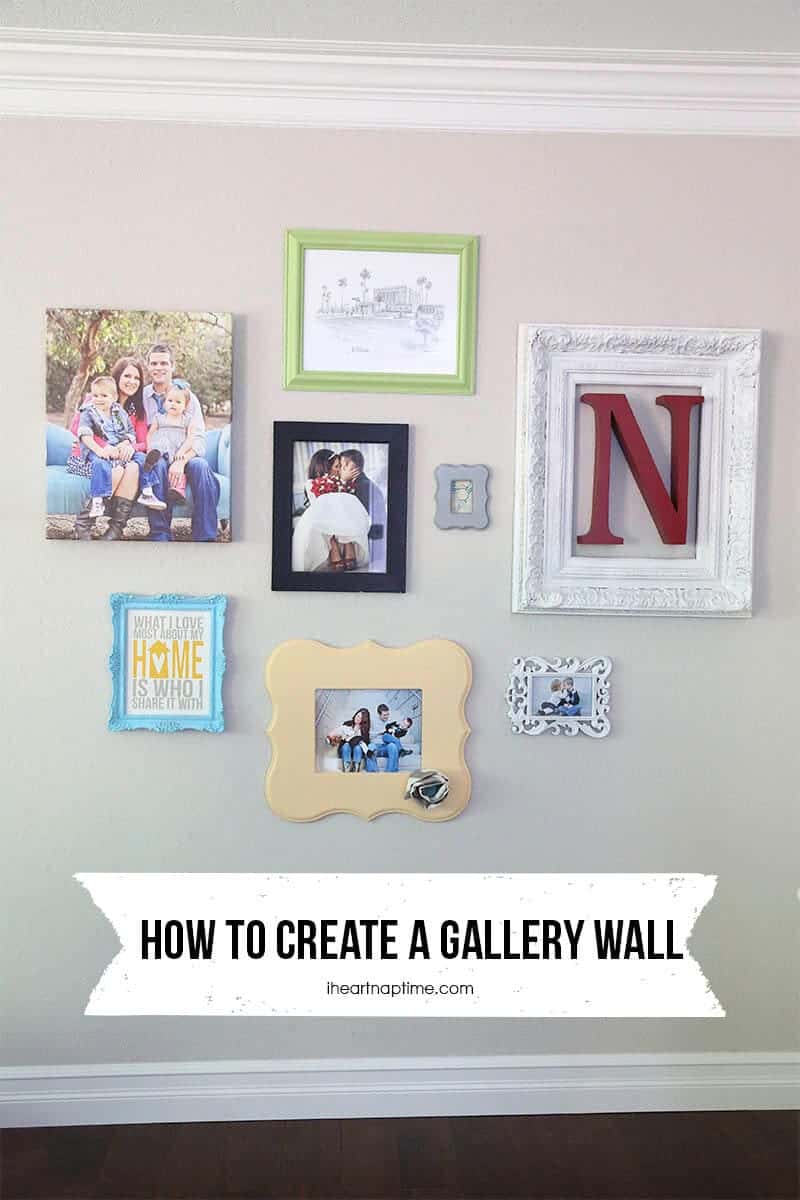 What tips do you have for hanging pictures?
Also don't miss this handy tip for hanging pictures when it's just one or two frames.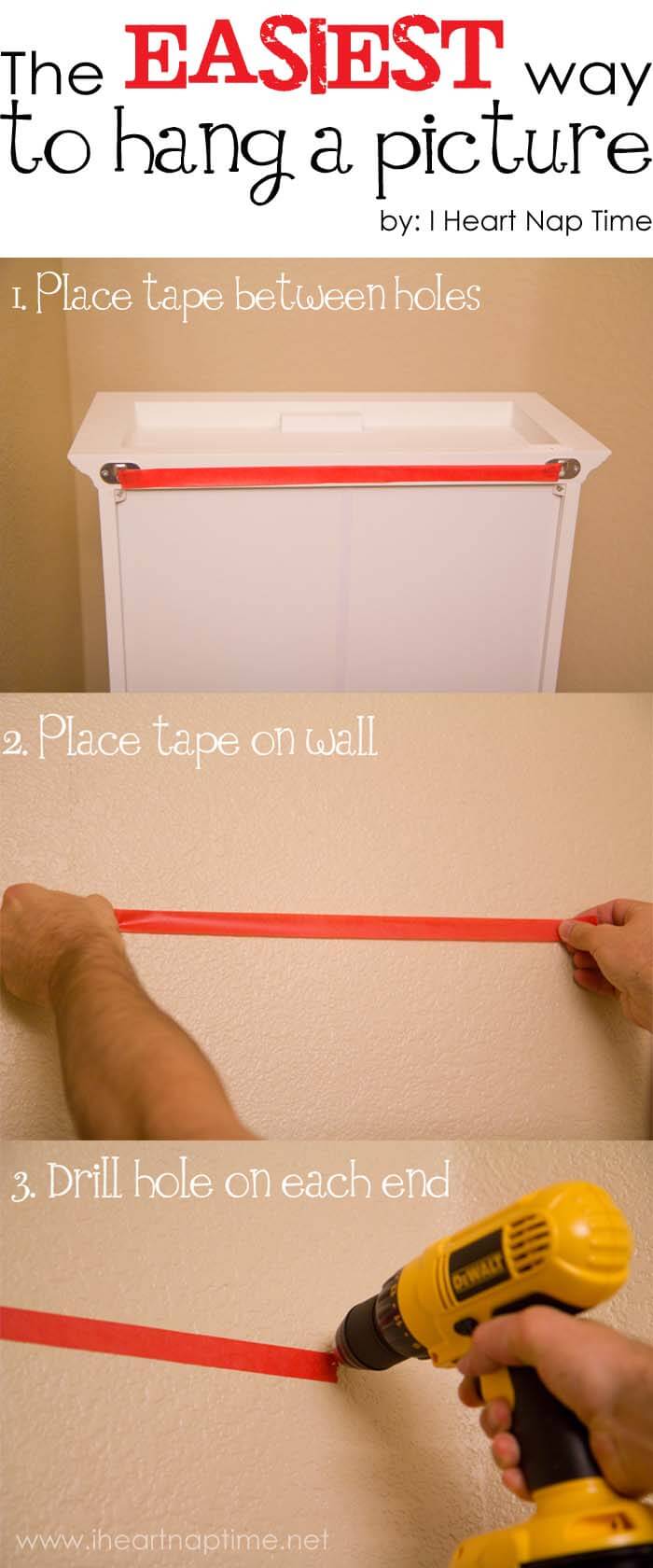 Thanks Shutterfly for helping me create this fun gallery wall!
Check out more of Shutterfly's home décor on their website HERE. I'm so excited about their new home decor line and will be sharing more with you soon.
Also, to keep up on new products follow Shutterfly on Twitter, Facebook and Pinterest.
Disclosure: This post was in partnership with Shutterfly and the Mom It Forward Blogger Network. All opinions are 100% my own. I love Shutterfly products and I'm excited to be a Shutterfly ambassador! Thanks for supporting these sponsors that allow me to create new and special content for I Heart Nap Time.