Jump to Recipe⌄
How to Plan an Exotic Escape + giveaway!
As a busy mom, sometimes I have a hard time remembering to take time out for myself. Between taking care of the kids, maintaining the house, work and family commitments, and blogging, sometimes I feel like I'm burning the candle at both ends! Ideally, I would love to be able to hop on a plane and get away to an exotic location, but that's really not feasible for me (financially or time-wise) right now. When I'm starting to feel tapped out, one thing that really helps is to have a friend or family member watch my kids so I can take just an hour or two to myself to recharge my batteries. I love being able to get out into nature and enjoy the world around me.
There's a beautiful little nature preserve just around the corner from my apartment, and it's my favorite place to go when I'm feeling overwhelmed or stressed. I took a walk there last week when I was having a rough day, and it was just the getaway I needed!
I love that taking a walk through the nature preserve exercises both my mind and my body. I find that my thoughts are clearer after taking a walk and I have more energy to face the rest of the day. It's a great time to think through any challenges I am facing and to brainstorm solutions. Even though I am only a short distance from home, it really feels like an escape!
There's a little clearing in the preserve with a grassy area and some stone benches, and I love to stop there and have a little snack. It's also a great place to do a little yoga and meditation when I'm feeling particularly stressed. This time I brought some Nestle Pure Life Exotics sparkling water to try, and it was the perfect addition to my simple picnic. It's all natural, has zero calories, and contains no artificial colors or sweeteners.
I tried the strawberry dragonfruit flavor, and I loved that it was full of flavor and had the fizz of soda, but without any of the artificial additives. It's the perfect alternative to soda or other sugar-sweetened beverages, and a delicious way to increase your water intake. I loved having a cold, refreshing drink that I could feel good about!
I also made some quick crunchy PB&J wraps for an easy snack on the go. They are one of my kids' favorite snacks, and I love that they give me a little energy boost. Plus, they're super cute!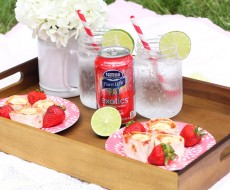 Crunchy PB&J Wraps
Ingredients:
1 large flour tortilla or wrap
1 banana
2-3 tablespoons peanut butter
2-3 tablespoons strawberry preserves
2 tablespoons granola
Directions:
Spread the peanut butter and strawberry preserves on the wrap, leaving a one inch margin around the outside of the wrap. Sprinkle the granola over the peanut butter and preserves. Place the banana in the middle of the wrap and roll the wrap up tightly around the banana. Slice and serve.
All images and text ©
After a walk, a snack, and a little yoga and meditation, I felt much more energized and ready to take on the world. I was sent this gorgeous kit from Nestle, to assist me in taking my exotic escape, and you can win one too! It includes everything you need to take an exotic escape, even if it's just in your own backyard.
Giveaway ($500 value):

How to enter: Leave a comment on this post telling me your favorite place to escape to!
Giveaway winner will be announced on this post on or before June 15th. Good luck! Edit: Our giveaway has closed, and our winner is #117, Hannah R.
Disclosure: This post was in partnership with Nestle. The giveaway package is also provided by them. All opinions are 100% our own.