Today I'm going to show you how to install crown molding + give another little house update. Usually I wait until the room is completely done to share pics, but I thought I'd give you a little sneak peak of our guest bathroom ahead of time. :)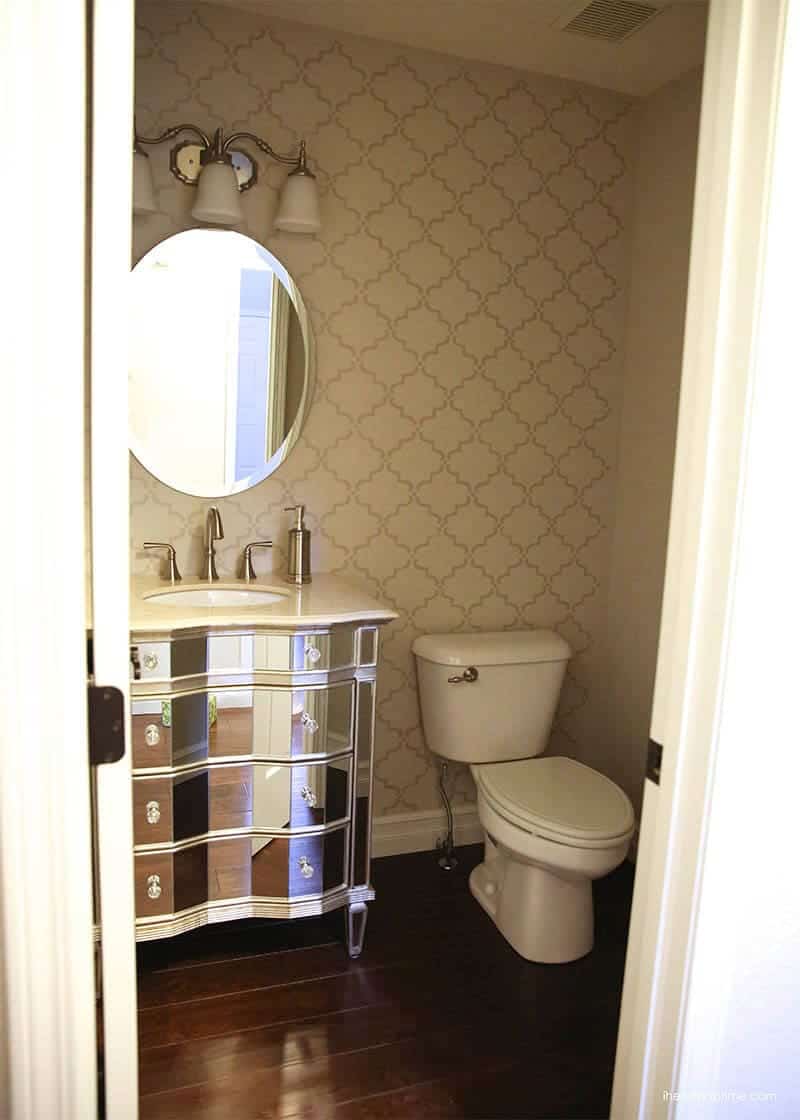 So far we've had the wood floor replaced, added baseboards, painted/stenciled the wall and added the new vanity and lighting. I wanted something simple, classy and elegant for this space. It took me forever to find the perfect vanity, but I finally found this mirrored vanity and new it would be just perfect! It really is (besides the fact that it shows all the little finger prints). Ha! I love the crystal knobs! I also found this fun oval mirror and light fixture on Lamps Plus that matched perfectly! And in case you're dying to see what it looked like before… here's what it looked like when we first walked through. Definitely a little out dated, but I knew it had potential.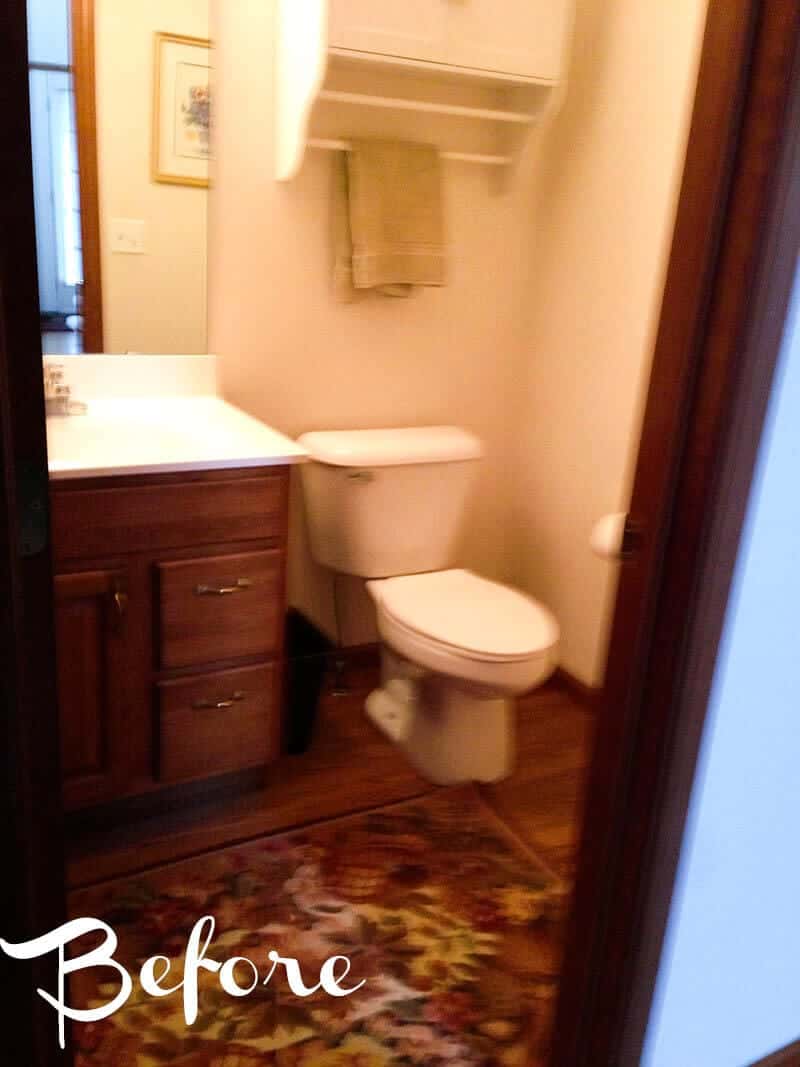 I haven't taken pictures of the room yet now that there's some decor up, but I wanted to show you how we installed the crown molding. I know a lot of people think this is a hard task, but it's really not that bad. You can even do it with an $8 miter saw! You don't need all the fancy equipment. It definitely makes it easier with some help though. Luckily my husband is a good sport and helped me put it up on his day off. He is a keeper!
How to install crown molding
Supplies:
Crown molding
Miter saw
Power Grab -lots of it!
Nail gun or finishing nails
Wood filler
Paper towels
Paint, if needed
Instructions:
1. Measure the distance between each wall. Cut the desired length of crown molding. If using a miter saw box, remember to cut the molding at a 45° angle inside the box. Check and make sure the molding fits properly.
2. Apply power grab along the back side of the molding, then press molding into place.
3. You can reinforce the power grab with a nail gun or finishing nails as needed.
4. Place wood filler on top of the holes left by the nails. Then sand it down after it's dry.
5. Add power grab, or a finishing caulk to seal up any edges. Then go along with a paper towel to remove any excess. Make sure to get it smooth, or you may need to sand it a little bit once it's dry.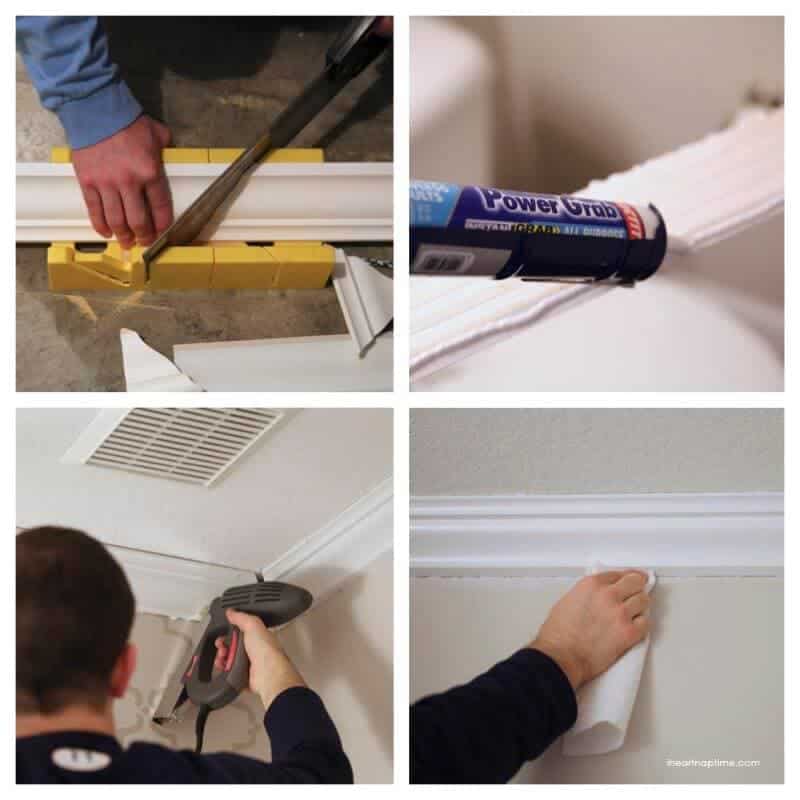 Once the molding is up, you can tape it off and add a fresh coat of paint.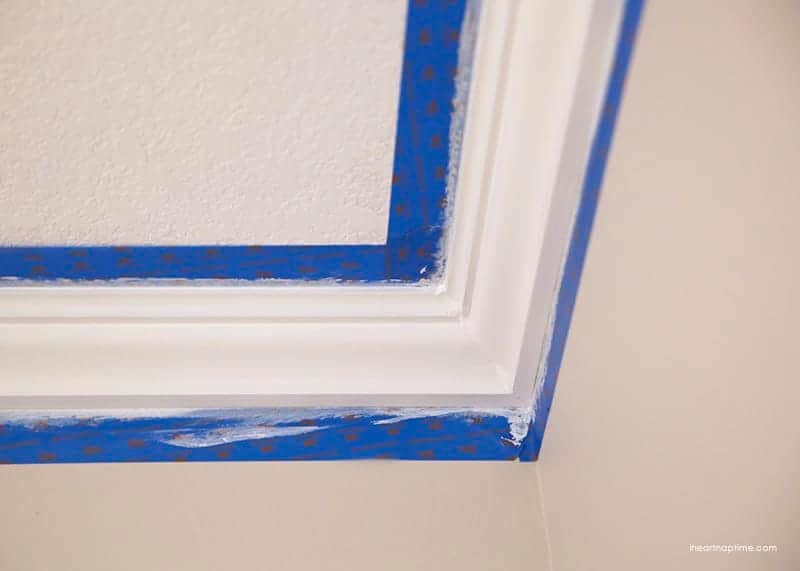 Also, do you remember the super thick crown molding from my living room makeover?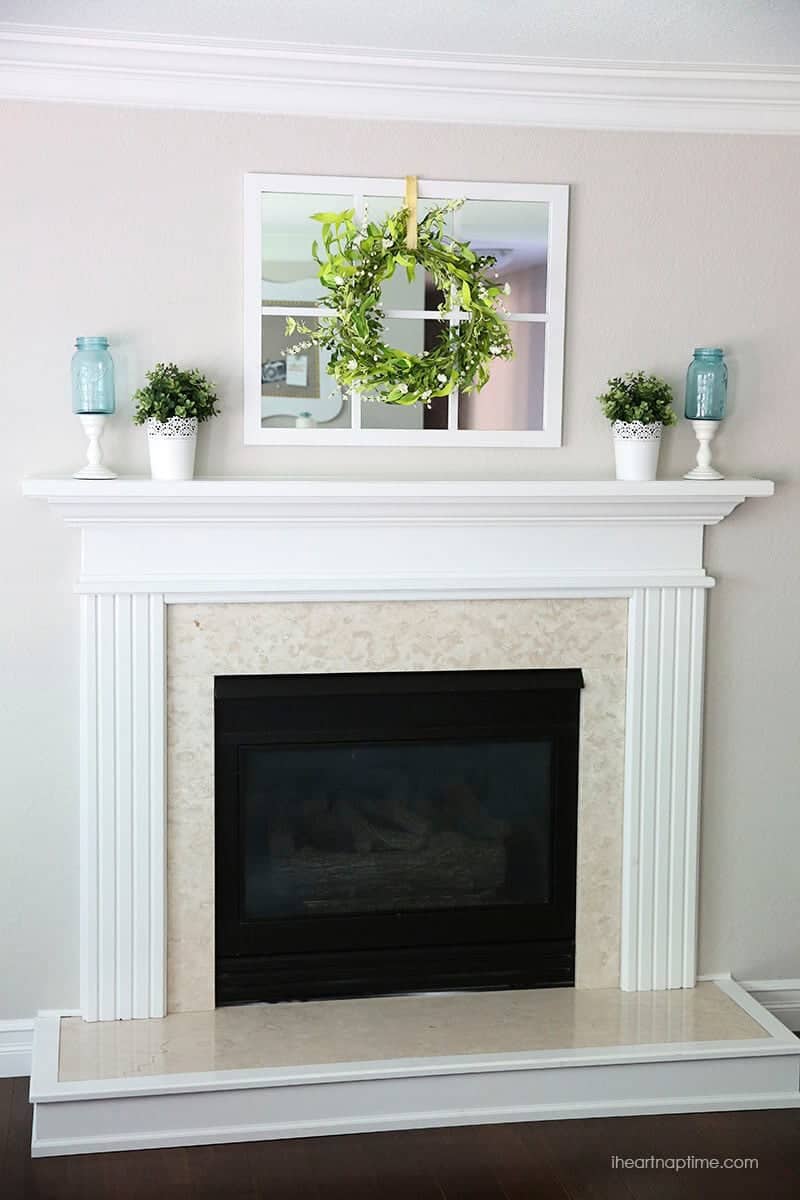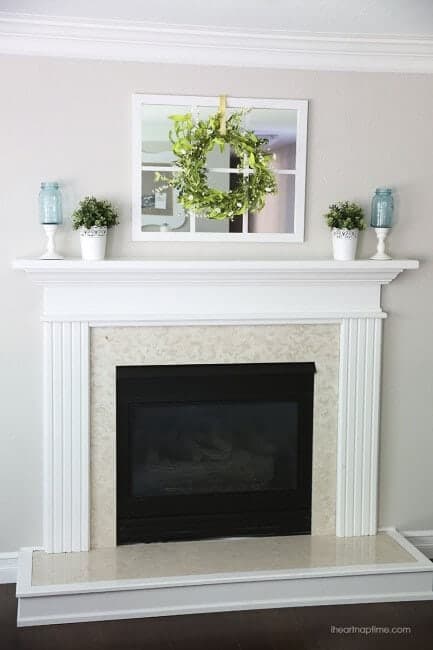 To get that look you'll basically add 2 extra pieces (we used base boards instead of crown molding) on the top and bottom. This takes some measuring and math to get all the spacing right, but the outcome looks phenomenal!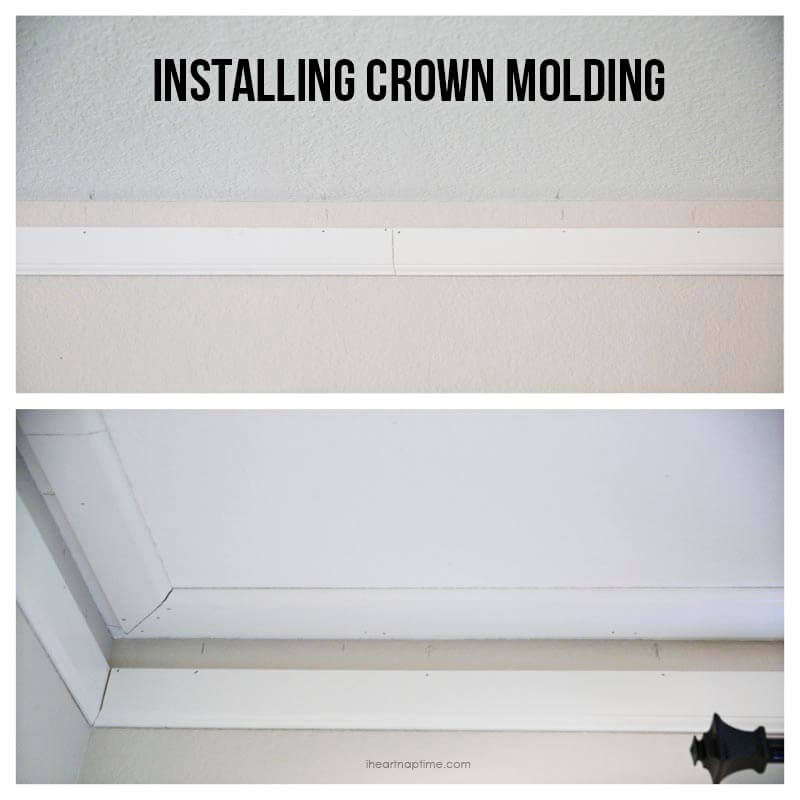 Here's a close up of what it looked like. It's best to make an example before putting it up! ;)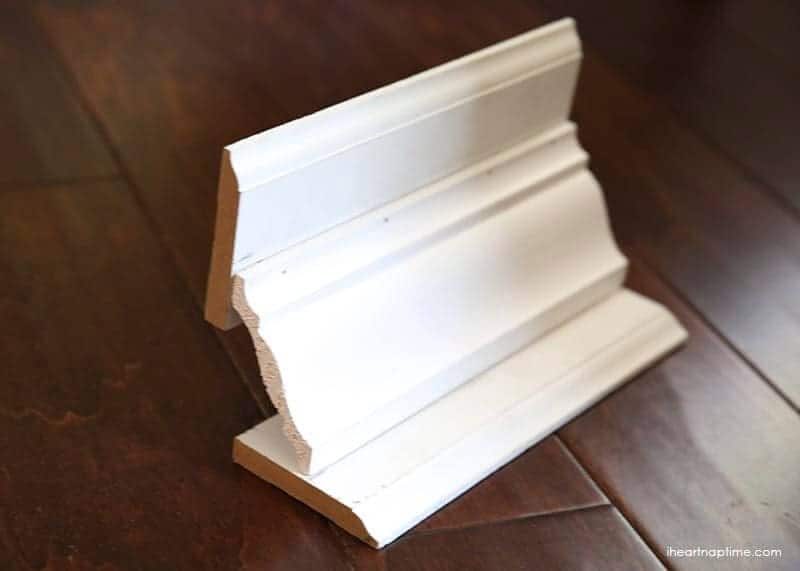 Here's a close up of the stencil. I used the Moorish Trellis stencil from Royal Designs. It took me about 3-4 hours to complete, but I love the dimension it gives to the room.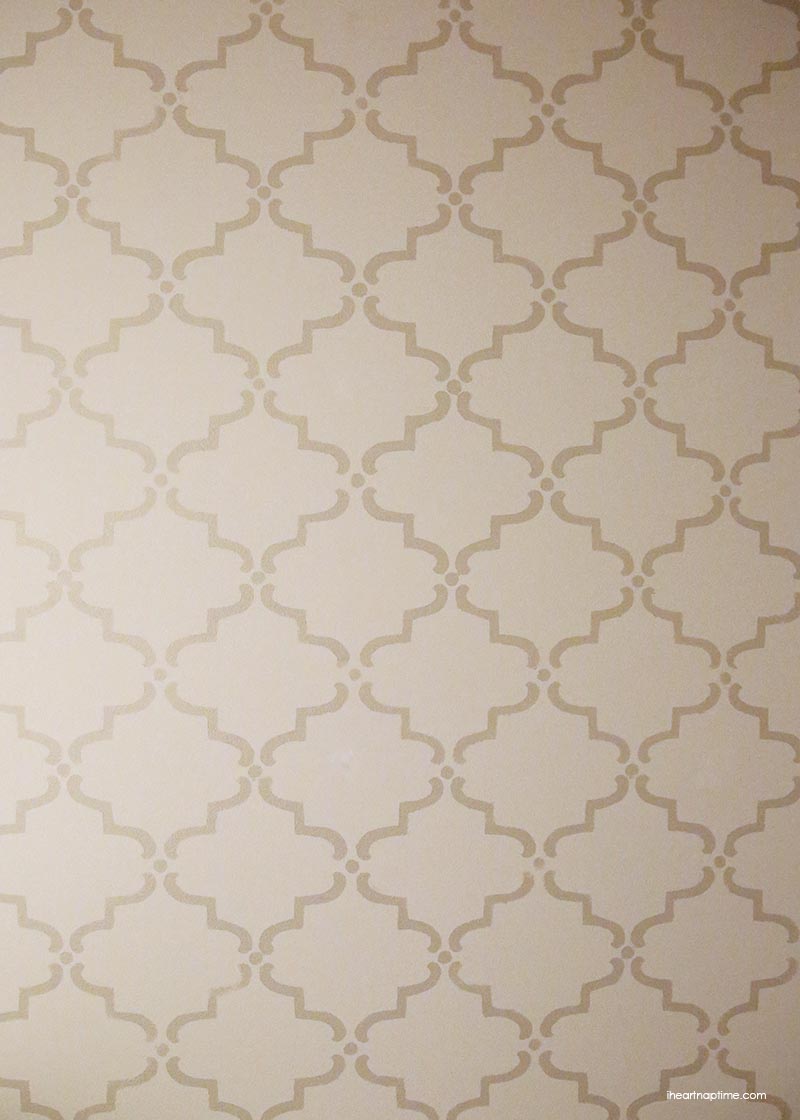 The paint I used as the base is agreeable grey from Sherwin Williams. Then for the stencil I used anew grey in a high gloss. This picture doesn't really doesn't do the colors justice. I'll post more pic's soon!
Want to see some swoon worthy bathrooms? Check out my powder room inspiration Pinterest board!
Have questions? Leave them in the comments and I'll make sure to answer them. XO