Thanks for stopping by! Make sure to subscribe or join us on facebook to get our newest posts.
Confession: I have many, many unfinished projects and some finished that I still need to post; including my daughter's First Birthday Party AND the Nursery. That is my New Years goal; to get all my unfinished/finished projects up on the blog… so here I go. :)
There was so much detail that went into Emmalyn's First Birthday and I can't wait to show you the rest of the party. I know I'm a total slacker about posting it.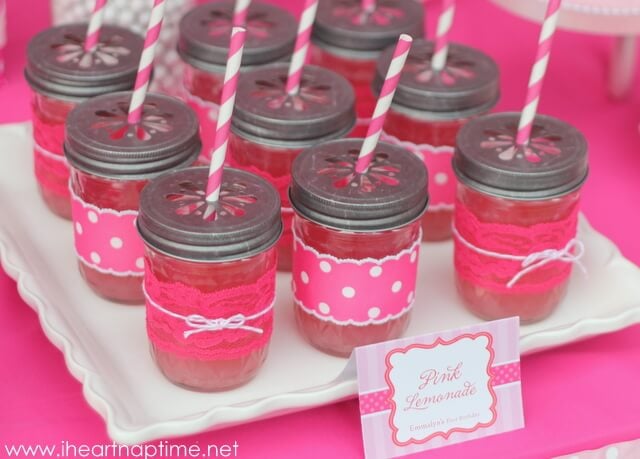 One of my favorites from her party were these darling Mason Jar Cups filled with pink lemonade. I thought the ribbon and lace added the perfect touch.
These mason jar cups were very easy to make and they made quite the statement. I bought a case of mason jars from my local Fry's, which I believe cost $8 for a dozen. Then I received these flower lids from the We Love Citrus shop. Aren't they adorable? I also got some striped straws (which I'm pretty much obsessed with) from Cakes and Kids Too.
I found some cute polka dot ribbon from The Ribbon Retreat and the lace trim from a local fabric store called SAS. I attached my ribbon and lace with ribbon adhesive… however, a strong double sided tape would work great too. ;)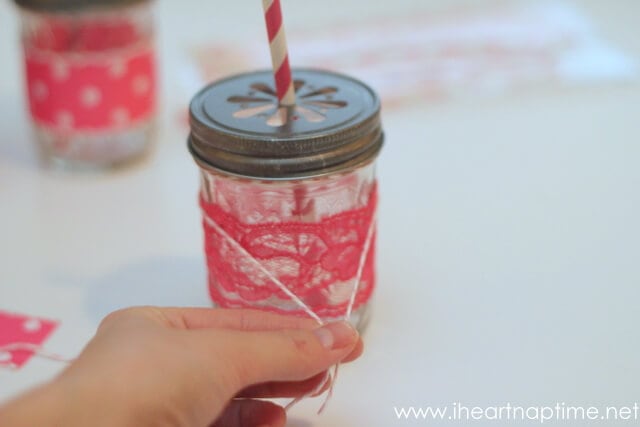 I thought the jars with lace needed a little something extra, so I added some twine and they were as cute as can be. Doesn't baker's twine make everything look better?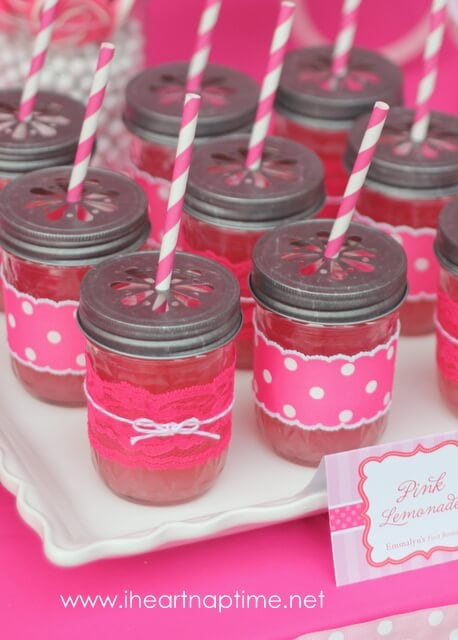 Simple as that! I thought they turned out so cute, and everyone loved drinking from them! The nice thing about these mason jar cups is       that they can be used over and over again. I love that. :)
I also love my friend Amy's idea where  she used the lids that came with the jars and just covered them with scrap book paper to dress them up a little. So fun! The possibilities are endless!
P.S. I also made this cute little banner with some of the extra lace and twine that was SUPPOSED to go on top of the cake, but I totally forgot it. Don't you hate that? Sorry I don't have a finished picture… I so wish I did! It would have been really cute. Oh well… there's always next time. ;)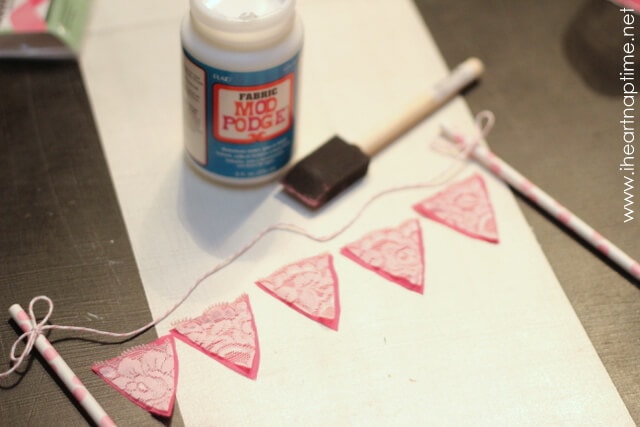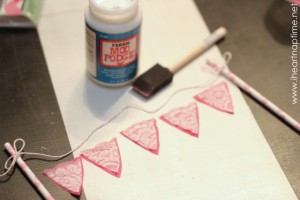 Thanks for reading, have a great day!
  Check out our project gallery for more DIY projects!
**UPDATE: To view the whole Birthday party go HERE.**