Hello, I Heart Naptime readers! We are Alicia and Betsey with Happy Wish Company, an online party supply shop. We're so excited to share with you today some fun ways to surprise your child on their birthday morning.
We are all about creating traditions for our children, and birthdays are the perfect opportunity to start! We love the idea of throwing a kids' surprise birthday breakfast as a way to kick-off your birthday boy or girl's special day! Kids of all ages will be excited to wake up to a bright, colorful celebration.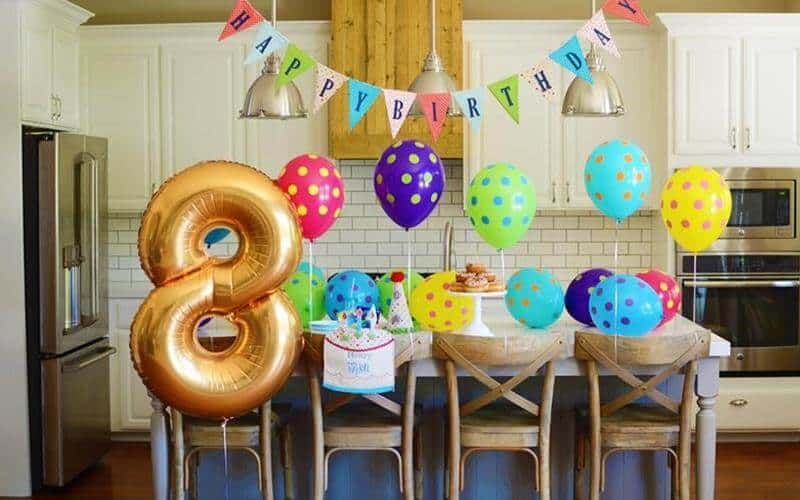 It's smart to invest in some quality birthday decorations that can be used and reused, year after year, with every child in your family. Here you'll see we found an adorable, fabric "Happy Birthday" pennant banner, a fabric birthday hat (required breakfast attire!), a set of "Happy Birthday" dishes, and a sweet little chair backer that can be personalized. All of the celebration items coordinate and can be used for both boys and girls.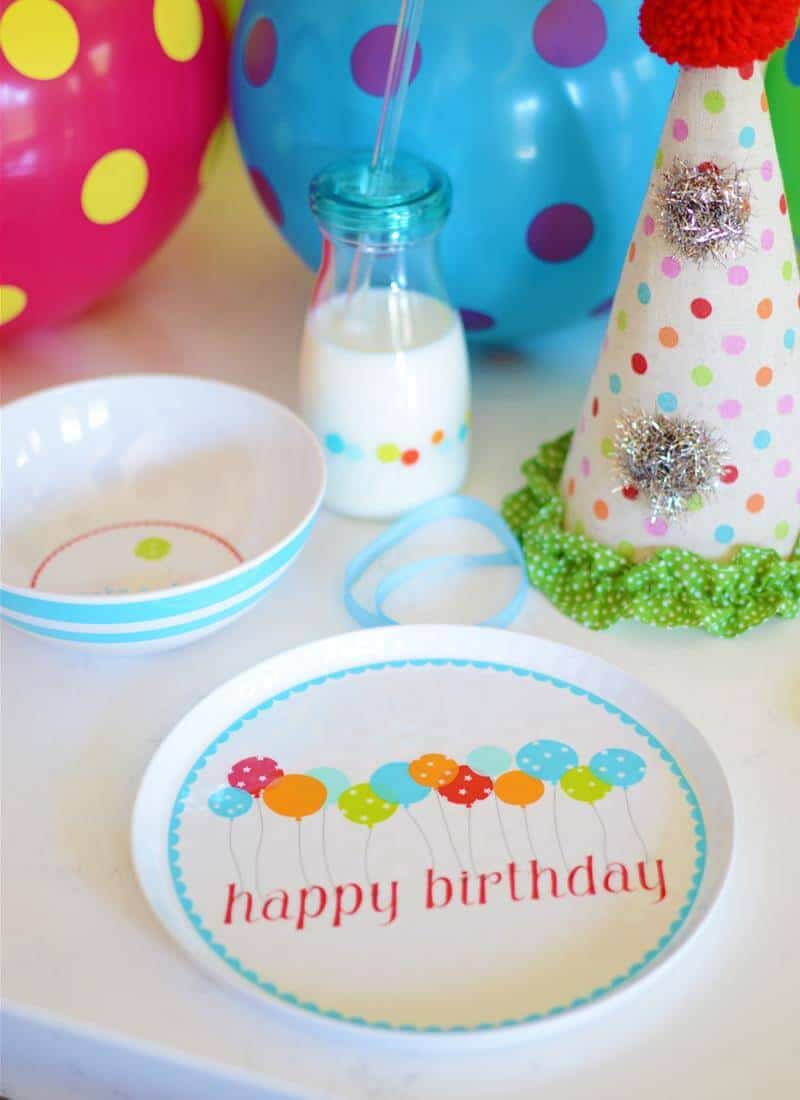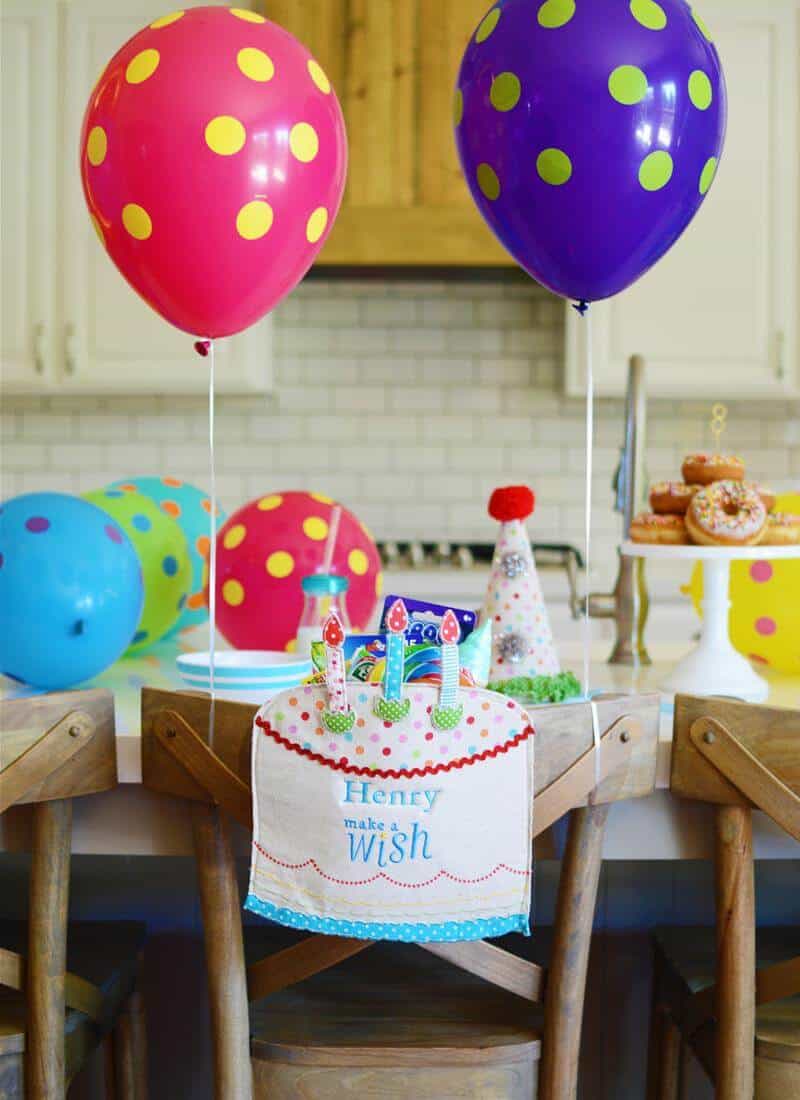 The chair backer is extra special because has a pocket that you can fill with the birthday child's favorite treats. Our celebration is for an eight year old, so we filled it with his favorite candy, a gift card and silly string. The neat thing about the chair backer is that even when the kids are older and into their teenage years, they'll still wake up on their birthday morning and get excited about the fun treats waiting for them!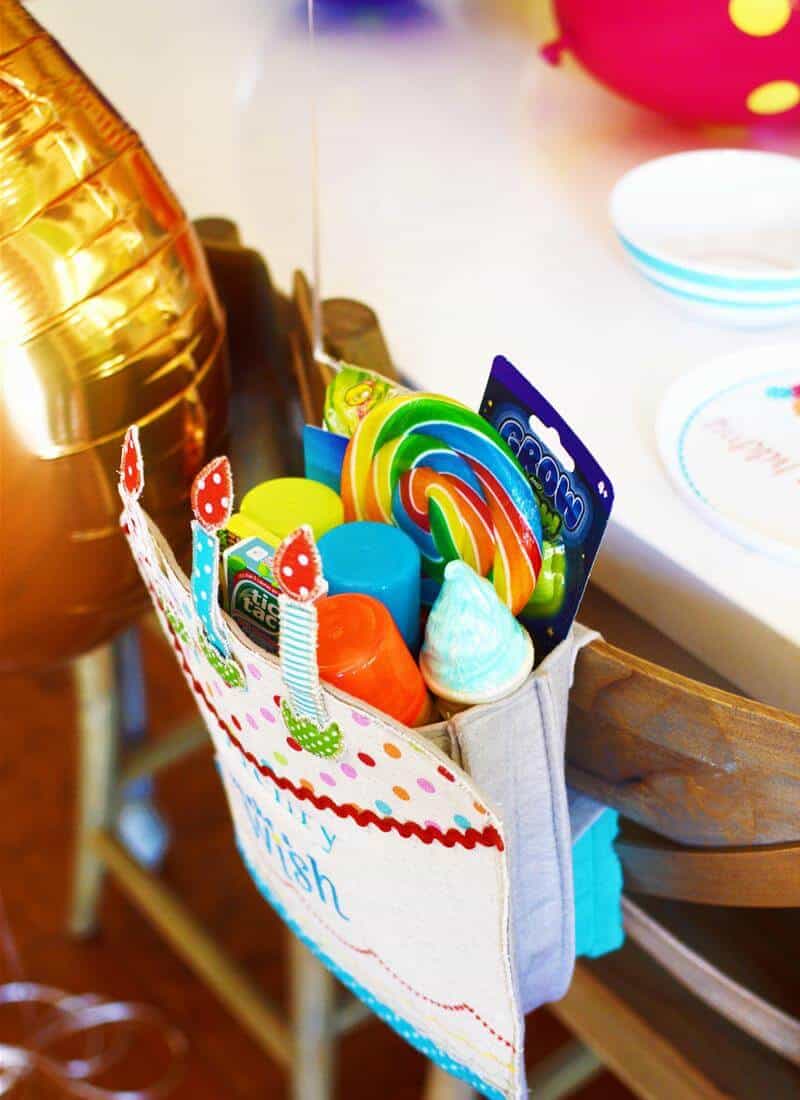 Another must-have element to any surprise birthday breakfast is balloons. They're so inexpensive and just scream "PARTY!" We used brightly-colored polka dot balloons that coordinate with the colors and dots in the banner. We filled some with helium and tied them to the chairs and others we blew up and floated in the kitchen. We also included a mega, foil number balloon with the birthday boy's age. This adds so much to the personalization and certainly increases the "special" factor.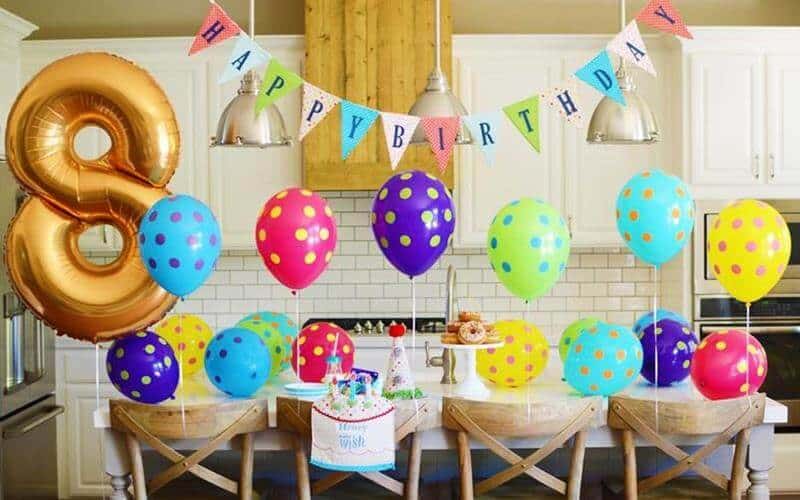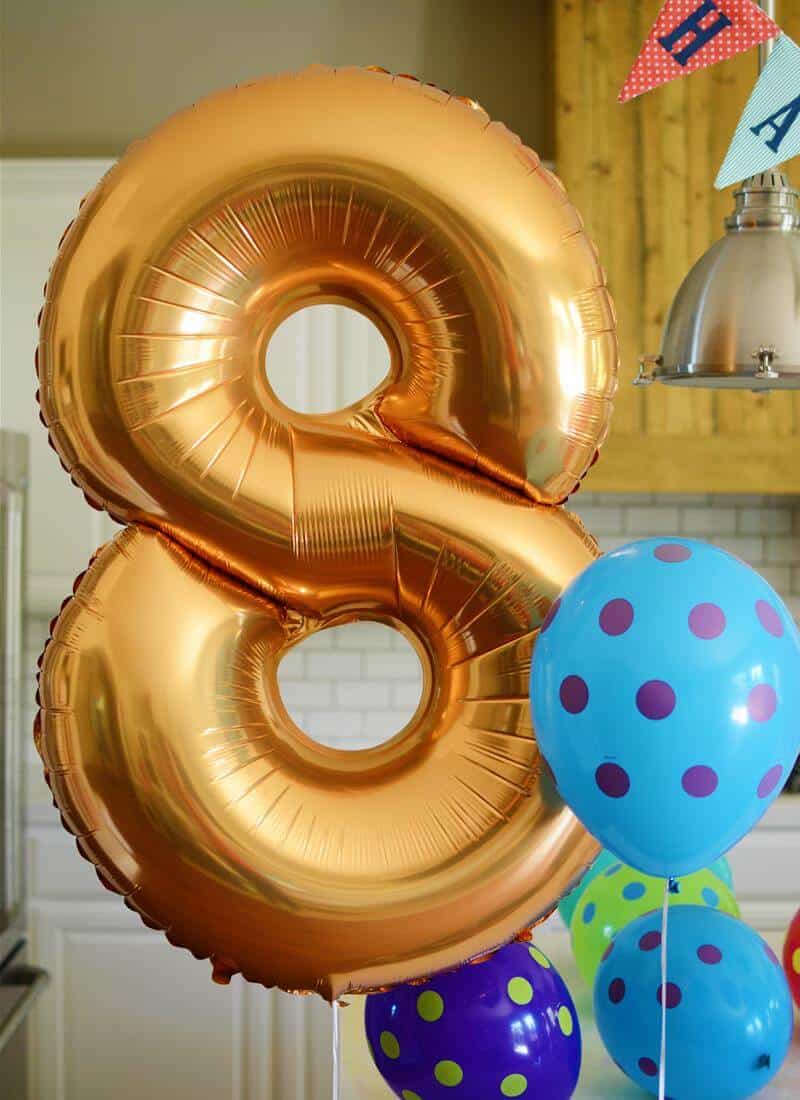 Last but not least is the birthday breakfast menu. How fun is this donut cake?! Simply stack donuts on a cake plate and stick some candles on the top. We went with sprinkled donuts (of course!) and a number eight sparkler candle for extra pizzazz. If donuts aren't their favorite, you can also do the same thing with pancakes, waffles or cinnamon rolls. Just don't forget to add the sprinkles!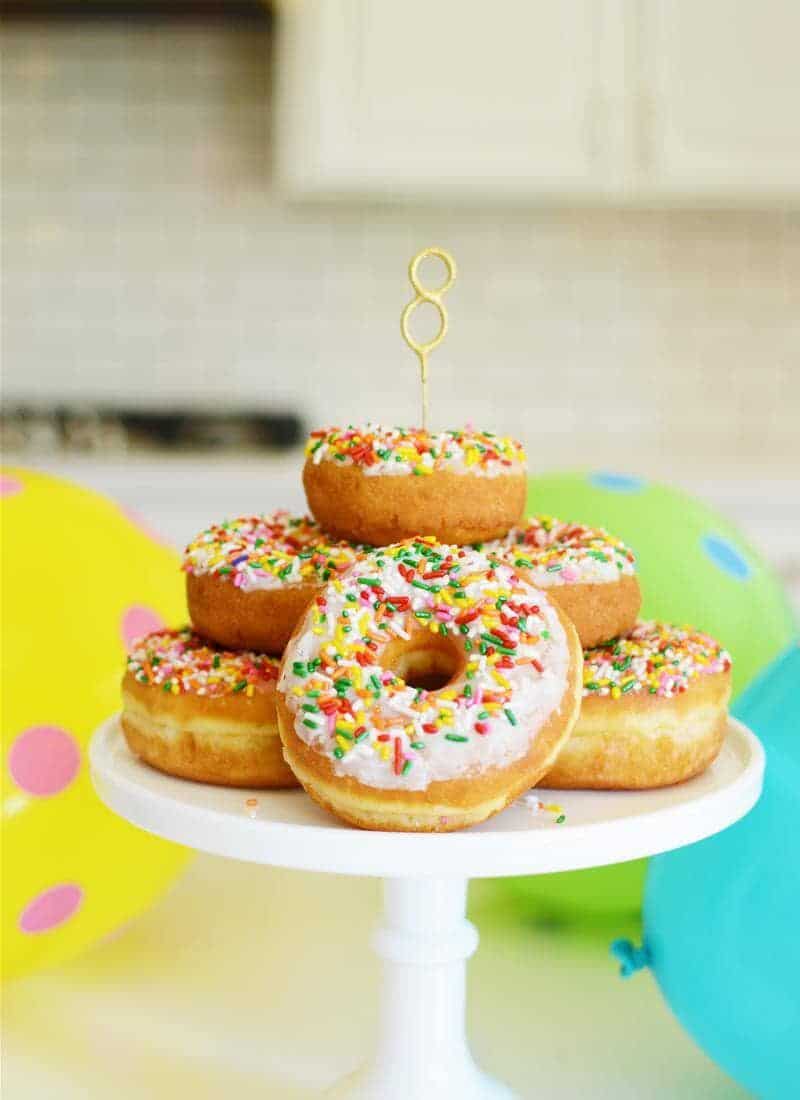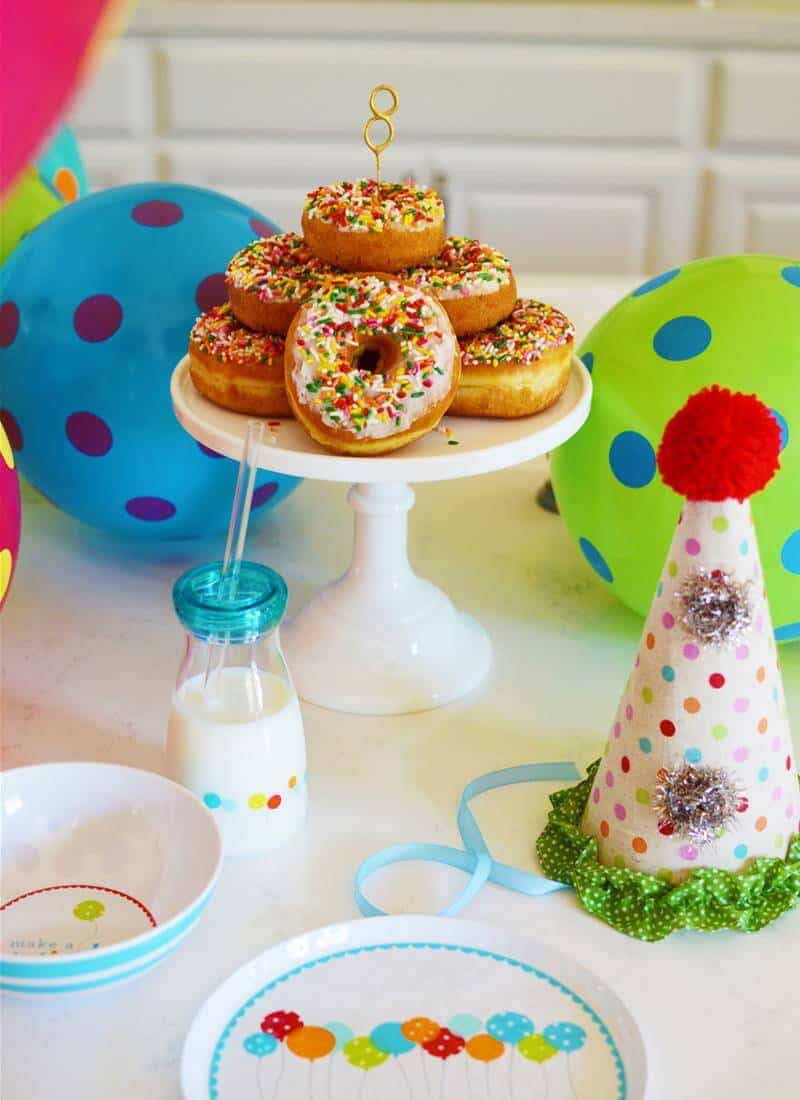 A few other sweet ideas to celebrate the birthday child include a visit from the balloon fairy where you fill their room up with balloons (helium or regular) while they are sleeping so they wake up in the morning to a fun surprise!
Another neat tradition is to keep track of the funny things your child says and all of their "favorites" at each age with a birthday questionnaire. Read it to them on their birthday morning and then store it away as a memento.
Thanks so much for reading along. We hope we've provided some inspiration for your own surprise birthday breakfast! We'd love to have you stop by and visit us at Happy Wish Company!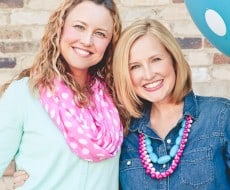 Happy Wish Company is an online shop that offers fun and fabulously-styled children's parties and coordinating products for your most treasured celebrations! The goal of creators Alicia and Betsey is to make party planning and styling easy for busy parents by providing inspiration, hand-selected products and one-stop shopping to create a beautiful themed party. Check out all their fun goodies at www.happywishcompany.com, and follow them on Facebook and Instagram!
Huge THANKS to Alicia and Betsey for sharing this adorable birthday idea during our Hello Summer Event! Click HERE to see more ideas from the event.
If you like this, try these:
Happy Birthday (free printable)