hello {I heart naptime}ers! i am telisa van leeuwen for
sugar tot designs
and to say that i am excited, nervous and humbled to be a new contributor on this amazing blog is quite the understatement.
i was blessed to grow up in a very patriotic home where the 4th of july festivities included a morning flag ceremony
(which sometimes meant my Dad dressing up like John Hancock and telling about the founding fathers)
reciting the pledge of allegiance
singing the national anthem
red, white and blue everywhere you looked
needless to say, my dad instilled in me at a very young age how great our country is!
so i am thrilled to share this free printable with you that reminds me of those morning flag ceremonies. . .
which now include 20+ grandkids singing "i am proud to be an American"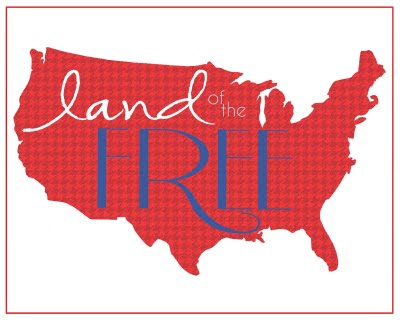 click
here
or on image to download
enjoy!
Telisa

is a regular contributor for I Heart Nap Time. She will be sharing printables and designs. Make sure to visit her blog Sugar Tot Designs for more inspiration and her shop for fun prints.
I love this whole set up! I can't wait to print mine out. Make sure to check out Telisa's super cute 4th of July

bunting tutorial

as well.