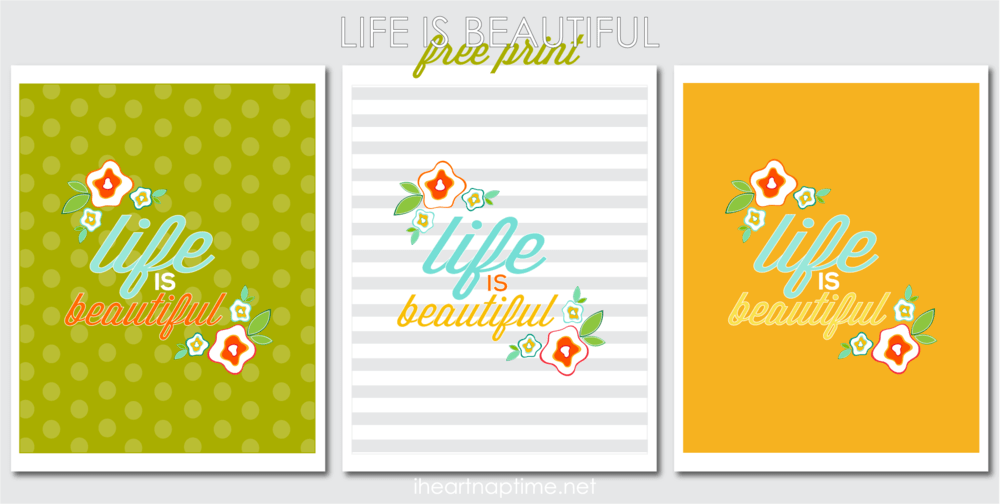 Hi, it's Kiki from Kiki and Company and I am excited to be here today to share a new print to brighten your walls up. Summer is just about over in my neck of the woods. Kids are headed back to school and I get the itch to brighten up my home with color! Today's free print is inspired by a lot of things, but mostly by the thought that life REALLY is beautiful!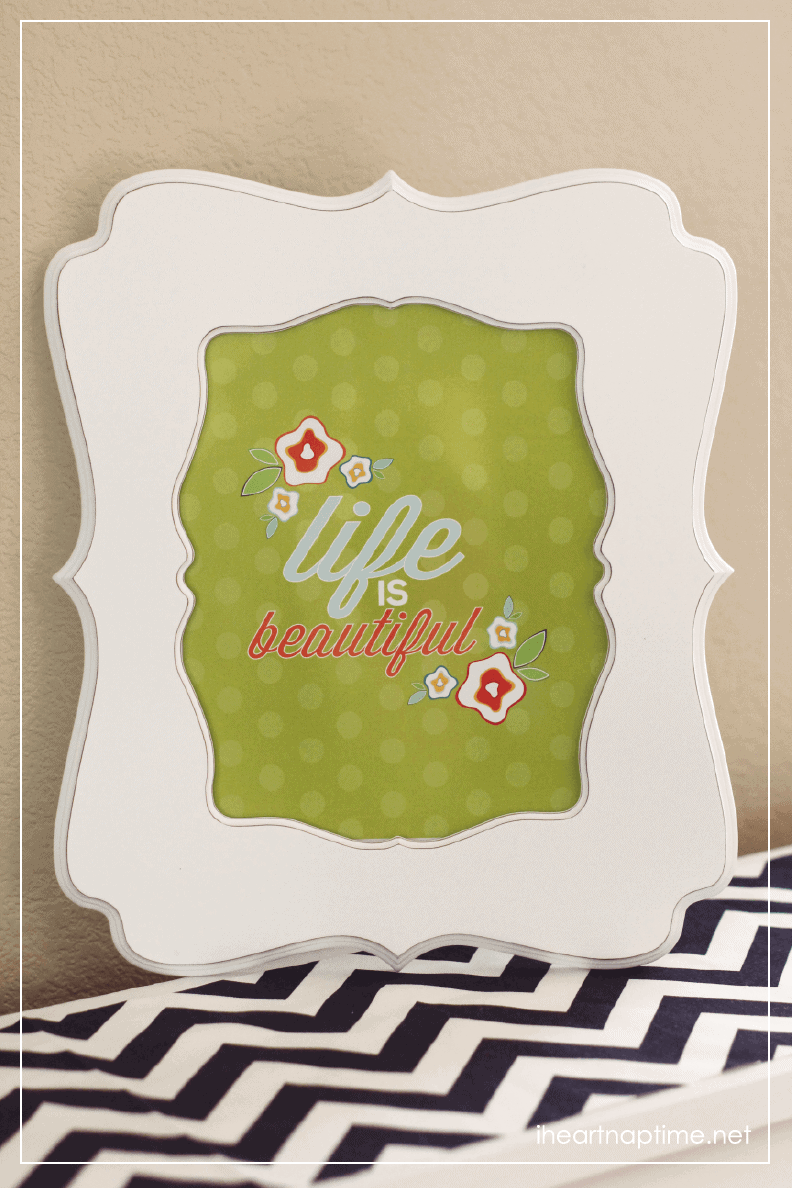 Today I really have a lot to be grateful for…I am celebrating my 11th anniversary today and have just a few short weeks before we will be welcoming our 5th child! It's hard sometimes to look at the world and to watch the news and believe that ANYTHING really beautiful is coming out of it, but when I step back and watch the way my kids interact with each other and their friends, when I see the peace we live in, when I remember that for every bad thing there are 10 great things happening (and they never make the news), I remember just how beautiful life is. And because of this, I love having this reminder up in my home.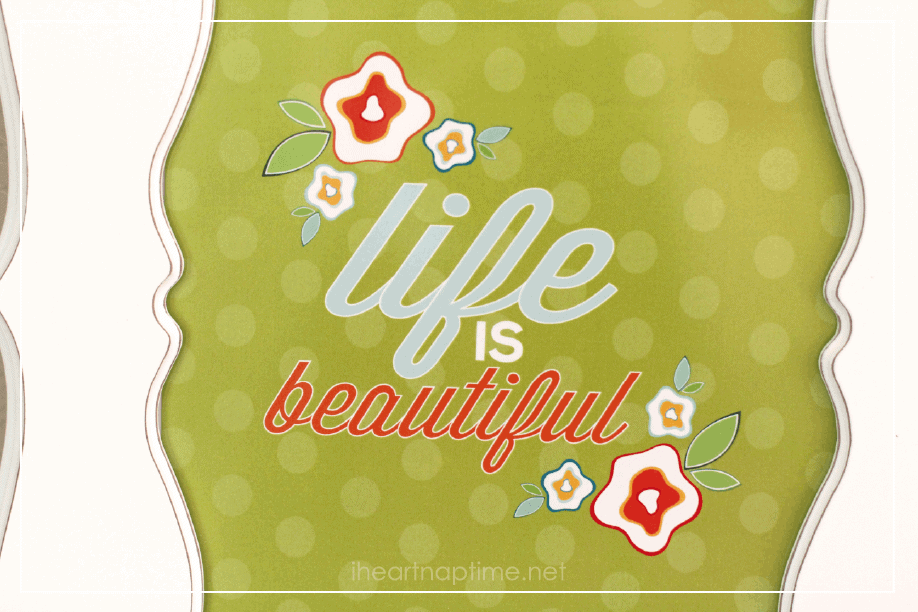 I want my kids to remember and know that there is beauty in the small things in life. I want them to remember a home where we cherish the happy times and stick together through the tough. I want them to find ways to help and look beyond themselves to help life be just as beautiful for everyone.
Free Download (click on links below)
Click on the links to download the 8×10 print in stripes, green, and marigold. Just right click on the images (after you click on stripes, green or marigold) and save image to your computer. Please only pin from this post and not the direct image.
I hope you find something TODAY to remind you just how beautiful your life is!
This month you can also find some great projects to keep your hands busy at Kiki and Company: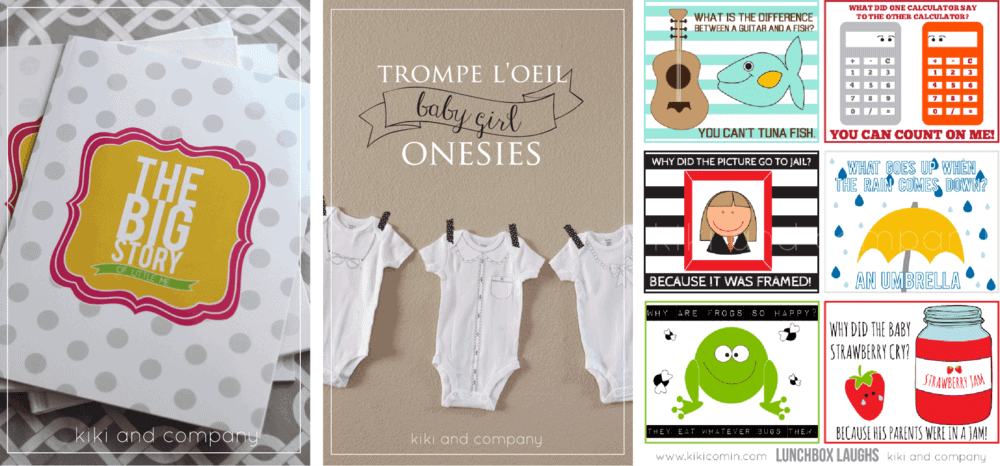 The Big Story of Little Me Baby Book now available to buy! // Free printable to make any onesie hip //  Keep your kids laughing at lunch with these free Lunchbox Laughs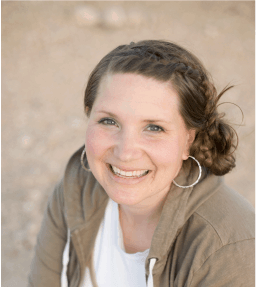 Hi! I'm Kiki Comin, the creator and editor of Kiki and Company, where you will find free printables, fun projects and lots of DIY inspiration. I am a wife, a mother to 4 amazing kids, and I love to create in my "down time".Creating keeps me sane, keeps me inspired and helps me see the world in a whole new way. I love to sew, bake and decorate, but my favorite thing to do is create meaningful printables. At Kiki and Company you will find printable art for walls to activities for kids and everything in between. I recently opened a digital design shop where you can find many of my new designs. Mostly I love blogging because life is really SO good, and I love sharing part of mine with you! You can also find me at Pinterest, Facebook, and my shop!