Life through instagram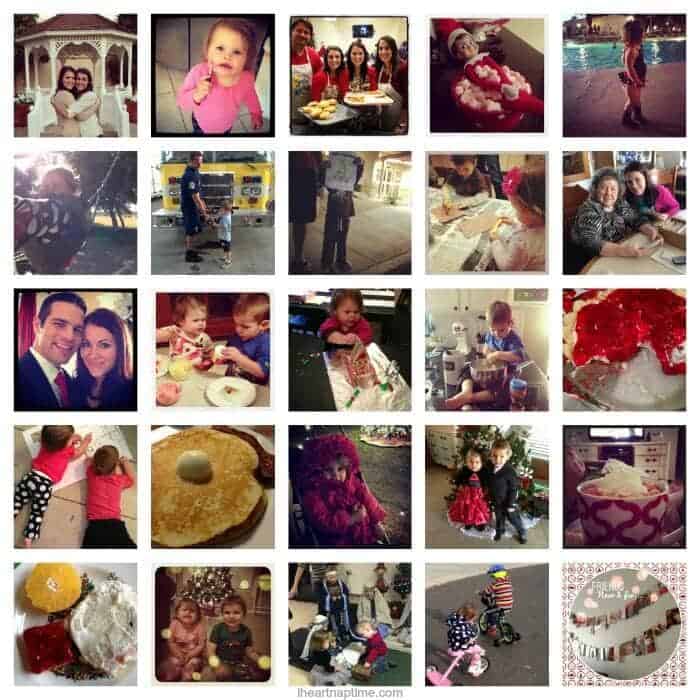 It's been awhile since my last "insta" update. Hopefully this year, I'll remember to share the things going on "behind the scenes" more often. ;)
Some fun things from December via my "insta" life. ;)
1. Me and my cute sister. Always love when she comes into town.
2. Emmalyn trying on mom's lip stick. She's such a girly girl. I love it!
3. Serving food to the homeless with my sweet family. Loved doing 25 days of service in December.
4. Elf on the Shelf! Fun times!
5. Swimsuits and cowgirl boots in December… only in AZ.
6. Swings at the park. We seem to spend most our days there, since the weather is so nice.
7. Delivering marshmallow snowmen to the firemen. My boy loved checking out all their cool gear.
8. For another day in our advent service calendar the kids made cards for the children at the hospital.
9. Making gingerbread men at the children's museum. Ah, don't eat me!
10. Going through my grandma's recipe box. I can't wait to share her yummy recipes with you.
11.  Hanging out with my favorite guy. So glad he's mine!
12. Frosting sugar cookies, a favorite tradition.
13. Making graham cracker ginger bread houses. The kids loved this. My floor did not.
14. My little helper in the kitchen.
15. Grandma's holiday pie. Get in my belly!
16. The kids coloring in their GIANT coloring book. Melts my heart when they get along.
17. The best pancakes ever. You must go to Matt's Big Breakfast if you live in AZ.
18. My pink marshmallow at temple lights.
19. Dressed up all fancy for church.
20. Peppermint hot chocolate + Christmas movies = pure bliss
21.Giant cinnamon rolls, oranges and strawberry pretzel salad… my kind of Christmas breakfast.
22. The kids jammin' out in their Christmas jammies.
23. Acting out the Nativity at Gram's house on Christmas Eve.
24. New Christmas bikes! Woo hoo!
25. Beautiful Christmas cards hung with twine and clothes pins.
SO there you have it. A capture of my life through instagram.
Thanks for stopping by. Have a fabulous Friday! xo- jamielyn