Living room essentials
Often times I'm asked for tips on decorating… and while I'd like to say I'm a professional home decorator, I am far from that. I just like to decorate my own home and make fun pieces of decor along the way. After we moved into our home last year I created a checklist of all the things I wanted to do for the house and have slowly been checking the list off.
For me it's easiest to go room by room. I shared my living room makeover last year, my sons superhero room, a sneak peek at my powder room and craft room and will be revealing our kitchen makeover in the next coming weeks. Of course I always end up with way too many projects at once, which takes it longer that it should. ;)
Today I thought it would be fun to share some of my "essentials" when it comes to decorating a living room space. It doesn't have to be hard and you certainly don't need to be a professional. Just have fun and pick out things YOU like and it will all come together. You just may need to re-arrange things a few times (which is what I do best). ;)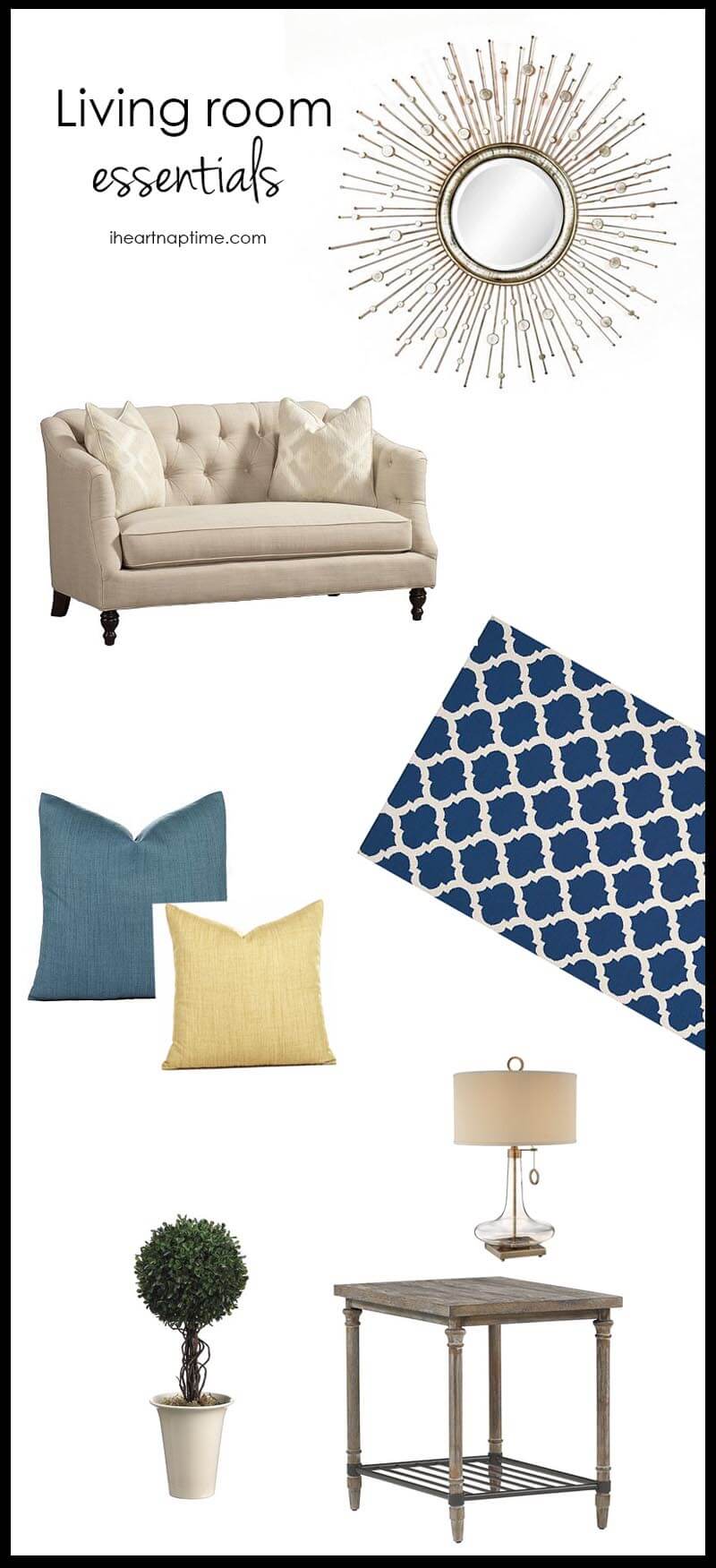 Decor pieces found at Harvertys: Sunburst mirror – Couch – Rug – Pillow – Lamp – Table – Topiary
Living room essentials:
1. A great couch! I like to go with something comfortable and neutral, so you can change up your decor everyone once in awhile. This also allows you to add the color in the decor.
2. A large area rug. I like to do something bold and colorful for the rug. I love a good pattern too. It just adds extra dimension to the room and really ties everything together. Just make sure that couch/chair/ottoman is actually sitting on the rug, so it doesn't look like it's just floating.
3. Wall decor. You can keep this as simple as a fun sunburst mirror or by adding a collage of frames. Add your personality to your space!
4. Pillows can totally make or break a room in my opinion. They are also great because you can add new ones as different trends come in. The more color and fluffier the better!
5. End tables with lamps, candlesticks, topiaries, books and other small pieces of decor add a fun personal touch to your space.
To me those are the 5 most important living room essentials. What are your essentials when decorating a room?
This post was brought to you by Harvertys. Make sure to check out their Labor day sale going on 8/18-8/31! If you find something at Havertys share it on Instagram using the hashtag #HavertysInspired. To find even more specials make sure to follow Harvertys on Facebook, Pinterest and Twitter. Locate your nearest store here. #HavertysRefresh
Havertys helps you bring your vision to life. Visit Havertys.com to find a store near you, detailed product information and design tools to guide you in your home decor purchases.
This is a sponsored conversation written by me on behalf of Havertys. The opinions and text are all mine.