Today I thought it would be fun to share a little piece of our love story. It is love day after all! ;)
Here's how it all began…I met my sweetheart on September 1st, 2007. He was quite the catch! I remember seeing him at church and telling my friends we HAD to stop by this get together I knew he would be at that night. You better believe I made sure to sit right by him during the movie. We chatted a little, but that was pretty much it. I was a little bummed he didn't get my number, but was SO excited to get a call from him a few days later. He told me it was pretty hard to track down my number and he wanted to take me out on a date. Eek I was SO excited! After that first date it was pretty much history. We wanted to spend every.single. day. together. I had dated a lot of other guys and even thought I was going to marry another guy. I knew right away there was something different about Deric. I had never met a guy like him and was pretty shocked he was into me. I was head over heals for him (more than he was into me, I'm sure).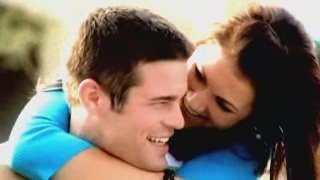 He was working in the ER (12 hour night shifts), going to school full time (bio-chem major) and studying for the MCAT, so I knew what I was getting myself into to say the least. I didn't care! I would go visit him at the hospital and on his nights off we would stay up till 3am chatting. I remember a few weeks after I met him he tried to kiss me and I politely turned my head. He was totally bummed. It was NOT because I didn't want to kiss him ( I SO did), but I didn't want to ruin our relationship. So then a few more weeks went by and we finally kissed. Okay now I was just more in love with him.
Our relationship kept growing stronger and stronger. We had so much fun together and there was absolutely no drama. I remember right before Christmas talking about the M word. At this point I knew he was going to be the guy I married. He was (still is) kind, smart, loving, good looking, patient, honest, hard working and everything I had ever hoped for. I remember as a little girl writing down everything I wanted in a husband and he was a complete match.
He was SO good to me! I really got lucky with this one. In January we got engaged (yes only 4 months later) and it was such a magical night. I married a romantic… to be continued.
If you're in a reader you may want to pop over here to watch " our love story." Film by David Perry Films.
HAPPY VALENTINES to all my sweet readers! Love you guys! Hope your day is filled with lot's of hugs and kisses!
xoxo-Jamielyn