Jump to Recipe⌄
Bite-Sized Strawberry Shortcakes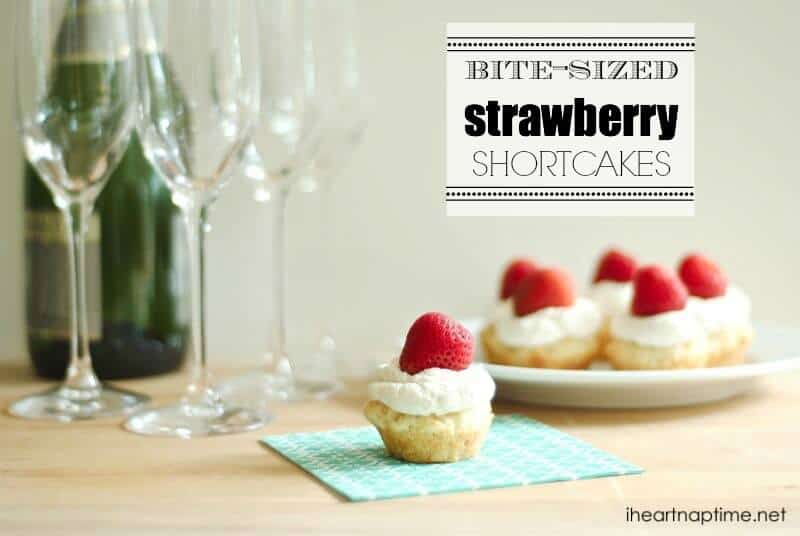 After this recipe, I think it might be official that I, Jennifer from The Chronicles of Home, am obsessed with mini desserts.  What is it about them?  They're easy to serve and eat, look special, and let's be honest…they're just so darn cute.  They're like little dessert babies, and who doesn't think babies are just precious with their tiny little fingers and toes??  Well, maybe not everyone, but still, these mini strawberry shortcakes are just adorable.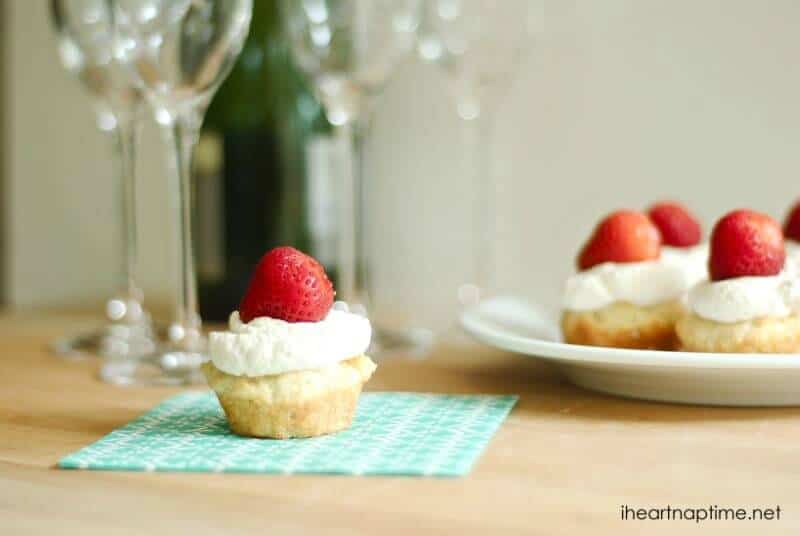 This time I'm embracing all I love best about summer cooking and eating: simplicity and showcasing what is most fresh.  I just can't get enough fruit in summertime, with berries and peaches holding the top spots on my list of favorites.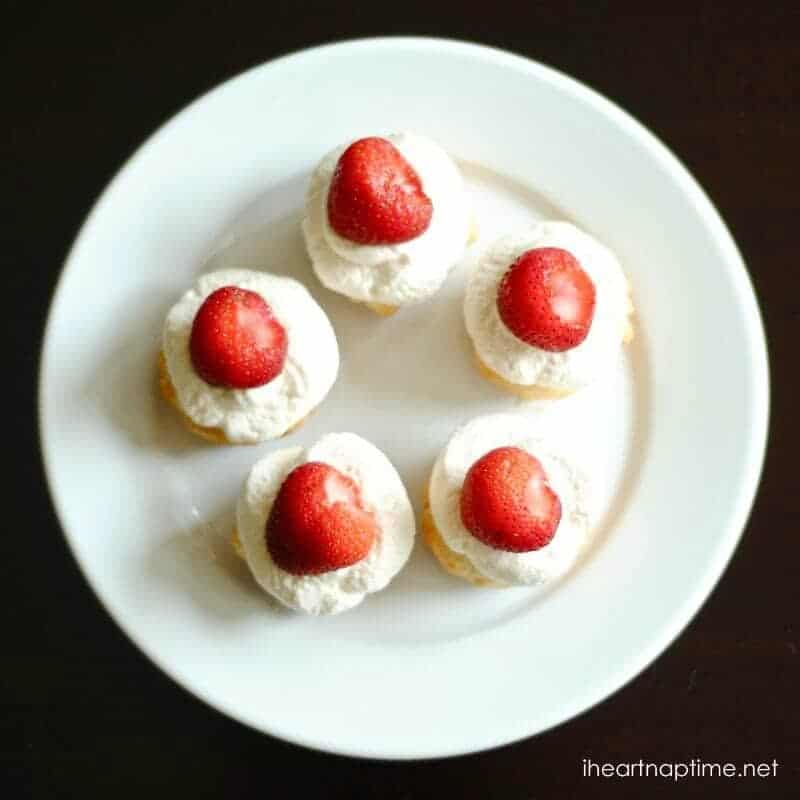 Strawberry shortcake is, of course, an absolute classic, and in this case I haven't messed with a good thing, just made it bite sized.  I used my tried and true biscuit recipe, from my great-grandmom, that is my go-to base for breakfast biscuits, scones, shortcakes, cheddar and chive biscuits with dinner, you name it.  It's a simple dough that I spooned into a mini muffin pan, topped with fresh whipped cream, and crowned with ruby-red summer strawberries.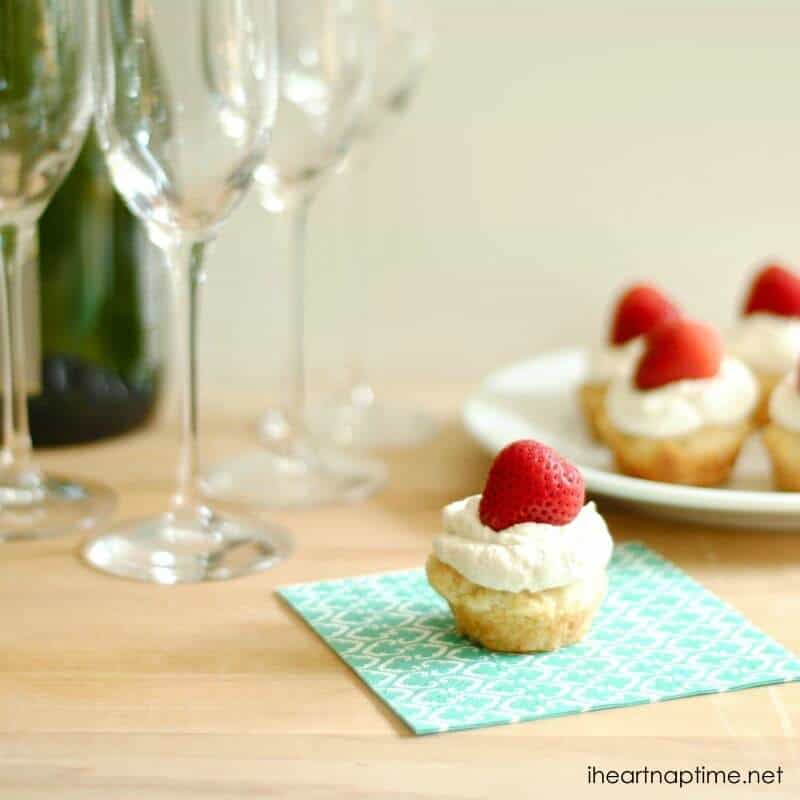 Make these for your late-summer dinner parties or just for your family as a special dessert and watch everyone melt into happy summertime dessert bliss.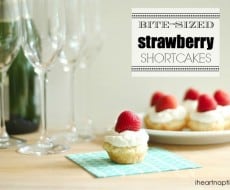 Bite-Sized Strawberry Shortcakes
Ingredients:
2 c. all purpose flour
4 tsp. baking powder
1 tsp. kosher salt
1/4 c. sugar
1/2 c. unsalted butter, diced
1 egg
milk (see below for amount)
– – – – – – – – –
1 c. heavy cream
1 tbsp. sugar
1 tsp. vanilla extract
– – – – – – – – –
pint of strawberries, hulled
Directions:
1. Preheat oven to 450º.
2. In a large bowl, whisk flour, baking powder, salt, and sugar to blend. Cut in butter with a pastry cutter or forks until butter is about the size of peas. Crack egg into a measuring cup and add milk to come to the 3/4 cup line. Whisk, then pour over flour mixture. Use a rubber spatula to mix gently until the flour is just moistened. The mixture should be very lumpy.
3. Spoon a tablespoon or two of the batter into the cups of a mini muffin pan. Flatten the tops a bit with the back of a spoon or fingertips.
4. Bake 10 minutes, until golden. Let cool slightly in pan then remove to a wire rack and cool completely.
5. Meanwhile, beat the cream, sugar, and vanilla in a medium bowl until soft peaks form.
6. Right before serving, top each mini shortcake with a dollop of whipped cream and strawberry.
All images and text ©
Come visit me sometime at The Chronicles of Home and see what I've been up to lately!

Salted Caramel Brown Butter Blondies | Turn a TV Stand Into a Bar Cart | Overnight Cinnamon Bun Bread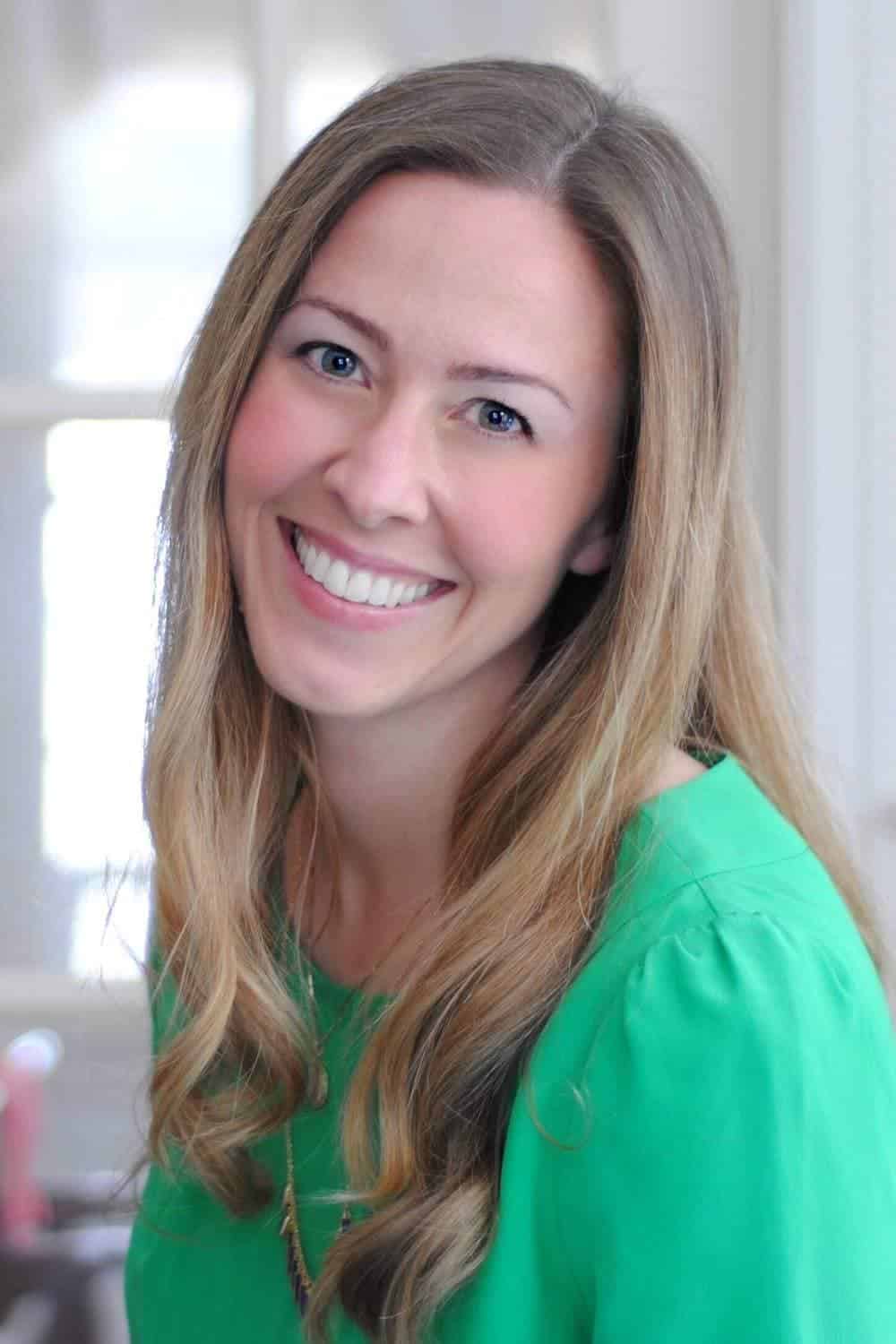 I'm Jennifer from The Chronicles of Home, where I share DIY and home decorating projects as well as lots of yummy food.  My truest loves are my husband and two young daughters, but I've also fallen for salvaging, refinishing, & reupholstering old furniture and building furniture from the frame up.  I have a sweet tooth to be reckoned with and love testing new desserts, though most of the time I eat and feed my family delicious, interesting, healthy food. I'm drawn to beautiful fabric, great books, anything kelly green, pasta made from scratch, dark chocolate, and brown butter.  I'm so thrilled to be a member of the I Heart Naptime creative team!