Jump to Recipe⌄
My FAVORITE salad ever!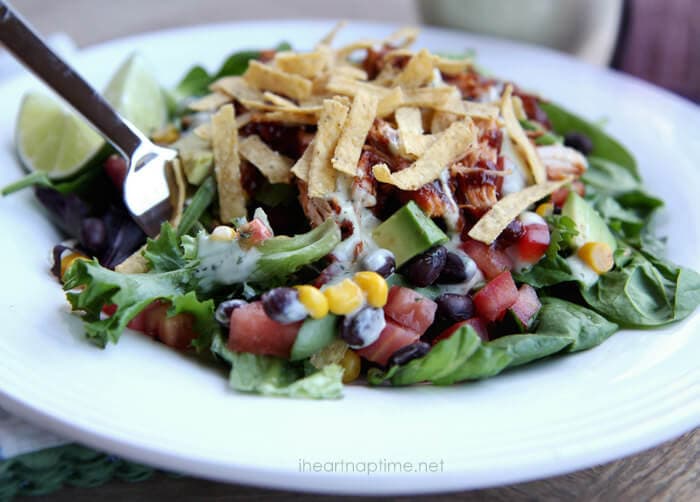 I'm sure many of you have tried a BBQ chicken salad at some point…but I have to say this is one of my favorite salads ever!! It's definitely a close tie with Costa Vida's sweet pork salad.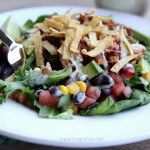 BBQ chicken salad
Ingredients:
3 chicken breasts
1/2 bottle bbq sauce
lettuce
1 can black beans
1 can corn
tomatoes
onion
cilantro
tortilla strips
ranch packet
1 tomatillo
1-2 limes
Salad or spinach
Directions:
1. Put 3 chicken breast in crock pot with 1/4 in water. I pour about a 1/2 a bottle of bbq sauce over it. If I have onions I will put a few slices on top to give it a little more flavor. After it has cooked about 4 hours on high, I take the chicken out and shred it.
2. Then grab a can of corn and black beans and begin to warm in a small bowl. I put a spoonful of salsa over my beans and just salt on the corn.
3. Next comes the pico (I left out the jalapenos). Dice the tomatatoes, onion, cilantro and combine in a small bowl. Add some fresh lime juice and salt and pepper to taste.
4. For my dressing I either use a ranch packet or use the pre-made ranch I add in about 1/2 cup cilantro, 1-2 tomatillos and 1/2 lime juiced. If you like spicy you can add in a jalapeno.
4. Then layer it all up and drizzle with dressing.
All images and text ©
Mmmm I think this needs to be on the menu this week!