It's been awhile since I've done one of my "Naptime Diaries" post, and while I have a million pictures I could share… I wanted to share a few from yesterday afternoon. One of the most FAQ I get is "How do you do it all with two kids?!" Well first off, I don't…let's just get that right out in the open. haha! And second, I involve my kids in everything I do. I know I've mentioned this before on the blog, but I had such a sweet experience yesterday I had to mention it again.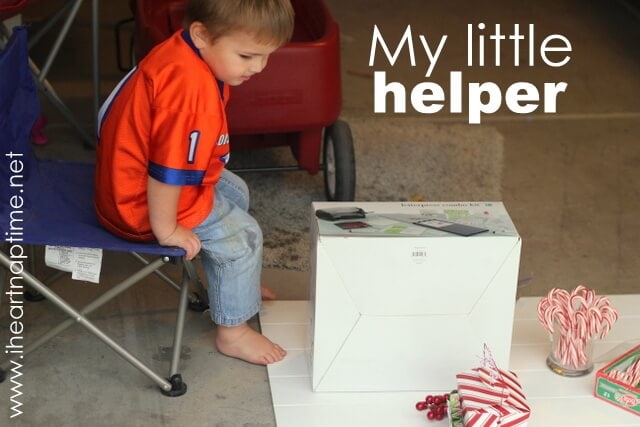 This cute little guy is my biggest fan! He loves helping me with projects, making new recipes and LOVES to watch me take pictures of the final product. Yesterday he helped me make a fun Christmas Chex Mix. After we got done, I gave him a bag he could put some snacks in for him and his sister. He LOVES doing things all by himself, so I try to give him tasks where he can do just that. After the mix was done I packaged it up and took it outside to photograph (now you can see my secret set up- haha). Carson's job was to set up the box and make sure it didn't fall over on the craft. This was a big task you see. He sat there and watched that box the whole time. It was the cutest thing I had ever seen.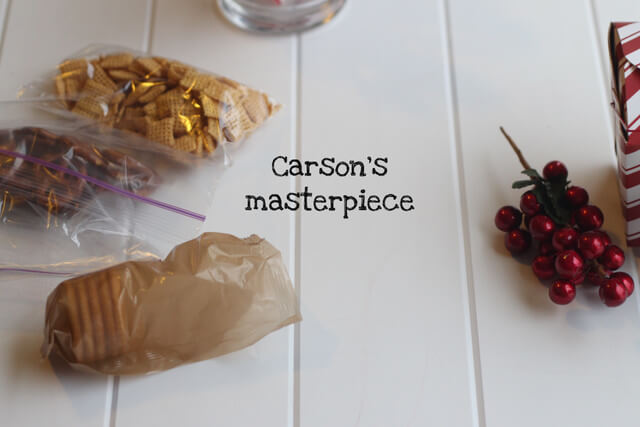 After I was done taking my pictures, I began to clean up. He quickly said "WAIT!" Then he ran inside and ran back out with his arms full of  his snacks he had prepared earlier. He laid all of the bags on the board (re-arranging them a few times) and said "okay mom take a picture." Of course I began taking pictures and he was so proud. That was such a sweet moment for me, and I'm so grateful for those sweet and simple moments in my life.
I'm SO lucky to have my two little kids in my life. I couldn't do it without them. Yes, some days my little boy drives me crazy (read here and here) but there's nothing I'd rather do than be his mom. That is my full time job, and that is what makes me happy. So yes, I do a lot of other things, but my kids are number one. I try to involve them in all that I do. And I save all the rest for Nap Time and Bed Time. ;) I'm definitely not perfect at this, but I strive hard to do that.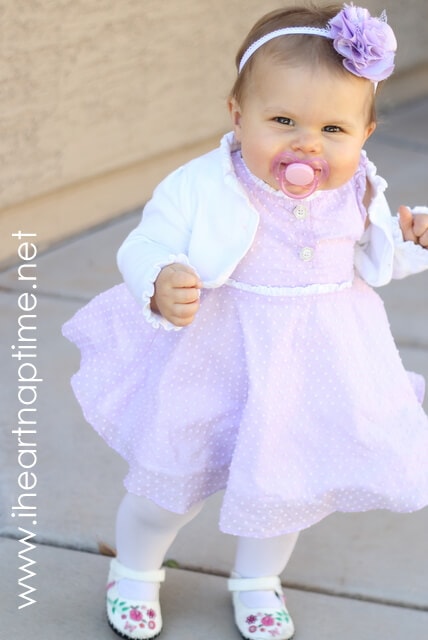 And how could I leave out this little cutie who is my other sweet little helper! She loves to organize all my buttons and fabric stash. That is her favorite thing to do. :)
AND as of last weekend Emmalyn is officially a walker. She looks so cute waddling around. She has a whole new light around her now that she can walk and is happier than ever. Also, Carson is officially potty trained. He was so ready and was a piece of cake. The cars toilet, cars undies and candy may have helped the process… but I am happy to say I only have one in diapers now.
Gosh my babies are growing way too fast!
So anyways I guess where I'm going with this post is… yes I am a stay at home mom and yes I do spend a lot of time on this blog (which has turned into a part time job) but I take my kids with me along for the ride…and boy is it a fun one! I can honestly say my son would rather be helping me clean the house and work on projects with me than play with his toys. He loves being able to do what I do, and I can see as my daughter is getting older -she does too.
Involve your kids in all that you're doing. They want to help you! Yes sometimes (okay most of the time) it takes twice as long and makes twice the mess, but you are teaching them… and they are learning. They are your biggest fans! Give them little tasks they can do to help. Let them help you. Most importantly cherish the memories you are making. 
It's not only children who grow. Parents do too. As much as we watch to see what our children do with their lives, they are watching us to see what we do with ours. I can't tell my children to reach for the sun. All I can do is reach for it, myself. ~Joyce Maynard
Happy Friday! I hope everyone has a fabulous weekend. Thanks for reading!