Jump to Recipe⌄
Neapolitan cupcakes w/ cream cheese frosting
So I was originally planning on posting my painted rug and new chest today…BUT cute little Emme "painted" over my new rug with liquid foundation. If you follow me on facebook or instagram you saw the damage. :( I'm thinking I'll paint over it again because that makeup is not coming out. SO hopefully I can get that done today, so you can see it tomorrow. :)
As for today… I'm going to share these yummy neapolitan cupcakes I made for my friend Kristyn's Birthday party this past weekend. They were super easy to make and turned out delicious. The strawberry + brownie combo = yummo!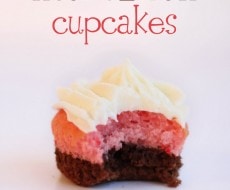 Neapolitan cupcakes
Ingredients:
1 box brownie mix -follow directions on box
1 box strawberry cake mix -follow directions on box
1/2 cup butter softened
8 oz cream cheese softened
4 cups powdered sugar
2 tsp vanilla extract
Directions:
1. Combine brownie ingredients in a medium sized bowl. Then combine strawberry mix in a separate bowl. Stir until smooth.
2. Fill bottom of cupcake liners with a spoonful of brownie batter. Then add another spoonful of strawberry mix on top. The cups should be about 2/3 the way full.
3. Bake at 350 for 18-20 minutes. Remove from pan and allow cupcakes to cool before frosting.
4. In a medium sized bowl beat butter and cream cheese until smooth. Add one cup of powdered sugar at a time. Then add the vanilla and beat until smooth.
5. Frost cupcakes and enjoy! :)
All images and text ©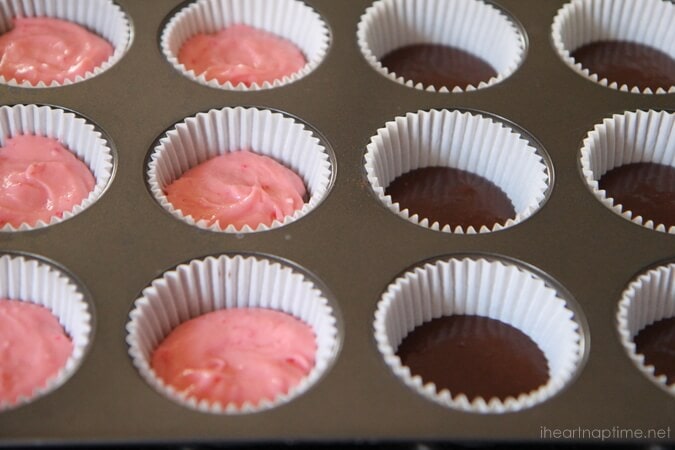 Here's a few pic's from the 80's party!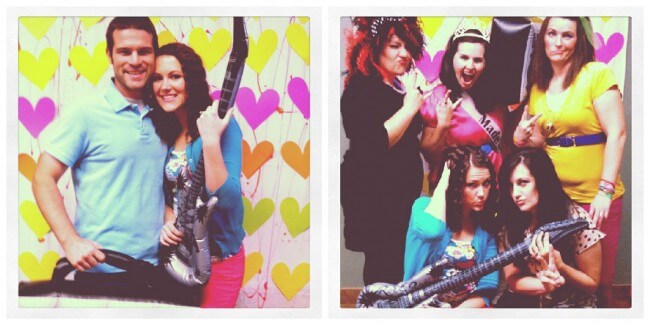 Me and my cute hubs — Kristy, Kristyn, Kelli, Me, Katie
Happy Monday friends!
Here are a few more cupcake recipes you'll love: