Oilcloth Coin Purse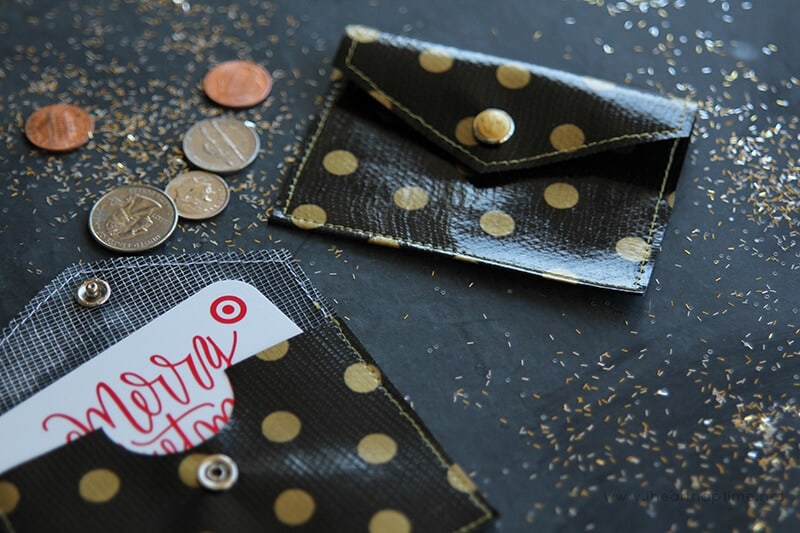 Hi there I Heart Naptime readers!  Stef here, from Girl. Inspired.  The holiday season is full of celebrating, tradition-keeping, spreading love, and giving to others.  Today, I have the quickest, simple project for you to sew.  These oilcloth gift card holders or coin purses are the perfect gift-giving envelope for small trinkets and gift cards.  Because they are made from just a small piece of oilcloth and a snap closure, there is no hemming or lining needed and you can make a whole stack of these fun purses in a short time.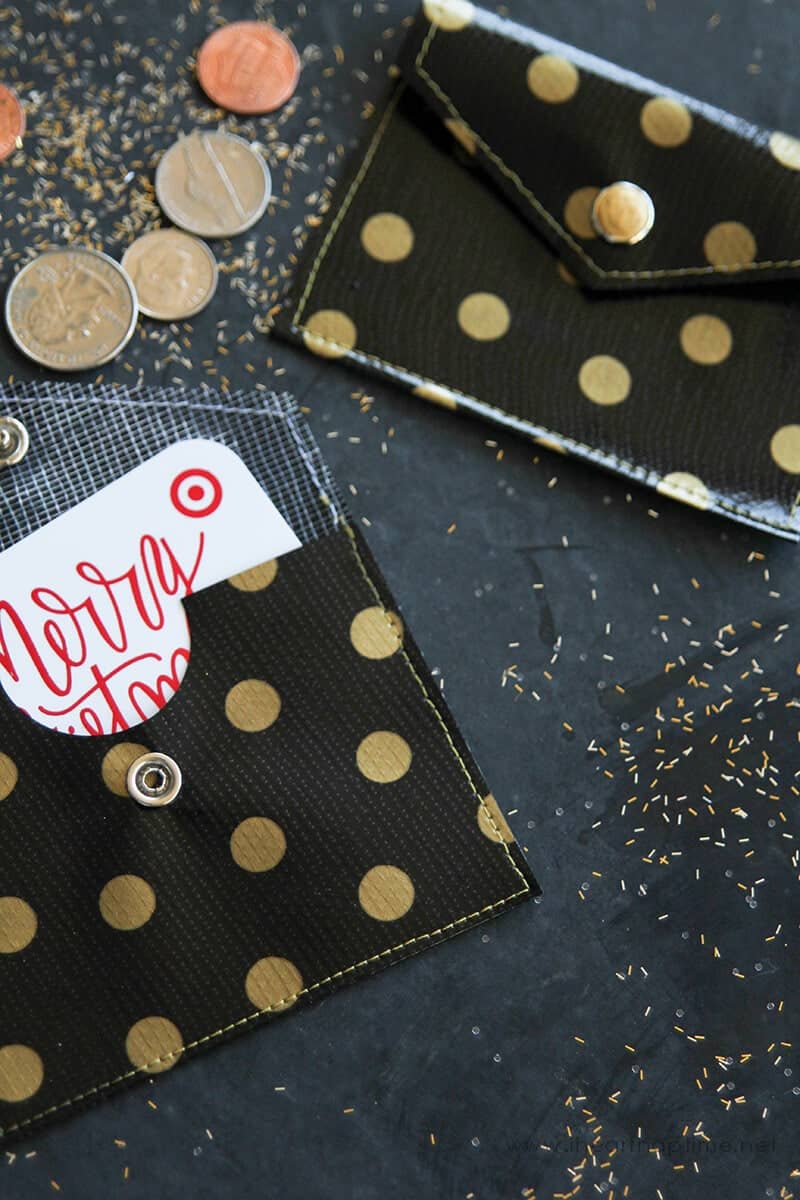 Supplies to make 1 Oilcloth Coin Purse:
1 – 4"w x 8"h piece of oilcloth or thick felt
1 – snap closure
Matching thread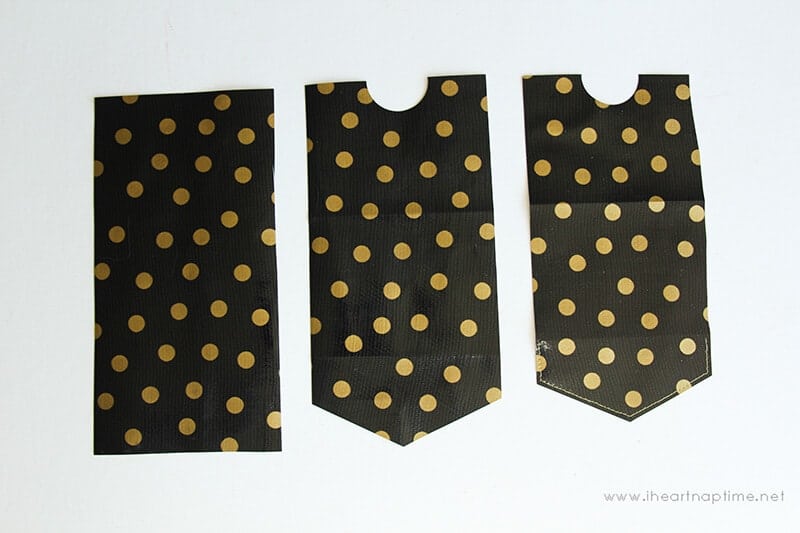 1. Cut a piece of oilcloth or felt 4" wide by 8" long.  Measure in from the short side of the fabric and mark 1".  Form a triangle at the end of the fabric by cutting from each side at this 1" mark in and down toward the center of the short edge.

MY OTHER RECIPES
2. On the opposite side from the triangle edge, cut out a 1 ½" half circle in the center.
3. Fold the fabric into three sections, forming the envelope.  Two sections should each be 3" long and the final triangle section should be 2" long (including the 1" length of triangle).  Crease the fabric by pressing along the fold lines with your finger.
4. Open the envelope back up.  Using a Teflon foot (or a plastic sewing foot) on your sewing machine, stitch around the flap portion of the envelope, starting and stopping at the crease line on each side (see photo for stitching area)
Apply a snap to the fabric – the top snap should be placed in the center of the triangle tip, as shown.  Fold the envelope along the crease lines you made in step 3 and confirm the placement of the bottom snap.  Unfold the envelope and set the bottom snap in place. 
Refold the main portion of the envelope, leaving the triangular flap open.  Stitch the folded fabric into place, down the side, across the bottom, and back up the other side.  The coin purse/gift card envelope is complete!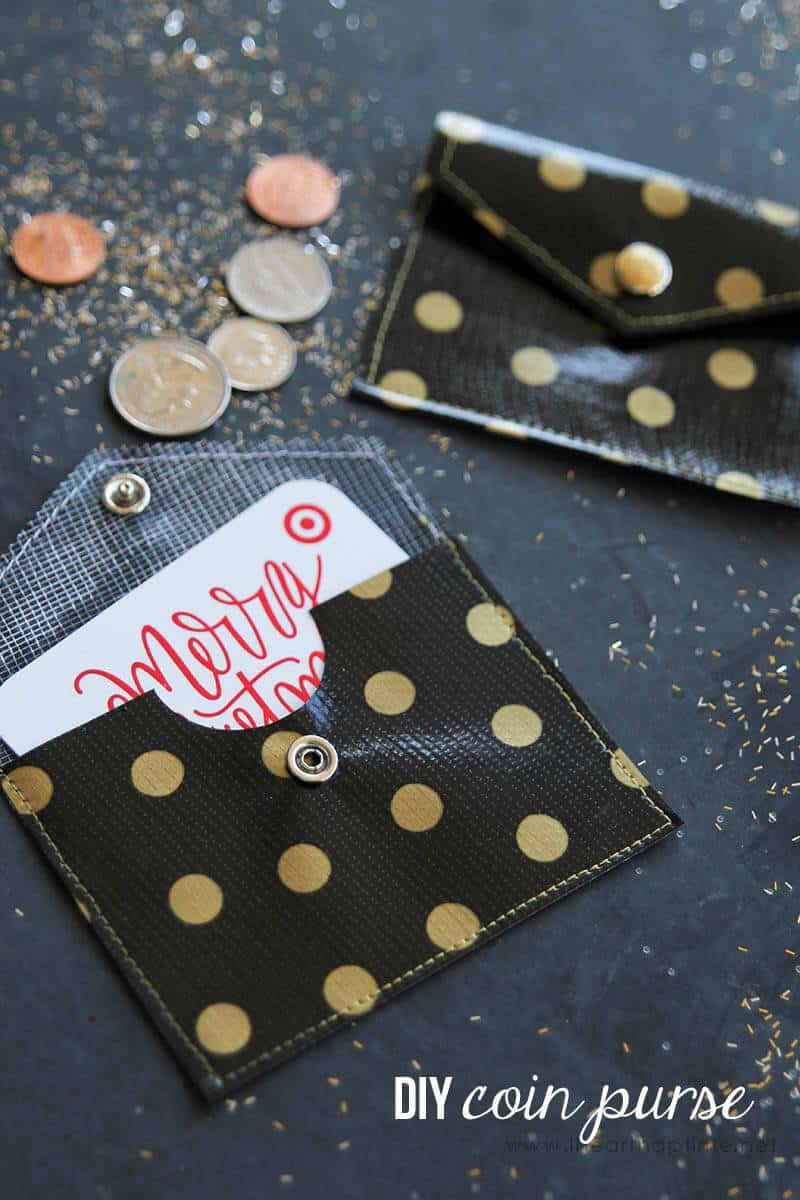 Aren't these great for adding a handmade touch to your gift-giving this year?  They are so simple to make, you can hand them out to everyone!  Thanks so much for stopping by today – wishing you all a wonderful holiday season!  For more seasonal inspiration, stop by Girl. Inspired.!  Here are some of the projects I've been working on!
1. Sugar Cookies with Peppermint Marshmallow Frosting  
3. German Chocolate Filled Cupcakes & Caramel Buttercream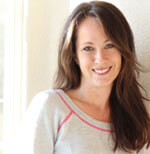 Stef blogs at Girl. Inspired. where she shares sewing projects and tutorials, her latest adventures in cake-decorating and sugar consumption, and any sort of crafty thing she can squeeze into her day.  She loves throwing parties and decorating her home with a little vintage and a lot of homemade.  Stef and her husband are raising three little girls on their "farm" in Northern California.  She loves dance parties with her girls, laughing with her husband, hoarding fabric, photography, and of course, coffee!  Stop by and say hi!  Find Stef on Facebook, Pinterest, or Instagram for more inspiration!
Join in! Leave a comment!
Comments