Jump to Recipe⌄
Orange Cream Cupcakes {Hello Summer}
By Alicia of The Baker Upstairs for I Heart Nap Time
Hello again, I Heart Nap Time readers! I'm so excited to be part of I Heart Nap Time's Hello Summer series this month! There have been so many fun ideas and yummy recipes shared already, and I've been totally inspired to make my summer even more delicious and fun. I love summer and always look forward to the warm nights, beach vacations, playing outside, and (best of all) the food! Summer is definitely the time of year when I eat the best, with all the fresh fruits and vegetables, the outdoor grilling, and so many delicious cold treats. When I was a kid, orange creamsicles were one of my very favorite summer treats, and these orange cream cupcakes have the same delicious flavor combination, but in cupcake form!
The cupcakes themselves are so light and buttery, with just a hint of orange. The frosting is creamy and sweet and tangy, and gets a delicious orange flavor from fresh orange juice. I made these with my seven year old, and she insisted that we add sugar pearls to the top (she's a girl who loves her sprinkles!). These cupcakes are so elegant and fun, and would be a great addition to any summer party!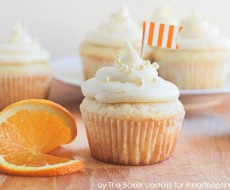 Orange Cream Cupcakes
Ingredients:
for the cupcakes:
1 1/2 cups flour
1 1/2 teaspoons baking powder
1/4 teaspoon salt
2 eggs
2/3 cup sugar
12 tablespoons butter, melted
2 teaspoons orange zest
1 teaspoon vanilla
1/2 teaspoon orange extract
1/2 cup milk
for the frosting:
3/4 cup orange juice
8 ounces cream cheese, room temperature
10 tablespoons butter, room temperature
2 – 3 cups powdered sugar
1/2 teaspoon vanilla
1/2 teaspoon orange extract
2 teaspoons orange zest
Directions:
Preheat the oven to 350. Prepare a cupcake tin by lining with paper liners. In a medium bowl, whisk together the flour, baking powder, and salt, and set aside.
In a large bowl or the bowl of a stand mixer, beat the eggs, sugar, butter, orange zest, vanilla, and orange extract until smooth. Mix in half of the flour mixture, then add the milk and mix until smooth. Mix in the remaining flour until just combined.
Spoon the batter into the cupcake liners, filling 2/3 full. Bake 16-19 minutes, or until a toothpick inserted in the center comes out clean. Let cool completely before frosting.
To make the frosting, heat the orange juice over medium heat until reduced to about 1 1/2 tablespoons. This may take between 10 and 15 minutes. Remove from heat and let cool completely (you can refrigerate it to speed up the process). Beat together the cream cheese and butter until light and fluffy. Add 2 cups of powdered sugar, the vanilla, the orange extract, the orange zest, and the reduced orange juice. Beat until smooth. Add more powdered sugar as needed to make a frosting that is soft but not runny. Frost cupcakes as desired.
THANKS Alicia for sharing this yummy recipe during our Hello Summer Event! Click HERE to see more ideas from the event.