Jump to Recipe⌄
Sweet orange rolls
Thanks for stopping by! To get the newest recipes subscribe or join us on facebook. Also check out our recipe box for more yummy recipes.
Sweet orange rolls… need I say more?! Seriously a dream boat! With summer just around the corner, these orange rolls are the perfect summer treat! I'm telling you… you'll get little bites of heaven when these come out of the oven. These are definitely a crowd pleaser. Mmm….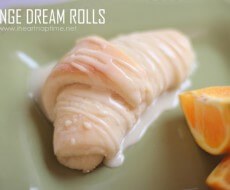 Sweet Orange Rolls
Ingredients:
2 cups milk
1/2 cup sugar
1/2 cup cup canola oil
2 eggs whipped
2 Tb. yeast 2 small pkg's
2 tsp. salt
51/2-61/2 cups bread flour or all purpose start with 5 1/2 and add more if dough is still sticky
3 tsp. orange zest grated orange
For filling:
1/2 cup salted butter softened, not melted
1 cup sugar
2 tsp. orange zest 1 orange
1 Tb. orange juice
For glaze:
2 cups powdered sugar
3 TB of fresh orange juice (more if needed)
Directions:
1. FOR DOUGH: Combine milk, sugar, oil and salt in a large mixing bowl. Stir until dissolved. Add 2 cups of flour and beat well. In a separate bowl whisk the 2 eggs. Add the egg mixture to the large bowl and stir until combined. Dissolve the yeast in 1/3 cup warm water for five minutes and then add the yeast mixture into the large bowl. Slowly add in 2 1/2 cups of flour and 3 tsp. orange zest. Beat on medium speed for 2 minutes. Slowly add the other cups of flour and beat on medium speed. You want the dough to be smooth, not sticky. You may need to add more flour to get a smooth consistency. Pour 1/2 Tb oil around the sides of the bowl and cover with a towel. Let rise in a warm place until double in size.
2. Once the dough has risen, roll out the dough, forming a circle. Combine butter, sugar, orange juice and orange zest in a small bowl and then spread on the dough. Cut dough like a pizza and then roll each slice into a crescent.
3. Bake at 350 degrees for 10-12 minutes.
4. FOR GLAZE: Beat powdered sugar and 3 TB of orange juice for 1 minute. Add more powdered sugar or juice to reach desired consistency. Drizzle glaze on top. Enjoy!
All images and text ©
*Please note- you may need to add extra flour if your dough is still sticky. Try adding 1/2 cup at a time until your dough doesn't stick to your hands.

MY OTHER RECIPES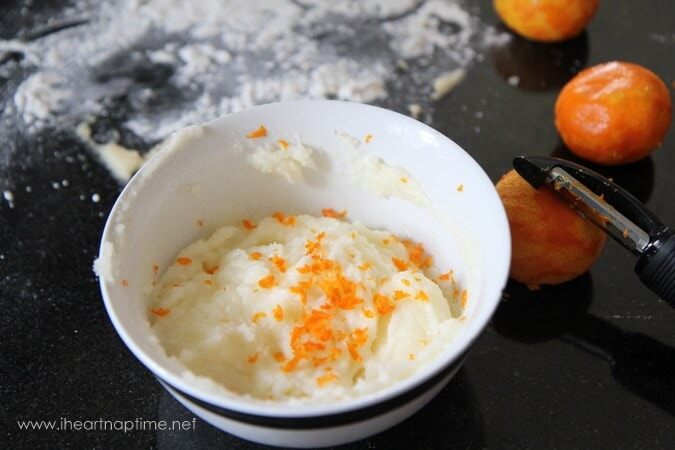 Butter…sugar…orange zest…things are getting good around here!
Spread it on nice and thick!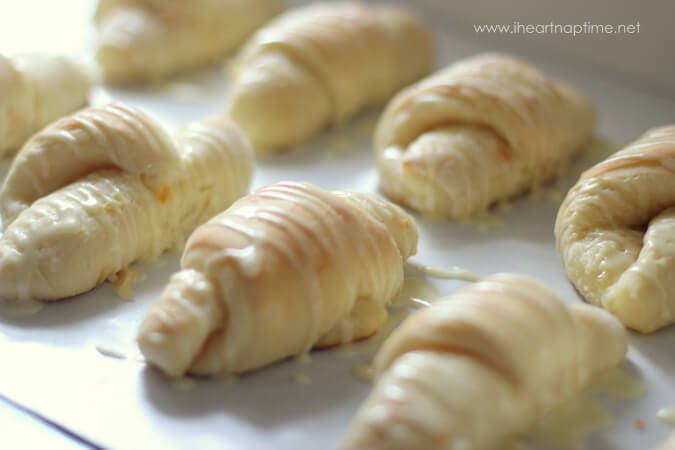 These bad boys fresh out of the oven drizzled with glaze. YUM!!
Have a great Monday! Come back soon!