Orangesicle Dream {Frosting}
Umm it's almost midnight but I had to share this recipe with you! I sort of made it up one day (okay just added in a teaspoon of orange extract to my favorite frosting recipe), and couldn't have been happier with the results. We're talking… EATING FROSTING BY THE SPOONFUL! Forget the cookies… just eat the frosting. ;)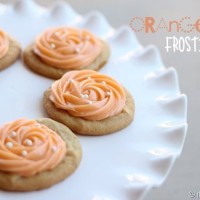 Orangesicle frosting
Ingredients:
1 pkg. cream cheese (softened)

2 c. powdered sugar

1 t. vanilla

1 t. orange extract
Directions:
Combine ingredients in a medium bowl and beat with a hand mixer until fluffy. Add 1-2 Tablespoons of milk if needed to thin it out. Enjoy on sugar cookies, orange rolls, cupcakes… OR just by the spoonful!
Join in! Leave a comment!
Comments