Jump to Recipe⌄
Oreo Chocolate Chip Cookies are dangerous!
Thanks for stopping by! To get the newest recipes subscribe or join us on facebook. Also check out our recipe box for more yummy recipes.
My mom came over last weekend with a nice surprise. Have any of you tried these cookies from The Picky Palate? One word. YUMMY. RICH. CHOCOLATE. DELICOUS. BAD FOR THE HIPS…. okay that was more than one word. But seriously next time your feeling rebellious, whip up a batch of these bad boys! They will not disappoint.. if you like chocolate that is.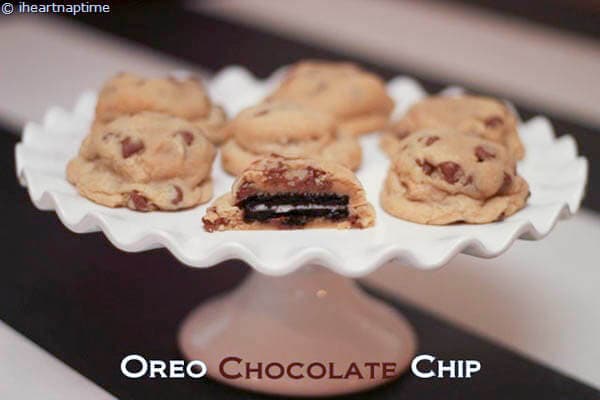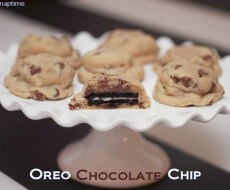 Oreo Chocolate Chip Cookies are dangerous!
Ingredients:
2 sticks softened butter
3/4 Cup packed light brown sugar
1 Cup granulated sugar
2 large eggs
1 Tablespoon pure vanilla
3 1/2 Cups all purpose flour
1 teaspoon salt
1 teaspoon baking soda
10 oz. bag chocolate chips
1 bag Oreo Cookies
Directions:
1. Preheat oven to 350 degrees F.
2. Cream butter and sugars until well combined. Add in eggs (one at a time) and vanilla until well combined.
3. In a separate bowl mix the flour, salt and baking soda. Slowly add to wet ingredients along with chocolate chips until just combined. Using a cookie scoop take one scoop of cookie dough and place on top of an Oreo Cookie. Take another scoop of dough and place on bottom of Oreo Cookie. Seal edges together by pressing and cupping in hand until Oreo Cookie is enclosed with dough. Place onto a parchment lined baking sheet and bake cookies 9-13 minutes.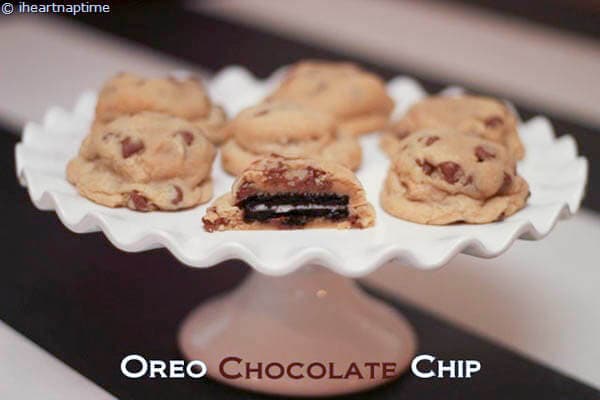 In about one five minutes this is all that was left. Dangerous, I tell ya!