This post has been sponsored by the J.M. Smucker's company, but all opinions are my own.
PB&J sandwich skewers with fresh fruit make lunch time more fun and are so easy to make!
Peanut butter and jelly sandwiches are a favorite around here. My kids love making them into little sandwich skewers. My husband loves making a triple stack (basically a PB&J with 3 pieces of bread) and I love making mine open face with bananas and a cold glass of milk. It's something I crave all the time this pregnancy!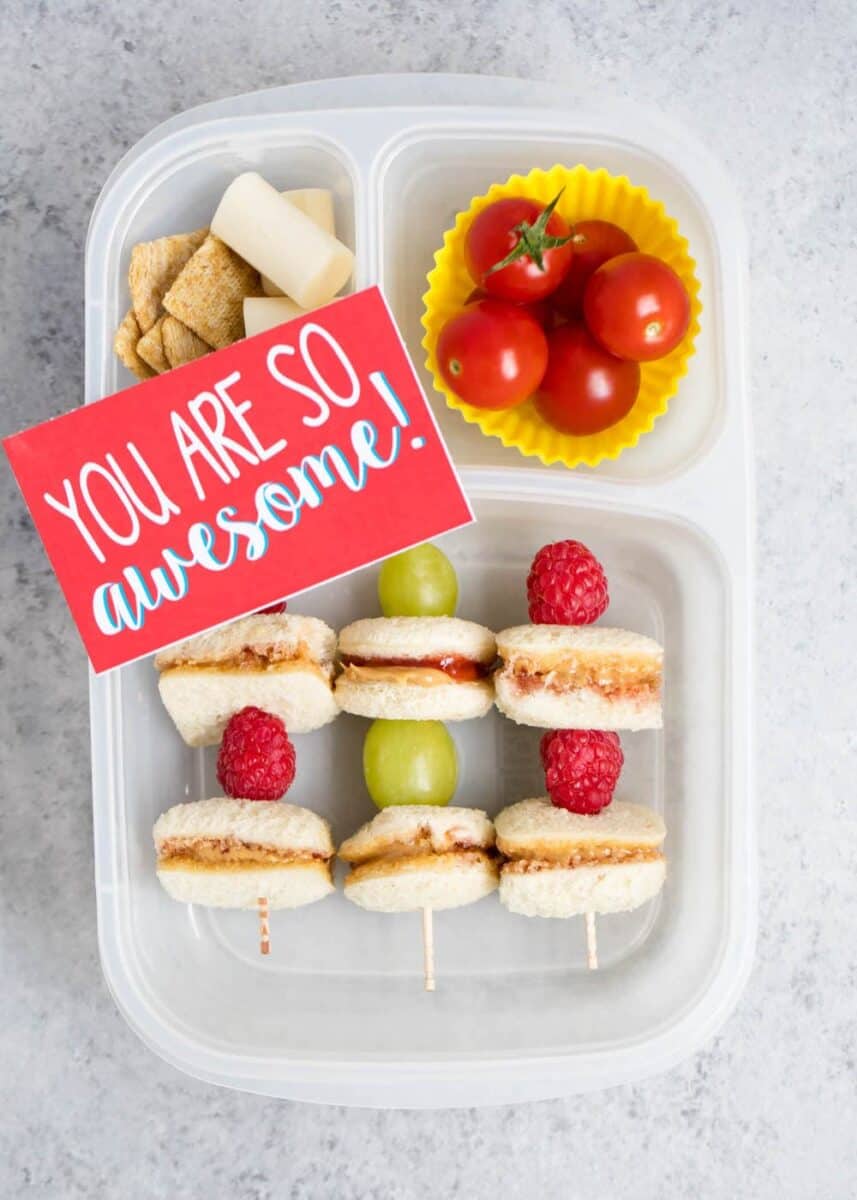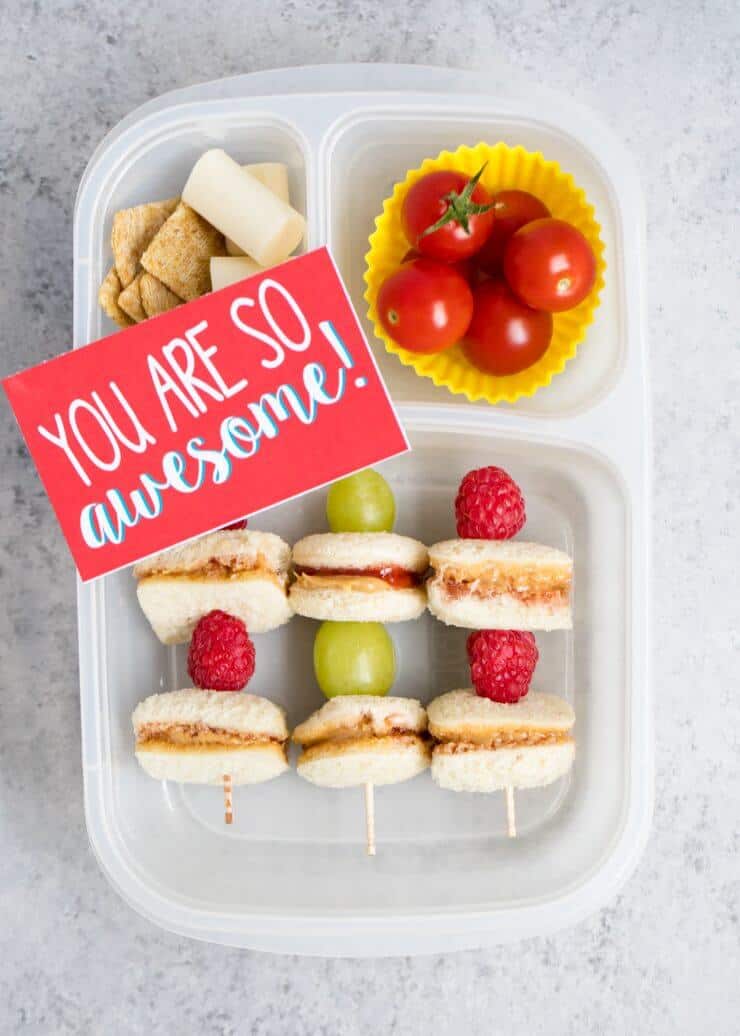 Now that school is officially back in session over here, we are back to early bed times, packing lunches, alarm clocks and homework. It's always a mix of emotions once school starts. Here are a few tips I've gathered over the years to make a smooth transition back to school. We like to ease into our new schedule a few days before school starts, so they have time to readjust.
Signing folders and checking for homework as soon as the kids get home has helped keep the kids in focus.
Allowing my children to be grumpy for a little while (and trying to be okay with it). There's a lot of changes going on, so I've found it's easiest to just listen and nod then give them a hug.
Packing lunches the night before has made ALL the difference for less stressful mornings.
Establishing a morning and nightly routine has worked wonders for our family. Everyone has different schedules, so figure out what works best with yours.
Finding some one-on-one time with each child daily (I've found this to be easiest when tucking them in for bed).
What tips do you have that make the transition easier?
On the first day back to school I always like to make lunches a little more fun (usually we aren't too fancy). For the first day this year we made these PB&J sandwich skewers with fruit. The star ingredients were of course Jif Creamy Peanut Butter and Smucker's Strawberry Jam. Jif has 7 grams of protein and a fresh-roasted taste. Every time I make my kids a Jif and Smucker's PB&J sandwich, I'm sharing a small gesture of my love.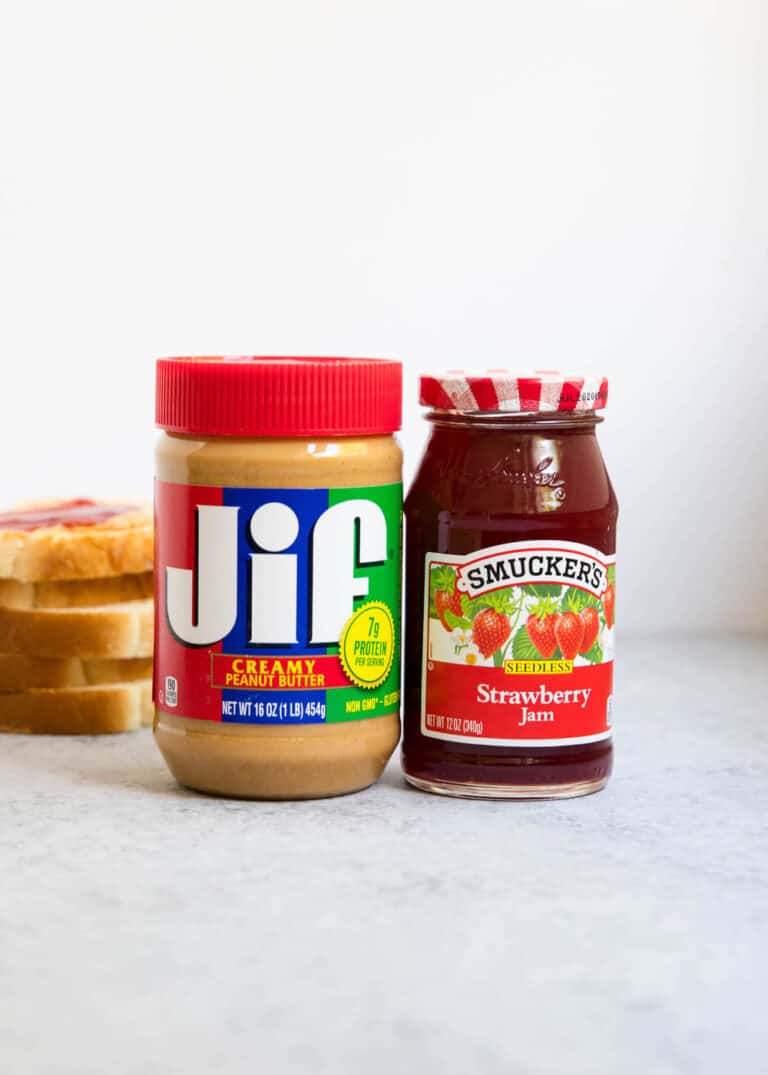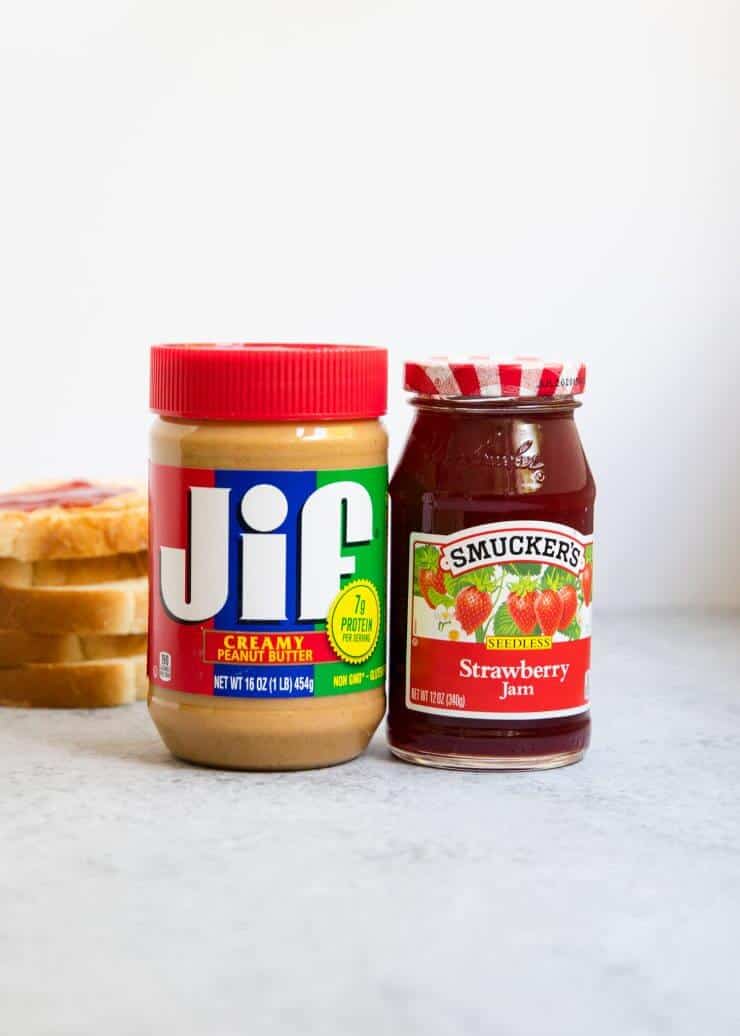 These 2 jars get used on a daily basis, so I'm super excited to be partnering with a brand I have loved my whole life! There's something so nostalgic about a peanut butter and jelly sandwich.
How to make PB&J sandwich skewers
Spread the peanut butter and jam onto 2 slices of bread
Using a small circle or shaped cookie cutter (I find the 1 1/2 – 2″ size works best) press the shapes out of the sandwich
Push the bite sized sandwiches through a skewer, placing a piece of fruit in between each piece (I like the 4-inch picks for lunch boxes)
Enjoy!
For the first day of school I also included these lunch box notes (find the free download HERE). I don't add them every day, but every once in awhile when I know they could use a little extra love, I like to add in a little special note. Showing a little love, to go can go a long way!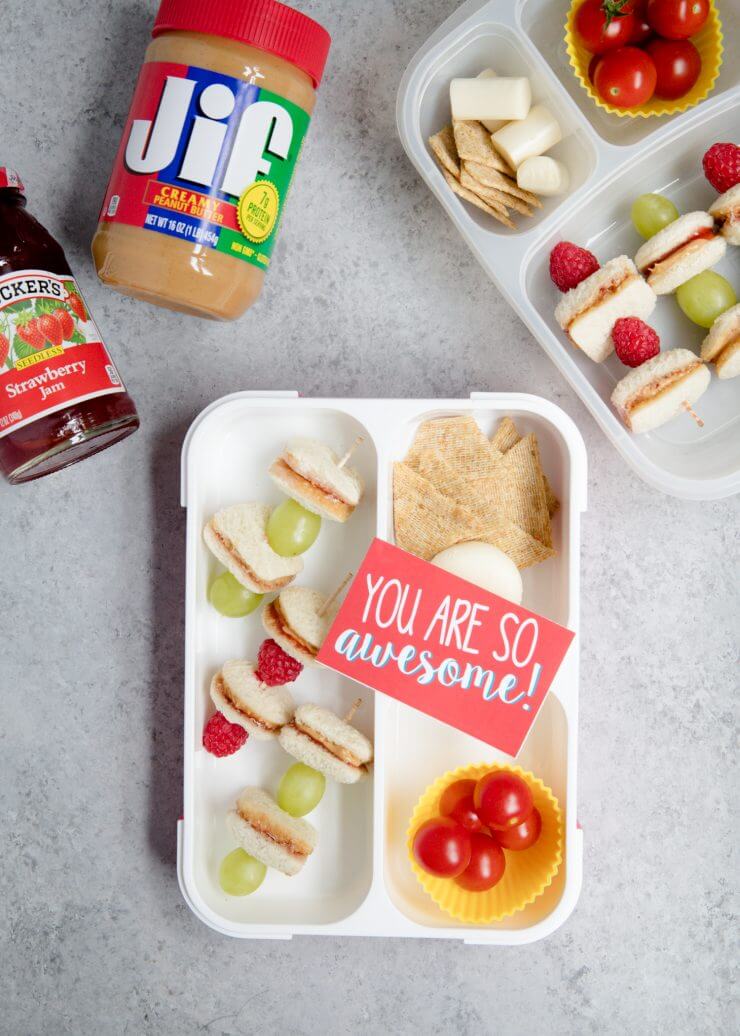 This post was brought to you by The J.M. Smucker Company. Find more delicious recipes (like this peanut butter blast smoothie below) at LovePBJ.com.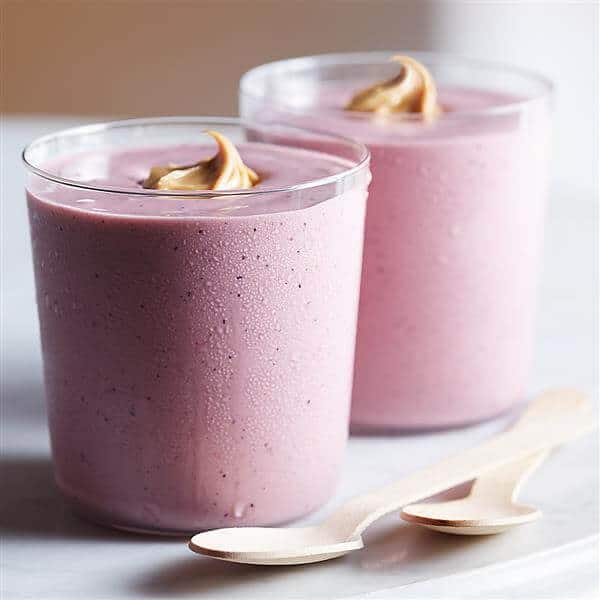 Looking for a fun twist on these PB&J skweres? Try making a PB&J wrap. Simply spread the PB&J onto a wrap or tortillas and then cut into strips. Roll up with a banana slice inside.