Hi friends! Thanks for stopping by! To get the newest recipes subscribe or join us on facebook. I have a fabulous guest post for you today. Let's give Lindsey a warm welcome! This peach dessert looks absolutely delicious!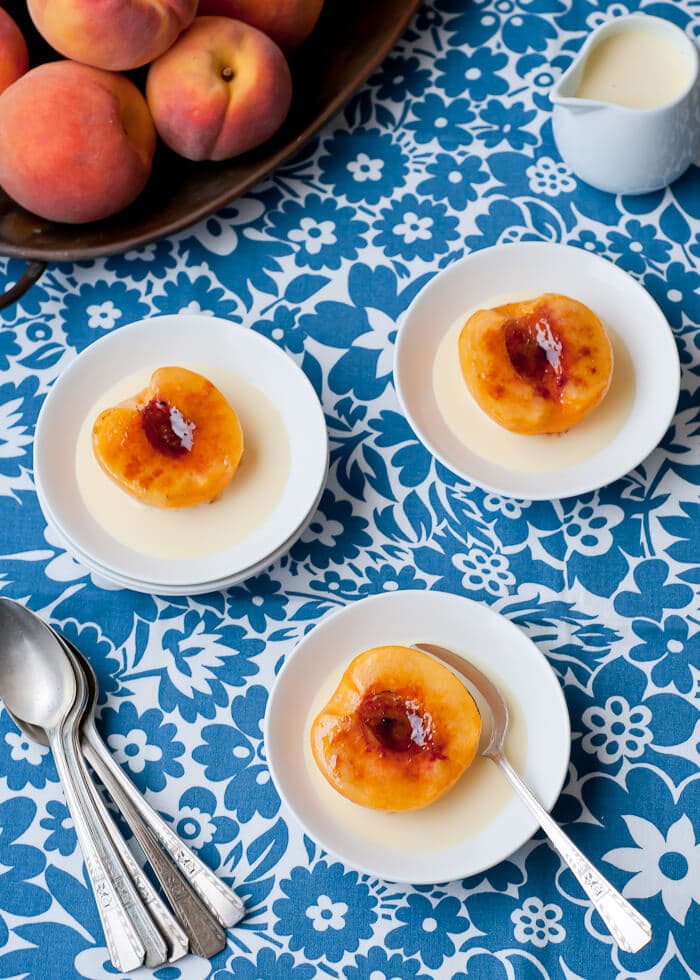 Anyone who knows me also knows that I am all about peaches. I start stalking the fruit stands in the middle of July waiting for the first peaches of the season. This year I got lucky. Peach season started a few weeks earlier than last year. And it hasn't stopped. I'm a very happy girl. I never tire of coming up with ways to eat peaches–desserts, sauces, main dishes, sides and salads. I can't get enough of them.
This peach dessert is an elegant, yet simple dessert highlights peaches when they are at their sweetest and juiciest. The caramelized sugar breaks under your spoon giving way to the juicy flesh, spilling out into the puddle of creamy custard sauce below. It's magical in a way that only fresh fruit at its peak can be.
Creme Anglaise is nothing more than a custard sauce made from egg yolks, sugar and milk. You can flavor it in so many ways with different extracts or liqueurs. I've gone with almond extract here because almond is perfect with peaches.
Serve this for a quick dessert when you have friends over and you'll blow them away. They'll never know if only took a few minutes to prepare.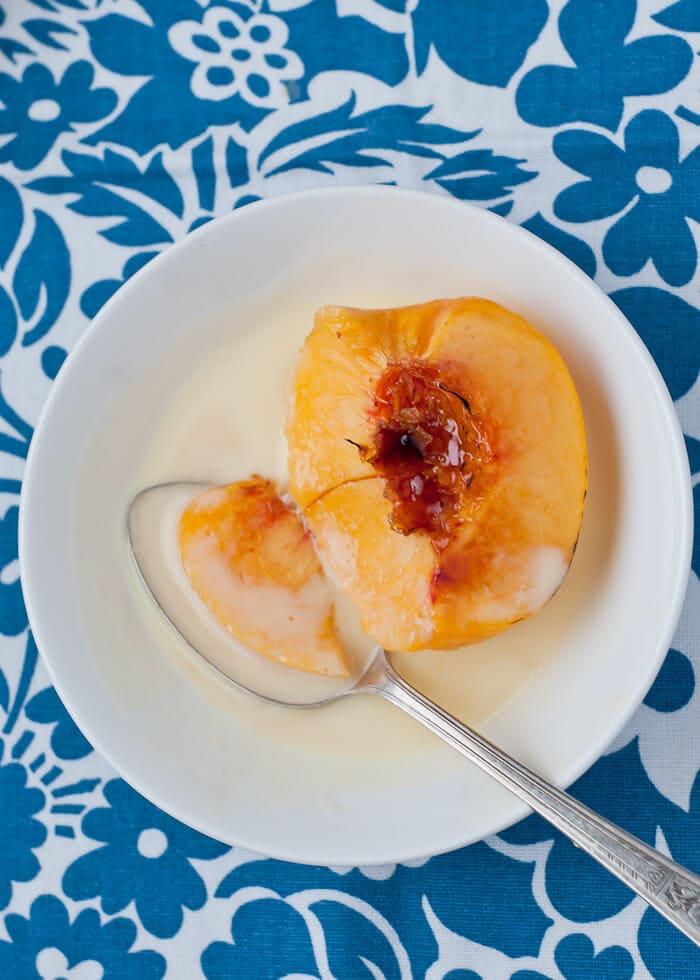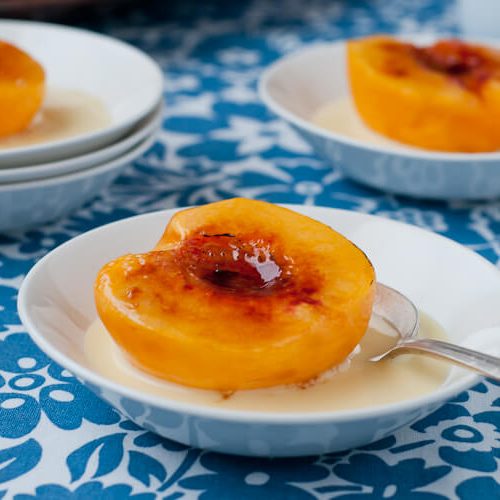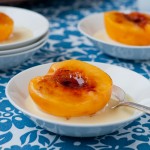 Delicious Brûléed Peach Dessert
This peach dessert is an elegant, yet simple dessert that highlights peaches when they are at their sweetest and juiciest.
Ingredients
6

egg yolks

(large)

2/3

cup

sugar

2

cups

milk

(very hot)

pinch salt

1

tsp

pure vanilla extract

1/4-1/2

tsp

pure almond extract

4

peaches

(peeled & halved)

8

tsp

raw sugar
Instructions
Whisk the egg yolks, sugar, and pinch of salt until thick and pale yellow. Drizzle the hot milk into the bowl while whisking. This will temper the eggs, or slowly heat them so they don't scramble. When all of the milk has been added, pour the mixture back into the pan and cook over medium high heat until it starts to thicken and reaches a temperature of 170 degrees F on an instant read thermometer. (If you don't have a thermometer, check that it's cooked all the way by dipping a wooden spoon into the sauce. It should coat the back and you should be able to draw a finger through it.) Pour through a fine mesh sieve to remove any bits of egg that may have cooked. Add the vanilla and almond. Cover and chill until very cold.

Place the peeled peach halves on a baking sheet. Sprinkle each half evenly with 1 tsp. of raw sugar. Using a kitchen torch, caramelize the sugar. Alternatively, you can caramelize the sugar all at once under a broiler. Be careful, the sugar will melt quickly!

To Serve: Spoon about 1/4 cup of the sauce into small serving bowls. (You will have some extra creme anglaise, but I'm sure you'll find a use for it. :) Add a peach half to each bowl and serve immediately.
Notes
The sauce can be made ahead and kept for about a week.
Nutrition
Calories:
196
kcal
|
Carbohydrates:
31
g
|
Protein:
4
g
|
Fat:
5
g
|
Saturated Fat:
2
g
|
Cholesterol:
152
mg
|
Sodium:
33
mg
|
Potassium:
242
mg
|
Fiber:
1
g
|
Sugar:
30
g
|
Vitamin A:
540
IU
|
Vitamin C:
5
mg
|
Calcium:
93
mg
|
Iron:
0.6
mg
PIN THIS RECIPE
Enjoy!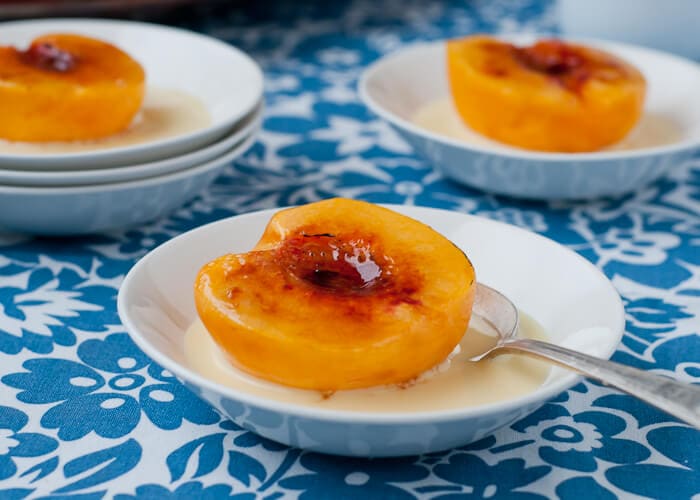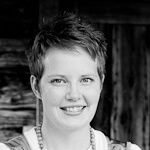 Lindsey Johnson writes the food blog, Cafe Johnsonia. (Link:  http://www.cafejohnsonia.com)  She also writes the Secrets to Living Well column for Design Mom (link:  http://www.designmom.com/category/secrets-to-living-well/), and shares recipes on Petit Elefant (http://www.petitelefant.com) and Make and Takes (http://www.makeandtakes.com).  She and her husband live in Utah with their three little kids who stopped napping ages ago. When she's not chasing after her kids, you can find her out in the garden, behind her camera, reading a good book, or trying to take a nap.
Stay connected:
FB:  www.facebook.com/cafejohnsonia
Twitter:  @cafe_johnsonia (http://www.twitter.com/cafe_johnsonia)
Pinterest:  http://pinterest.com/lindseyjohnson/
Check out my top 3 posts over at my place:
Creme Brulee Ice Cream (http://www.cafejohnsonia.com/2007/01/creme-brulee-ice-cream.html)
How To Make Candied Nuts (http://www.cafejohnsonia.com/2008/03/how-to-make-candied-nuts.html)
Authentic Swedish Meatballs (http://www.cafejohnsonia.com/2006/05/swedish-meatballs.html)