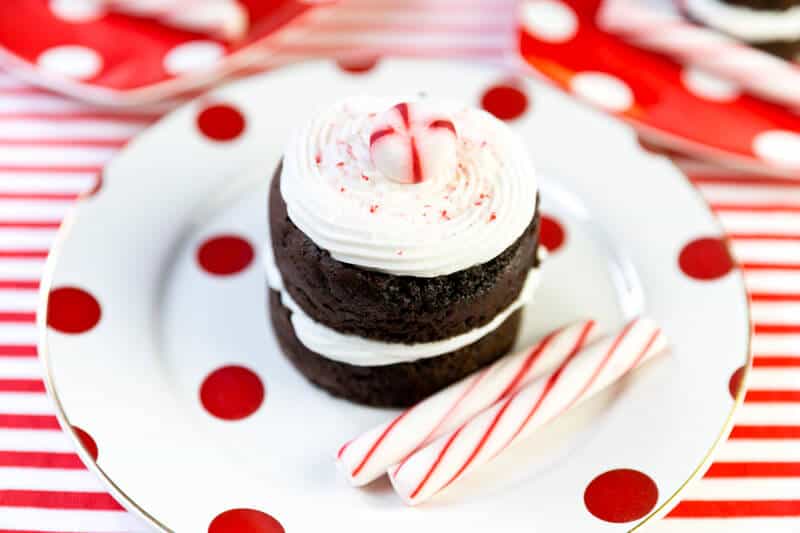 Christmas is right around the corner, and it's the most wonderful time of the year! Flavors of gingerbread, eggnog, cranberry, and of course – peppermint – fill the air! I decided to whip up a recipe for peppermint chocolate mini cakes as a "fancy" little dessert worthy of all sorts of Christmas celebrations and even Saint Nick himself. They look fancy but are actually just as easy to make as a cupcake. Something about serving up cakes "mini" style just makes them oh so cute. Everyone can have their own individual mini cake to enjoy.
I also love Christmas because it means holiday plates and napkins galore! Add in the peppermint chocolate mini cakes and you have yourself a holiday treat party in the works! I have a 6 month old daughter so she's a bit too young to enjoy mini cakes but I think this recipe is perfect for kids because you can let them help sprinkle on the crushed candy cakes and peppermints. Yum!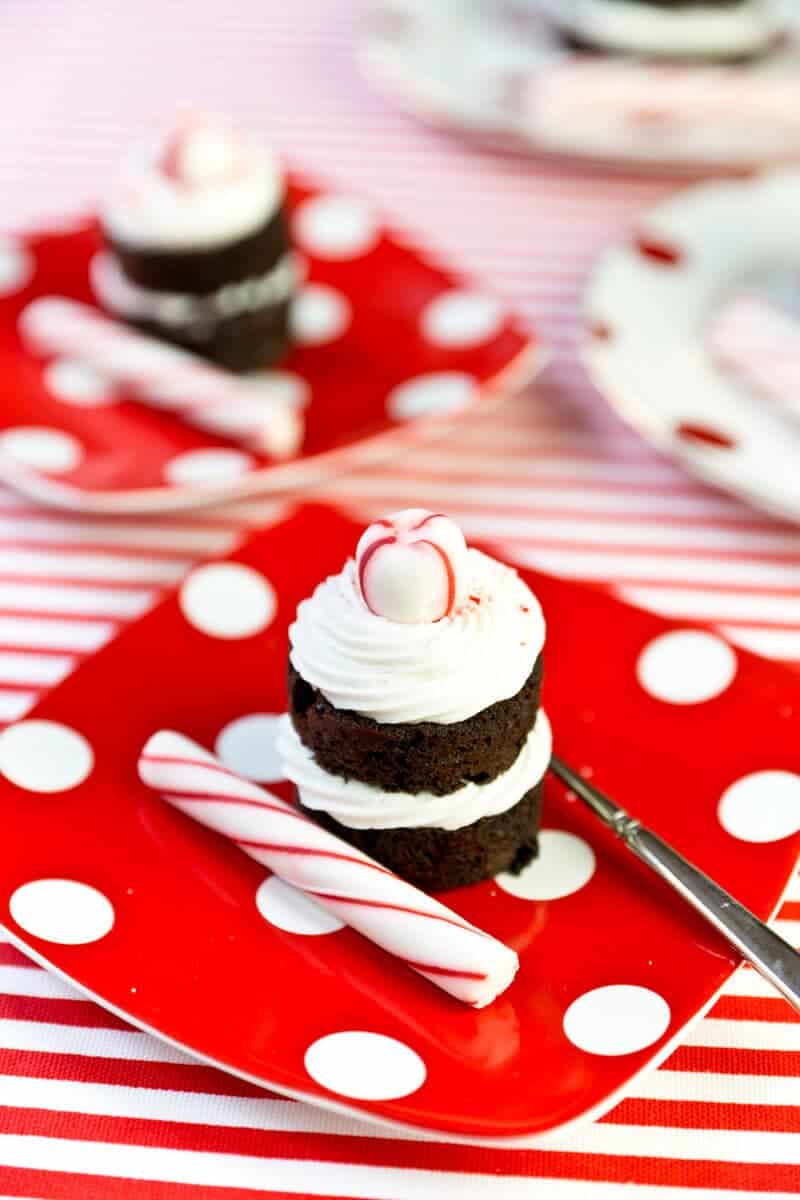 I chose a 2″ round and 3″ round cake pans to make these mini cakes. You can look for these small "top tier" cake pans at cake stores or you could also use a cupcake pan. Another option is to make your cake in a jelly roll sheet pan and use round cookie cutters to "cut out" the round cake layers. Lots of options, so I hope one of these will work easily for you. I love this recipe because it's easy (box mix with a makeover) but you can easily sub in your favorite homemade chocolate cake recipe if you prefer to go 100% homemade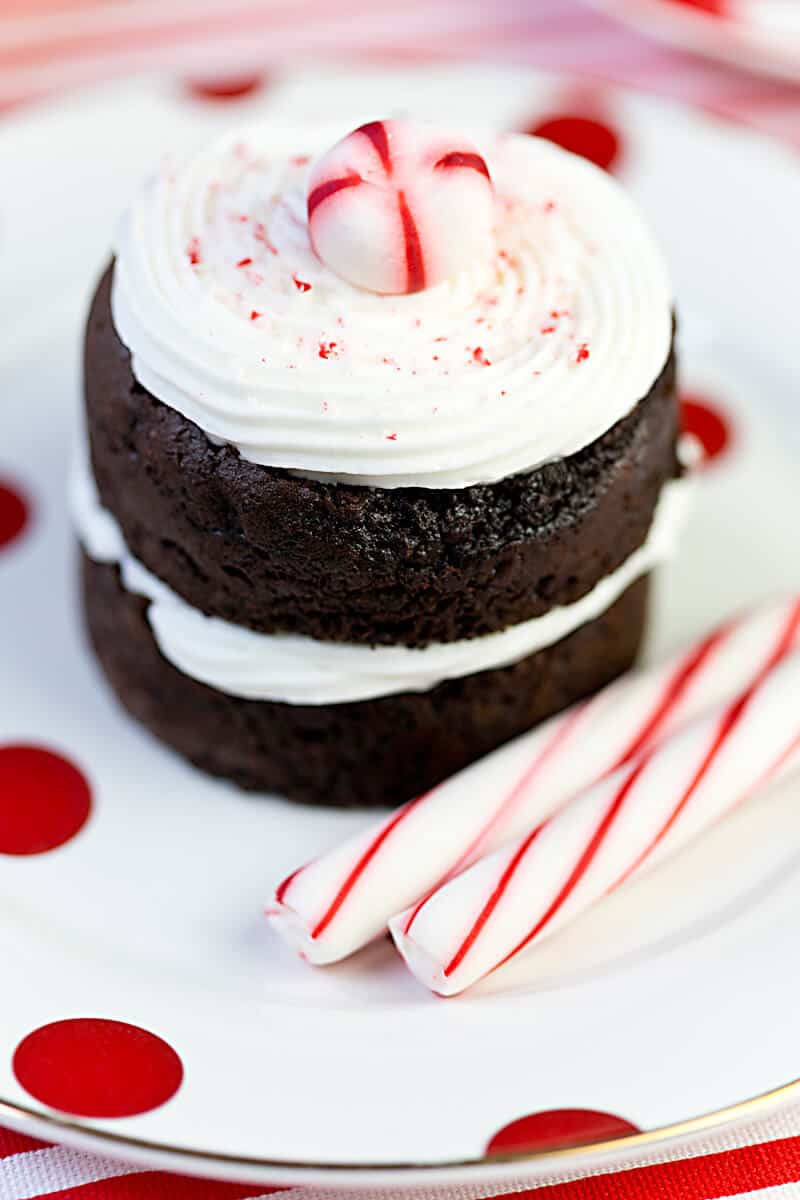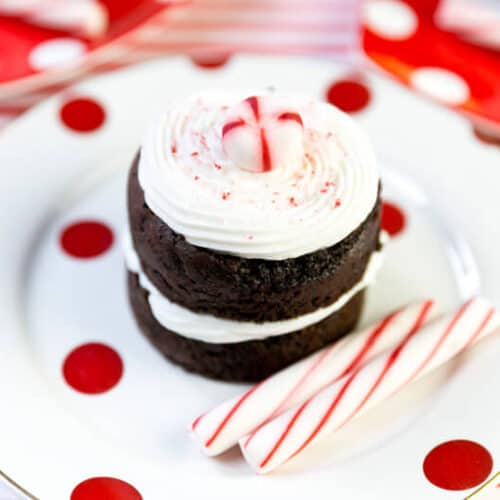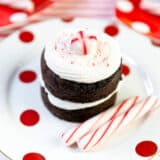 Peppermint Chocolate Mini Cakes
Flavors of gingerbread, eggnog, cranberry, and of course...peppermint fill the air. These mini cakes are so great, and taste better than smell!
Ingredients
1 box chocolate cake mix I love using dark chocolate if I can find it
3.4 ounces 3.4 ounce box instant chocolate fudge pudding
1 cup sour cream
1/2 cup vegetable oil
1/2 cup warm water
4 eggs
8 tablespoons unsalted butter room temperature
3 cups powdered sugar
2-3 tablespoons cream or milk
1/2 teaspoon peppermint extract
5-7 crushed candy canes or peppermint candies for garnish
Instructions
Preheat oven to 350°.Combine cake mix, pudding, sour cream, oil, water, and eggs in electric mixer with paddle attachment. Beat together on medium for 5 minutes until fluffy and thoroughly combined.

Scoop cake batter into mini cake pans and bake for 20 minutes (if small cake pans). Adjust your timing if using the sheet roll method or larger cake pans. Cake is done when a toothpick inserted in the center comes out clean.

Cream butter with electric mixer until light and fluffy.

Add in powdered sugar, alternating with cream (or milk) until thick and fluffy.

Add in peppermint extract and whip for 2 minutes on medium.

Fill piping bag with peppermint buttercream. Set aside

Use a serrated knife to gently cut each mini cake into 2 or 3 layers. Fill with piped frosting. Garnish with peppermint candies!
---
Calories: 528kcal | Carbohydrates: 69g | Protein: 4g | Fat: 27g | Saturated Fat: 16g | Cholesterol: 84mg | Sodium: 451mg | Potassium: 188mg | Fiber: 1g | Sugar: 53g | Vitamin A: 430IU | Vitamin C: 0.2mg | Calcium: 89mg | Iron: 2mg
Recipe and post by Courtney Whitmore is a cookbook author and blogger at Pizzazzerie.com where she shares daily entertaining inspiration from crowd-pleasing party foods, delightful celebration ideas, and tablescapes for every season. Courtney's work has been featured on Martha Stewart Weddings, Cooking Light, The Today Show, Better Homes & Gardens, HGTV, and more. She is also a freelance writer and food stylist for numerous brands. She lives in Nashville, TN with her husband and daughter!