Jump to Recipe⌄
Pomegranate Berry Smoothie {Hello Summer}
Big huge "hello" to all the I Heart Nap Time readers! I'm Lyuba from Will Cook For Smiles and I'm so happy to be here, sharing some deliciousness with you!!
Pomegranate Berry Smoothie
It's summer! Can you believe it? To me, it seems like it came too fast but we are happy to greet it properly. Greeting summer with frozen treats is the best way to go!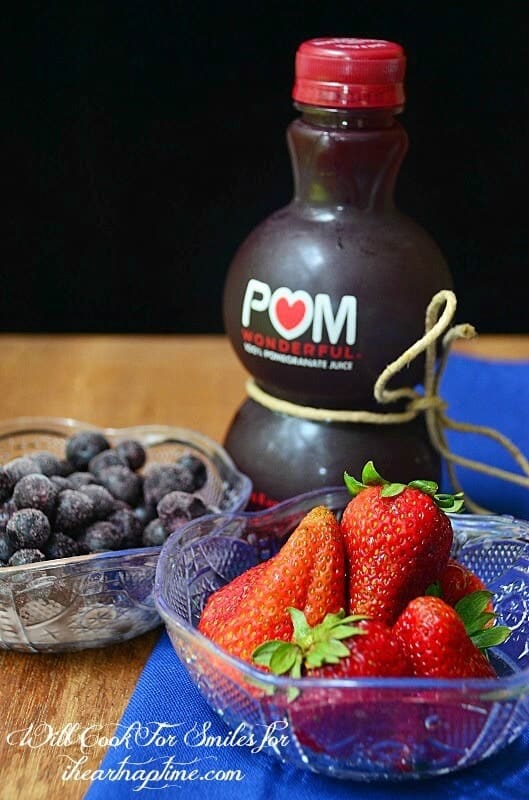 So many people don't eat as much in the summer and tend to substitute meals and snacks with cold or frozen treats as well. I am one of those people. I like to start my day with a nice refreshing smoothie instead of a big breakfast. I also prefer to have fruit, berries or smoothies as snacks. This is exactly why I'm sharing this refreshing Pomegranate Berry Smoothie with you.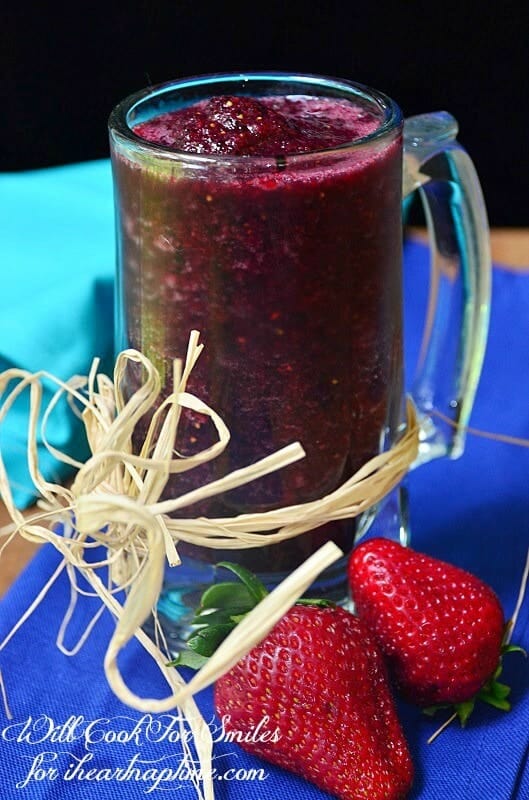 I love bringing seasonal flavors back during the summer. Who says that pomegranate is a winter only treat?! I love this flavor all year long. Since the pomegranate fruit is not available in the summer, I go to the next best thing… POMegranate Juice! I also like to use fresh and frozen fruit in smoothies that way I don't have to dilute the smoothie with a lot of ice.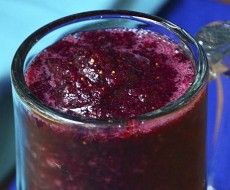 Pomegranate Berry Smoothie
Ingredients:
1 cup of pomegranate juice
1 cup of frozen blueberries
5 large juicy strawberriesAbout a cup of ice
Directions:
Step One: Combine the ingredients in a blender and pulse until nice and smooth!
Step Two: Sit the delicious and refreshing smoothie and don't care for the heat!!

All images and text ©
It's been great hanging out with you guys!
Here a few sneak peeks from my site:

White Chocolate Strawberry Coffee Cake Muffins | Skinnier Oreo Milkshake | Caprese Savory Bread
___________________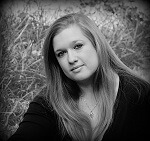 I'm Lyuba from Will Cook For Smiles! I'm a mom, a wife, a grad student and a creative foodie! I love to keep busy and dabble in arts and crafts as well. It makes me so happy that I can combine my passion for cooking and my family's need for eating, hehe. I love it that I could work on my hobby daily and keep my family, friends and readers happy! Make sure to come visit me, I guarantee you will find something to love! You can find me on Facebook, Pinterest and Google +.
 THANKS Lyuba for sharing this fun project during our Hello Summer Event! Click HERE to see more ideas from the event.