Poppy seed salad
Salads have to be one of my favorite things to eat for lunch! They're so easy and delicious!! Perfect for when you have your girlfriends over as well. My friend Amy (who I met at a blogging event) came over for lunch last week and asked what she could bring. I told her to bring the chicken and we'd throw a poppy seed salad together. So I searched through my fridge and pantry and we came up with a YUMMY salad. We enjoyed talking blogs, eating and playing with the kids. I love lunch dates!
Here's what we threw in our salad… it ended up being really good! I love mixing fruit and veggies! Makes the perfect combo!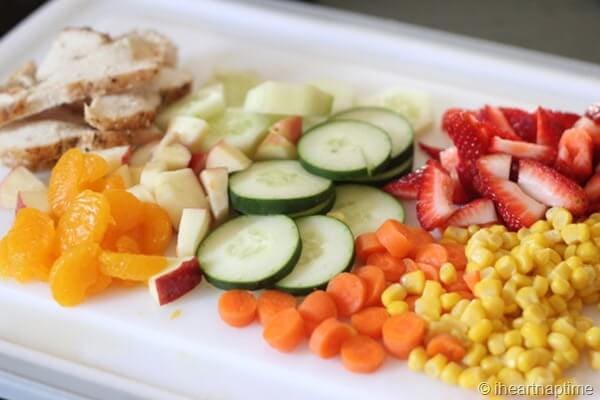 Grilled Chicken, cucumbers, carrots, corn, mandarin oranges, strawberries and apples
+
=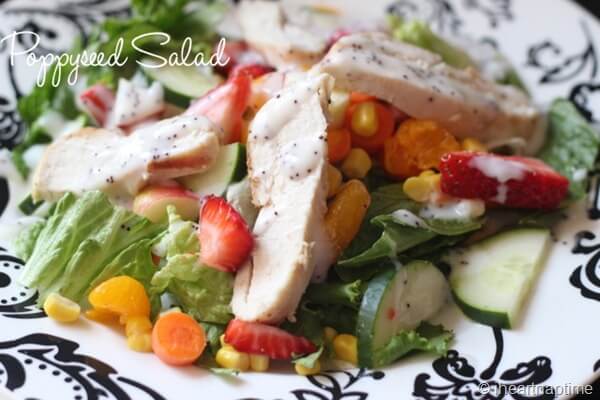 Mmm… I LOVE Briannas dressing! The strawberry flavor is another fave!
This poppy seed salad was so easy to throw together and tasted really good. You can do A LOT of different variations with this dressing…that's what I love about it! That and the sweet taste…mmm!
So what's your favorite salad recipes? I need some new recipes…