Welcome to the Crazy Christmas Event! If you're new here, join us on Facebook and Pinterest. Now let's give Erin from Strawberry Mommycakes a big welcome! We're so happy to have you guest posting!
By Erin of Strawberry Mommycakes for I Heart Nap Time.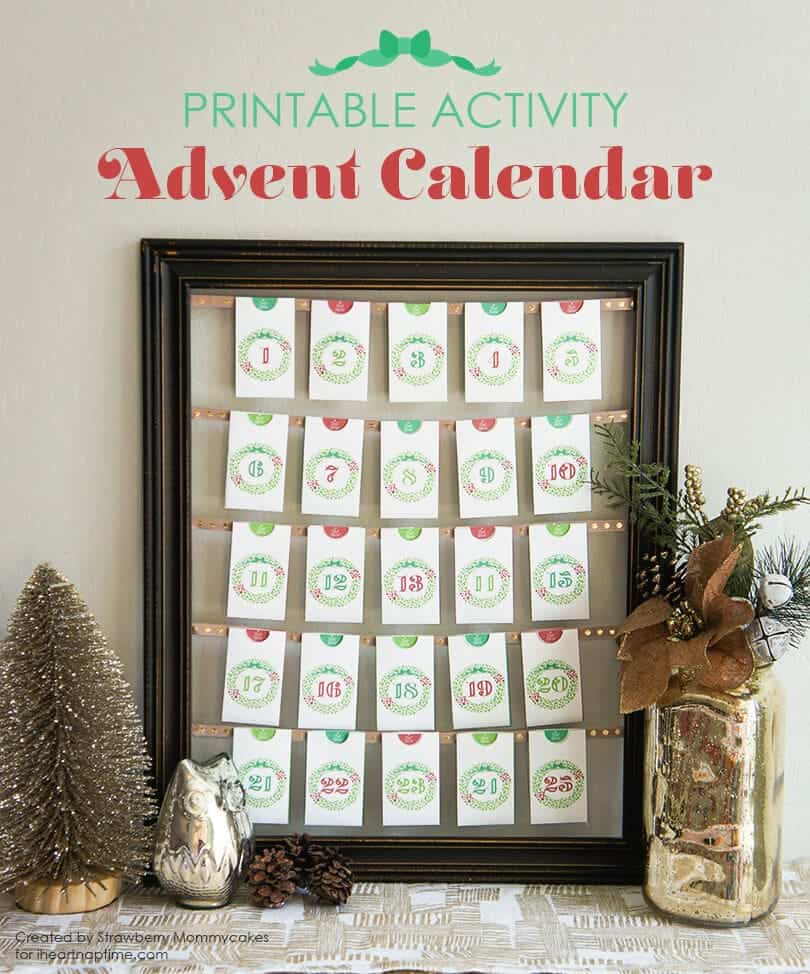 I love advent calendars. We used to eat a candy everyday growing up and my husband and I made a clay one when we got married. The velcro that we stuck on the clay melted in the Arizona heat and ruined all of our work…so I've had a hard time bringing myself to make a new calendar. This Printable Activity Advent Calendar is perfect because it didn't take hours (or days) like the last one and I can easily involve the kids.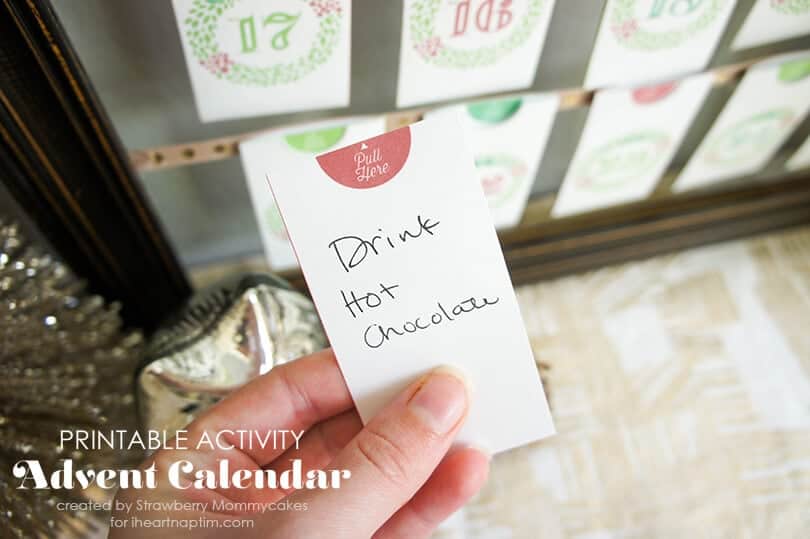 My husband LOVES Christmas. I don't think I've ever met anyone that loves Christmas as much as he does, so I know this is something that he can really enjoy too. Each day, I wrote a Christmas activity on a card that I stuck in my mini envelopes. They range in simple things like "Sing Jingle Bells" or "Drink Hot Chocolate" to "Bake Christmas Cookies." I may have 2 or 3 cards in there that say "Drink Hot Chocolate."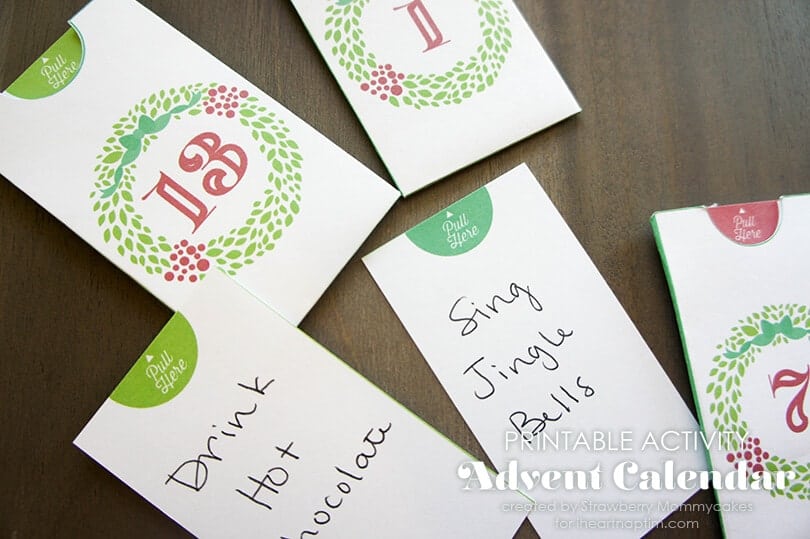 Supplies:
My FREE Printables, for personal use only
Card Stock
Silhouette Cameo or scissors
Medium width ribbon (I loved that mine had dots for easy measuring)
16″ X 20″ Frame
Glue Gun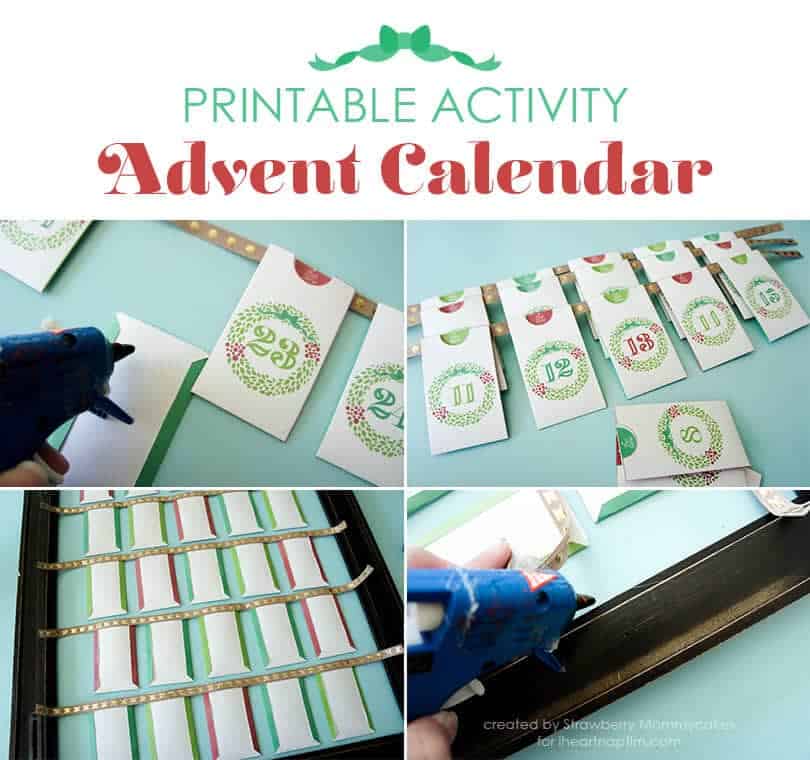 Print off the envelope files. To make the envelopes, follow the instructions to my "We Love Dad" Father's Day Printables. Super easy, I promise!
After you make all your envelopes, measure out 5 pieces of ribbon to your frame. Make them about 18″ long.
Start gluing the top of the envelopes to the ribbon.
Repeat for each card and for each piece of ribbon.
Take out the glass and backing from your frame. Lie it face down on your work place.
Lay out the ribbon and envelopes so they are also facing down.
Glue the ends to the back of the frame.
After that, you'll print off the card files and write down Christmas activities. Some ideas are to write a Christmas story together, look at Christmas lights, decorate the tree, go caroling and more!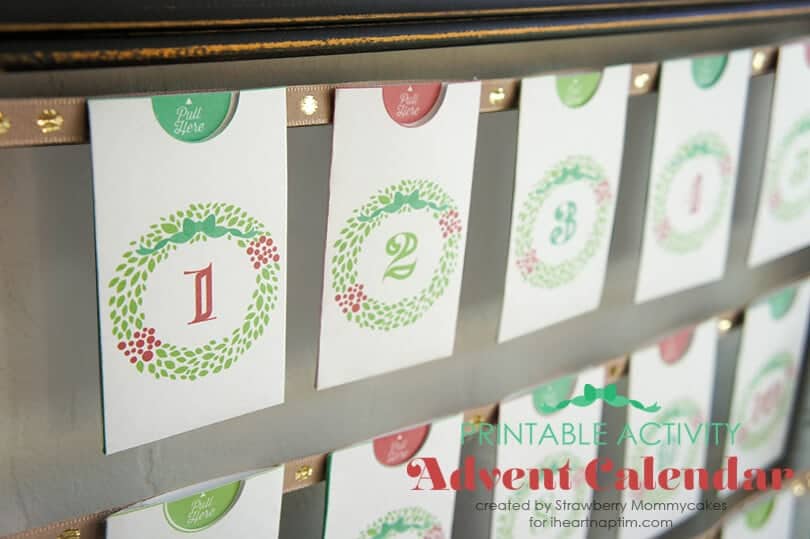 I'm so excited to get started on this…and a little bummed that I have to wait a month! What kind of activities or traditions do you do with your family for the Christmas season?
 Click HERE to see more from our Crazy Christmas Event