Jump to Recipe⌄
White Chocolate Raisinet Cookies
Thanks for stopping by! To get the newest recipes subscribe or join us on facebook.
Today I have teamed up with Raisinets to bring you a SUPER delicious recipe and a chance to win some fabulous prizes. I made these cookies over at my parents house a few Sundays ago and they were literally gone within the hour. They were THAT good!  Everyone loved them.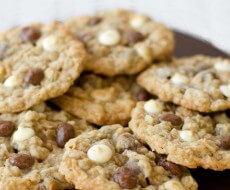 White Chocolate Raisinet Cookies
Ingredients:
11/4 cup white or whole wheat flour
1 tsp baking soda
1/2 tsp salt
3/4 tsp ground cinnmon
1 cup butter softened
3/4 cup packed brown sugar
3/4 cup sugar
1 tsp vanilla
2 large eggs
3 cups quick or old fashioned oats
1 cup milk chocolate raisinets
1 cup white chocolate chips
Directions:
1. Combine flour, baking soda, salt and cinnamon in a small bowl. Beat butter, sugar, eggs and vanilla in a large bowl. Mix in flour mixture.
2. Fold in oats, raisinets and white chocolate chips.
3. Bake at 350 for 8 minutes or until lightly browned. You want the middle to look a little doughy when you first take them out. Let cool on pan for 1 min and then place cookies on cooling rack.
All images and text ©
The soft center and crispy edge is my FAVORITE! Mmm….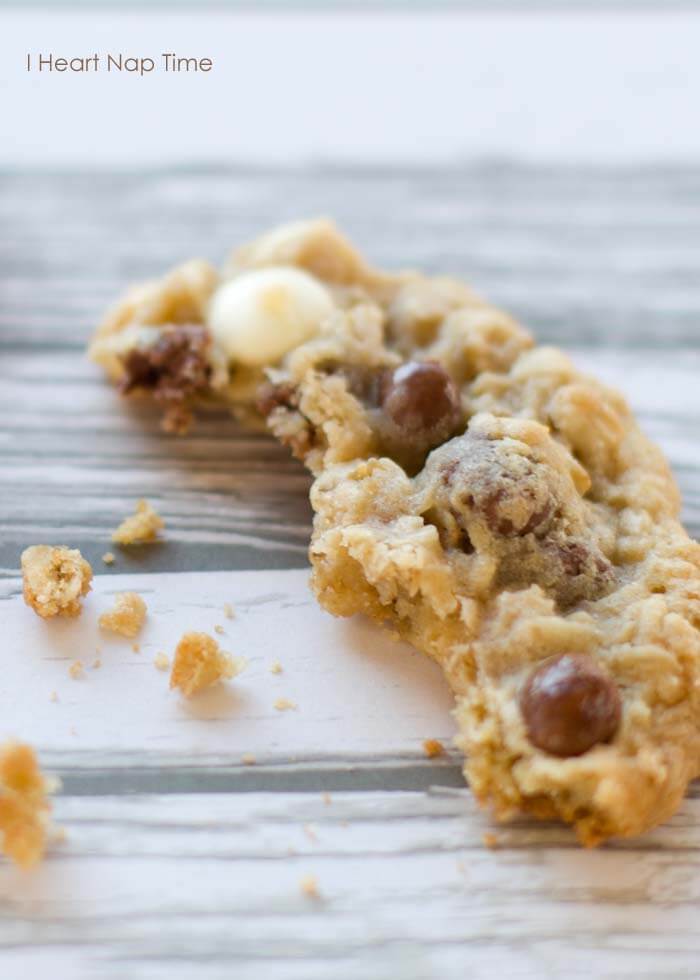 Yummy!!  Have a great day!
If you enjoyed this post, you'll love these:
Cinnamon roll cake pops
Crumb topped cranberry muffins