Jump to Recipe⌄
Reeses peanut butter cookies
Today I'm going to share a yummy recipe for reese's peanut butter cookies. I have a confession to make first. I used to hate peanut butter cookies. I have always loved peanut butter in general, but there was just something about the cookies I did not like.
A couple years ago my husband requested peanut butter cookies, so I ended up making him some. To my surprise they turned out to be really good! Want to know the secret? I placed reese's peanut butter cups on top and BAM all the sudden they tasted like a million bucks. Apparently my friends did this all along… so not sure why I was the last one to find out about it.
So anyways, if you haven't tried them with reese's peanut butter cups on top… TRY THEM! You will forever be changed to a PB cookie lover! With Valentines right around the corner I picked up reese's hearts and they turned out super cute and yummy.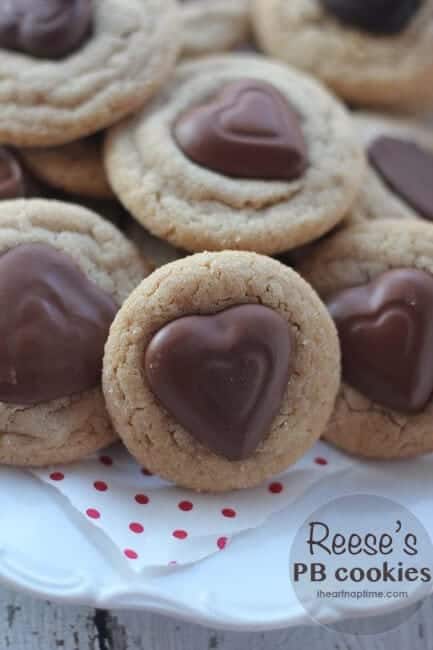 MY OTHER RECIPES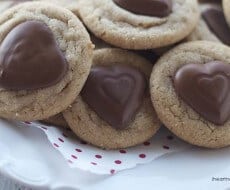 Reeses peanut butter cookies
Ingredients:
2 cups peanut butter
1 1/2 cups white sugar
1/2 cup brown sugar
2 eggs
2 teaspoons baking soda
1 pinch salt
1 teaspoon vanilla extract
1/2 cup sugar for rolling dough in
1 package reeses peanut butter cups
Directions:
1. Preheat oven to 350 degrees.
2. In a large bowl, stir peanut butter and sugar together until smooth. Beat in the eggs, then stir in the baking soda, salt, and vanilla. Place 1/2 cup sugar in a small bowl. Roll dough into 1 inch balls and then roll into sugar. Place the balls 2 inches apart onto a greased cookie sheet.
3. Bake for 8 to 10 minutes. Place reeses peanut butter cup on top of the cookies after you remove them from the oven.
4. Enjoy with a cold glass of milk!
All images and text ©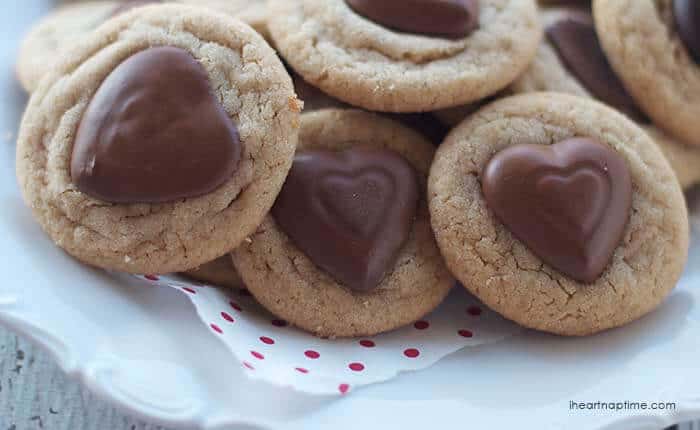 Enjoy!
If you liked this recipe, you'll love these:

Nutella muffins with reese's peanut butter chips, Milky Way Cookies , Reese's PB cup brownies and Best chocolate chip cookies