Jump to Recipe⌄
Chocolate Dipped Reese's Pretzel Bites
Chocolate Dipped Reese's Pretzel Bites – only 3 ingredients to make these delicious treats! They are the perfect sweet and salty combination!
I am obsessed with Reese's. They are by far one of my favorites. Now top with a pretzel and dip in chocolate and I'm in heaven. You can completely customize these pretzel bites with different toppings such as sprinkles, chopped nuts, chopped Reese's and drizzled chocolate.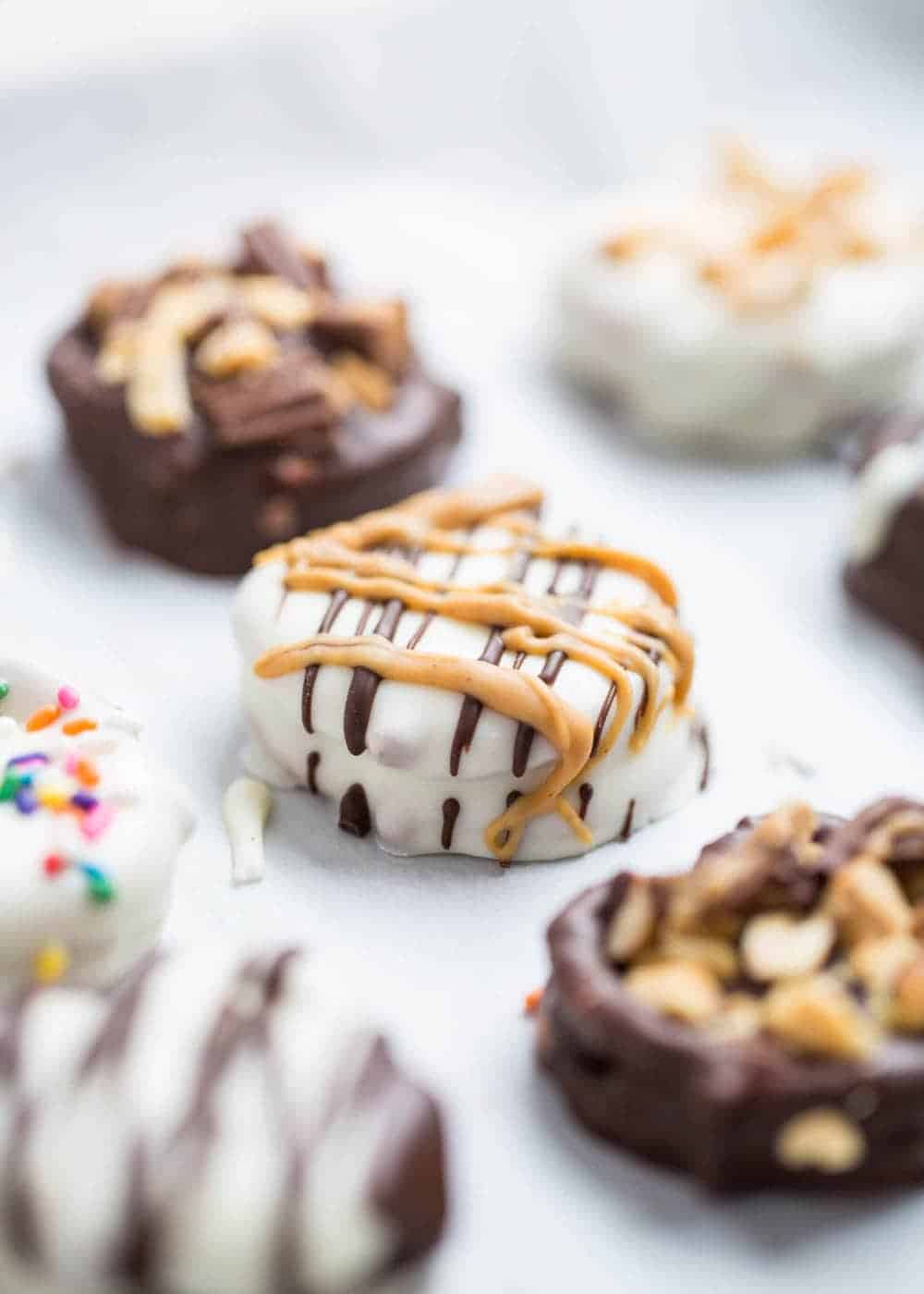 This recipe is ridiculously simple and very similar to the ROLO sandwiches. I think I'll make a batch of each from now on. Both equally amazing.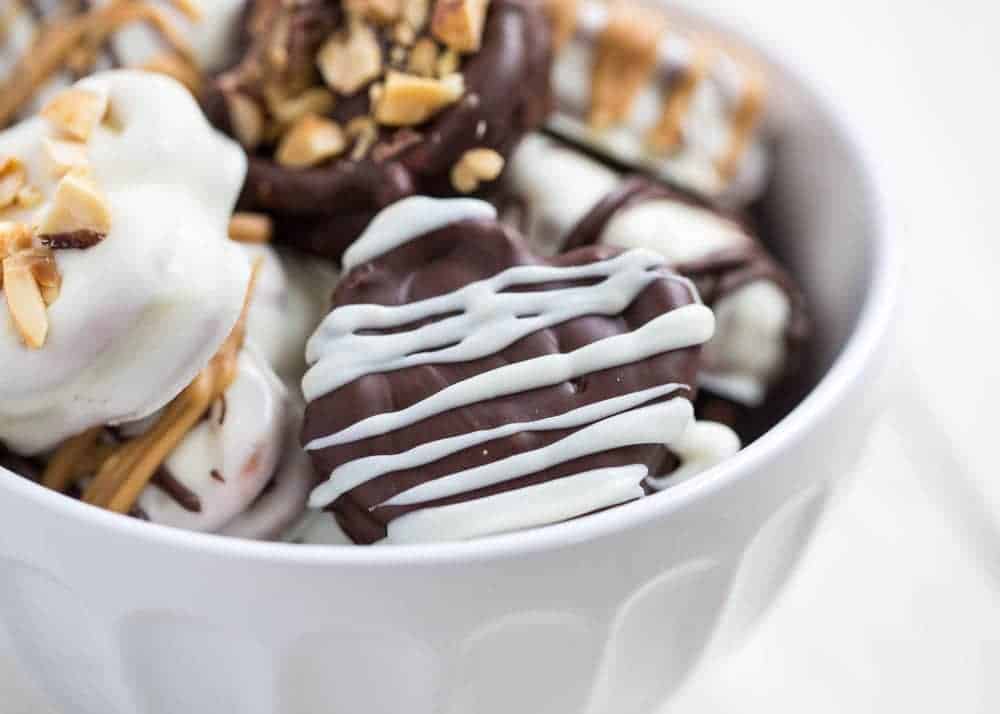 The ones with added Reese's on top were my favorite. Give me all the chocolate!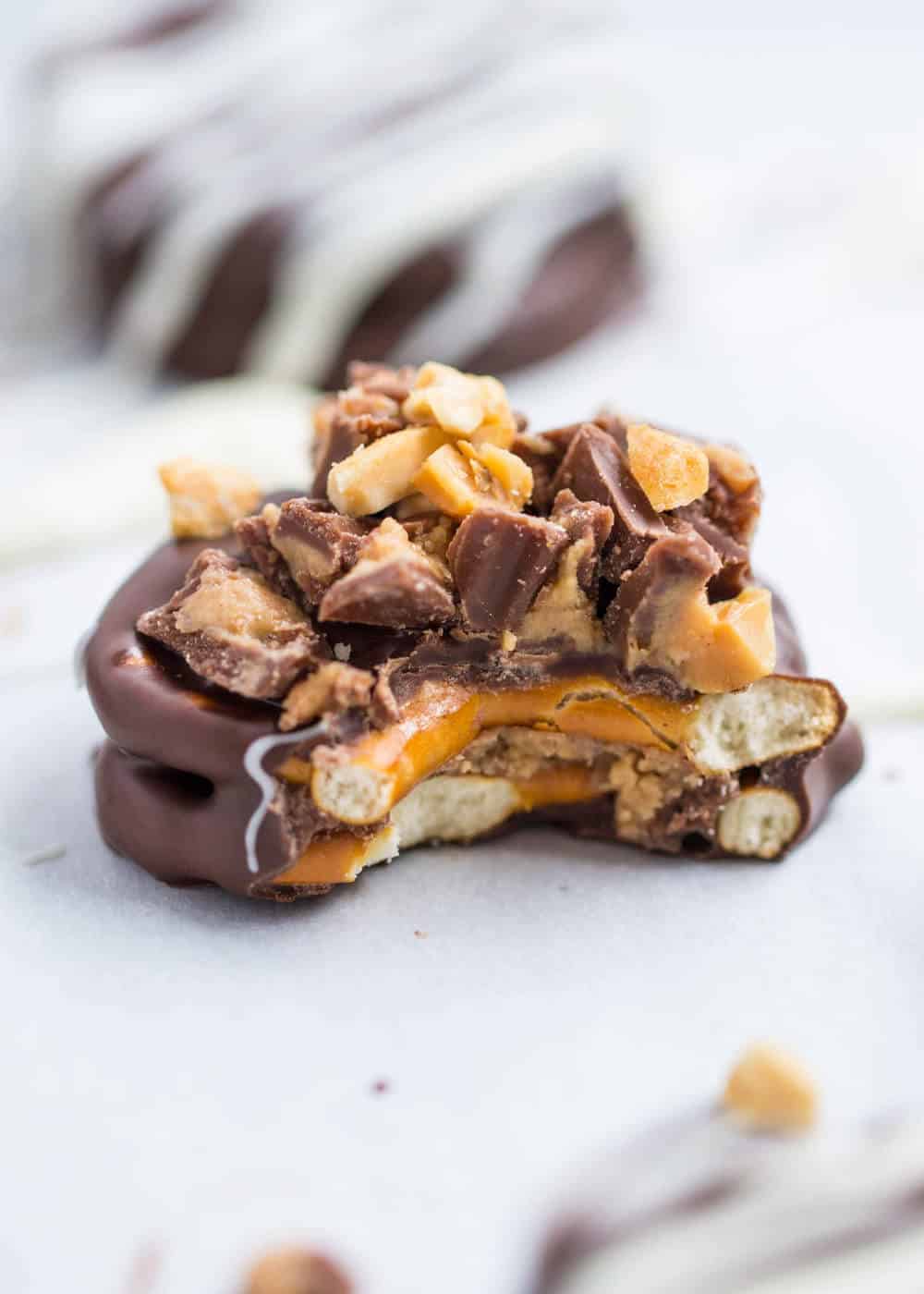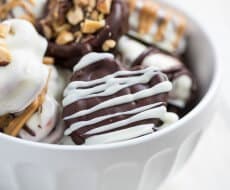 Chocolate dipped REESE'S pretzel bites
Ingredients:
24 REESE'S miniatures (milk or white), unwrapped
28 mini pretzels
1 cup chocolate for melting (milk or white)
optional toppings: chopped nuts, sprinkles, melted peanut butter,
Directions:
Preheat oven to 250°F. Line a baking sheet with parchment paper and set aside.
Place pretzels onto the baking sheet. Top with a REESE'S peanut butter cup and then place another pretzel on top. Cook for 2 minutes, or until the chocolate has started to melt.
Remove from oven and press the top pretzel down. Place in the freezer for 15 minutes, or until they have set.
Place the chocolate in a microwave safe bowl and then melt the chocolate in the microwave for 1 minute. Stir and then cook an additional 15 seconds if needed. You can also use a double broiler to melt the chocolate.
Dip the pretzel into the chocolate with a fork and then tap on on the edge of the bowl to remove any excess chocolate. Place back onto the parchment paper. Top with any toppings and allow to cool. You may place them in the freezer to harden faster.
Enjoy!
All images and text ©


Check out the video tutorial below:
Enjoy!! :D
Looking for more Reese's recipes? You'll love these too:
This post is brought to you by REESE'S