Perfectly seasoned oven roasted asparagus that's fresh, healthy and delicious. This simple side dish makes a great addition to any meal!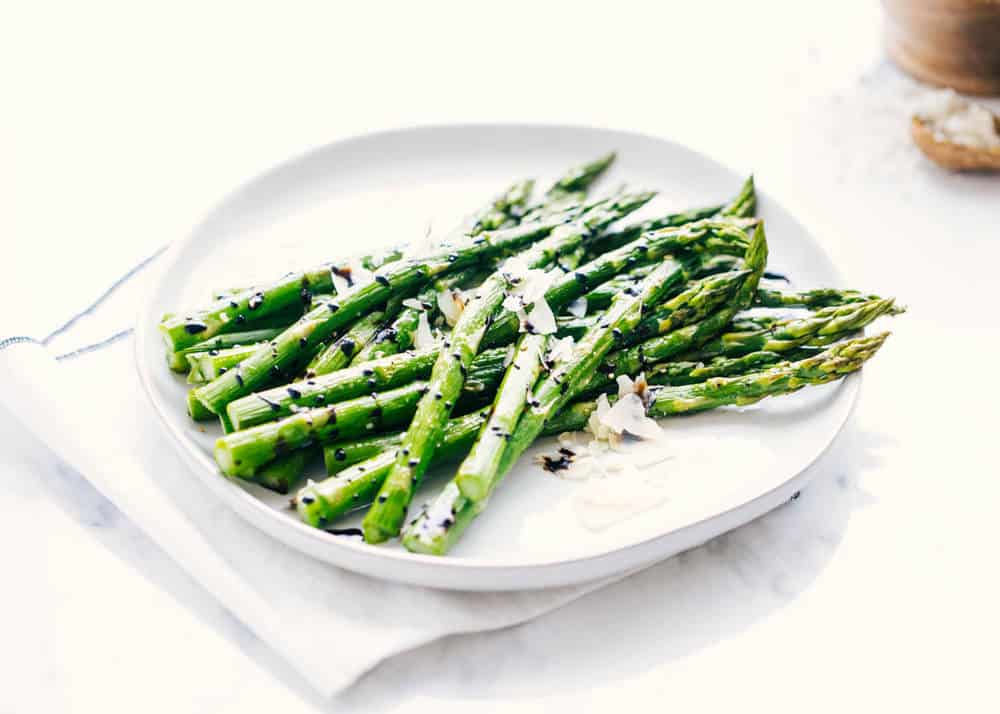 Oven Roasted Asparagus
Baked asparagus is a go-to side dish of mine. It's so easy to throw in the oven and only takes 15 minutes to roast. Sometimes we even make bacon wrapped asparagus if we're feeling a little more fancy. Both are so delicious!
Oven roasted asparagus is one of my absolute favorite vegetables! If you don't like asparagus (or have never tried it), you need to try this recipe! It's so simple and delicious. I even converted my asparagus hating husband into liking it. :) Now we make it at least once a month.
You can keep the seasoning as simple or as fancy as you'd like. Sometimes we stick with just salt and pepper, and others we add a drizzle of balsamic glaze and fresh shaved parmesan. The natural flavors really come through when roasting in the oven, so either way it's super delicious!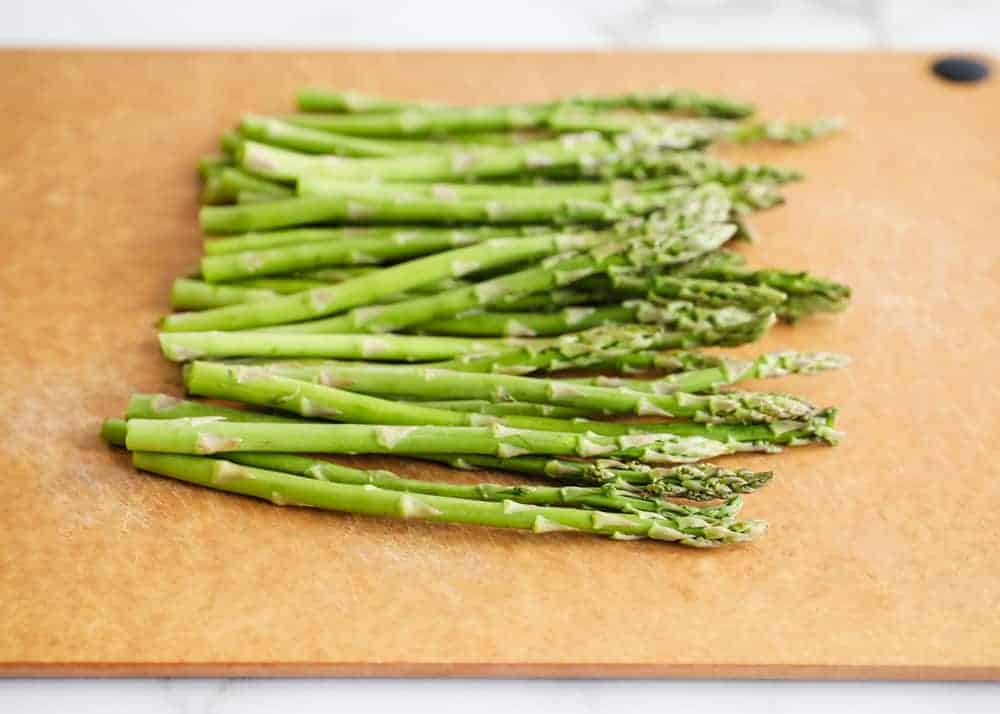 Checking for Freshness
Before baking, it's definitely important to make sure your asparagus hasn't gone bad. It's pretty easy to tell when it's fresh vs. bad. Just pay attention to the color of the asparagus…if it's a really dark green and is no longer vibrant, it's probably bad.
Another way to tell is to closely look at the tips of the asparagus. The tips should be crisp and pointy. If you touch the tips with your fingers and they are mushy and break off, your asparagus has most likely gone bad.
Tip: I like to store my asparagus spears in a glass jar with water. Add the bottoms of the spears in the water, then place the jar in the fridge. I've found that this helps them stay fresher for way longer!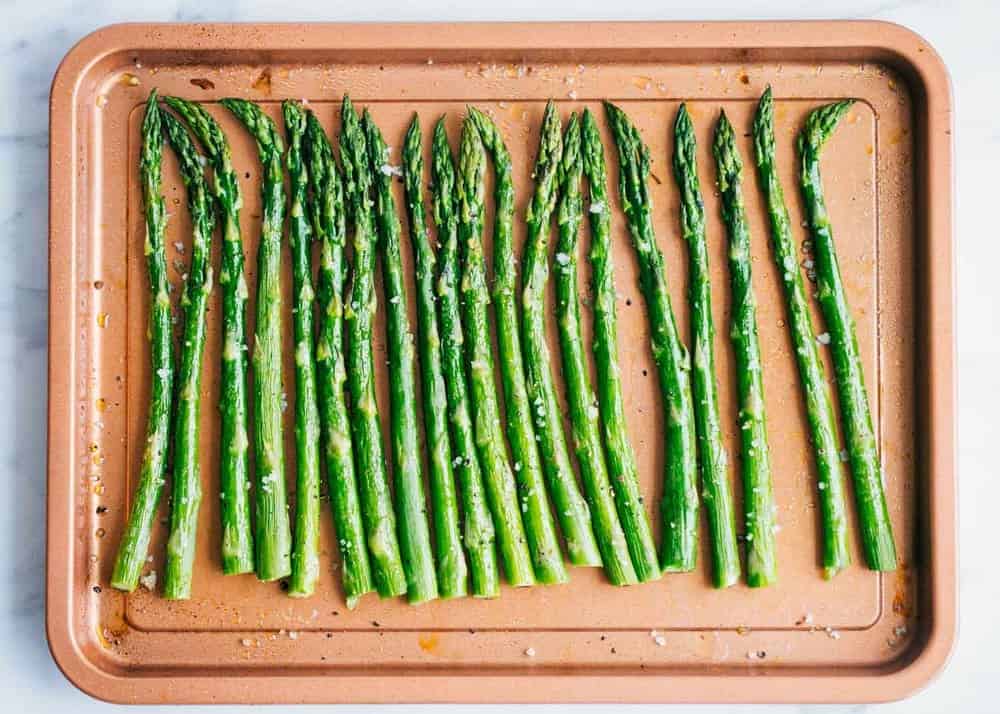 How Long to Bake in Oven
I like to bake my asparagus at 400°F for about 10 to 12 minutes. It's tender, but still has a little bite. For crunchier or softer asparagus, I would adjust the baking time by about 2 minutes depending on your preference.
Variations
Salt & pepper: This simple combination really helps bring out the natural flavors.
Balsamic: Drizzle the asparagus with balsamic glaze and top with parmesan cheese.
Lemon: Right before serving, drizzle with lemon juice and a little lemon zest if desired.
Garlic: Before roasting, add minced garlic or garlic powder for a more fragrant taste.
Soy Sauce: Coat with 1-2 Tablespoons before roasting. You could also add in some honey and garlic.
Butter: Drizzle some melted butter over the asparagus before roasting. Feel free to add in extra seasonings too, like garlic or seasoned salt.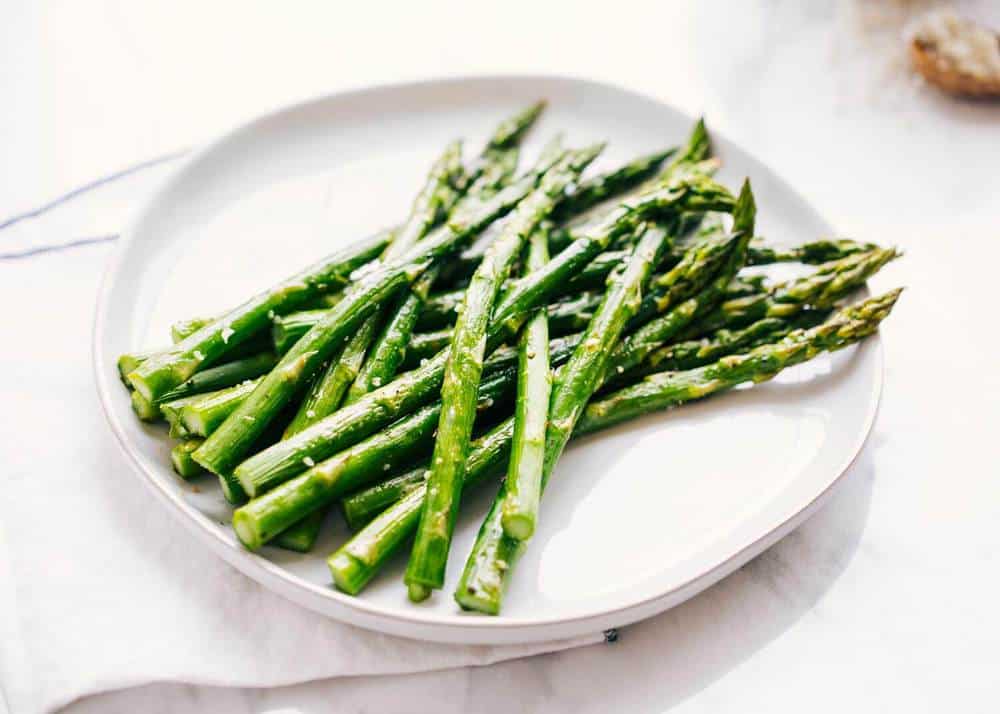 More Vegetable Side Dishes
HUNGRY FOR MORE? Subscribe to my newsletter and follow on Facebook, Pinterest and Instagram for all the newest recipes!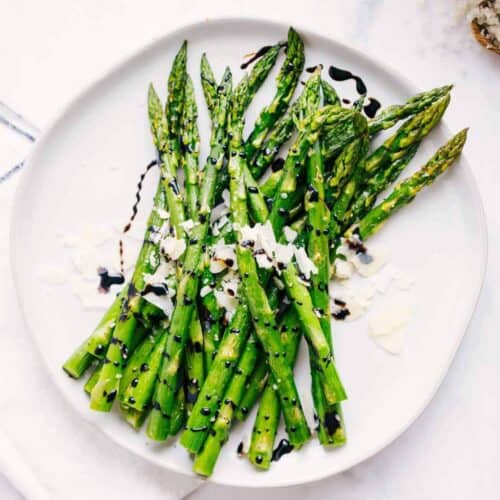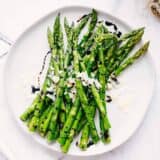 Roasted Asparagus Recipe
Perfectly seasoned oven roasted asparagus that's fresh, healthy and delicious. This simple side dish makes a great addition to any meal!
Ingredients
10 ounces thin asparagus (ends trimmed)
1 Tablespoon olive oil
1/2 teaspoon kosher or sea salt
1/8 teaspoon crushed black pepper
Optional for serving: shaved parmesan cheese and balsamic glaze
Instructions
Preheat the oven to 400°F.

Place asparagus onto a baking sheet. Drizzle olive oil over the top (you can also use a olive oil spray to coat the tops). Sprinkle salt and pepper evenly over top.

Bake asparagus for 10-12 minutes, or until tender.

Add parmesan cheese and a balsamic glaze if desired. Add more S&P, to taste if needed. Enjoy while hot!
---
Nutrition
Calories: 45kcal | Carbohydrates: 2g | Protein: 1g | Fat: 3g | Sodium: 292mg | Potassium: 143mg | Fiber: 1g | Sugar: 1g | Vitamin A: 535IU | Vitamin C: 4mg | Calcium: 17mg | Iron: 1.5mg
Nutrition provided is an estimate. It will vary based on specific ingredients used.
Did you make this recipe? Don't forget to give it a star rating below!