Jump to Recipe⌄
Roasted Corn and Tomato Bruschetta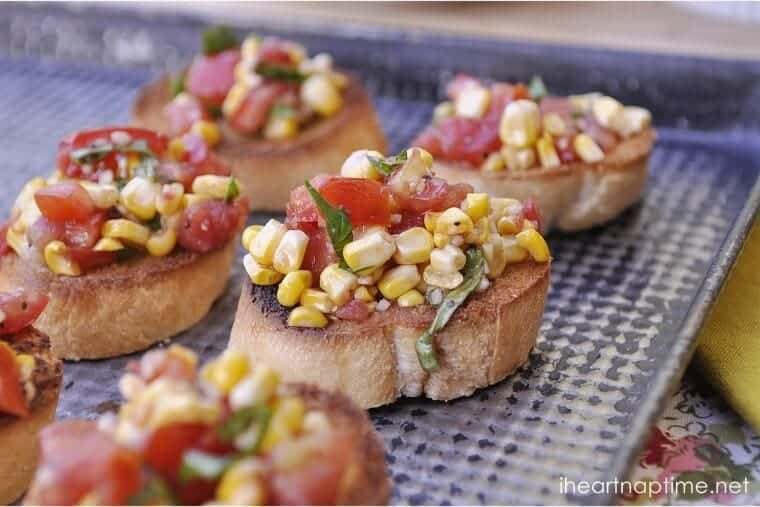 One of our favorite summer time treats is bruschetta.  Bruschetta is an antipasto from Italy.  It is typically grilled bread that has been rubbed with olive oil and garlic and then topped with some combination of tomatoes and other vegetables.  Our corn here in the NW is just starting to come on and we can't get enough of it at our house so I decided to roast some corn and add it into the bruschetta.  Good choice!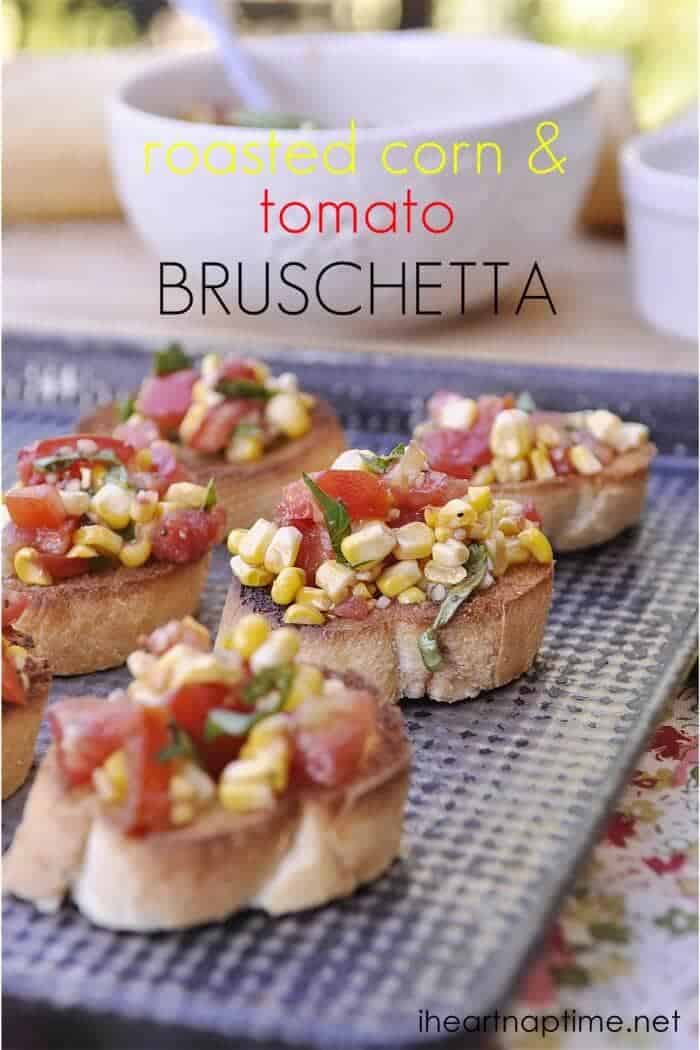 But first you need to prepare your bread.  I use a baguette and slice it into about 3/8″ inch pieces.  Give it a nice brush of olive oil and then toast it in the broiler.

MY OTHER RECIPES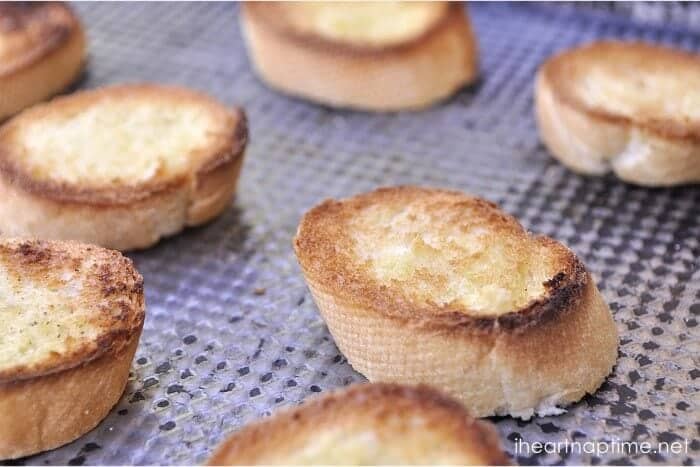 After it is browned but while it is still warm, peel a clove of garlic and rub it over the bread to infuse it with some wonderful flavor.
The bruschetta mixture is a combination of tomatoes, roasted corn, garlic, olive oil, balsamic vinegar and fresh basil.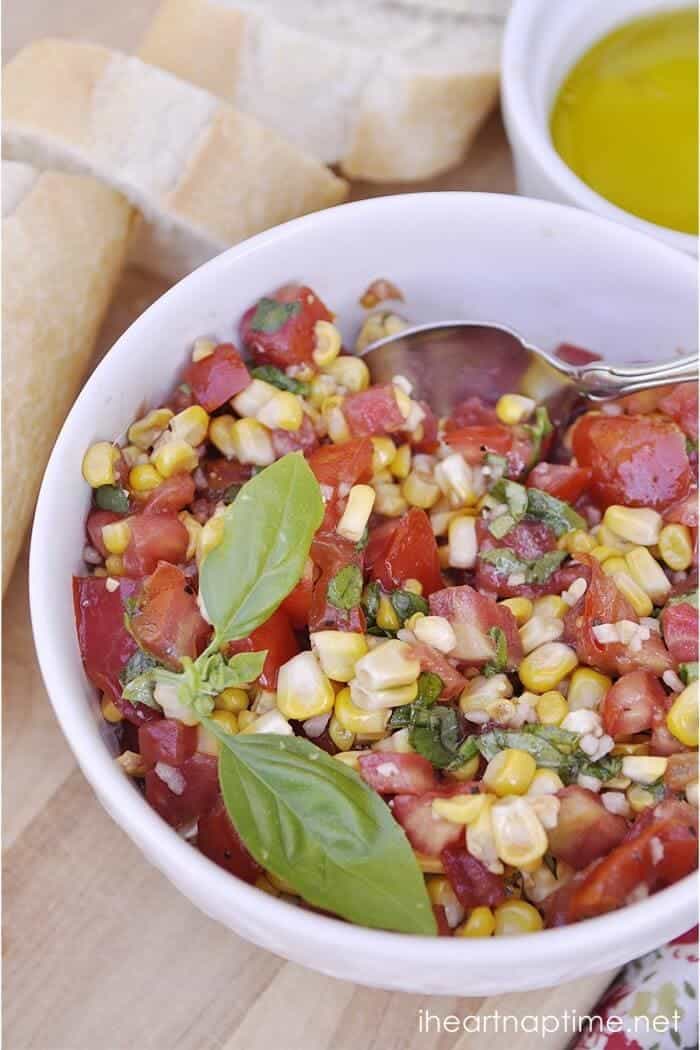 Place a nice spoonful of the mixture onto the toasted bread and you are ready to enjoy.  Happy Summer!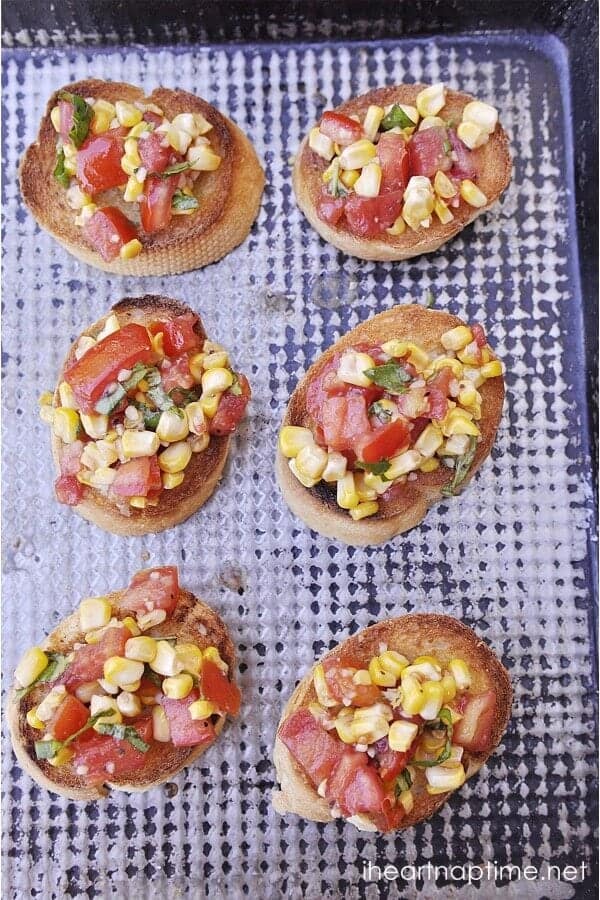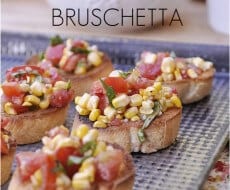 Roasted Corn and Tomato Bruschetta
Ingredients:
6-8 roma tomatoes, chopped
2 ears of corn, roasted and cut off the cob
2 cloves garlic, minced
2 tsp balsamic vinegar
1 Tbsp. olive oil
6-8 fresh basil leaves, chopped
salt and pepper to taste
1 baguette
olive oil and clove of garlic for toast
Directions:
1. Slice bread into 3/8″ thick slices, brush on a thin layer of olive oil and then toast under broiler
2. While bread is still warm, rub with a peeled clove of garlic.
3. Roast corn on grill and remove kernals from cob.
4. Chop tomatoes finely.
5. Add garlic, olive oil, balsamic vinegar in a bowl and mix.
6. Chop the basil thinly, add to tomato mixture and add salt and pepper to taste.
7. Spoon tomato mixture onto bread toasts – enjoy! Yum!!!
All images and text ©
For some other yummy tomato recipes try these:

Fresh Tomato and Herb Soup |  Bruschetta Chicken  |  Tomato Basil Tart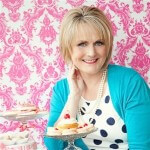 I'm Leigh Anne and food, family and friends are three of my favorite things. I am the mother of four young adults, a new mother in law and am still trying to adjust to life as an empty nester along with my husband of over 30 years.  I love throwing parties, burying my head in a book and digging in the dirt in my garden.  My husband would tell you I love making messes in the kitchen and craft room and finding junk (treasures) at Goodwill.  I believe that life is beautiful and it is up to us to find and create that beauty.  I love sharing my journey to finding the pretty and delicious in life over at Your Homebased Mom.  You can also visit me on Facebook, Pinterest, Twitter or Instagram.