Jump to Recipe⌄
Salted caramel candy corn bark
Hello friends! Happy Tuesday! I have a yummy Halloween treat to share with you today. Salted caramel candy corn bark! Need I say more?
This delicious treat is super simple to make and NO-BAKE. I love simple desserts. Especially when they involve caramel. Everything just tastes better with caramel, doesn't it? Make this for a Halloween party or better yet make it to enjoy during your favorite fall show! Eek, Grey's starts Thursday! Who else is excited? Okay back to the recipe… ;)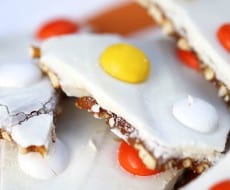 Salted caramel candy corn bark
Ingredients:
1 bag of waffle style pretzels (I used approx. 75 for this recipe)
1 (16 oz) pkg. vanilla candiquik coating
1 (11 oz) pkg. caramel bits
1 (9 oz) bag candy corn M&M's (could use regular candy corns as well)
Directions:
Line a baking sheet with wax paper and butter or lightly spray with non-stick cooking spray. Then place the pretzels in the pan side by side.
Melt caramel in a microwavable bowl according to package directions. Stir caramel until smooth and then spoon caramel over each individual pretzel. Allow to cool for 5 minutes.
Melt the vanilla coating in the microwave according to package directions. Pour the coating over the caramel and spread evenly. Then place M&M's or candy corn on top, quickly as it will harden fast. Allow candy to harden and then cut into pieces. Peel the wax paper from the caramel and enjoy! :D
The caramel hardens fast so you need to be quick spreading it and put the candy on as soon as the chocolate is spread.
All images and text ©

The salted pretzel, caramel and white chocolate combination is perfection. This simple dessert is a new favorite! The fun thing about this recipe is you can customize it for any holiday. Or get creative and add different candy toppings!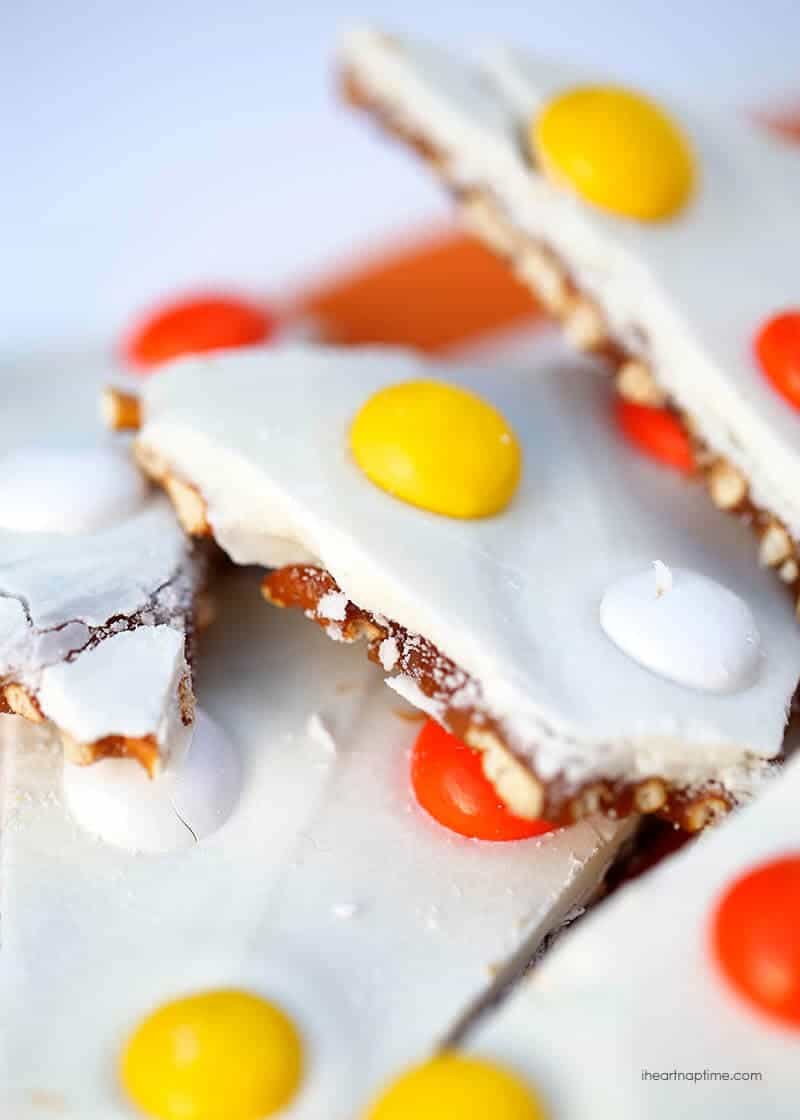 This candy corn bark is seriously addicting! I sent this plate into work with my hubs, so I wouldn't be tempted to eat it all.
So I'm curious… are you a candy corn lover or hater? ;)
Looking for more candy corn recipes? You'll love these: