Hey guys! Le'ts welcome cute Jenn from My Fabuless Life who will be guest posting today.
With summer vacation just around the corner and plans of beachy destinations dancing in many of our heads, I thought I'd share my favorite way to preserve those precious vacation memories. Sand bottles. For me, this all started years ago when my mom took a trip to Bermuda with my dad. In awe of their unique pink sand, she decided to bring a little home to show us kids. After she brought it home, she put it in an old bottle on a bookshelf. It became a vacation tradition, and the Sand Collection was born. I love this so much more than an expensive, cheesy souvenir that eventually ends up in a closet somewhere, because it's something neutral that goes with any decor and it's like a trip though time all in one display.
Let me warn you now though, bringing sand back onto a cruise ship or through airport security via a water bottle or plastic bag will get you some SERIOUSLY weird looks. And here's a little piece of advice: if you're going to bring it home via airplane, CHECK IT. Our family will be camping at Zion National Park this summer and you'd better believe we'll be bringing home a little bit of that beautiful red sand. You can also collect rocks, leaves, flowers–anything really that reminds you of your vacation and will fit in a bottle.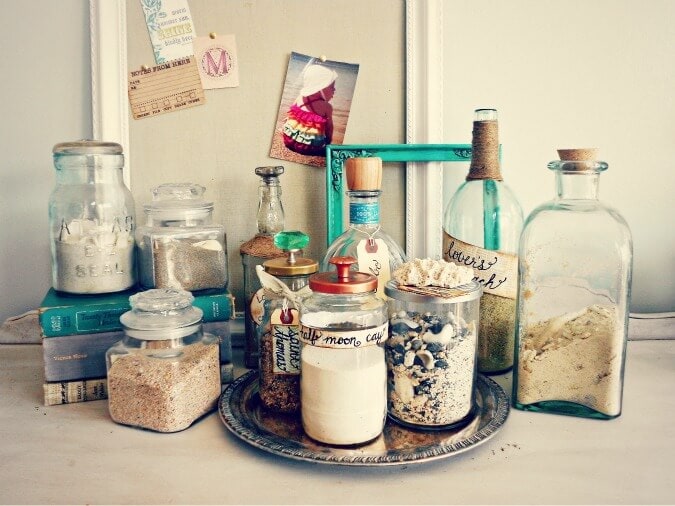 To preserve my sand, I've used the following supplies:
-Sand (obviously)
-Various hoarded bottles–salsa jars, candle jars, wine & liquor bottles, and random jars purchased at the thrift store (I NEVER throw jars away–one of several of my qualities that may drive my husband to insanity)
-Knobs from the craft store and old furniture projects
-Various scrapbook papers, twine, and fabric scraps
-Shipping tags from the office supply store (I found mine by the cash register supplies)
Here's a brief illustration of what I used: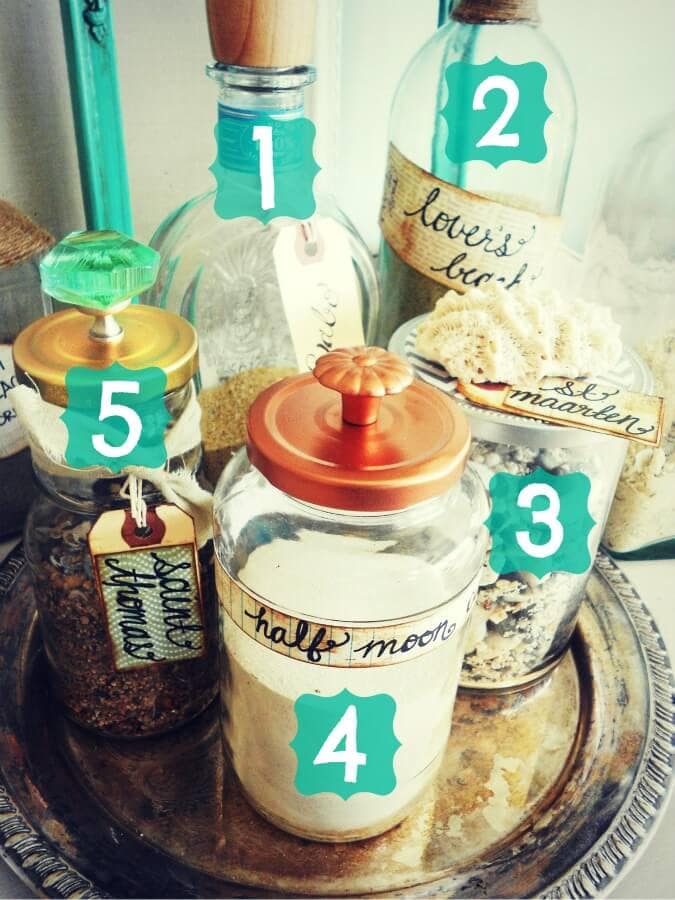 1. Old Tequila bottle with shipping tag (normally I would remove the original labels from the bottles, but I like the labeling on this one and I thought Tequila was fitting for Mexican sand.)
2. Old wine bottle with scrapbook paper label
3. Yankee Candle jar with scrapbook paper decoupaged to the top to cover their logo, coral, and shipping tag
4. Jam jar with the lid and an old knob spray painted with copper spray paint, and scrapbook paper label
5. Herdez salsa jar with the lid spray painted gold, knob from Anthropologie, and shipping tag & scrapbook paper label
And just because a bottle has a logo you can't remove, doesn't mean you can't use it. I just wrapped twine around this old Jack Daniels bottle to cover the name and no one will ever know. The top is a mercury glass knob from Hobby Lobby.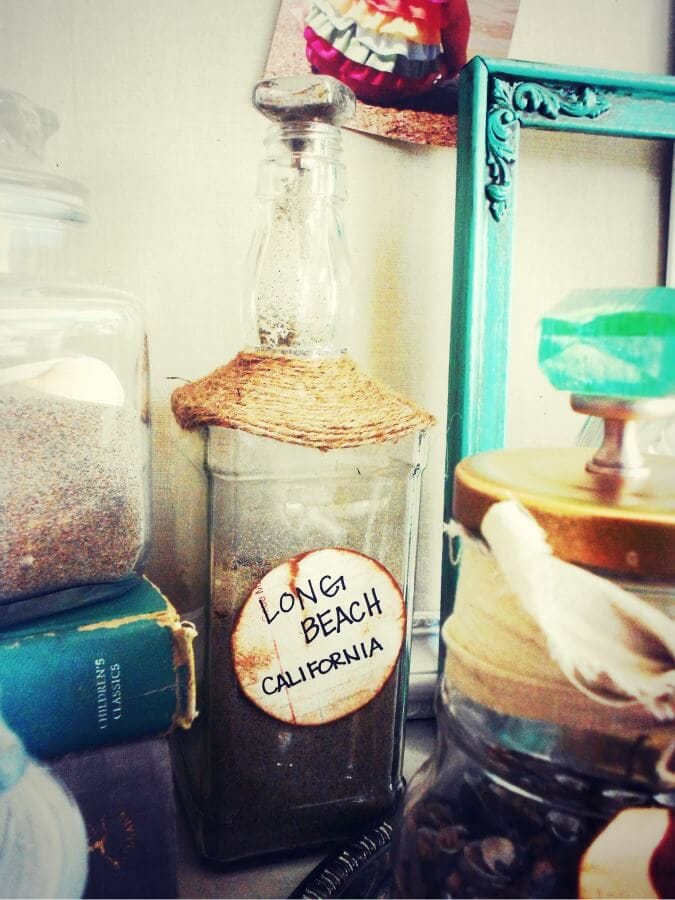 I started collecting sand when I was in Jr.High, so this is something your kids can do now and take the memories with them when they leave home and continue the tradition with their own families, my collection spans almost 20 years! Happy summer vacationing!
I'm Jenn from My Fabuless Life. I'm passionate about being a wife and mother to my two-year-old daughter; truly the light of my life. I started refinishing furniture and getting creative in high school when I wanted to make my spaces and hand-me-down furniture my own, but had to find a way to do it on the cheap. My love of all things unique, creative and inexpensive has developed into my own business selling my furniture pieces and doing custom work, and making my house a home in my own unique way and on a budget. I'm a habitual DIYer and will attempt to do just about anything myself. My Fabuless Life began as a way to document and share my endless projects, my journey through motherhood and homemaking, and all of the ups and downs and trials errors of motherhood, homemaking, DIY, and the creative life.
A few of my other favorite projects:
Kitchen Cabinet to Entry Storage
Little Girls' Pink Armoire
Child's Office With a View