Jump to Recipe⌄
Shrimp and Bacon Salad in a Jar {Hello Summer}
Hi there! I'm Jess from Chaos & Love where I write about food, crafts, blogging and life as a boy mom. So excited to be sharing one of my favorite recipes here on I Heart Nap Time today!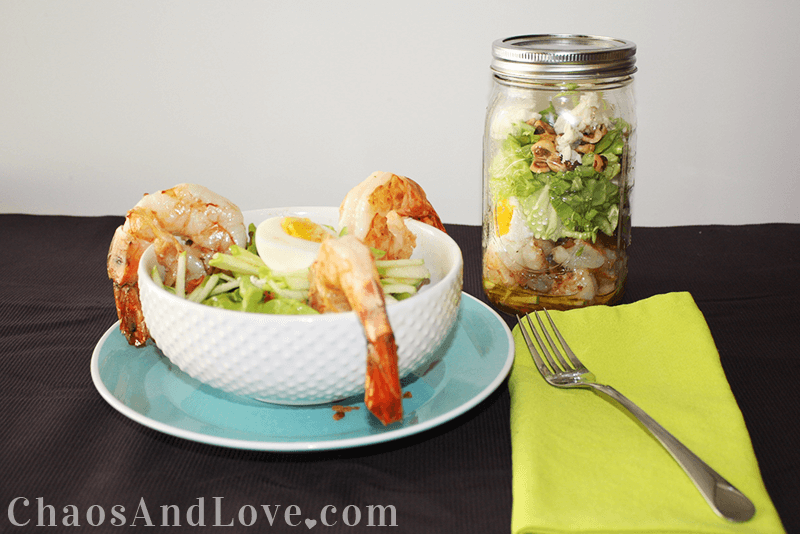 Working full time outside the home and trying to balance all the things at home can be quite the challenge. It's easy to fall into the habit of grabbing fast food or throwing together prepackaged stuff. We've done that a lot.
The best way I've found to keep our food quality up is, not only planning ahead, but planning things we LOVE to eat. Meal planning doesn't work for us if what's waiting at home isn't something we like. It's just so easy to talk yourself into a delicious burrito when the only thing waiting at home is chicken breast and broccoli.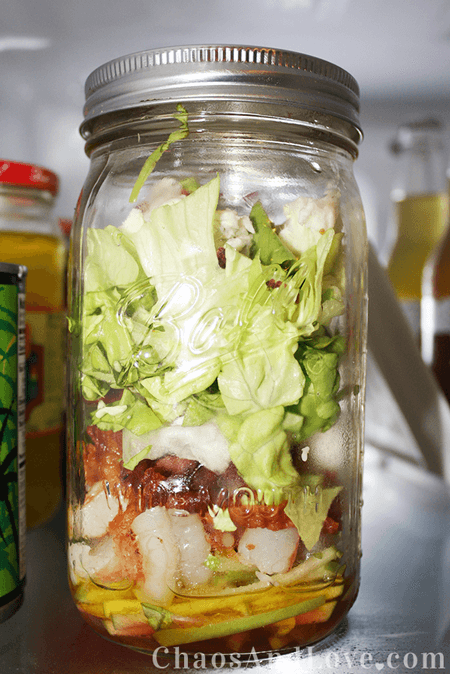 This is especially true when we're trying to stick to our almost paleo template. That plan only works when we choose meals that are appealing, have some great flavor and add enough fat to be satisfying. That's where salads in a jar come in handy. The perfect healthy food, really. Totally easy to prepare in advance and full of whatever delicious ingredients you like.
The first time I tried a version of this salad at my husband's restaurant, I was in love. A little sweet, a little tart, some crunch and some creaminess – it had ALMOST all the things a salad needs. Adding some shrimp makes it a meal. YUM. And even better, you can layer it in a mason jar to make ahead some quick, easy weekday meals.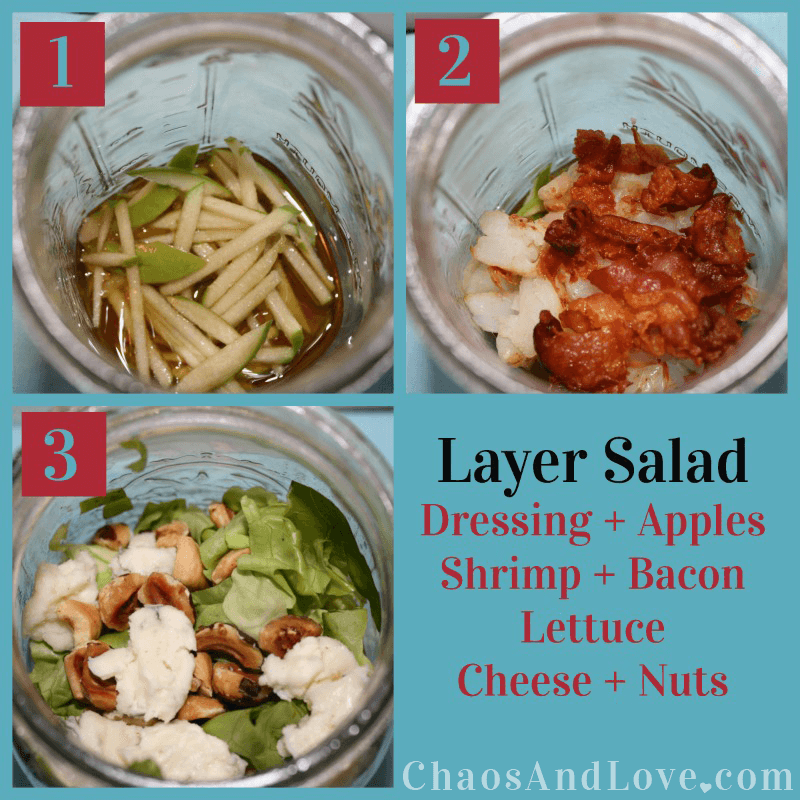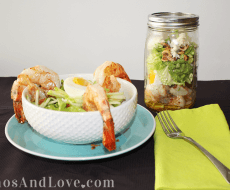 Shrimp and Bacon Salad in a Jar
Ingredients:
2 heads bib lettuce, torn into bite size pieces
1 lb shrimp
4 eggs
1 apple, chopped or julienned
4 strips bacon or pancetta, cooked crispy
2 oz gorgonzola
2 oz hazelnuts, chopped
2 parts olive oil, 1 part red wine vinegar
salt and pepper to taste
Directions:
Boil eggs. Once cooled, peel and chop.
Mix oil, vinegar, salt and pepper to taste.
Salt and pepper shrimp and grill on grill pan or outside grill. Let cool and chop.
Pour 2 oz dressing into each jar.
Add 1/4 apples and swirl around to cover (prevents browning).
Layer on 1/4 chopped shrimp and bacon.
Fill jar to just below top with lettuce.
Add 1/4 cheese and nuts.
Cover with lid. Keeps in refrigerator for 3-5 five days.
To serve, shake and pour in bowl or on plate.
All images and text ©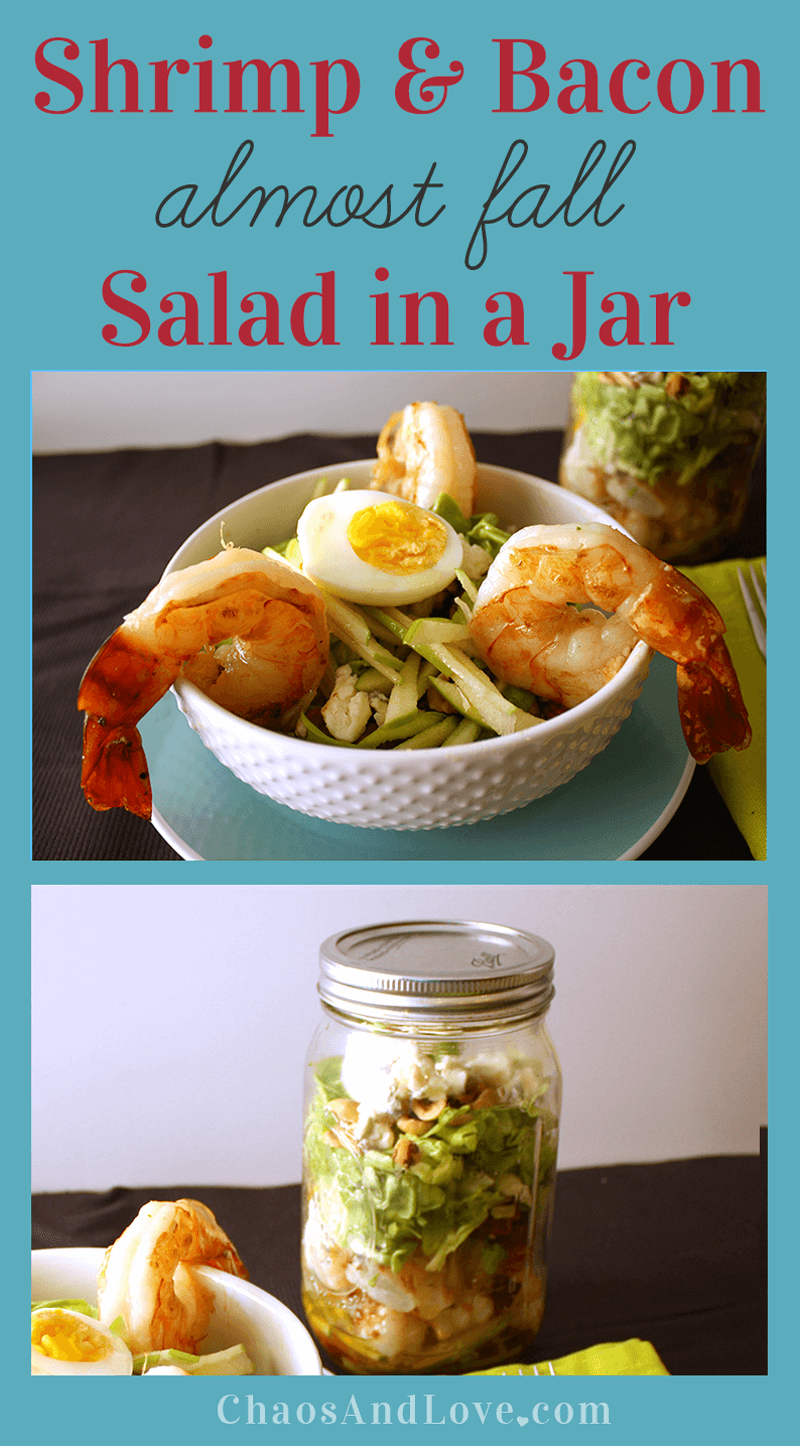 I hope you enjoy the salad and would love to have you stop by Chaos & Love some time. We have lots of paleo meal ideas, FREE crochet patterns and even a weekly blogging tips series.
You can also find me in all of these places. I'd love to connect with you!!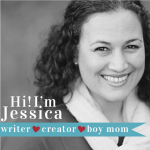 Jessica is a working mom of boys and spends most of days trying to keep her sanity intact. Her home on the interwebs is Chaos & Love where she is chief creator, crafter and writer. Jessica, her husband the chef and their two boys live in sunny Southern California.
THANKS Jessica for sharing this yummy salad recipe during our Hello Summer Event! Click HERE to see more ideas from the event.