Jump to Recipe⌄
Snickerdoodle Apple-Peach Crisp
Hi folks!  It's Jennifer from The Chronicles of Home and I'm back with a dessert mash-up that hits all the right summer-to-fall transition notes: snickerdoodle apple-peach crisp!

MY OTHER RECIPES
There are still some fresh local peaches to be found where I live and I hold onto every last moment of my favorite fruit season before it disappears for another 10 months.  I just can't get enough fresh peaches when they're abundant.  But I'm also starting to feel that crisp note in the air and all the mountains of apples are tempting me too.  So what is a seasonal-fruit-loving girl to do??  Mix 'em together!
I took my favorite cookie – brown butter snickerdoodles (seriously, the caramely goodness is kind of outrageous – and used it as a crust for a traditional crisp.  The result?  A chewy, buttery, cinnamony, caramely cookie crust base for a juicy apple-peach topping with crumbly oat crisp scattered across the fruit crags.  It's a marriage made in heaven.
There's not much I don't want to add a snickerdoodle crust to now!
Snickerdoodle Apple-Peach Crisp
Ingredients:
1/2 c. unsalted butter
1 1/4 c. flour
1/2 tsp. baking soda
1 tsp. cream of tartar
1/4 tsp. cinnamon
pinch of kosher salt
1 c. + 2 tbsp. dark brown sugar
1/4 c. granulated sugar
1 large egg
1/2 tsp. vanilla
1 1/2 tsp. buttermilk or plain yogurt
– – – – – – –
3 apples
3 peaches (or about a pound sliced frozen, thawed)
2 tbsp. fresh lemon juice
1/4 c. granulated sugar
2 tbsp. flour
1/2 tsp. cinnamon
– – – – – – –
3/4 c. flour
3/4 c. dark brown sugar
1/4 tsp. kosher salt
1/2 c. old fashioned oats
1/2 c. unsalted butter
Directions:
Preheat oven to 350º.
Melt the butter in a large saucepan over medium-high heat.  Cook several minutes until it starts to turn golden, whisk for about a minute, then remove from the heat.  Let cool slightly.
Whisk flour, baking soda, cream of tartar, cinnamon, and salt in a medium bowl to blend.
Using an electric mixer, beat the browned butter and sugars until well combined.  Add the egg, vanilla, and buttermilk and beat until blended.  Add the dry ingredients and mix until just combined. Press onto the bottom of a square metal baking pan and bake for 40 minutes.  Remove from oven.
Meanwhile, peel and seed the apples and peaches, cut into medium chunks, and add to a large bowl with the lemon juice, granulated sugar, flour, and cinnamon.  Stir to combine.
In a separate bowl, stir the remaining flour, dark brown sugar, salt, and oats.  Cut the cold butter into cubes and use an electric mixer to stir until large clumps form.
Pour the fruit mixture over the cooked snickerdoodle cookie crust and top with the oat mixture.
Return to the oven for another hour, until the fruit is bubbling and the topping is golden. Remove from oven and allow to cool for a few minutes. Serve warm with whip cream or ice cream!
All images and text ©
I've been spending a lot of time this past month working on my daughter's "big girl" room.  Come see some of the projects I've completed (below) and stop by next week for a full reveal!
Navy Blue Nightstand | Small Gallery Wall | Coral and Gold Dresser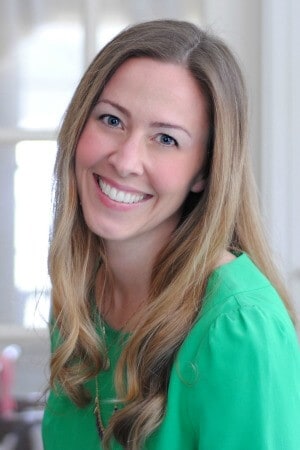 I'm Jennifer from The Chronicles of Home, where I share DIY and home decorating projects as well as lots of yummy food.  My truest loves are my husband and two young daughters, but I've also fallen for salvaging, refinishing, & reupholstering old furniture and building furniture from the frame up.  I have a sweet tooth to be reckoned with and love testing new desserts, though most of the time I eat and feed my family delicious, interesting, healthy food. I'm drawn to beautiful fabric, great books, anything kelly green, pasta made from scratch, dark chocolate, and brown butter.  I'm so thrilled to be a member of the I Heart Naptime creative team!