Kids aren't the only ones addicted to this snickers popcorn! This sweet, salty, and crunchy snack is one everyone can enjoy. Super easy to make, even with a homemade caramel coating!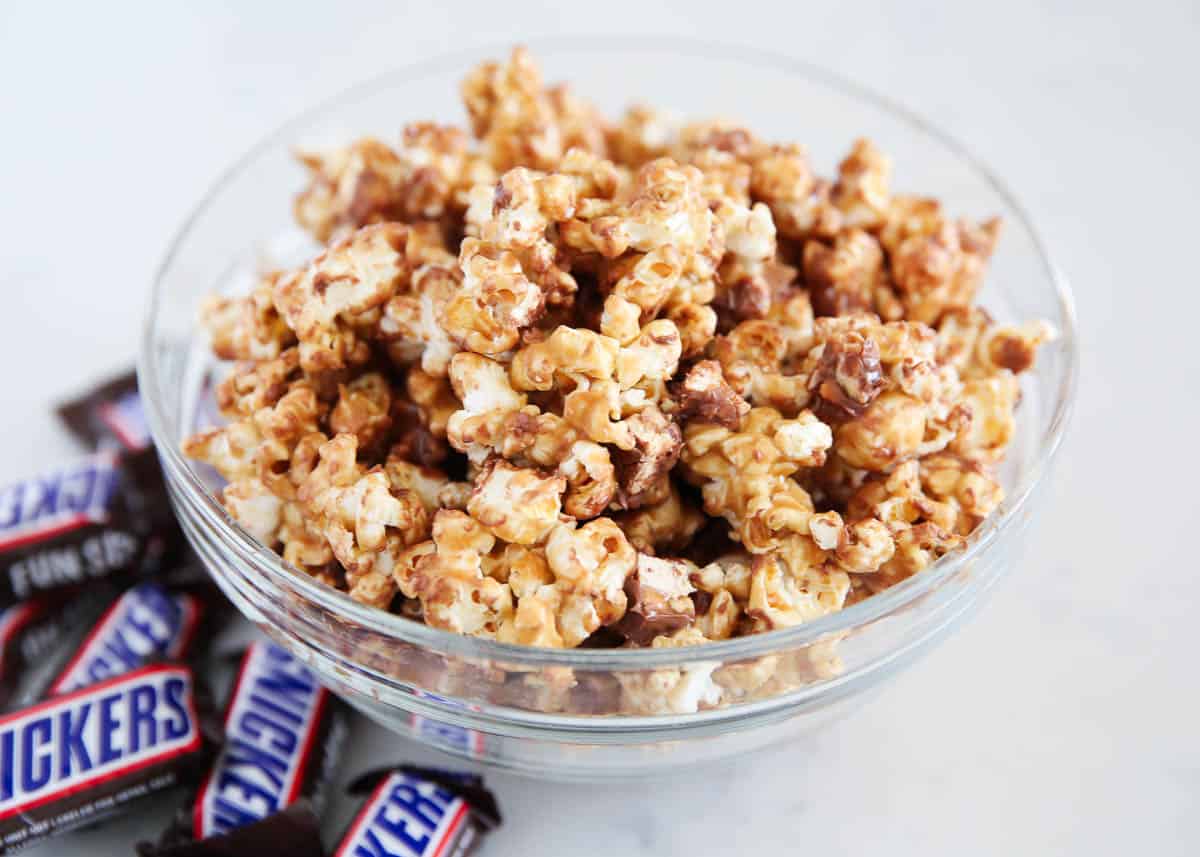 Favorite Movie Night Snack
This popcorn with snickers is a favorite movie night snack that tastes much better homemade than it does from the bag! It's worth the extra bit of effort it takes to make it yourself when the aroma of this snickers popcorn recipe comes wafting through your house on movie night!
It's basically a fun variation of my homemade caramel corn made with light and airy stovetop popcorn topped with chopped snickers. In other words, topped with milk chocolate-covered caramel, nougat, and crunchy peanuts. Trust me, this stuff is wildly addicting!
Whether you've got a hankering for chocolate, or a craving for popcorn, reaching for a handful of this fun and easy snickers flavored popcorn is the perfect way to satisfy everyone's need for a crunchy sweet, and salty snack! Much easier than my homemade snickers too!
Why This Recipe Works
A snack with no limits! This versatile snickers popcorn works for any occasion. A "just because" snack, a treat for movie nights, birthday parties, holiday parties, you name it! I'd suggest the snack table at Halloween parties, but that space is usually reserved for Halloween candy popcorn!
Loads of flavor. Melted chocolate, salty popcorn, and crunchy peanuts in the chocolate bar pieces only add to the taste and texture of the caramel-coated popcorn. It's exactly why this is about to become one of your favorite treats.
Easy to make and easy to clean up. I'm including a neat trick to help you clean your pot quickly and easily. Also, using wax paper on the baking sheet and spraying the bowl with nonstick spray makes everything about this snickers popcorn recipe a breeze.
Recipe Ingredients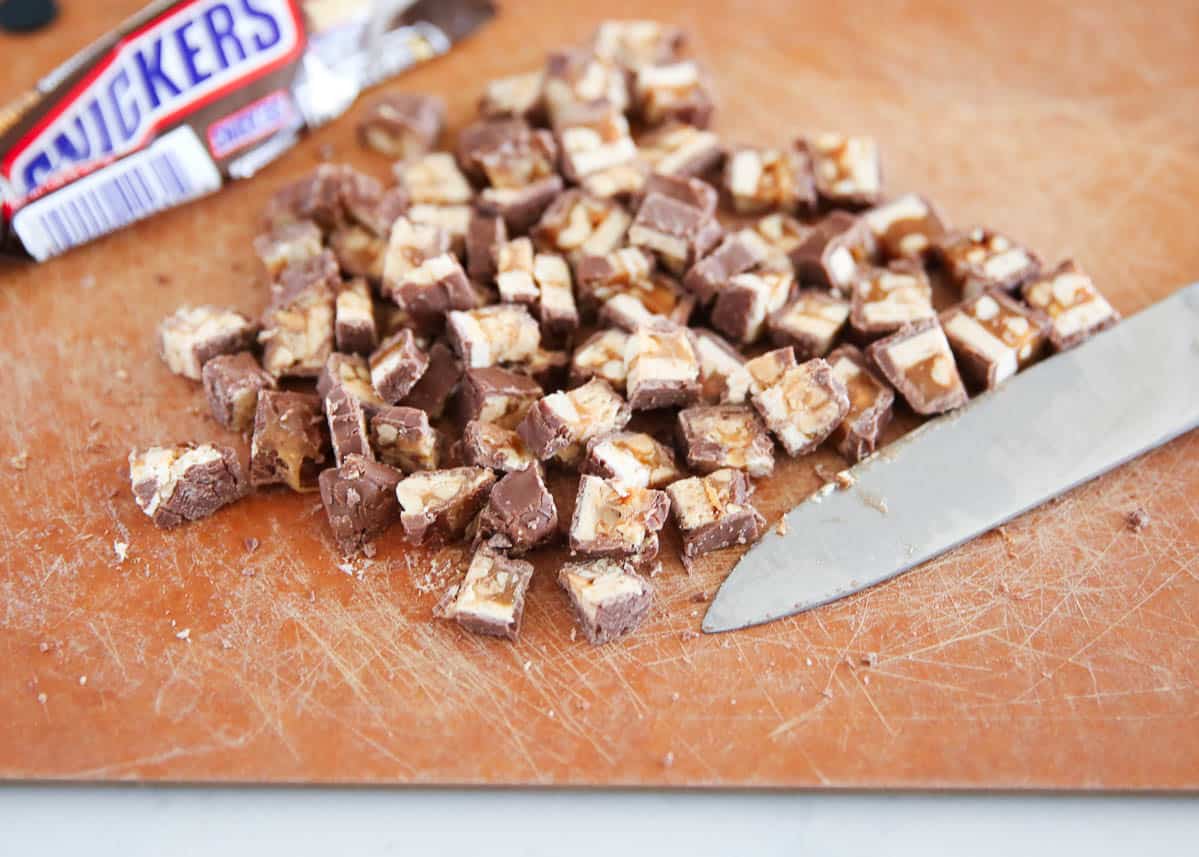 Find the full printable recipe with specific measurements below.
Popped popcorn: Highly recommend making it on the stovetop. Even if you pop kernels in your popcorn maker, as long as it's fresh, light, and crispy, and can control the amount of salt. Microwave popcorn can be heavy on the salt and can have an artificial flavor to it. It's just not as tasty!
Snickers: Snickers bars can be found in fun size which makes them easier to chop up into bits. If the regular size is what you have, go ahead and use them. I like to level up this snickers popcorn by making homemade Snickers. They taste just like real snickers, so going above and beyond is totally worth it!
Karo Syrup: This is a brand of corn syrup that helps keep the sugar from crystallizing. Meaning, that it's smooth, glossy, and without a grainy texture.
Baking soda: You may notice your caramel sauce start to fizz once it's added in. Creating these air bubbles is an important step in making sure the snickers popcorn doesn't break your teeth when you bite into it. It keeps the caramel soft and chewy (unlike the coating on a candy apple).
Tasty Add-ins!
Some flaked sea salt for that finishing salty balance to the sweetness. Throw in some M&Ms at the end for additional crunchy candy chocolate taste and a pop of color. You could also add in some extra peanuts.
You can also swap the snickers for your favorite candy bar. Milky Way or a Twix bar would be great!
How To Make Snickers Popcorn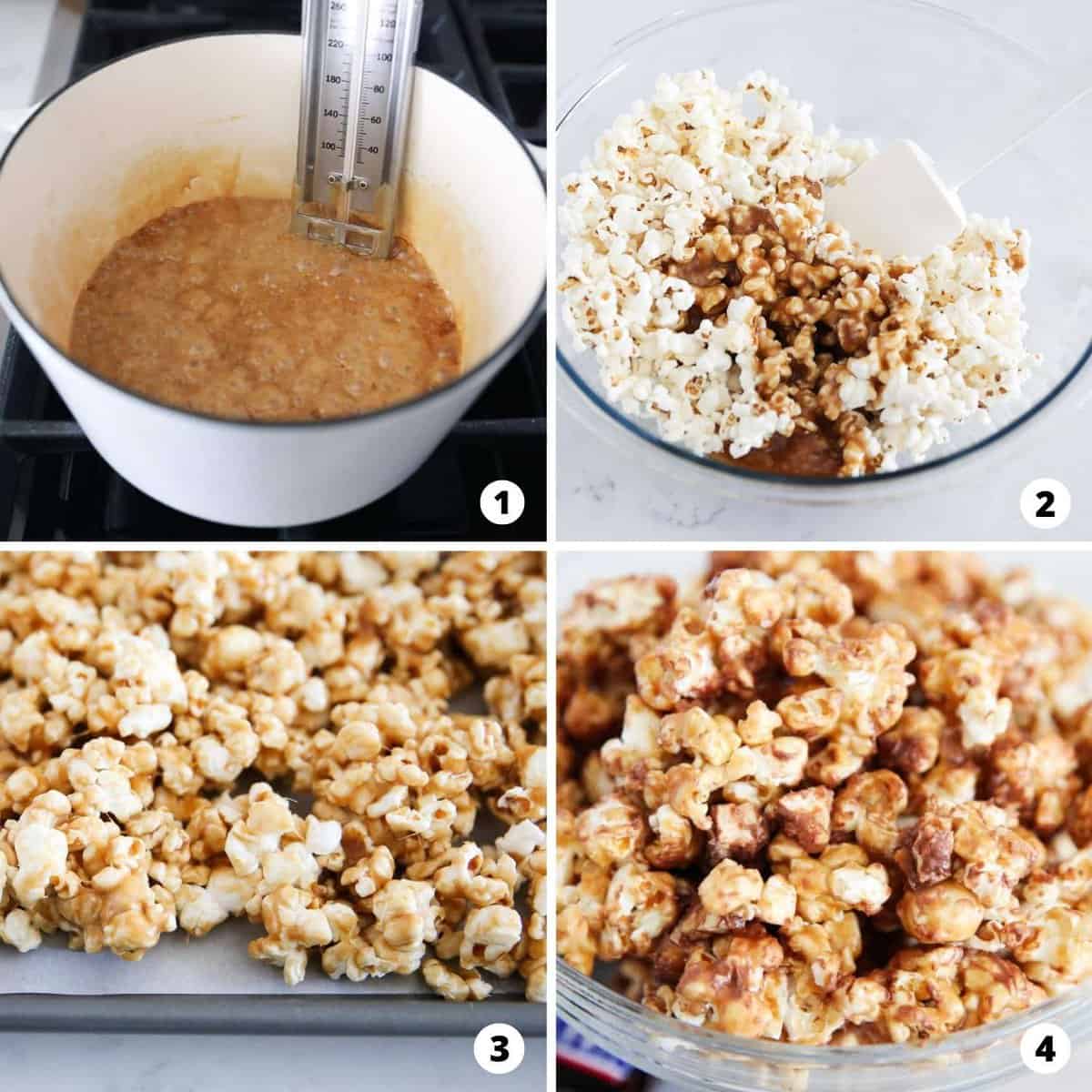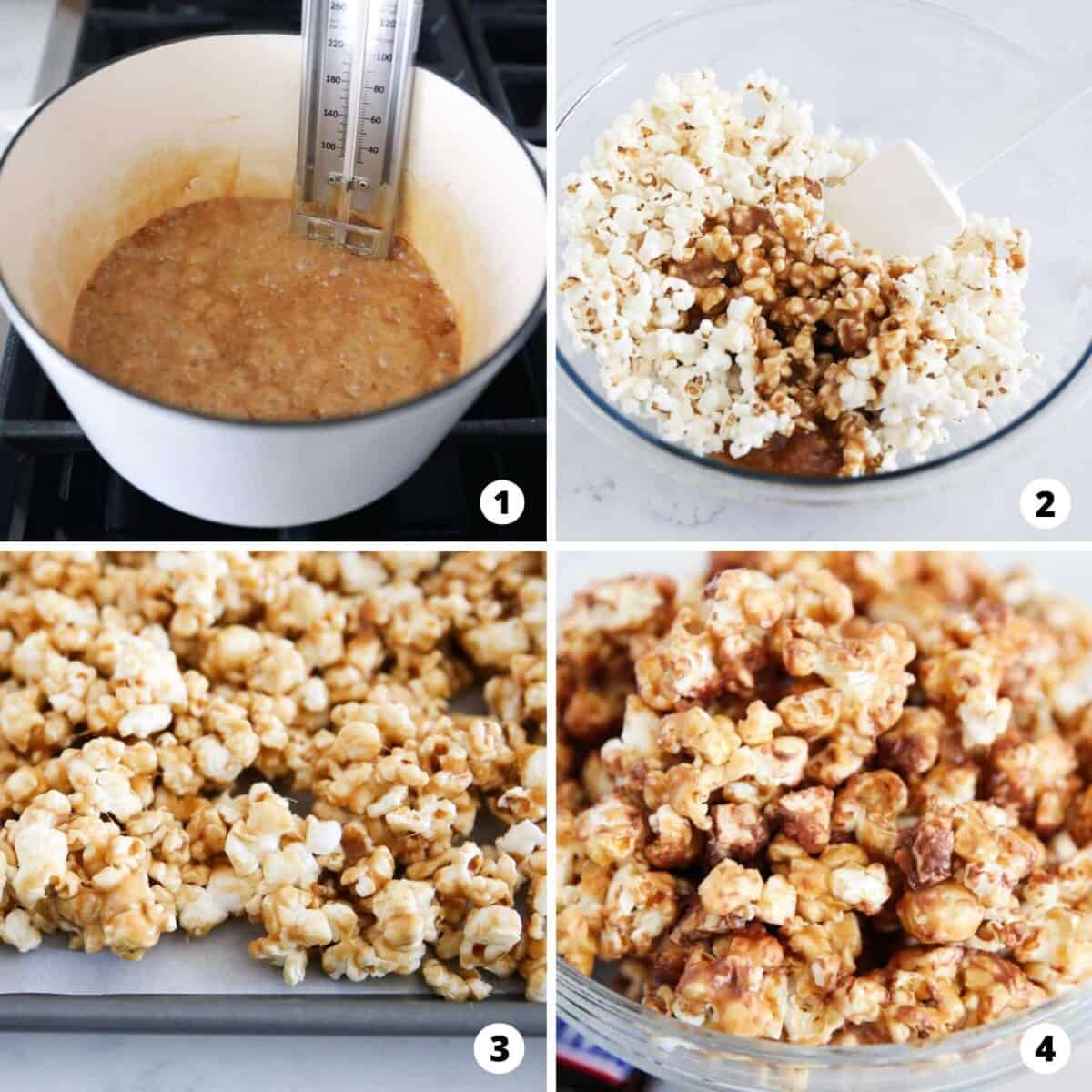 Make the caramel coating. In a large heavy bottom pan, you'll melt the brown sugar, butter, and Karo syrup, along with the salt. Bring it to a light boil, then remove the spoon and continue to cook without stirring. Do not walk away! Use a candy thermometer for an accurate reading of 240°F to know when to immediately remove it from the heat. Stir in vanilla and baking soda.
Drizzle on top of popcorn. If you have more than enough caramel, feel free to add 1-2 additional cups of popcorn, if needed. Use a wooden spoon to gently stir everything around until each piece of light fluffy popcorn is well coated.
Bake it! Transfer the mixture to a parchment-lined baking sheet. Spread it out evenly and bake for 30 minutes, stirring occasionally.
Top with snickers candy pieces. Remove the pan from the oven and sprinkle half of the chocolate pieces on top. Bake for another 2 minutes and remove to stir. Immediately top with remaining pieces and serve!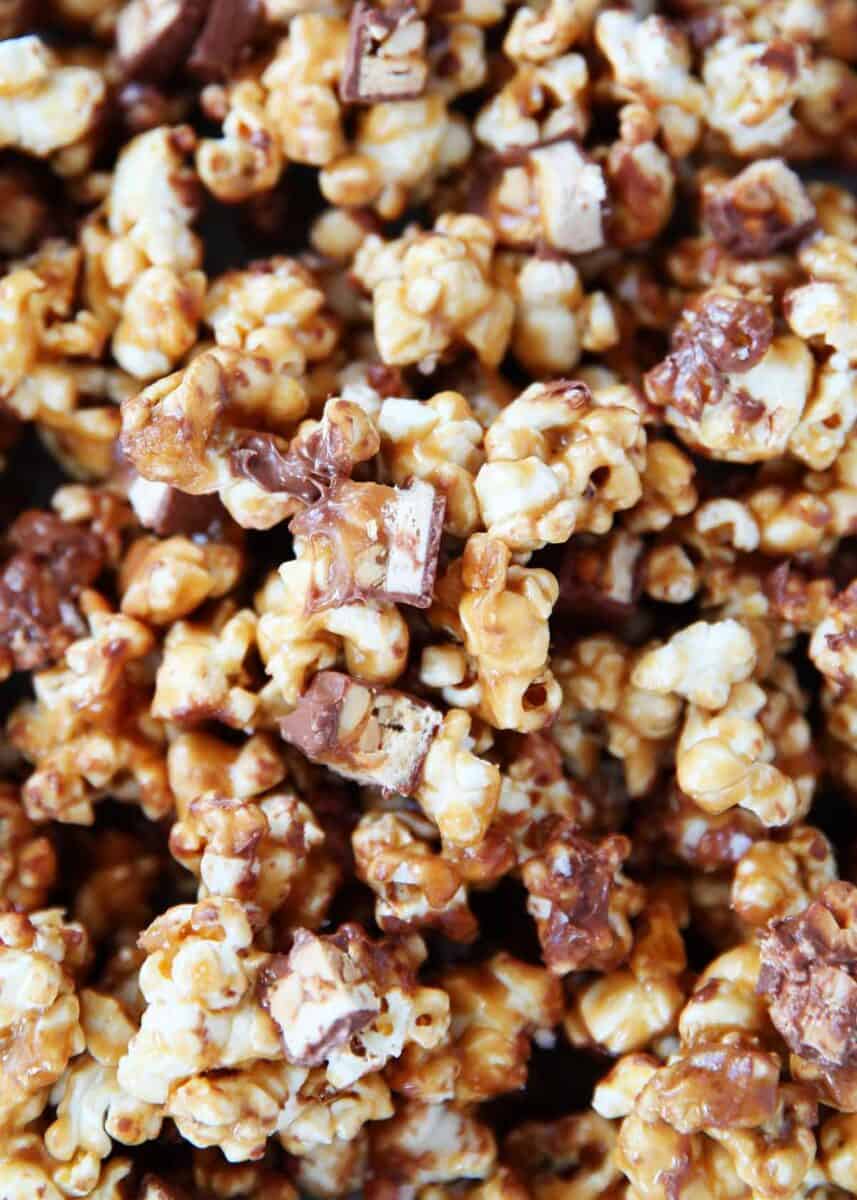 Expert Tips
Is the caramel stuck to your pan? Add some hot water to it and bring it to a boil. Once the sugars have broken down, dump the water and scrub clean once it has cooled. Easy!
Line your baking sheet. Use either wax paper or parchment paper before pouring out your caramel popcorn on top. This will help prevent it from sticking and any sugars burning onto the tray.
Salted popcorn. If it comes already salted, half the amount to 1/2 teaspoon of added salt to the sauce mixture.
To store the popcorn. Allow it to cool completely, otherwise, the trapped heat will create moisture causing the snickers popcorn to get soggy. Keep it in an airtight container for up to 1 week on the counter.
Recipe FAQs
What is the secret to making good popcorn?
There are a few things to look at! First is that you want to make sure your kernels haven't been sitting around for years. They won't go bad, necessarily, but they will lose their ability to pop light and fluffy consistently.

Next, use a heavy bottom pot so the heat conducts evenly without burning the bottom pieces of popped corn. You also want to manage the heat at medium heat without turning it up too much. Don't be in a hurry!

Then, test a couple of kernels first, and off you go. Be sure to remove the pot from the heat once they start popping sporadically. Check out my post for more details on how to make the best batch of stovetop popcorn.
How long does snickers popcorn stay fresh?
It will stay fresh for up to 1 week as long as it's stored properly without moisture and in a sealed container. You can also keep snickers popcorn in a brown paper bag.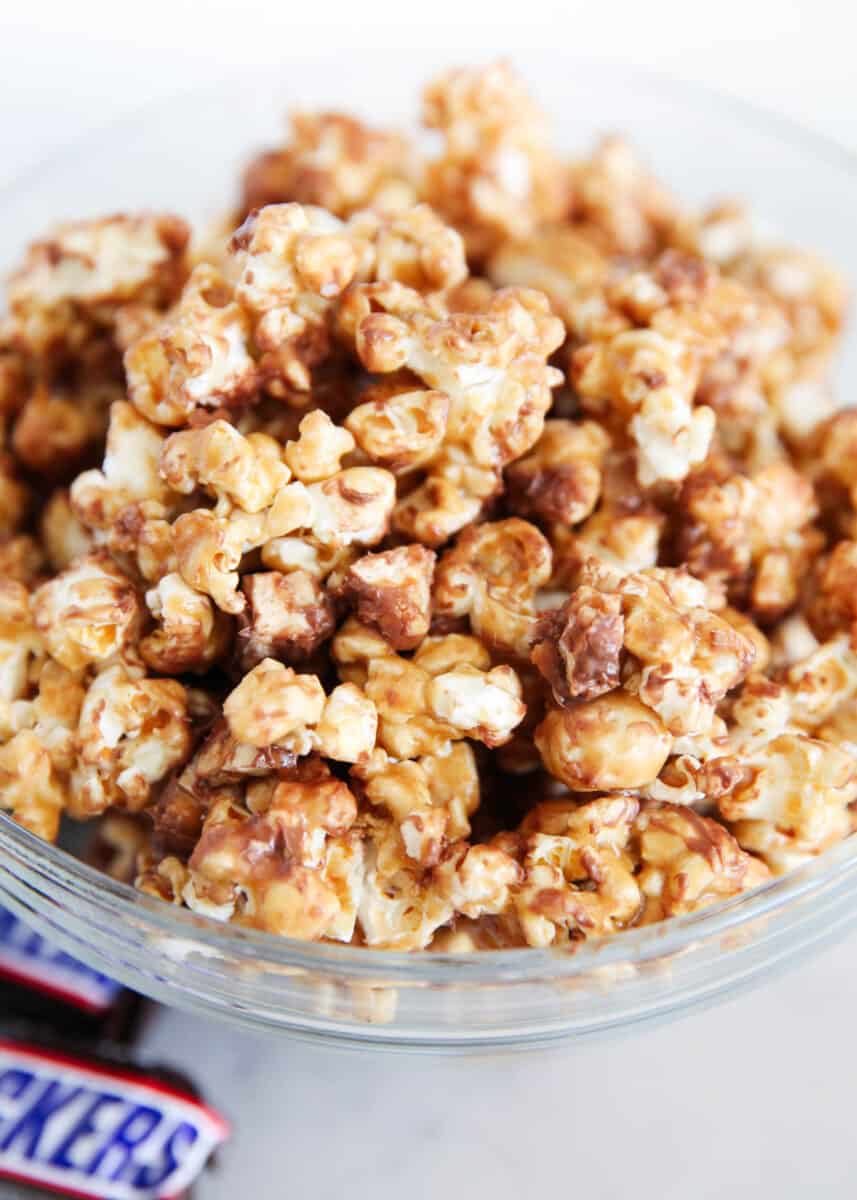 HUNGRY FOR MORE? Subscribe to my newsletter and follow on Facebook, Pinterest and Instagram for all the newest recipes!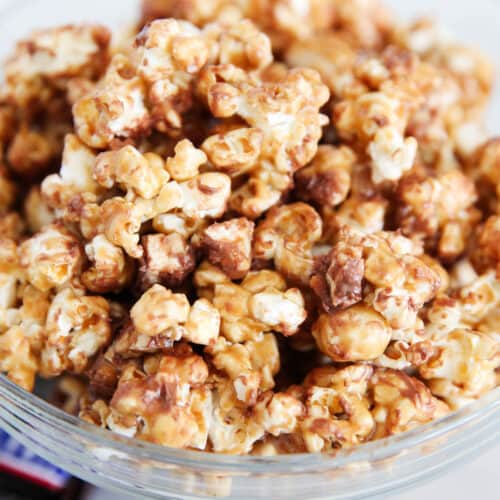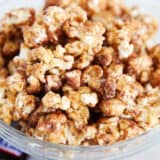 Snickers Popcorn
Kids aren't the only ones addicted to this snickers popcorn! This sweet, salty, and crunchy snack is one everyone can enjoy. Super easy to make, even with a homemade caramel sauce!
Ingredients
9-10 cups popped popcorn (about 2 bags)
1 cup light brown sugar , packed
½ cup salted butter
½ cup light karo syrup
1 teaspoon Kosher salt , use 1/2 teaspoon if popcorn is salted
1 teaspoon vanilla extract
½ teaspoon baking soda
10-15 fun size Snickers , chopped, divided
Optional: Flake sea salt, M&M's
Instructions
Preheat the oven to 250°F. Spray a large bowl with non stick spray. Place popcorn in the bowl and set aside. Line a baking sheet with parchment paper.

In a large heavy bottom pan, melt the brown sugar, butter, and karo syrup. Add the salt and stir until combined. Stir continually until melted.

Bring the brown sugar mixture to a light boil. Once it is at a light boil, remove the spoon and continue to cook 4 minutes without stirring, or until the caramel color deepens or reaches 240°F. Do not walk away, you don't want it to burn.

Immediately remove from the heat and stir in the vanilla and baking soda. Pour over popcorn. Add 1-2 additional cups popcorn, if needed. Stir until well coated.

Pour the caramel corn on top of the baking sheet. Spread out evenly and bake 30 minutes, stirring occasionally. Remove from oven and sprinkle half of the snickers on top. Place back in the oven 2 minutes. Remove from oven and stir.

Immediately top with the remaining snickers and serve.
---
Notes
Variations:
Cleaning pan: If the caramel is stuck in your pan, add hot water and bring it back to a boil. This will break down the sugars. Then use hot pads to dump and clean once cooled.
Storage: Once cooled, store in a sealed container for up to 1 week.
Nutrition
Calories: 444kcal | Carbohydrates: 65g | Protein: 5g | Fat: 19g | Saturated Fat: 9g | Polyunsaturated Fat: 2g | Monounsaturated Fat: 6g | Trans Fat: 1g | Cholesterol: 27mg | Sodium: 428mg | Potassium: 208mg | Fiber: 2g | Sugar: 53g | Vitamin A: 329IU | Vitamin C: 0.2mg | Calcium: 64mg | Iron: 1mg
Nutrition provided is an estimate. It will vary based on specific ingredients used.
Did you make this recipe? Don't forget to give it a star rating below!