Jump to Recipe⌄
Spanish Food A.K.A. Taco Salad
This is the first meal my husband made for me. :) Apparently his family had this meal a lot growing up, so he's a pro at making it. He calls it Spanish Food… but I think it's pretty much the same thing as a Taco Salad. There are a million different takes on the "taco salad" and this is probably not even technically "Spanish" food, but here's our take on it.
This is one of those meals that is so EASY and YUMMY! It's the perfect meal for those crazy "I don't have time to think about dinner" nights. The kids will love it too, which is always a plus in my book!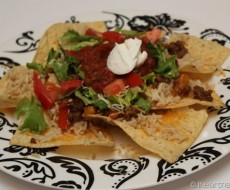 Spanish Food A.K.A. Taco Salad
Ingredients:
1 lb. Hamburger
1/2 Red, 1/2 Yellow and 1/2 Orange Pepper (Optional- you could just throw one in)
1/4 cup taco seasoning
1/4 cup water
Cooked Rice
Tortilla Chips
Shredded Lettuce
Salsa
Tomatoes
Salsa
Cheese
Sour cream
Directions:
1. First things first cook your rice. That takes the longest. :)

2. Next brown your hamburger and chopped peppers. Once browned pour in water and taco seasoning. Simmer for about five minutes.

3. Once the hamburger and rice is done cooking you can start building your taco salad.

All images and text ©
 I melt cheese on my tortilla chips. It makes it extra YUMMY!
Then layer the Rice and hamburger.
Next comes the salsa, tomatoes, lettuce, sour cream and whatever other fix-in's you like.
Hop you enjoy! This is definitely one of our favorite go-to meals!
Happy Tasty Tuesday!