DIY Stenciled dresser
Happy Tuesday Friends! I have a fabulous guest post for you today. Let's give Kelsey a warm welcome!
Hey guys- I'm Kelsey from
Tattered and Inked
& I am beyond excited to be hanging out here at the fabulous I Heart Naptime!!!It's kinda a dream come true for this girl :)
I wanted to share a fun furniture redo with you guys today that I have been so excited to reveal!!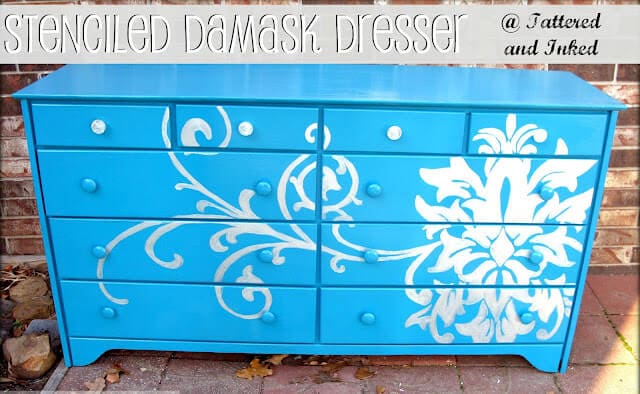 Isn't she stunning???
You wouldn't believe how she started though.
Hold on because this is how she looked when she came over to my house for the makeover: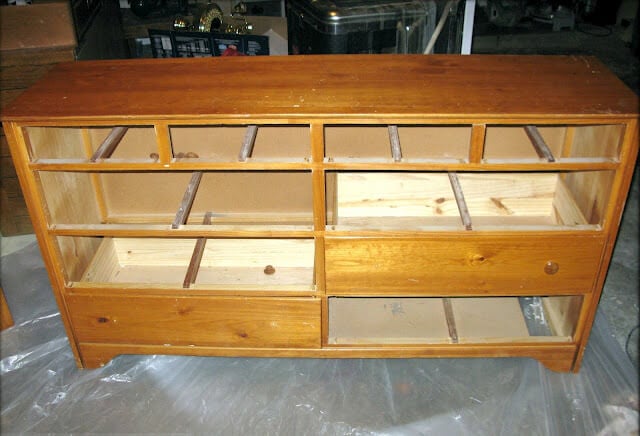 She was in sad, boring shape.
All the drawers were there- we just took some out before I had snapped the pic.
It also had some wear and tear on the top that needed tending to.
We started by giving it a good sanding.
She needed this sooooo bad.
It helped smooth out some of the small knicks and bumps plus got any gunk or markings off from just being used over the years.
Then we took some wood filler to the top.
There were some nice-sized cracks but they were easily taken care of with the paintable wood filler.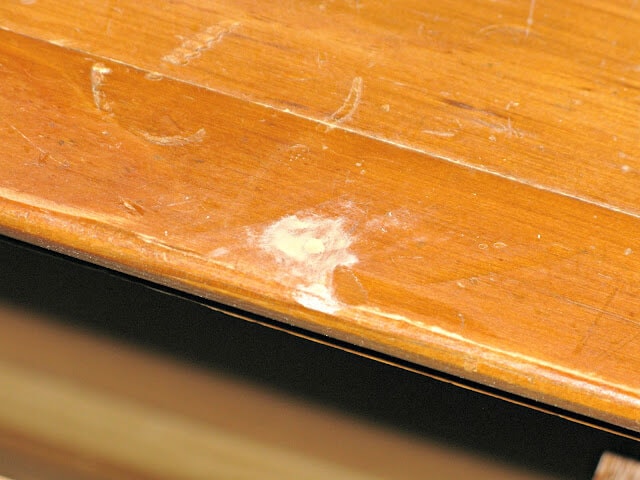 My friend had a hard time picking the perfect color…nothing was matching up with what she saw in her head.
She ended up with a beautiful color called Monterey Bay Teal by Valspar.
It's a nice bright turquoise.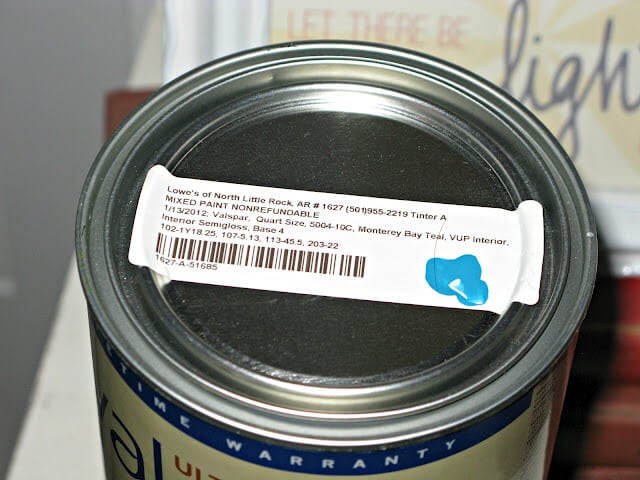 We were kinda wondering where some of the generic knobs had went since Chantelle swore that they were all there before they moved.
We just shrugged and decided to deal with that later.
When we sat down to start painting, we found this: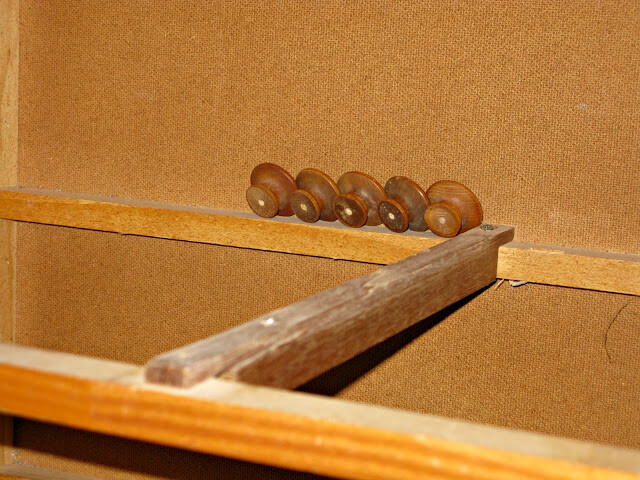 How in the?
It was kinda a funny place for knobs to be playing hide and seek!!
The next part was SUPER tedious. I won't lie.
After we had painted several coats of teal onto the dresser,
we decided to add a fun graphic to the front.
Chantelle was in love with the damasks and swirls all over Pinterest.
And let me tell ya- she was picky!!
We ended up combining a few designs into Picnik and coming up with a custom swirl/damask that she loved.
Then we used my little art projector to project the image onto the dresser.
We had the whole dealio set up in my living room and just drew and drew and drew…
until we loathed looking at that design anymore.
But we got it on there!!
This is what it looked like after our design was all drawn on.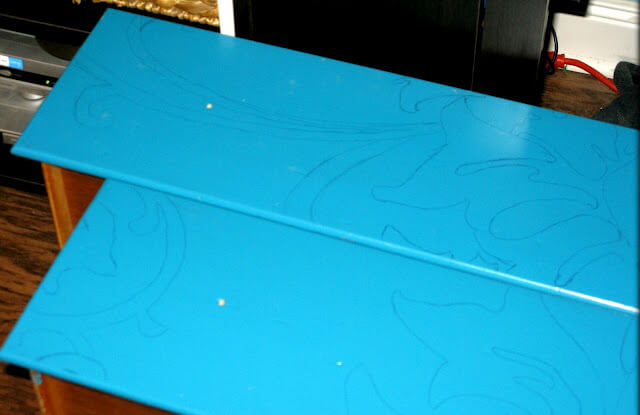 And the other tedious part was painting in every single little detail with teeny-tiny brushes.
The mistake we made was using a shiny-metallic silver for our design.
It wasn't a thick paint so it needed several coats to get an even coverage.
It took forevvver but we got it done.
And decided we hated the detailed painting more than the drawing.
Here it is after our fabulous painting job,
the silver color hated being photographed.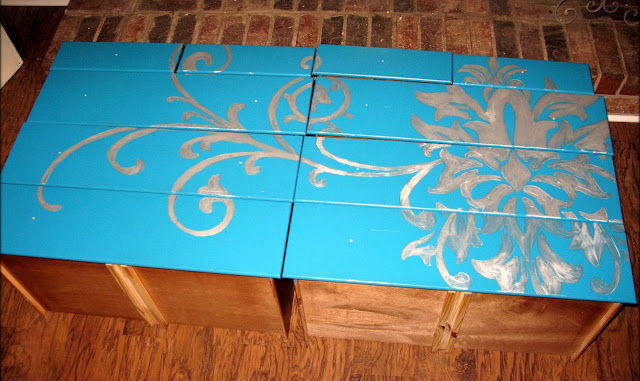 I stumbled upon some gorgeous knobs at TJ Maxx one day and snatched them up for Chantelle's dresser.
We had been wanting some pretty crystal knobs for the top four drawers and these were perfect with a capital P!!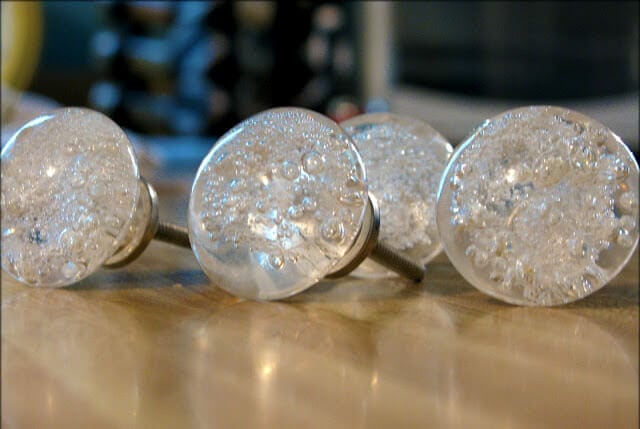 We put her all back together and just grinned :)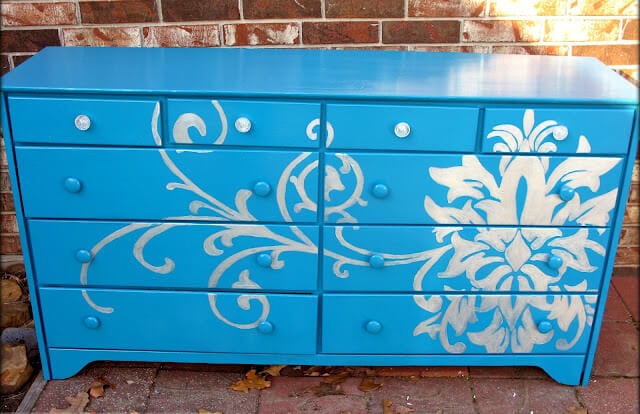 The pictures just don't do it justice.
The silver is perfect against the teal and it's so pretty & unique!!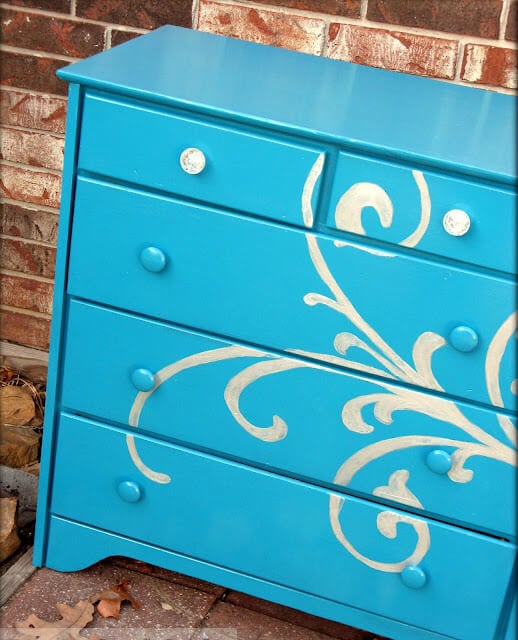 MY OTHER RECIPES
This was definitely the most labor-intensive piece I've ever set out to do because of the stenciling…
but it was definitely worth it at the end.
It now lives in their bedroom with a cute 
little end table
we also did for the room.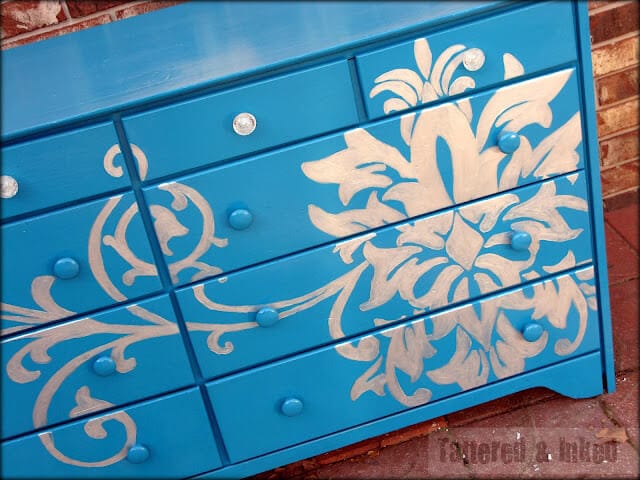 Need another reminder of how far she came???
It's almost unbelievable that such a colorful, personality-packed piece started off so plain & ordinary.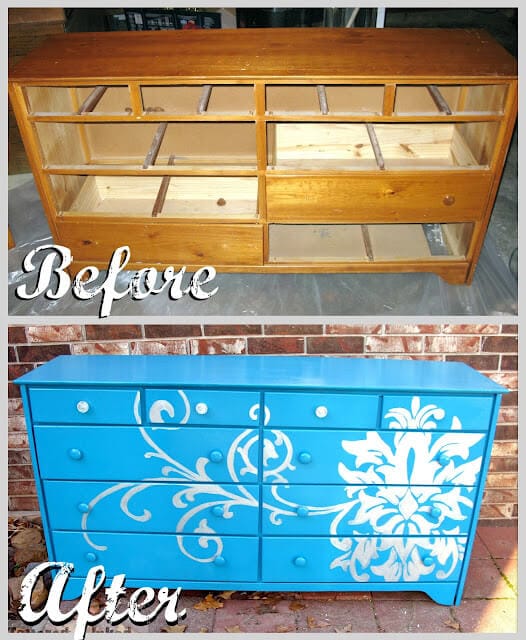 The power of paint never ceases to amaze me :)
I think it's living the high life now!!
Jamielyn,
Thanks again SO much for letting me hang out here today!!
Tattered and Inked is a DIY blog full of furniture redos, free printables & home decor tutorials!
I love painting, rearranging & lots of color! 
Top Blog Posts: 
I just LOVE this piece! The stencil is amazing! If you're interested in guest posting on I Heart Nap Time feel free to e-mail me at jamielyn@iheartnaptime.net