Jump to Recipe⌄
Strawberry Cheesecake Dip Recipe
Strawberry cheesecake dip recipe- a sweet and creamy dip that takes minutes whip up. This dip tastes great served with strawberries, graham crackers or cookies.
This no bake strawberry cheesecake dip makes a great appetizer for any party or game day. This is one of those recipes that is great for when you have one of those moments where you say "oh shoot, I forgot people are coming over and I have nothing to serve!" Please tell me I'm not the only one who has done that.
This dip needs less than 5 ingredients to make and will take less than 5 minutes to whip up. Can't beat that! It is also a healthy treat you can feel good about and super yummy too. Especially with big juicy strawberries! Mmm!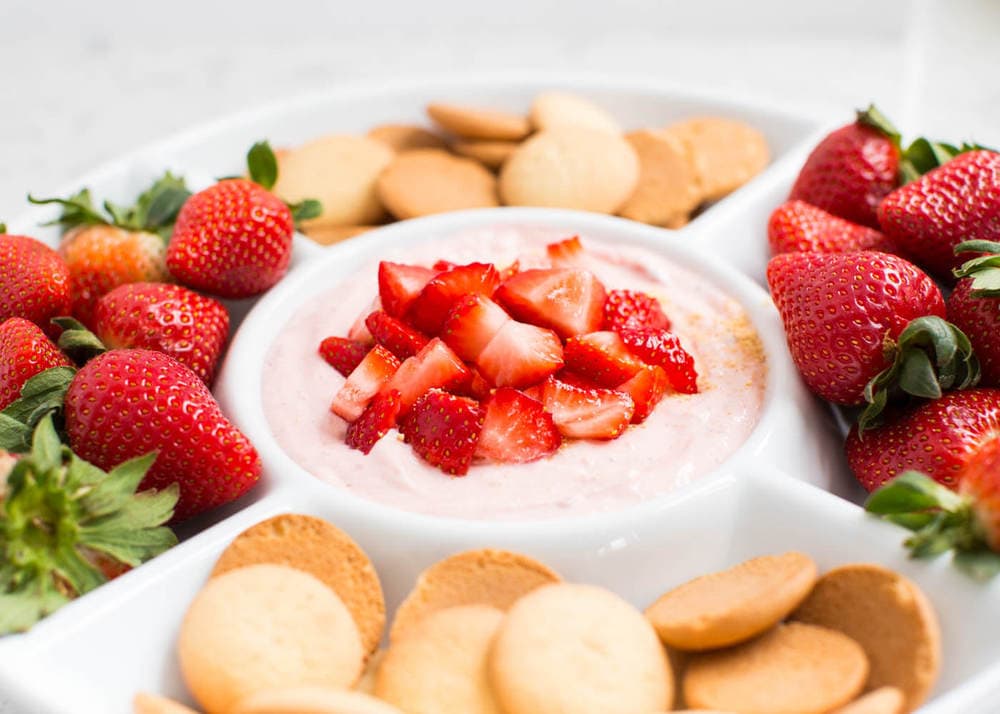 The secret ingredient in this dip is the Yoplait Greek 100 strawberry cheesecake Greek Yogurt. It makes it nice and creamy and adds extra nutrition too, making it healthy in my book! ;)  The graham cracker crumbs also add a delicious touch.
I'm excited to be partnering with Yoplait for this post to spotlight their Greek 100 Yogurt which is rich in calcium, contains essential vitamins and is a good source of protein. It's no secret that yogurt is an excellent (and delicious) choice at breakfast … but it also makes a great snack or dessert.  It is my go to snack, when I am craving something sweet at night.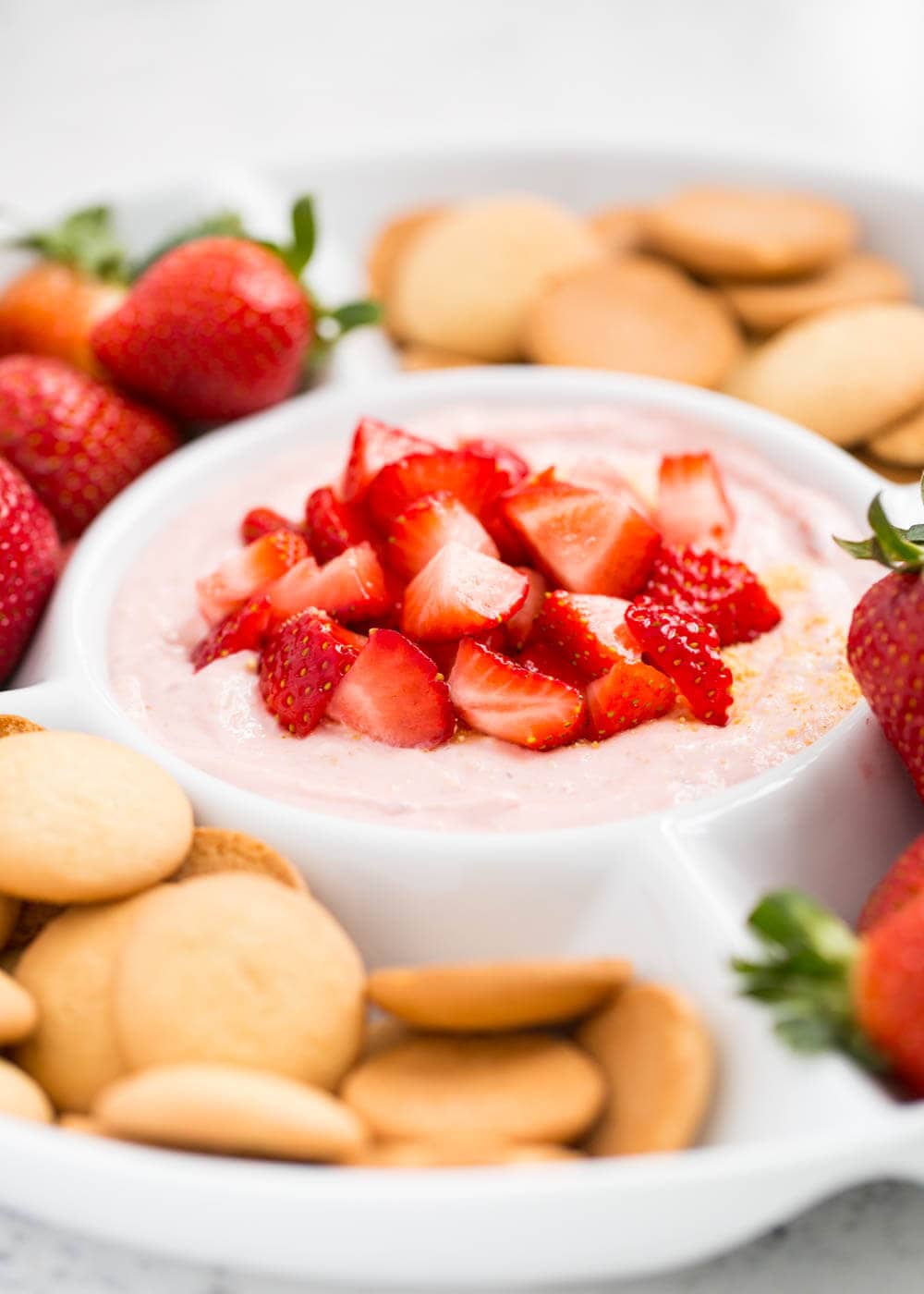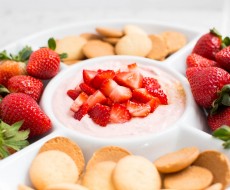 Strawberry cheesecake dip
Ingredients:
 1/2 cup Yoplait Greek 100 strawberry cheesecake yogurt (could also use vanilla yogurt)
1/2 cup light strawberry cream cheese, softened
1/2 cup marshmallow crème (could also use light whipped topping)
1 to 2 teaspoons lemon juice
2 to 4 Tablespoons of graham cracker crumbs
Fresh strawberries, for serving
Directions:
In a medium size bowl beat the yogurt, cream cheese, marshmallow creme and 1 teaspoon lemon juice until smooth. Stir in 2 Tablespoons of graham cracker crumbs. Add graham cracker crumbs and lemon juice to taste.
Store in the refrigerator until ready to serve.
Right before serving sprinkle with graham cracker crumbs and diced strawberries, if desired.
Best served the first day.
All images and text ©

Go ahead, dig in!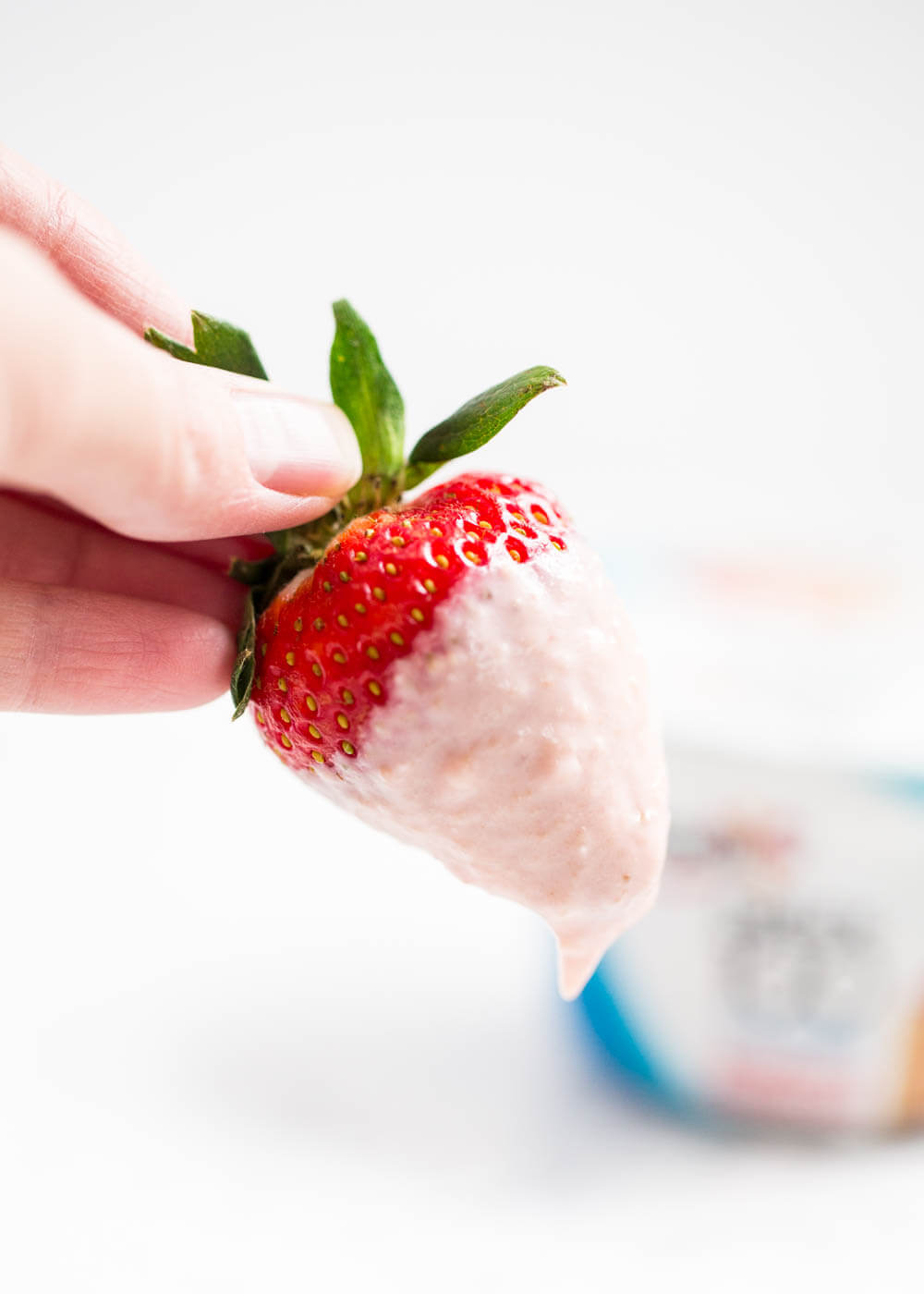 ENJOY :D
This post was brought to you by Yoplait. As always, opinions are 100% my own.