Jump to Recipe⌄
Strawberry Lemon Cake Batter Frozen Yogurt
Hi there.  My name is Kristy and I'm a frozen yogurt junkie.  I love the stuff.  I live less than one block away from a frozen yogurt shop and if my husband (and my wallet) would let me, I'd be there every day buying a bowl of one of my favorite treats!  It's so blasted hot this summer that frozen anything is all I want to eat!
So instead of blowing all our money at a frozen yogurt shop, I just started making my own frozen yogurt.
This Strawberry Lemon Cake Batter Frozen Yogurt tastes like a strawberry lemon cake, rolled into a smooth, creamy scoop of frozen yogurt.  It's amazing! And you only need three ingredients to make it! THREE! Yogurt, fresh strawberries, and a lemon cake mix.  That's it.


MY OTHER RECIPES
Next time you think about hitting up your favorite yogurt shop, bust out your ice cream maker and make a quick batch of your own! It's so quick and easy and it's the perfect summer time treat.  With just about another month of summer left, we better eat as much of it as possible.  And since it is made with yogurt, we get to eat as much as we want, right?!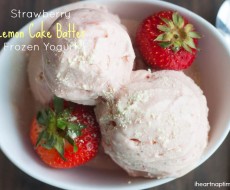 Strawberry Lemon Cake Batter Frozen Yogurt
Ingredients:
2 cups low fat plain yogurt or (or greek yogurt)
1 cup pureed strawberries
2/3 cups lemon cake mix
Serve with a sprinkle of lemon cake mix if desired.
Directions:
1.Whisk everything together until there are no lumps. Chill in the fridge for thirty minutes. Pour the yogurt mixture into your ice cream maker and make according to manufacturer's instructions.
2. Store in airtight container in the freezer.
All images and text ©
I'd love for you to come visit me at Sweet Treats & More and check out some of my latest treats, perfect for summer!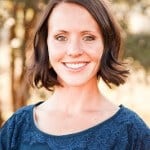 Hi there! I'm Kristy, a wife, mom to two little boys, runner, and just a girl that loves good food. I love cooking and baking for family and friends and love the memories that accompany good food. You may have already noticed–but I kind of have a thing for sweets, especially chocolate and peanut butter. I like to keep things simple in the kitchen- simple meals and desserts using simple ingredients. I try to make healthy meals for my growing little family, but we always save room for a little dessert.