Welcome to the Crazy Christmas Event! If you're new here, join us on Facebook and Pinterest. Now let's give Heather from Whipperberry a big welcome! We're so happy to have you guest posting!
I adore the simplicity of Scandinavian design. The clean lines that are simple and understated. After traveling in Europe during the Christmas season a few years ago, I thought it would be super fun to have a Scandinavian style Christmas. Keeping things simple, clean and relying heavily on one key component. I thought a Swiss Cross ornament would be a fun focal point for our Christmas this year.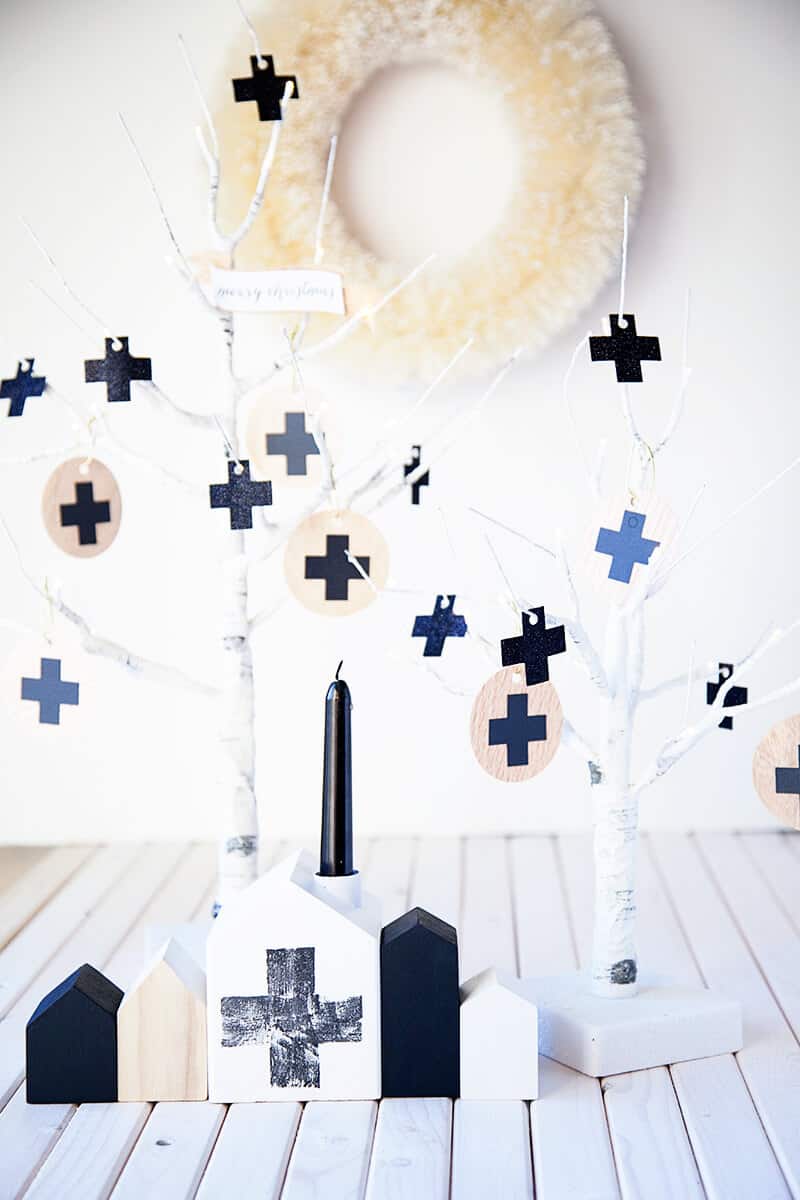 The Swiss Cross had become more and more popular over the last year or so. I have fallen head-over-heels in love with it. I even have a black wall covered in white Swiss Crosses in my front room, so for me… This is true to form.
I based my entire design off of the simple House Candle Holder from The Little Red Cabin. I just love the simplicity, the clean lines and the colors.
Supplies:
This project is really quite simple, here are the supplies that you will need…
+ Black adhesive cardstock or black textured cardstock
+ EK Tools Wood Sheet
+ 2 1/2 inch circle punch
+ craft glue (only if you don't have adhesive cardstock)
I found these super fun Birch Trees that light-up at Target. Then I cut a bunch of Swiss Crosses out of black textured card stock on my Silhouette CAMEO.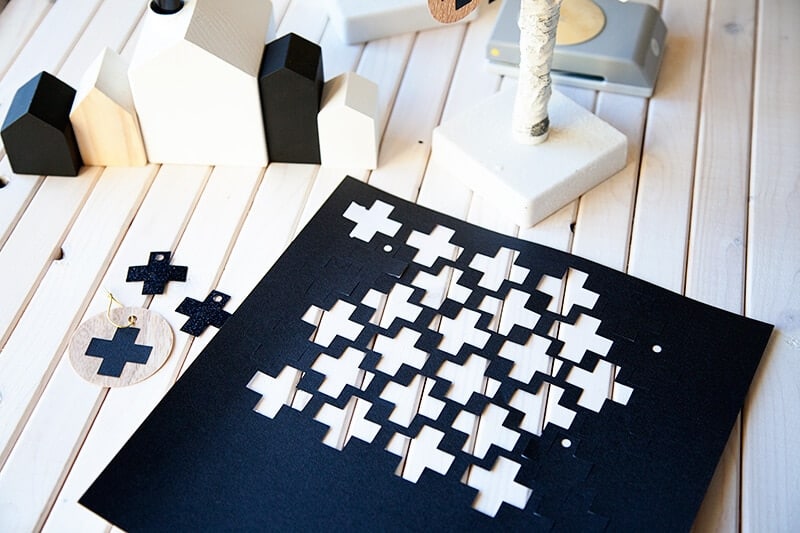 If you would like those Silhouette Studio Files, you can download them HERE. I have them with or without the holes for hanging and I have larger crosses for a full-size tree.
For some of the crosses, I used Silhouette Adhesive Cardstock and then glittered the adhesive side… super slick!!

Place them adhesive side-up, pour on glitter, shake around and you are finished!
Those Swiss Crosses already have holes punched in them, and because I used the adhesive cardstock, I didn't need to wait for any glue to dry. They were already to hang on the trees.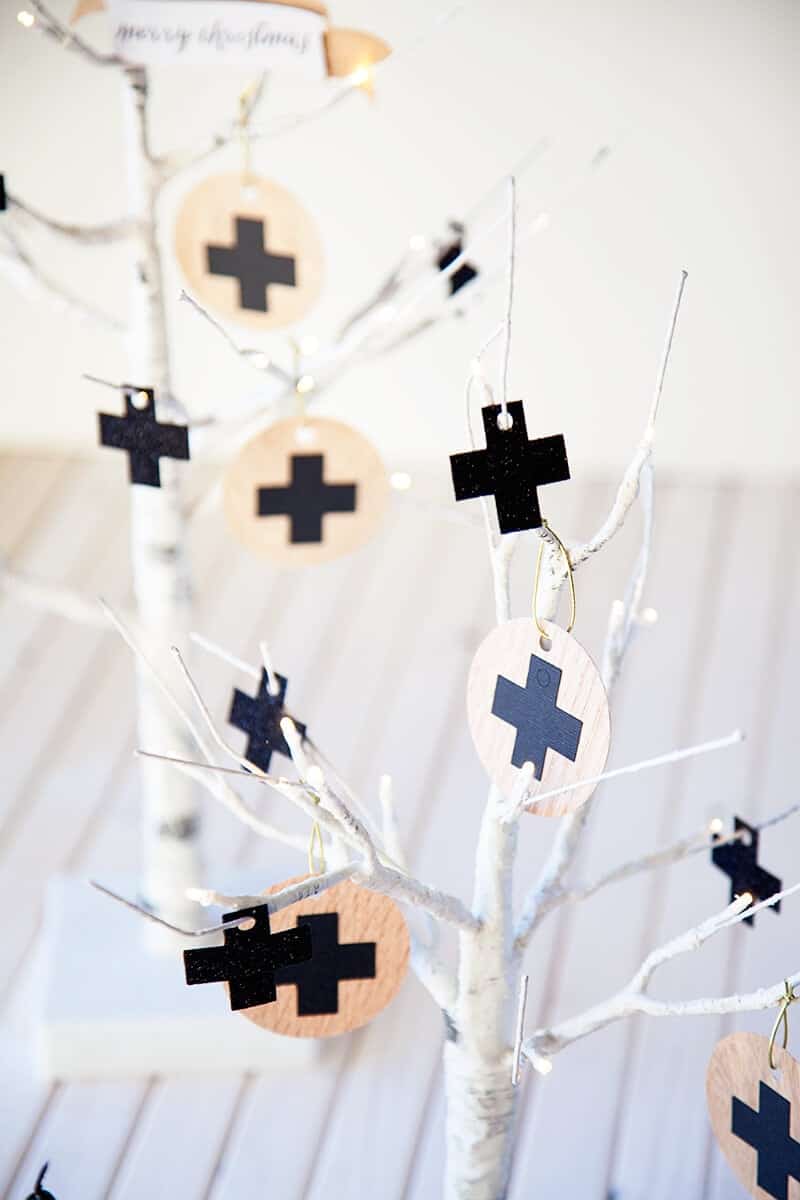 Then I used an EK Tool 2 1/2 inch round hole punch to cut out my circles out of the EK Tool Wood Sheet. YES… those round tournaments are actually made out of wood!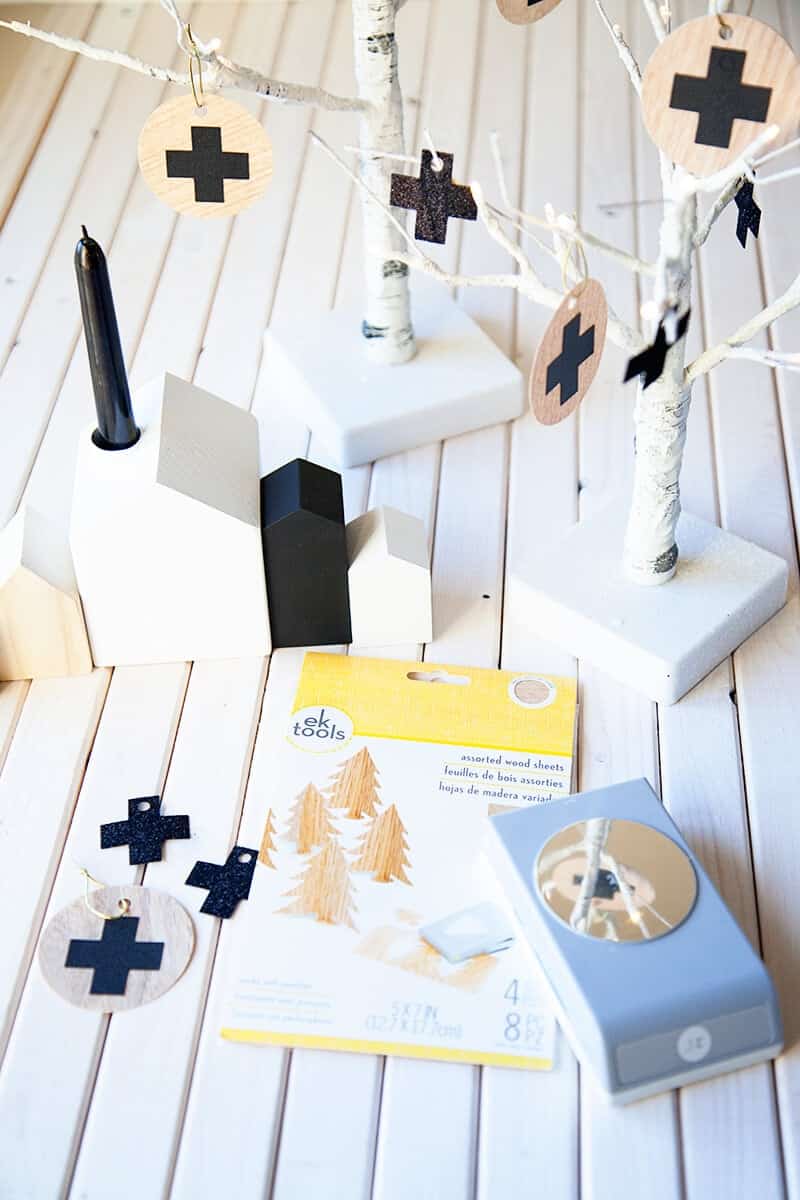 That wood sheet is some of the coolest stuff I have found lately. Thin sheets of wood that you can cut into all kinds of shapes.
I used a circle punch to make the ornaments, but I also used my Silhouette to cut-out a super cute Merry Christmas banner for the trees…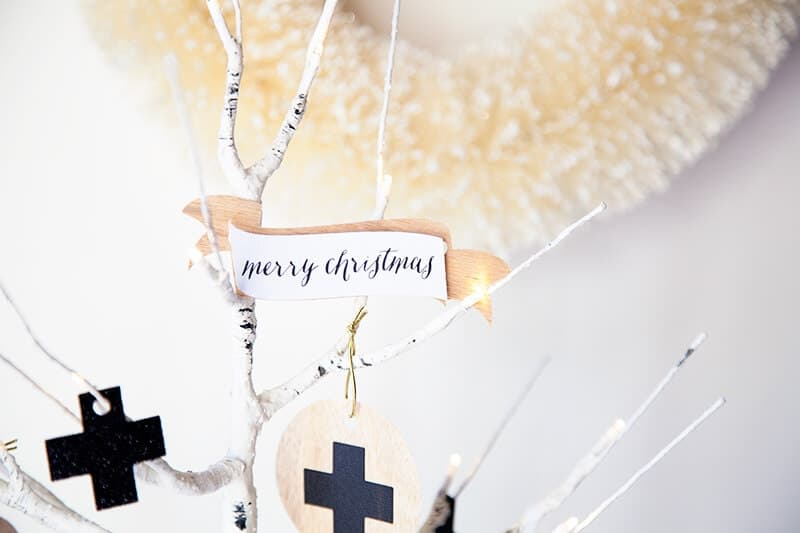 Love that stuff!! The wood sheets are adhesive as well, after I put the Swiss Cross on, I would place two back-to-back so that the ornament was two-sided.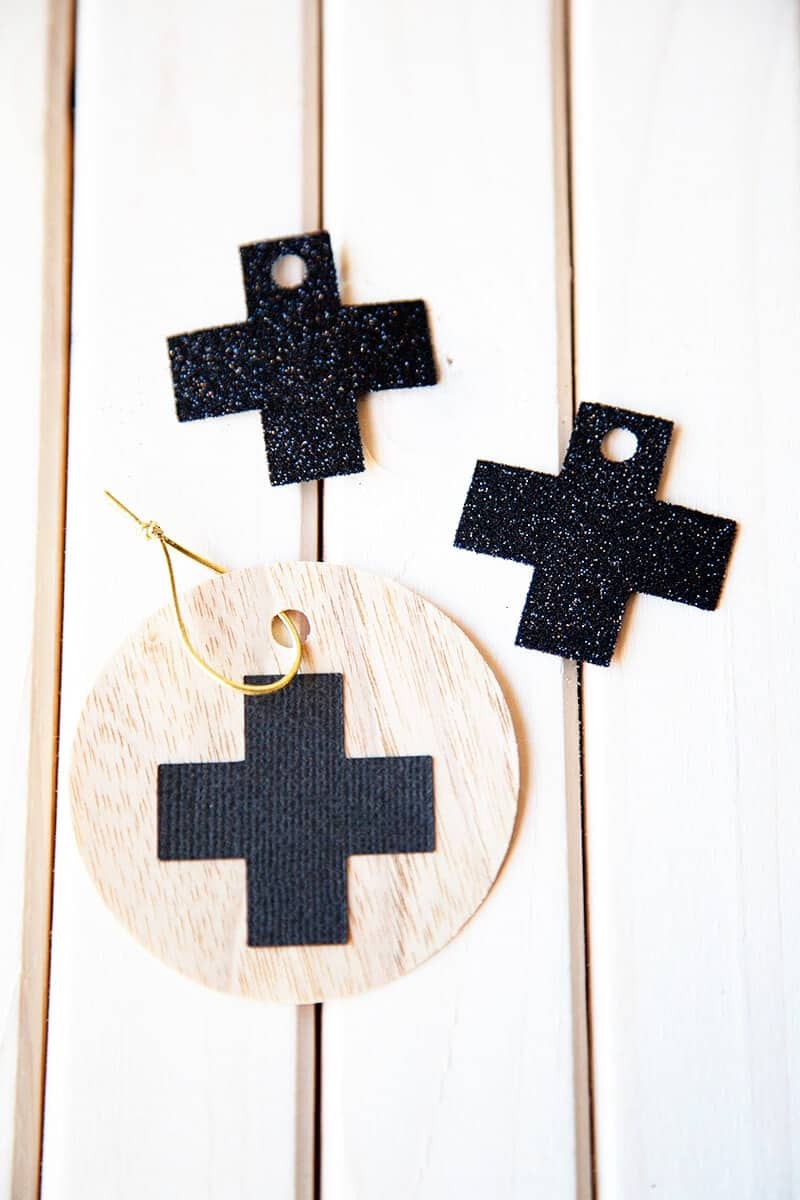 That's it! This is a simple and quick project that you could work on with your kiddos. If you're not into Swiss Crosses use a different shape. Snowflakes, trees, triangles really anything you can dream-up.
Thanks Jamielyn for letting me hang out today during your Crazy Christmas Crafter Event! Checkout these other fun ideas from WhipperBerry…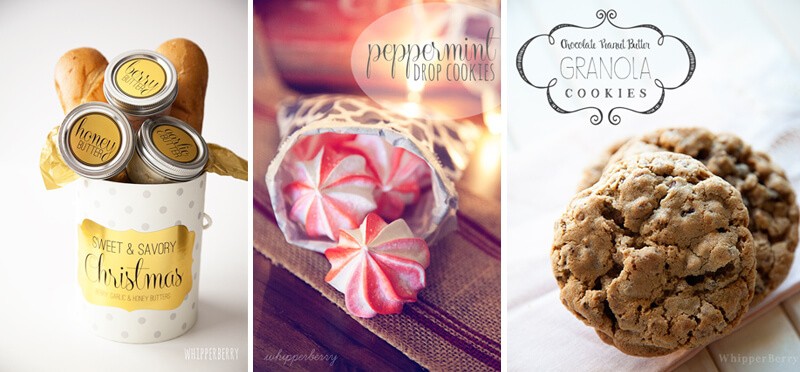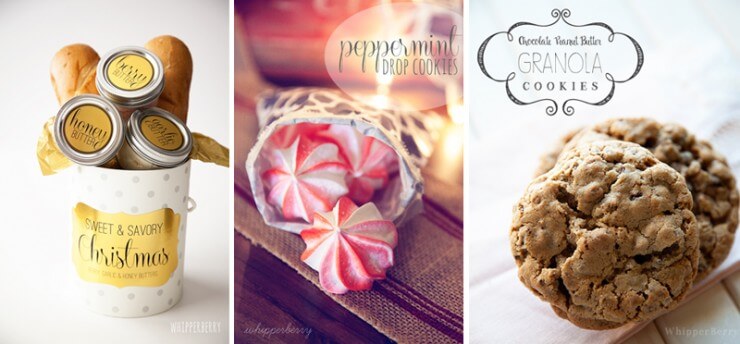 Sweet & Savory Gift Idea + Peppermint Drop Cookies + Chocolate Peanut Butter Granola Cookies
You can also follow my crazy antics on Instagram!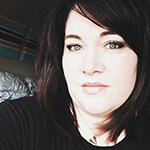 Heather Thoming is the creative mind behind WhipperBerry & Co-Founder of BB Frösch Chalk Paint Powder. Driven by a passion for creating beautiful spaces and simple yet scrumptious meals, Heather loves to share what she discovers on WhipperBerry. She is the wife to an amazingly supportive (and cute) husband and mother to 4 kiddos. Three girls and one, tag along little guy!
 Click HERE to see more from our Crazy Christmas Event