"Take 5" Ice Cream Cake – made with a chocolate crust, caramel filling, peanut butter, more chocolate and salted pretzels. SO yummy!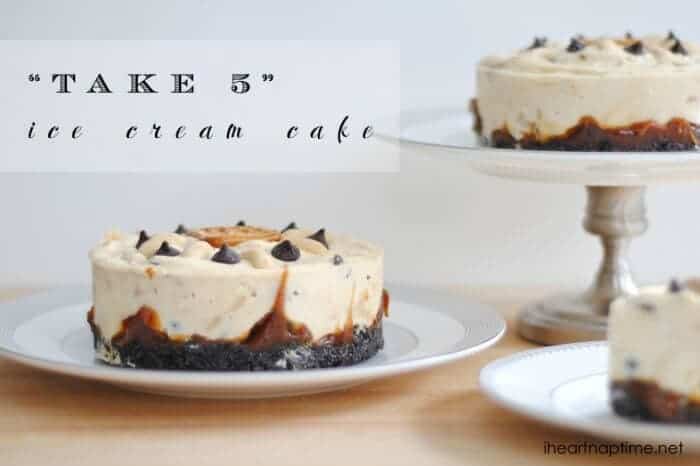 Hi there, friends! It's Jennifer from the IHN team, back with another sweet temptation for you. Have you ever had a "Take 5" candy bar? We don't eat much in the way of candy bars in my house but every year at Halloween I may dip my hand into our candy bowl once or twice. Or seventeen times. But who's counting?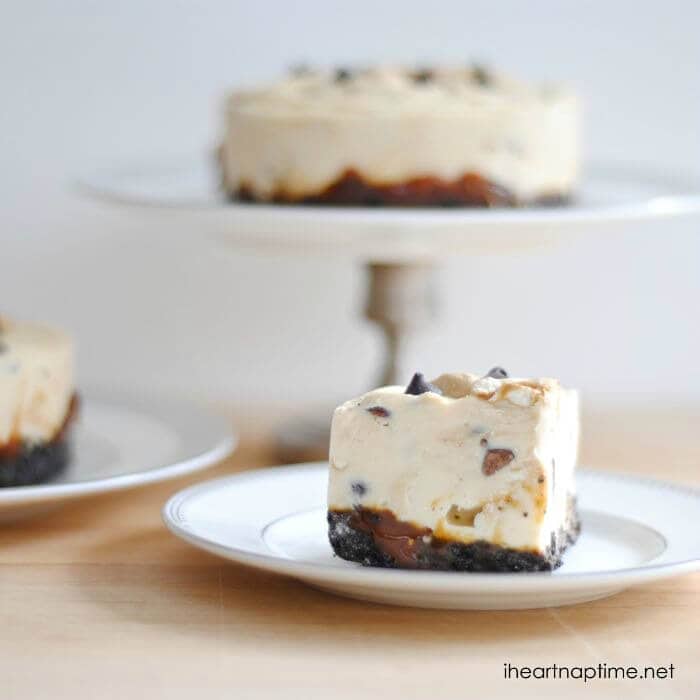 I'd gotten a medley bag this past year and one of the varieties in there was the Take 5 bar. Wow. Kind of blew my mind with how delicious it was. The 5 in the Take 5 bar are chocolate, peanuts, peanut butter, caramel, and salted pretzels. It sounds at once like utter gluttony and utter sweet-salty wonderfulness, doesn't it?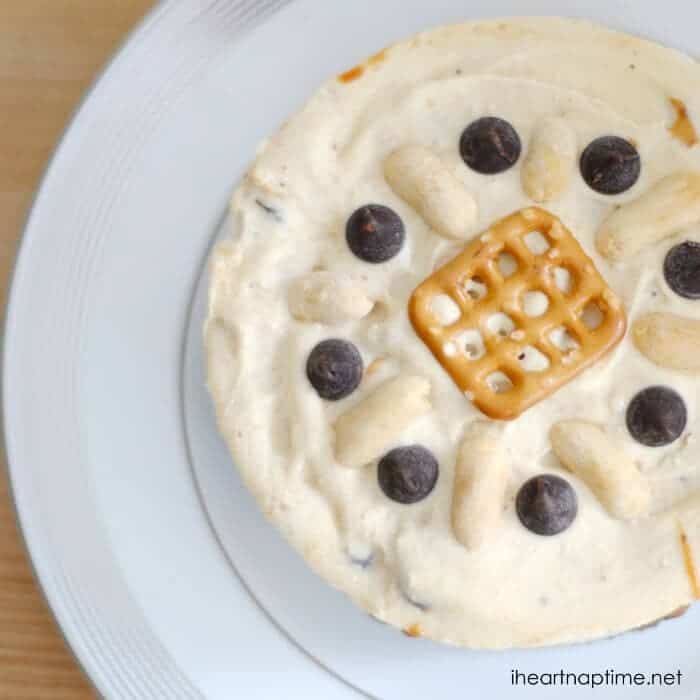 When my husband's birthday rolled around a few weeks ago and I set out to make his annual ice cream cake, I was brainstorming ideas when my mind wandered to that delicious Take 5 bar. Couldn't tell you why, but it did. And that was my "ah-ha!" moment.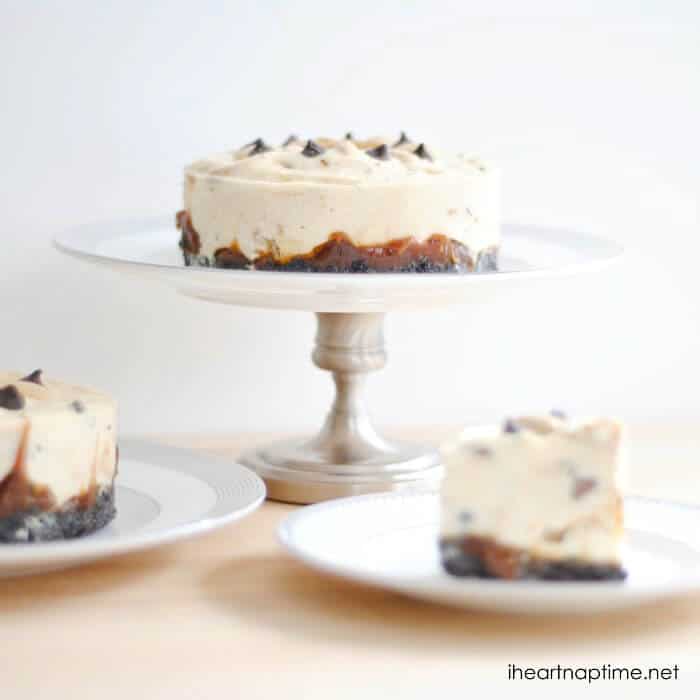 So read on for the recipe and assembly instructions, and for goodness sake, put this on your "to-make" list! You will thank me.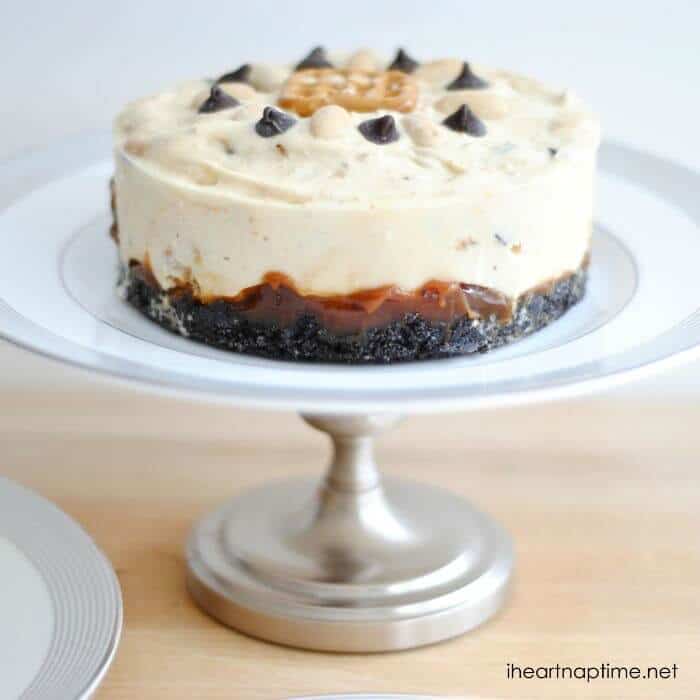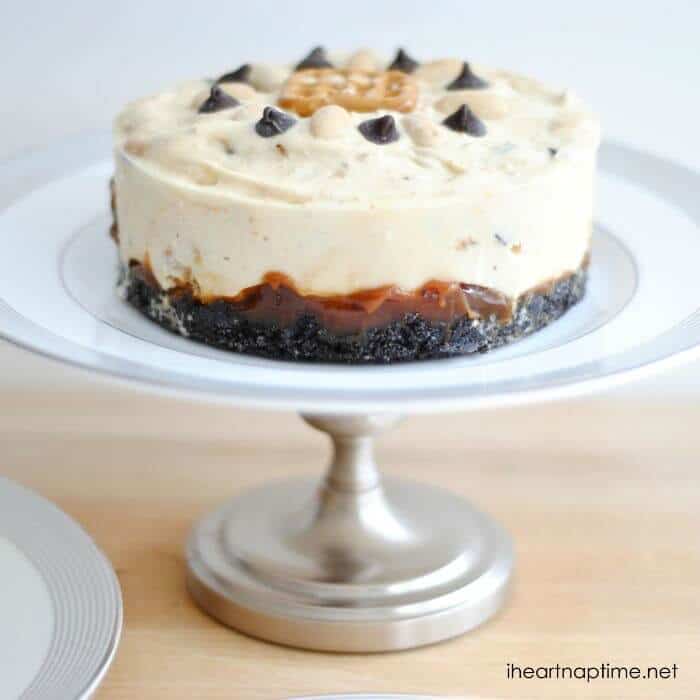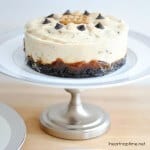 "Take 5" Ice Cream Cake
"Take 5" Ice Cream Cake – made with a chocolate crust, caramel filling, peanut butter, more chocolate and salted pretzels. SO yummy!
Ingredients
For the Crust:
24 chocolate sandwich cookies (I use 365 brand)
1/4 cup unsalted butter (melted)
For the Ice Cream Portion:
Instructions
For the crust, put the cookies into a food processor and pulse until they have turned to crumbs. Add the melted butter and pulse several times to combine. Pour into a 9″ or 10″ springform pan, or 4 4-1/2″ springform pans (mine are from Williams-Sonoma) and press onto bottom and a small bit up the sides.

For the caramel, place 3/4 c. sugar and 1/4 c. water in a medium saucepan over medium heat until the sugar has dissolved. Increase the heat to medium high and cook without stirring until the syrup is a medium amber color (about the color of maple syrup). Swirl the pan occasionally to keep cooking even. Remove the pan from the heat and pour in 1/3 c. cream – mixture will bubble vigorously. Return to medium heat and stir a few minutes to dissolve any bits of caramel. Add 2 tbsp. butter and 1/4 tsp. salt and stir to blend. Spoon the caramel into the crust and place in the fridge while you make the ice cream layer.

Use an electric mixer to combine the softened vanilla ice cream, peanuts, chocolate chips, and pretzels. When evenly mixed, add the peanut butter and mix just until the peanut butter is incorporated. You want to have some streaks of peanut butter left.

Spoon the ice cream on top of the caramel in the crust and decorate the top with additional chocolate chips, peanuts, and pretzels if desired. Freeze several hours before serving. If the cake is going to be in the freezer for longer than a few hours, take it out after 2-3 hours and wrap it tightly with plastic wrap.

When ready to serve, remove the sides and bottom of the springform pan and place on a cake plate or cutting board. Let sit at room temperature about 5 minutes before serving to make it easier to cut.
---
Calories: 469kcal | Carbohydrates: 49g | Protein: 8g | Fat: 27g | Saturated Fat: 13g | Cholesterol: 55mg | Sodium: 279mg | Potassium: 337mg | Fiber: 2g | Sugar: 37g | Vitamin A: 565IU | Vitamin C: 0.5mg | Calcium: 130mg | Iron: 2.4mg
ENJOY!
If you'd like to take a peek at what else I've been up to lately, come visit me at The Chronicles of Home. -Jennifer
Looking for more ice cream recipes? You'll love these: