Jump to Recipe⌄
Tasty Tuesday: Candy Corn Cupcakes!
Thanks for stopping by! To get the newest recipes 
subscribe
 or join us on facebook.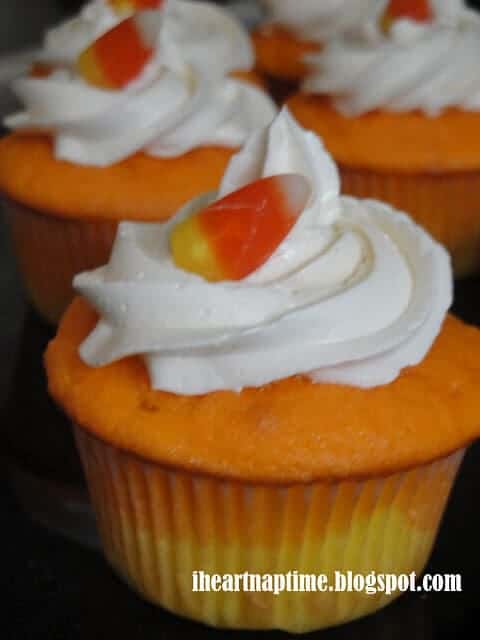 I love candy corn!! :)
So I've seen these cute little cupcakes all around blog land and in magazines, and knew I had to try them. They are the perfect cupcakes for a fun Halloween party! They were definitely not my idea, but I'm glad I found them! I I liked
our best bites
version the best but here are a few other cute ones as well
home based mom
,
Phoebe's cupcakes
,
Megan's Munchies.
I used a recipe from a church cookbook I had and then used a cream cheese frosting, but you could really make these with any cupcake recipe, just make sure to put enough food coloring in. I probably could of even added more!
Candy Corn Cupcakes
Ingredients:
1 box yellow cake mix
3 eggs
1/2 c vegetable oil
1/4 c water
1 c sour cream
(Isn't it amazing the difference sour cream makes? Thanks Mom for your sugar cookie recipe, that introduced me to baking with sour cream. It makes goodies SO moist!)
Food coloring (orange and yellow)
Frosting of choice
Directions:
With an electric mixer, beat all ingredients for about 2 min. Divide batter into two separate bowls. Add about a 1/2 tsp of food coloring in to each bowl. Stir Well. Spoon about 1 TB of yellow into the bottom of each cupcake liner. Then spoon about 1 TB of orange batter on top of that. Bake for 20 min, remove and let cool completely before frosting.
All images and text ©
To frost them you'll need a 1M Wilton tip and large coupler. I liked how our best bites frosted them the best, so I used their tutorial 
here
. Once you use this frosting tip, you will never go back! It makes frosting the cupcake so much easier, more fun, and they look so much better!
Or let the kids just use sprinkles! Those are always a big hit!!
Enjoy!!